Google touts Babel Fish-esque in-ear real-time translators. And the usual computer stuff
And a slightly creepy but well-intentioned robo-camera
By Iain Thomson, 5 Oct 2017
Google today showed off some new Android phones, a laptop, two Home assistants, and a genuine surprise: a set of earbuds that attempt to emulate Douglas Adams' legendary Babel Fish – a real-time language translator.
During the hardware unveiling, an event dubbed Made by Google, in San Francisco a few hours ago, CEO Sundar Pichai – and every single other speaker – hammered the point that the future, as Google sees it, is all about hardware and software being vastly improved by machine learning.
"We're making the shift from mobile first to AI first," Pichai said. "We're thinking hard to move all our platforms to machine learning. We are at a unique moment in time: we can join AI, software, and hardware to bring a different perspective for users."
To that end, Google is improving its AutoML machine-learning software, and hopes to get thousands of app developers using the code to build artificially intelligent apps for the Chocolate Factory's next-gen gadgets.
Ultimately, Google wants to inject machine-learning software into everything and, perhaps importantly for the privacy minded, build it into devices so that your data can be processed exclusively within the gadgets and not constantly sent to backend servers, out of reach, to handle.
Well, that's the marketing faff out of the way. Let's take a look at what was revealed.
The phones – and yes, the 3.5mm jack is dead
Google's gobbling last month of HTC's engineers means the California giant has 2,000 new techies and a bunch of patented technologies to throw at its future phones, according to its hardware supremo Rick Osterloh. Right now, we've got the new HTC-made five-inch Pixel 2 and the six-inch Pixel 2XL to consider.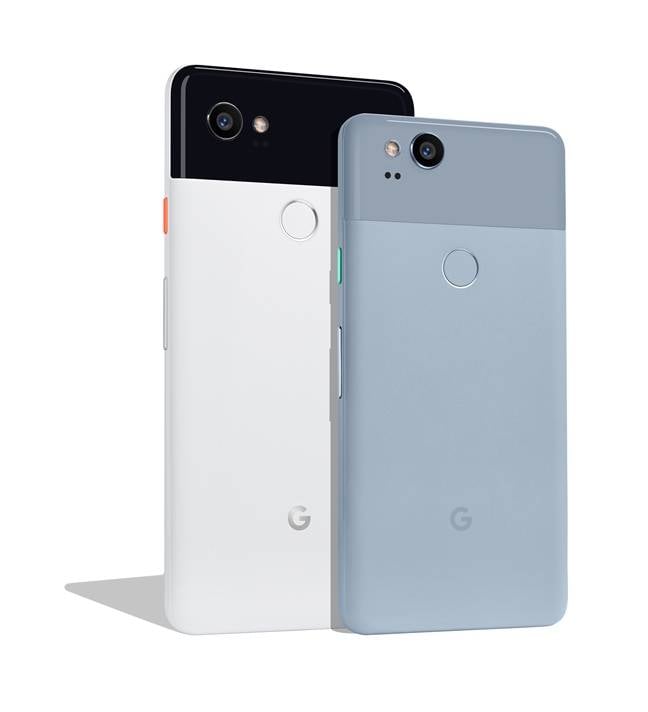 The Pixel 2 ... Available in black, black and white, or "kind of blue," as Google calls it
In a subtle dig at Apple, Google said it didn't discriminate against people who wanted a smaller phone – wanting a smaller screen shouldn't mean you get a slightly weaker device – and so both Pixel 2 handsets have the same camera technology as well as the same hardware specs. They also get unlimited photo and video cloud storage, which Cupertino doesn't offer.
Internally that means a Qualcomm Snapdragon 835 system-on-chip, and 4GB of RAM and 64GB or 128GB of internal storage. They have an eight-megapixel front-facing camera and a single 12.2-megapixel rear camera – Google says it's not going down the twin camera route taken by other because its machine-learning algorithms are so good at enhancing pics, it doesn't need the extra eye. The cameras take microburst shots every time a picture is taken, and then combines facets of all of them to build a final picture.
The original Pixel camera was assessed by benchmarkers at DxOMark, and scored the highest ever rating of 89, Google said. The Pixel 2 camera has come back from testing with an unprecedented 98 rating making it the best camera in the smartphone business, enthused Mario Queiroz, Google's veep of product management. The camera has also been linked to Google Assistant so you can point the lens at stuff and ask the assistant to identify certain objects, as well as recognizing email addresses and phone numbers on posters and signs.
Unfortunately, Google has followed the herd and decided to do away with the 3.5mm audio jack. This no doubt helped it get an IP67 waterproof rating. Luckily, there's a dongle in the box that plugs into the handset's USB-C connector and provides a 3.5mm headphone port. Battery life for the phones is good for a day of hard use, Google claimed, and 15 minutes with its USB-C charger will give seven hours of light use.
As befits a phone going directly against the iPhone, the new Pixels aren't cheap but undercut the Cupertino idiot-tax operation's prices. The Pixel 2 base spec model comes in at $649 and the 2XL starts at $849.
Well, that just about wraps it up for God
The Pixel phones are simple and stylish, maybe without a wow reaction but certainly look sleek. But having had a hands-on session with them, there are some very nice touches indeed. For example, if you squeeze the handset, Google Assistant automatically pops up and asks what you want to know. It's a handy tool and doesn't harm the integrity of the phone, and Google says it'll work even if the phone is in a case.
But the standout accessory that you can buy for the handsets is the Pixel Buds. These in-ear Bluetooth headphones make Apple's EarPods look like crappy bits of plastic and, if the demo is to be believed, could bring us close to having the legendary Babel Fish translator.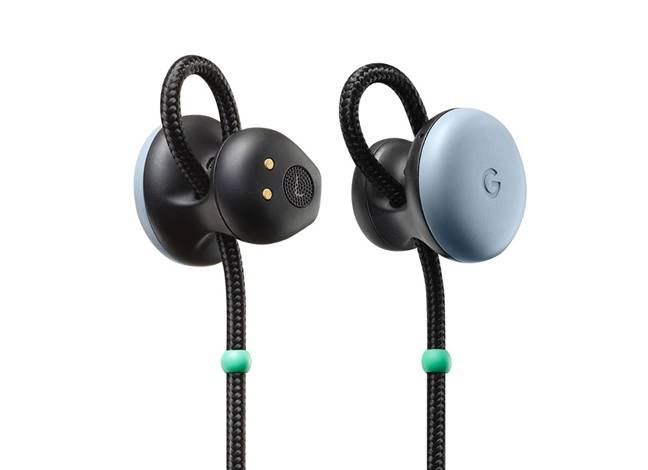 Pixel Buds ... No piscine for your Pixel
The Buds are wired together, and a little controller is built into the right earpiece. A microphone is also built in. You can tap them to start and stop music, hold your finger still to get the Google Assistant to help or read you messages, and swipe forward and back for volume control.
But they can also be used as translation engines. Google demonstrated a conversation between an English speaker and a Swedish speaker during which the paired smartphones listened to and translated the languages on the fly, wirelessly beaming the simultaneous translation to each speaker's headphones. So when the Swedish person spoke, the English person's phone translated the Swedish into English and played it through their headphones. Google said the Buds will work with 40 languages so far, with more to come.
And to be fair, this means the magic happens on the phone and via Google Translate – the Buds are a fancy Bluetooth headphone-and-mic combo that pairs with the handset. It's really a demonstration of Google Translate with some pretty accessories.
The headphones have a five-hour battery life, and the case that holds them also has a battery that, when fully charged, can keep the headphones going for 24 hours of use. The Buds will fast charge in the case using a couple of built-in connectors to transfer the juice.
If it all works as advertised, the technology will be a game changer. The headphones aren't cheap at $159 a pop when they go on sale in November.
Lovely lappy
Google is also updating its Pixel laptop range with the Pixelbook, a laptop with a 360-degree hinge so that it can be used as a tablet or propped open as a viewing screen.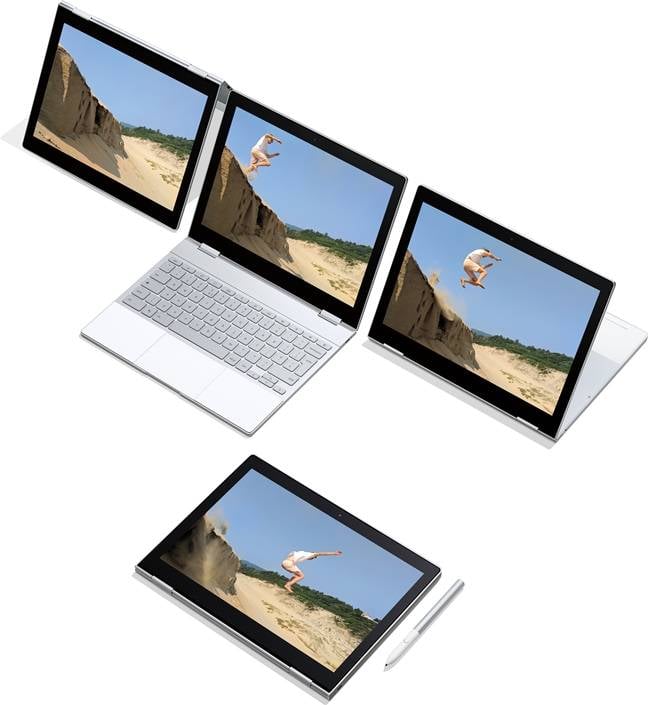 Pixelbook ... Flexible laptop with a smart pen
This laptop is 10.3mm thick, weighs a smidge under a kilogram, and has a 12.3-inch screen. Google was cagey about battery life, but said it would last all day and get a two hour charge in 15 minutes. The keyboard feels comfortable on the fingers, with decent key travel and spacing. Google has also added a button in the lower line of keys to call up the Google Assistant which is built in – a first for the Pixel laptop line.
Under the hood you can chose between an Intel Core i5 or i7 processor and up to 16GB of RAM. Prices start at $999 for the base spec model with 128GB of storage, and run up to nearly $1,700 for the 512GB version with all the bells and whistles.
The laptop runs ChromeOS, of course, and the latest build so that Android applications can run on it as well. However, that all depends on a given app's developer optimizing the software for the desktop OS. Some we've tried looked very poor on ChromeOS, primarily due to sizing issues.
As laptops go, it doesn't have the distinctive design and smooth lines of the Macbook Air. It looks a little boxy and functional but is very well made and looks robust, as previous Pixel laptops have proved.
For an extra $99, Google will also sell you a Pixelbook Pen, built by Wacom. This has a button that automatically summons Google's assistant and, when you bring it to within a centimeter of the screen, it automatically pairs with the Pixelbook using low-power wireless comms.
The pen can be used to search for stuff online by circling a word, image or graphic on the screen. The assistant will then automatically search for information on the circled object. It also operates as a standard stylus with 10ms of latency, 60 degree angular awareness, and more than 2,000 levels of pressure sensing in its tip.
There's no clip or way to attach it to the laptop, however, meaning a lot of these are going to get lost. It's powered by a removable AAAA battery, so you don't wire it up to charge – just pop a fresh battery in the Pen when its current one runs low.
Home invasion
Google also showed off the voice-controlled Home Max personal assistant, essentially a $399 speaker with two 4.5-inch woofers that the ads giant said is 20 times louder than its existing Home device. The speaker, available in black or grey, is designed for audiophiles and has – you guessed it – machine-learning code in it so that it can configure the best sound for any room.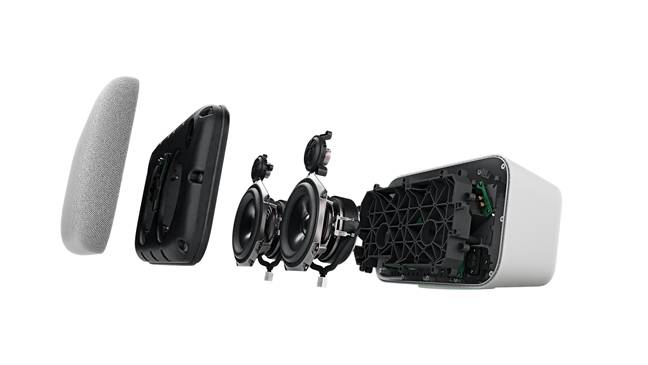 Home Max ... Some serious grunt
Buyers get one year's free ad-free music with a subscription to YouTube Red and Google claimed 400 million tracks are up for grabs. It also links to the paid and free versions of spotify and has an audio jack to connect up to traditional hifi systems.
Google also introduced the Home Mini, a hockey-puck-sized version of Home that costs $49 and was given away to attendees. Our tester is putting it through its paces, and we'll have a review online next week or so.
Isabell Olsson, Google's lead designer for the Home hardware, said her team went through 159 shades of grey before getting the right choice for the two products – although one journalist suggested they'd picked the ugliest one. The Home Mini is also available in red.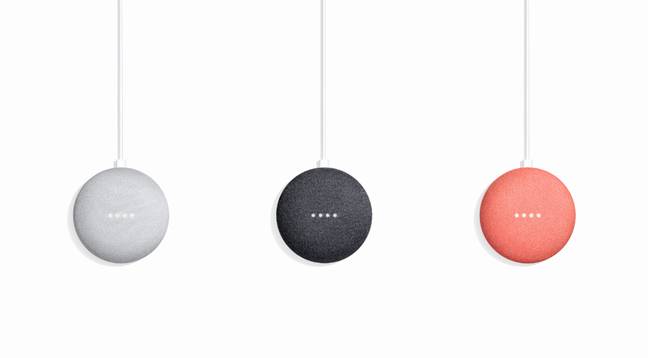 Home Mini ... Google's 159 shades of grey, no bondage needed
Hardware aside, it's the software upgrades to the Home family that Google is proudest about. The devices will shortly be able to distinguish individual voices and adapt its actions to suit the person speaking to it.
The example they gave is if someone wakes up and says "Hey Google, good morning" the device will recognize the speaker and give a summary of that person's day, such as their meetings and commute traffic, and so on. Later this year, the software will be updated so that saying "goodnight" will automatically dim the lights, turn on any security cameras specified, and maybe adjust the heating.
There are also some nice features, such as a find-my-phone function that will ring a handset if you can't remember where you left it, and a broadcast feature that will relay the assistant's voice to every Home unit in the house.
"Parents are going to love this feature," said Home team lead Rishi Chandra. "Kids are going to hate it, but that's what makes it useful."
Later this month Home devices will also gain Family Link user accounts that parents can set up for kids 13 and younger. This will allow the Home unit to recognize a kid's voice and take instructions, with the parents controlling and limiting what their tykes can access. Youngsters can ask a Home unit to play tunes for musical chairs, play animal sound games, and read classic and modern stories for them. Google has also teamed up with Disney so kids can talk to Mickey Mouse, and play Frozen's Let It Go, again and again and again and again.
While this deal does open up a lot of content to kids, Team Rodent has a long record of marketing to youngsters hard. It'll be interesting seeing quite how this works out, and no one could tell us exactly what information Disney will be allowed to collect from families.
Odds and sods
There were a couple of other new devices on show, one a bit meh, and the other potentially creepy.
Google's VR headset, which needs a Pixel, Pixel 2, Samsung S8, S8+ or Note 8, or LG V30 clipped onto the front, has got a minor upgrade. The viewing lenses have been improved, Google said, and new colored fabrics for the cover.
The other new gizmo is Google Clips, a standalone camera that contains – you guessed it – machine-learning algorithms so it can recognize who to photograph and when. While the $249 camera does have a shutter button to take a snap, it's designed to take photos automatically all by itself. The AI code is supposed to recognize, say, your family's faces, shoot pictures of them when it thinks the time is right, and it'll link in wirelessly with a Clips app on your phone so you can see and keep or delete any taken snaps. It's like an electronic photographer quietly taking pics of you doing stuff at home as if it were a robo-biographer.
Here's a video of the thing...
Google stressed again and again that privacy was at the forefront when it built Clips. Nothing goes to Google's servers until you save the images, and it has a light that turns on so people know when they could be snapped. The purpose of the device is to get rid of one person being the "designated photographer" and missing out on being in the shots. But it seems a very roundabout way of doing it.
Overall, Google can be proud of a lot of the new hardware on show this week. The phones look great, especially with the Buds, and the Pixelbook is a nice addition. The Home devices are well-thought out: a cheap option for beginners and a pricy unit for those that really like their music.
The pitch is that as Moore's "law" stumbles, hardware updates are going to become less and less of a standout, and software, in particular smart software, is where the innovation is going to be found for the next decade. ®