Microsoft's Surface Pro 2017, unhinged: Luxury fondleslab that's good...
... as in Veblen Good
By Andrew Orlowski, 9 Aug 2017
Review Microsoft waited almost two years to update its boutique computer, the Surface Pro. In the meantime the line expanded to include a detachable tablet (Surface Book), a desktop (Surface Studio) and a proper laptop (Surface, er, Laptop), while the cheaper, Atom-powered POS (Plain Old Surface) fell into the bin and wasn't rescued. So do you want the tl;dr first?
Fine. This won't take long.
The 2017 Surface Pro (no numbers any more) looks almost identical to 2015's Surface Pro 4, but the battery lasts longer, and it's even more eye-gougingly expensive. Older peripherals for the SP4, like the power supply, the Dock, the fourth-gen Type Cover keyboard and the Pen continue to work, but a Pen is no longer included in the box gratis. It will have an LTE SIM card slot, but not yet. And that's about it for the main features. Some tl;drs are harder to write than others. This is one of the others.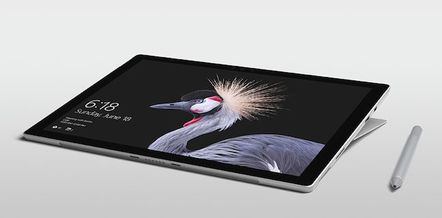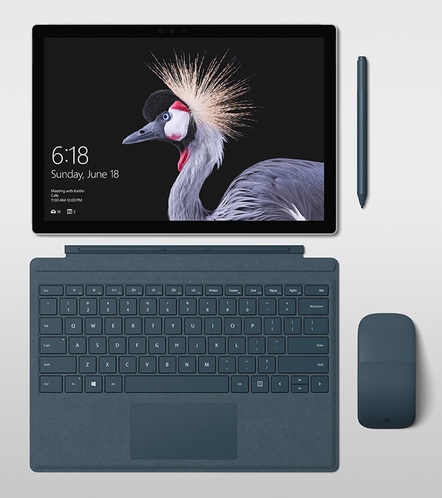 The downsides?
Surprisingly, the port selection remains stuck in 2015, more or less: no Thunderbolt or USB-C. There's still only one USB-A port. Battery life is better, but still not great. The perennial problem of glossy touch displays is greasy paw prints, and again you may think about applying your own layer of oleophobic coating. And the price... oh, the price.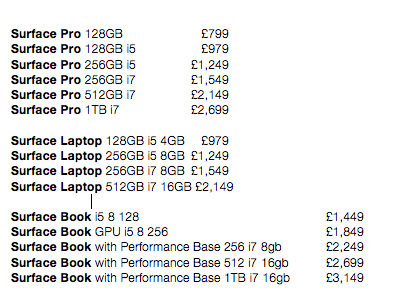 The Surface is almost a kind of Veblen good – the more expensive it is, the more people want it!
If you don't have a Surface Pro, I suspect the price is why. You're spending your own money and want better value and a more robust, albeit larger machine, or you haven't been able to get someone to buy one for you. Bear in mind in the table above, it's another £149 for a matching Alcantara keyboard and maybe even £99.99 for a stylus too. Forget the m3 model and it's crazy to buy a "Pro" machine with less than 8GB of RAM. That's topping £1,500.
But if you can get one, you're going to enjoy it a lot. One reader in the comments on my Surface Laptop review reports that at work, given the choice, 90 per cent of staff plumped for a Surface Pro and my only surprise is what were the other 10 per cent thinking?
Here's what I liked about the Surface Pro 2017 edition. Primarily it's the size and weight. I personally rate this over the machine's 2-in-1 versatility (although that too is a big appeal, the sound is great for catching up on TV). It slips into a reporter's bag – remember, it's a 12.3-inch diagonal display – and when you take it out you're working pretty quickly. The 3:2 aspect ratio is greatly underrated, and for both reading and writing documents, 3:2 is preferable to 16:9.
The display resolution remains unchanged, at an insane 2,736 x 1,824.
I also liked the Alcantara keyboard, now with better (1.5mm) key travel up from 1.3mm, with the strange smoothed fabric you get on the Surface Laptop. The Surface Pen has been given a luxury makeover with and now comes at £99.
And what didn't I like?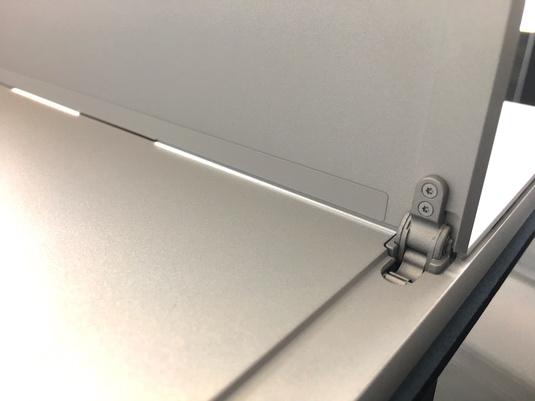 The 2017 Surface Pro has a redesigned hinge.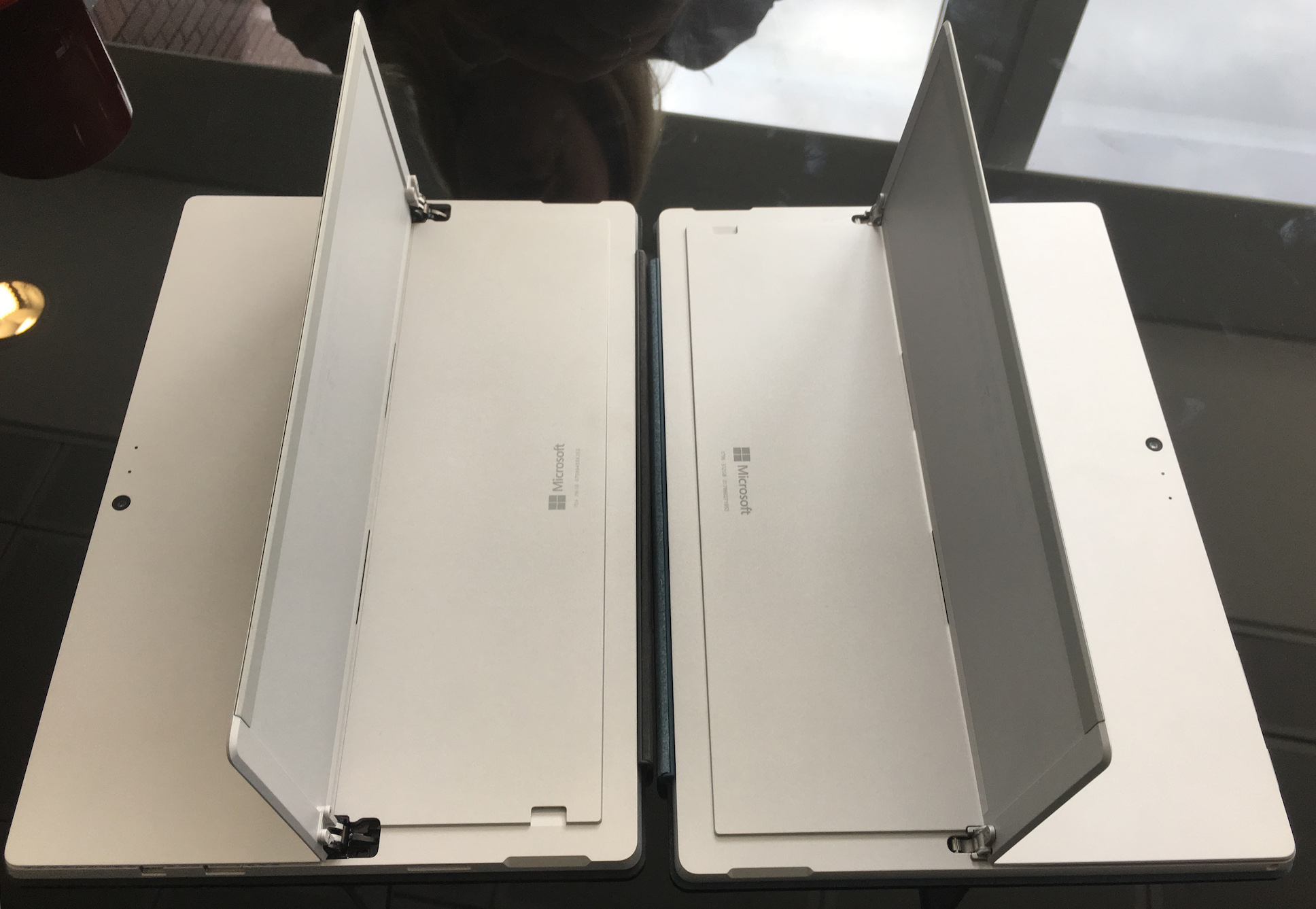 Surface Pro 4 and Surface Pro (2017) compared. The newer model lies flatter with the kickstand at its maximum extent.
Funnily enough, it's Windows 10. Microsoft invented the Surface to showcase Windows 8, which was a touch-first UI. It was a fairly clunky touch UI, but at least Metro or Modern apps written to the UI guidelines made sense. The problem of course is it alienated over a billion non-touch Windows users. So Windows 10 is keyboard and mouse first, and touch second. It's just a really awful second, and even though Windows 10 has been on the market for two years now, it remains botched.
Let me give you an example. My kids like messing around with a couple of Surface apps: Fresh Paint and a loops program, Music Jam. They could get around the Metro/Modern-style Fresh Paint but the design changes – Microsoft's own in strict accordance with its guidelines – made it much more unfriendly. The loops program shows just how broken it is.
In Windows 10 Metro/Modern functions are sucked into a menu which is invisible unless you exit Tablet Mode. So fundamentals like saving your song are invisible. Switch back to Desktop Mode and if you're lucky you'll spot the menu squirrelled away. Now I'm not advocating we go back to the Caligula era of Windows management and design, that was clearly a mistake, and the man had to go. But Microsoft just doesn't have the luxury of making such dumb UI decisions. A grown-up Peter Skillman (WebOS, Meego, HERE Maps) has been in charge of Windows design for coming up to two years, so we should start to see real as opposed to cosmetic ("Acrylic") changes filtering through. One of those should be making Windows 10 a decent tablet OS. Right now it isn't, and the app store looks worse than it did when the SP4 was launched.
A few tidbits of technical detail are worth noting.
The hinge now allows the stand to lie even flatter (165o, 15 more than its predecessor) and in practice, I found this made a surprising real-world difference, particularly when you're just browsing with the thing splayed out on your lap.
Although the Surface look otherwise identical, the inside has been redesigned around passive cooling. The m3 and i5 variants are completely fanless, and the i7 version, typically a hot air mover, was almost completely fanless. iFixit has a teardown confirming that it's even less upgradeable than before. "Microsoft has traded away the removable blade SSD for a little more battery real estate. There goes the sole upgradeable feature from last year's [sic] model," the site notes.
Battery life is claimed to be 13 hours but only for video playback. In practice, on the souped-up i7 model I received for the review, I got 5 to 7 hours, with "7-ish" being typical. But this is much better than before. It also seemed much more predictable. You can never really tell with the SP4 whether you're going to get four-and-a-half or two on the i5 model.
Conclusion
The 2017 Surface Pro is a swanky, show-off piece of kit that you'll find hard to justify. I like the form factor a lot, and long for a less fantastic and slightly more affordable Surface. But with Microsoft minting it in, that's not very likely. ®