The life and times of Surface, Microsoft's odds-defying fondleslab
A hard-won hit at five
By Michael Allison, 12 Jul 2017
Difficult as it might be to comprehend, Microsoft has been shipping Surface for just under five years.
Historically a software company, Microsoft's decision to branch into hardware – or at least designing and selling – was widely dismissed.
In 2012, after Microsoft revealed its plans, then Acer chief exec JT Wang advised their partner not to do it, saying: "It is not something you are good at so please think twice."
Scroll forward, and with rave reviews Microsoft's latest Surfaces have received from publications like the Verge, Wired Magazine et al, one would be forgiven or thinking this machine hailed from Apple.
Others are copying Surface: Samsung's Galaxy Book, HP's Pro x2 and, of course, Apple's iPad Pro.
Surface hit a high point on revenue just over a year ago of $1.11bn, third-quarter 2016, although that was down 26 per cent to $831m earlier this year as customers resisted buying the Surface Book i7, preferring instead to hold out for the long-promised-but-not-yet-to-ship Pro 5 and Book 2.
How their continued non-arrival will affect the fourth-quarter, due to be announced this month, will be instructive as to the length of customers' patience.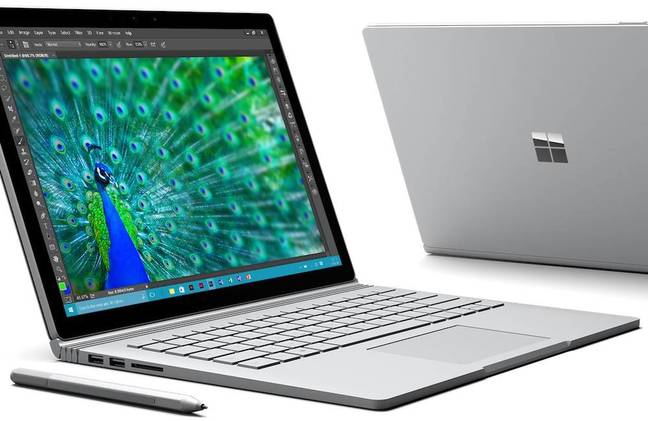 Surface Book i7: Customers holding out for a Pro 5 and Book 2
Be under no illusion, though: success or acceptance – depending on how you view things – was by no means guaranteed and in the early days not even Microsoft knew the exact purpose of Surface. Then chief executive Steve Ballmer alternated between calling Surface a proof of concept and an actual Microsoft computer.
This hinted either at confusion or politics inside Microsoft, or a desire to obscure the true intent of Surface: by calling it the former, he could conceivably have alienated Microsoft's traditional PC partners.
But half a decade on and a stable of four well-regarded consumer PCs, including the Surface Laptop, Surface Book, and Surface Studio in addition to the Surface Pro, one must ask: how did Microsoft – once considered boxed into a corner by, and limited to, a desktop operating system – come out with a hardware line that rivalled Apple and influenced competitor designs?
The road has been a lengthy one, full of twists and turns, but the gist remains that Microsoft only intervened in this market when it began listening to customers.
Remember Windows 8? Good times... Good times...
The story begins in 2012. Windows 8 was about to launch, and consumer Windows PCs were horrible. While we had Apple's Macbooks with good-looking chassis, battery life that could power you through a day, and beautiful screens, their Windows counterparts were not so desirable.
Microsoft's OEMs were pushing out cheap plastic boxes, low-resolution screens and unreliable hard drives. To add urgency to this situation, Windows 8 and Windows 8 RT were coming, and Microsoft needed hardware to show off its new touch-optimised operating system. Knowing that its OEMs couldn't be trusted to put out hardware that would showcase what Microsoft had conceived as the future of Windows, the firm took its fate into its own hands and the Surface with Windows RT and the Surface with Windows 8 Pro were born.
These weren't ordinary Windows clamshell laptops, they both shipped in 10-inch tablet form factors. Both were pleasing to look at, with beautiful HD screens and aluminium chassis. What set them apart from regular tablets was their defining features of kickstand, Surface Pro stylus and removable keyboards.
You would be hard-pressed to tell them apart on sight if one did not know that the Surface with Windows 8 Pro would be a thicker and heavier device, but they could not be any more different. The Surface with Windows 8 RT ran a gimped and restricted version of Windows for ARM, aimed at maximising battery life and improving security. Windows 8 RT would not run classic Windows apps like Chrome and iTunes. Instead, it would run Windows Store apps, a new class of apps created just for Windows and touch-optimised to a fault. The Surface with Windows 8 Pro in contrast had the internals of a traditional Windows ultrabook and could run the full gamut of Windows apps.
Both devices failed in the market, the first missteps Microsoft would build upon to refine its Surface line. While the cheaper Surface RT sold more units, Microsoft took a $900m write-down to subsidise its sales and get more units off the shelf.
Many pundits called on Microsoft to kill Surface after such a disastrous showing, and the revulsion of users to the Windows 8 Start Screen certainly did the sales no favours. Microsoft tried again once more with the Surface 2 RT and Surface Pro 2, this time running Windows 8.1 and Windows RT 8.1 with slightly better results – but nothing ground-breaking.
Surface remained a niche device while the Windows tablet hardware market remained dead in the water compared to iOS and Android. Microsoft tried to differentiate by investing in different covers – a power type cover released – and Microsoft demoed Surface "blades" a concept for accessory makers who, it hoped, would create Surface keyboards for specific situations, like one for DJs. It never took off, and the idea was snuffed out quietly.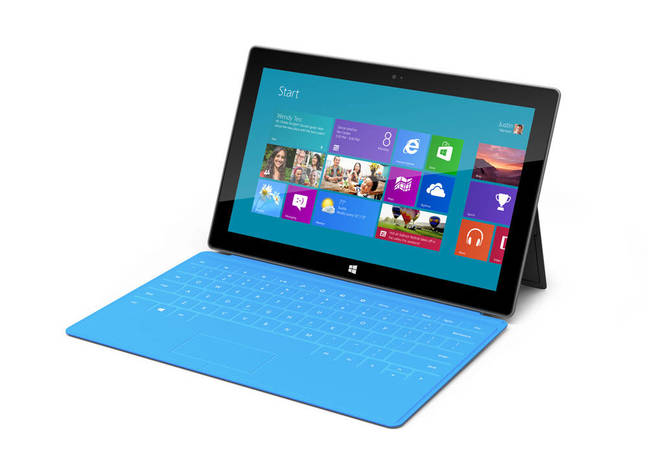 A forgotten, expensive chapter: Surface RT
Where it all changed
The first turning point was the Surface Mini – or rather the decisions that lead its cancellation. Microsoft still wasn't sure what it wanted the Surface line to be. While it had originally launched the tablets to take on the iPad threat and push Windows RT and the Windows Store as the new hotness, that strategy had been dealt a crushing blow. The Windows Store never did take off with Windows 10 and iPads still provided a superior tablet experience. In 2013 Surface was rebranded a device that had limitless potential for customisation but that, too, failed to get off the ground.
This mini tablet would have come to join the 8-inch tablet market as it existed in 2013, taking on the iPad mini, and small Windows tablets like the Dell Venue Pro. It would come in multiple colours, emphasise note-taking and push the Windows Store.
Unlike the larger Surfaces, it would be used primarily as a tablet. We know the tablet existed as we have seen images of it and references in marketing material and even press invites. However, it never made it out to the public. Microsoft killed the Mini just before it was launched. The reasoning was not disclosed, but it was speculated this was due to the Mini not bringing anything new to the market. After the Surface RT write-down and the middling sales of the Surface 2 family, Microsoft had learned not to bring out me-too products, at least for a while.
It was because of this that at its event in May 2014, Microsoft announced the Surface Pro 3 instead of a Surface Mini – as had been expected at the time. This Pro device would bump up the screen size to 12 inches and added a 3:2 aspect ratio at a resolution of 2160x1440. It would be like a magazine or large notepad when held in a portrait orientation. With the supplied stylus, users could make use of OneNote and get things done. This Surface was not solely attempting to take on the iPad, nor was it attempting to target the MacBook Air by itself, it took on both at once.
Its internals rivalled the most powerful laptops, coming with Broadwell chips, and its screen simply outclassed the MacBook Air. It was the tablet that could replace your laptop. In a neat marketing trick, its failures on one side of the aisle could be attributed to compromises it had to meet to bolster the other side. Microsoft, for instance, would market Surface as thinner than a MacBook Air, ignoring the keyboard attachment that added thickness and weight to the device, or market the availability of full desktop apps over the iPad, ignoring the lack of tablet apps.
Combined with the proposition of a device that pulled double duty as a tablet and a laptop, the Surface Pro 3 managed to capture a share of the market for itself.
Nailed it (kinda)
Surface Pro 3 became the device on which Microsoft would base the Pro line for the next two generations. The Surface Pro 4 and Surface Pro (2017) would refine that formula, each building upon what came before with updated internals and refined designs, each picking up more critical acclaim. The detachable keyboard would get a bigger trackpad and add a fingerprint scanner. The screen would get brighter and more accurate, now sporting a 2736x1824 display. The processors would go from Braswell to Skylake to Kaby Lake, with accompanying boosts in battery life and performance. Microsoft would even add a fanless i5 processor in the Surface Pro 2017 to make it more tablet-like while preserving battery life.
From that point on, even Windows OEMs and Apple came out with their own take on a Surface Pro. I've mentioned a few above, and it's hard to argue that Apple's iPad Pro is not inspired by the Surface Pro's success. What was sauce for the goose would, of course, be sauce for the gander. For Microsoft, the validation they received for their approach on the tablet would be enough compensation.
While Microsoft has now expanded its Surface line to include two laptops and an all-in-one PC with the Surface Book, Surface Laptop and Surface Studio, the Surface Pro 3 is ultimately what put the Surface brand on the map, and Surface Pros still make up a pretty dominant percentage of the Surface userbase.
It wasn't always smooth sailing for the Microsoft Surface Post-Surface Pro 3. There were severe hardware issues with the Surface Pro 4 and Surface Book. Both devices would experience sleep issues leading to severe hot-bagging and battery drain. In the words of Andrew Orlowski, this [was] a machine that [would not] go the fuck to sleep.
To make matters worse, the critically acclaimed Surface Pro 3 began to experience battery problems over two years after its release. Microsoft would release a firmware update to fix that too, but with the Surface Pro 4 drama so freshly in the mind of the technologically engaged, there were concerns about the reliability of the Surface Pro as a whole.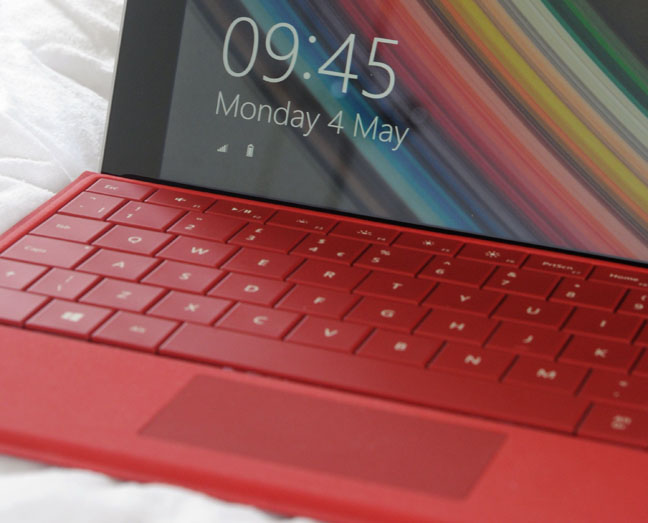 Turning point: Surface 3 would become the springboard to a future generation
In retrospect, Microsoft did the best it could with Surface, taking the ideas that worked, developed them and ditched the ideas that didn't.
Reviewers harped on the "lapability" of Surface, Microsoft improved the kickstand and now Surface Pro has one of the most flexible kickstands in computing. It now works nearly like a true laptop on your lap, and can be approximated to work like a sketchpad on a desk – eliminating the need for a hinge, solving the "lapability" problem and improving the versatility of this device.
The screen of the Surface was too small, so Microsoft bumped it up to 12.3 inches. No one liked Windows RT so Microsoft killed it and ensured all their Surfaces would ship with a "full" version of Windows, or at least have the capability to update. The Surface Pro 3 and 4, despite being marketed as tablets were used as laptops by the majority of people.
Ultimately, Surface succeeded by simply becoming a better laptop than the laptops built for Windows by Microsoft's OEM partners. It became billed as the "most versatile laptop".
If patterns hold, Microsoft will continue to iterate on the Surface editions that have proven successful in the market. There will definitely be another Surface Pro and Surface Laptop come next year. We might see a new Surface Book 2 and refreshed Surface Studio either this year or next.
Rumours are also swirling of a new, possibly Surface-branded mobile device in the form of a foldable tablet, much like the Lenovo Yoga, but running Microsoft's latest attempt to make people buy Windows phones. If this is accurate, it will probably not be successful.
Surface floundered when Microsoft tried to branch into the standalone tablet market, and its mobile efforts tore down the much more resilient Nokia to near obsolescence.
With the shrinking of the traditional PC market, and the growth of the web and mobile as dominant computing platforms, one has to wonder whether the lifeline that lifted Surface from irrelevance does not serve as a noose. ®