Samsung Galaxy S8+: Seriously. What were they thinking?
Mr Slurpy lives next door
By Andrew Orlowski, 17 May 2017
Review The Galaxy S8+ is like a nine course meal of desserts – tiramisus, trifles, ice creams, one after another – that you have to eat with chopsticks and a straw.
As you should expect from a phone that's almost £800, much of the technology is sensational. The edge-to-edge display is not just pretty, it's practical too, and the phone feels great to hold. But Samsung puts two serious hindrances in the way of the owner.
One is a finger print sensor that is hard to reach and whose profile and positioning will seriously muck up your photos. The other is Bixby – purportedly an "artificial intelligence assistant" but which turns out to be the maddest example of buzzword-induced corporate self-delusion since Tronc.*
Last year's Galaxy S7 was so far ahead of the pack it seemed pointless to recommend another Android in the same premium price category. The Galaxy S8+ should be even better, an exemplar of good design and well implemented new technology. The Note 7 left a vacuum for the shopper who wants a premium phone and knows and trusts Samsung from past experience.
But, but… Bixby! And that flaming sensor placement. It really defies belief.
Samsung admits that with Bixby, which isn't even half finished, you have to change. Have a look:

"This will just a hurt a bit... or a lot"
Samsung acknowledges the pain is on purpose. Click to enlarge
Taking it for a spin...
Here I'll provide some subjective impressions; the phone has been used as a daily driver for over a week.
Samsung's curved edge glass was introduced a couple of years ago, in the Galaxy S6 Edge. Nice to look at, nice to fondle, but of any practical use? Well the S8 answers that question definitively. The curved glass is used to pack a lot more pixels into your hand. The picture, rather than frame, comes to the fore.
This results in a much slimmer design. As one reviewer noted, the S8+ is just 3mm wider than the Sony Xperia Z5 Compact, a phone sold (as the name implies) on it being er, compact. Yet almost all that surface is being used for pixels, and the side bezel has entirely disappeared.
For the past few years we've used the length of the diagonal across the display as a proxy for the size of the phone, but the disappearance of capacitive buttons, and ever-shrinking side bezels made this much less meaningful. Edge-to-edge displays mean we can probably dispense with this rule-of-thumb entirely.
The S8s both go tall. The S8+ here uses an unconventional 18.5:9 ratio, rather than the 18:9 (or 2:1 if you prefer) ratio LG used for the G6.
Both the smaller and larger S8s incorporate a 1440 x 2960 resolution display, (c.570ppi s8+) on either a 6.2inch or 5.8inch diagonal.
The S8+'s curves make it immediately comfortable to hold, but after a few days, you appreciate the curved glass at the back more and more, it's like a glass pebble. And almost as slippy. Unsurprisingly it is one of the most fragile designs drop-testers have encountered, and sadly, really should be cased ASAP after purchase.
Now to the major design flaw. Have a look at the picture below.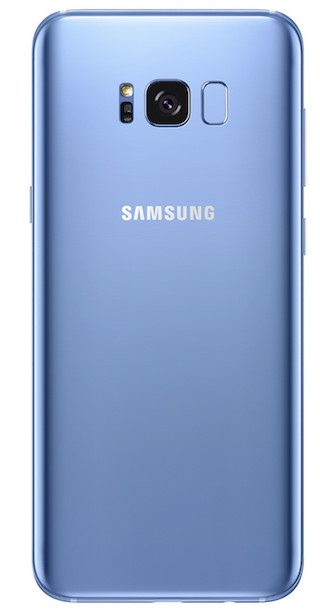 Look at that vast empty blue silvery expanse, as big as the Pacific Ocean.
Imagine where your fingers fall when holding the phone safely and comfortably with one hand.
And now look where Samsung placed the fingerprint sensor. Up high on the back, next to the camera...
Barking.
Apparently, Samsung intended the fingerprint sensor to be concealed under the main display, but the technology wasn't ready for market in time. So late in the day, it had to scramble for a place to stick a conventional fingerprint sensor. And it chose about just about the worst place it could.
The fingerprint sensor is right next to the main camera on the back, but is poorly defined. This means that your finger typically finds the lens when unlocking the phone. Samsung knows this is a problem, occasionally warning you that the camera glass is dirty or smudgy. Worse, on the Galaxy S8+, the sensor is simply too far high up the back to be comfortable, and you need to unlock the device then reposition it in your hand – or use two hands. On the S8 it's less of a stretch.
If the sensor was positioned an inch lower, and centrally, everything would be fine. I found that after a week I picked the phone up by the middle to unlock it, it was still an inconvenience, and the photography was constantly impaired.
There are other ways of unlocking the phone: using facial recognition or iris recognition, but these aren't terribly reliable and secure, as Samsung warns you in the respective enrolment processes for each method. I could unlock the phone with a photo, and the Iris scanner really doesn't work outdoors or with spectacles – a known issue.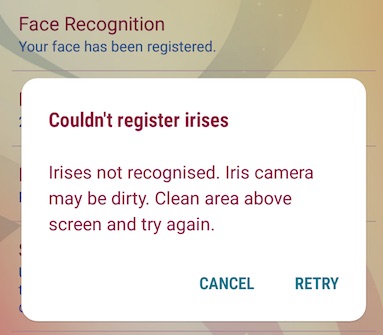 What a shame, for the rest of the phone deserves good marks. The OLED display is terrific, and so detailed Samsung doesn't set it to its highest resolution as default. Calls and ringtones are nice and clear, although for almost £800, it was a bit cheap of Samsung not to built in stereo speakers.
Battery life from the 3,500mAh pack held up surprisingly well, but then Samsung nags you almost as much as Huawei these days about power consumption.
Voice calls and signal reception were also up to par, and VoLTE on my EE-supplied unit was particularly welcome. VoLTE allows you to wander away from your Wi-Fi calling location, and it won't drop the call.
Samsung also skimps a bit on memory and storage compared to its aggressive rivals, particularly Huawei. For under £500 you can pick up a dual lens Huawei phone with 6GB RAM and 64GB storage, and a 4,000mAh battery: it's very good. And on doesn't have the sensor flaw. The S8+ is £300 more expensive, the difference being enough to buy a decent TV, but the Samsung only comes with 4GB.
UI and software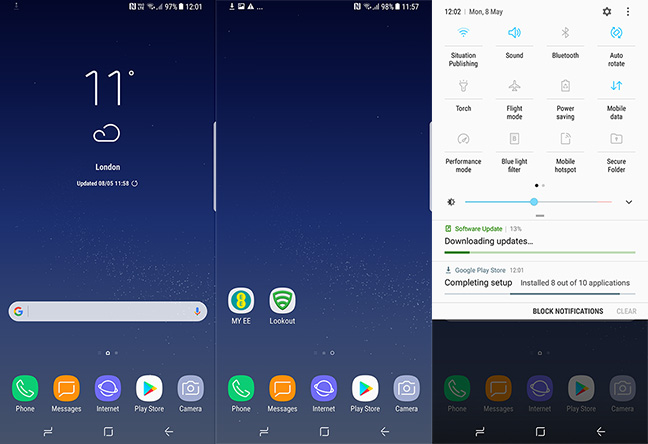 Now to the software. It's traditional at this point for reviewers of Samsung phones to beat the company up for TouchWiz UI. "Why oh why," they ask, "can't Samsung just give us stock Android, like those £100 no name Chinese imports that phone Beijing, order Diego Costa, and bill you for him?"
Well TouchWiz isn't a problem, and I think it looks smart, and works slickly. Small cosmetic uglies have been smoothed off, and the sliding side panel thrown in is terrifically useful. I don't think it slows the phone down (although this face-off with the BlackBerry KeyOne suggests otherwise – the KeyOne has only a midrange Snapdragon 625 chip), and the phone bombs along where it should, loading web pages, for example, or playing games. Besides, we're all grown-ups, and know how to install Nova Launcher, I hope.
No, the problem is that this year Samsung has caught Google-itis (or Nadella-itis) and demands data off you at every turn. Unlike Google or Microsoft, Samsung is just really crass and heavy-handed about how it does it.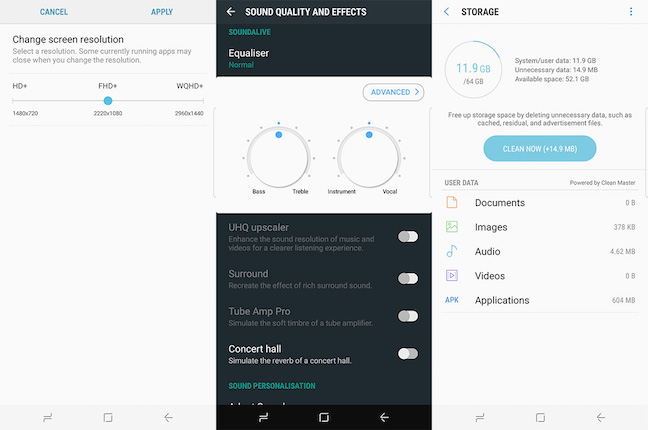 This goes well beyond Bixby, its frantic me-too AI voice assistant. Apps which should work without an internet connection (like editing your theme) just stall. However Bixby is a seriously awful incumbent, and you will really struggle to firewall the slurping and nagging.
But mainly this is because of Bixby. Samsung has clearly been reading WiReD or in-flight supplements too much, and thinks from the hype that shipping no AI assistant is worse than shipping a bad AI assistant.
How wrong that is.
For a start you can't even "talk" to Bixby outside the US, because it doesn't support voice. The palette of "assistance" is pitiful, as it is with consumer AI. Stock tickers and news and themes and a few Tweets. Great stuff. The AI part also seems more miss than hit. 8am usually finds me sheltering from the rain at Kentish Town railway station, but Samsung estimates that I wake up at 0802. (I wish)
That's brilliant, Bixby.
The logic here is that if Amazon's Echo is a hit then Bixby will be, because Bixby is just Echo in your pocket, right? If you think about what makes Echo so well loved by its owners, it's the absence of Clippy-The-Paperclip interruptions, and the fact that it's hands free – just look up and talk.
But Bixby is neither.
For now, Samsung's Slurpy, sorry... Bixby, is just a slurping engine that you can't disable. And a dedicated hardware button that you can't reprogramme to do something useful, like start the Camera. (The Play Store does feature apps that promise to disable Bixby for a fee, but I didn't test them).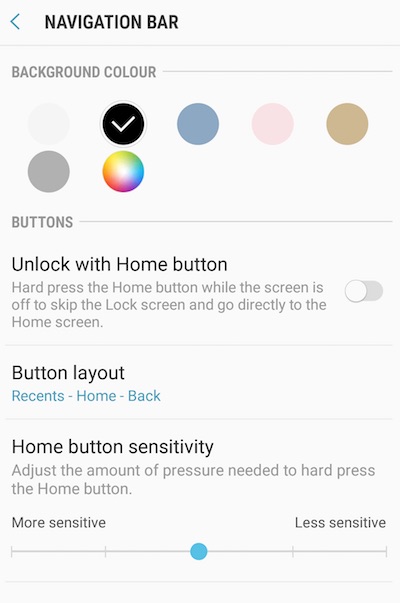 Yes, you can swap around the buttons, at last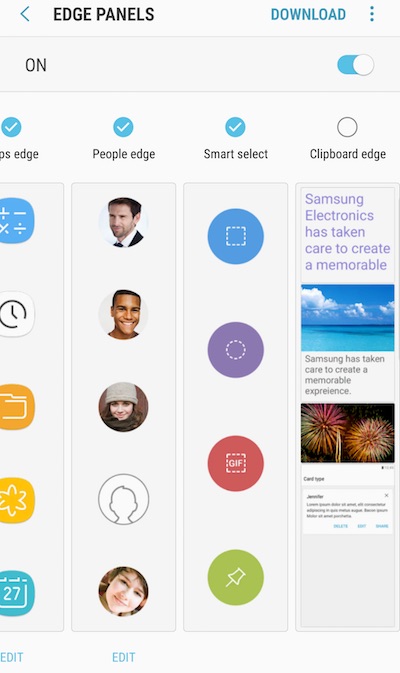 The very handy multipane edge panel is seriously handy.
As for the rest of the bundle, the big story is how well the "desktop mode", DeX, runs – and for details of that see my piece here.
Samsung has been criticised for app duplication, and this is cut down further: Samsung own-brand Gallery, Mail and Browser are thoroughly justifiable inclusions. In fact, I was slightly surprised that Samsung's best apps aren't bundled by default: Soundcamp, SideSync and Kids mode, for example, are Samsung exclusives that acquit themselves well. Samsung's BlackBerry Hub-alike, Focus, isn't even promoted in the Samsung app store.
Camera
It still produces decent, well-balanced shots and performs better than average phone camera in poor light. Big pixels and a wide f/1.8 aperture are put to good use. Like all smartphones you'll get better results from a compact £100 dedicated snapper but the S8 will do you for when you've forgotten to pocket a real pocket camera.
The live stickers gimmick caused great hilarity at home and in the Reg office.
Samsung has left the main imaging unit the same as last year's, while upgrading the selfie camera. I know people who opt for a Galaxy simply because the image quality is reliably good, so being no worse than last year is not a criticism.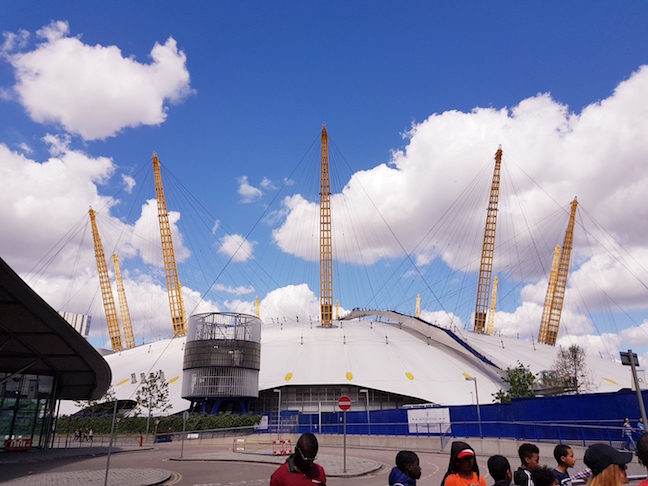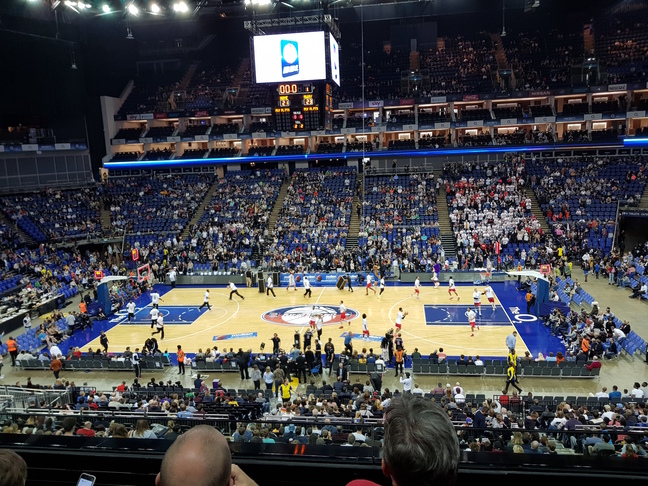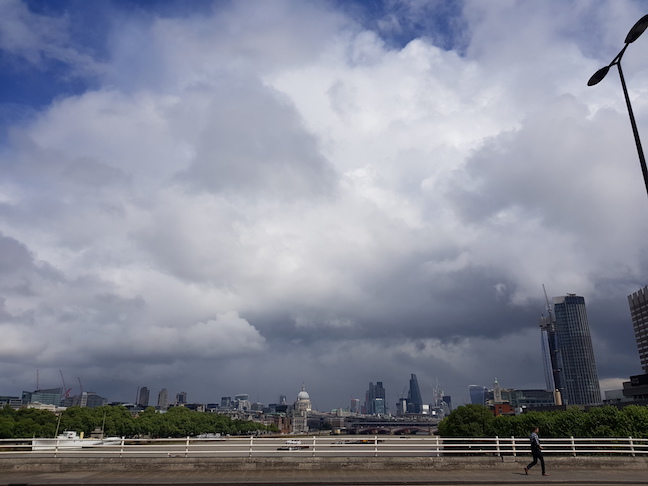 Samsung has a continuous shooting mode (like the new HTC) with the results used to fine tune the image you capture. This is called "Multi-Frame Image Processing" and is on by default.
The photos proposition is significantly impaired by the sensor placement, which adds your finger smudges to the finished result. The proportion of disappointing photos fell over a week, but it's a completely unnecessary own goal.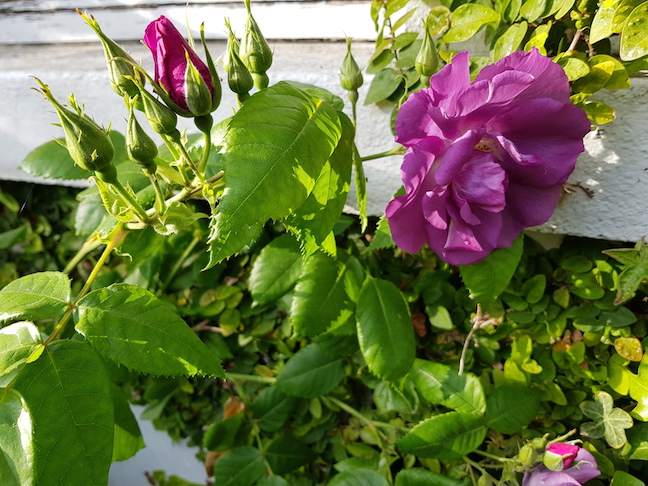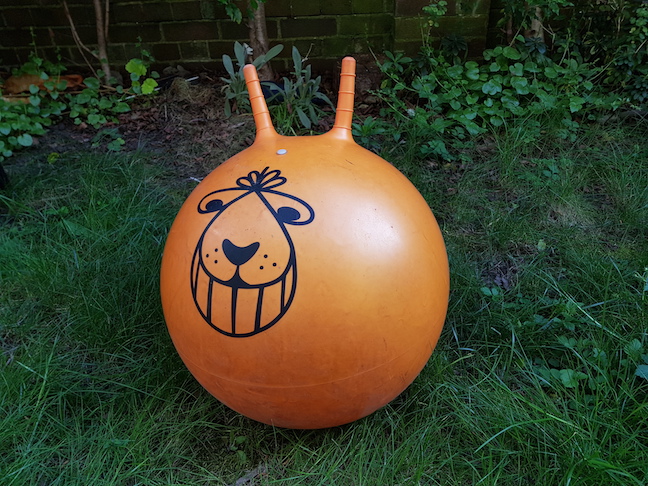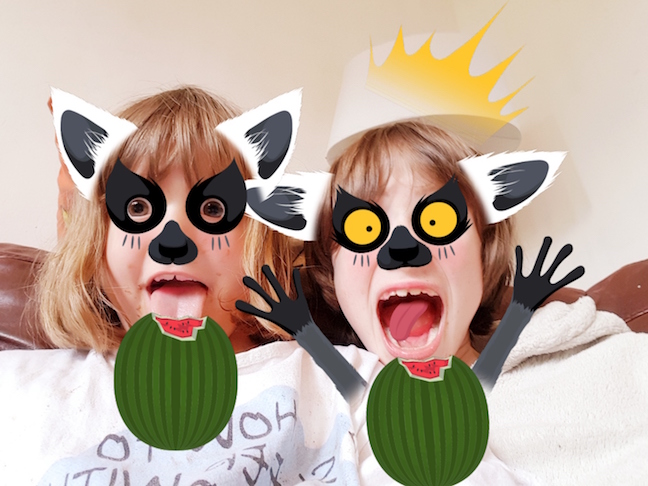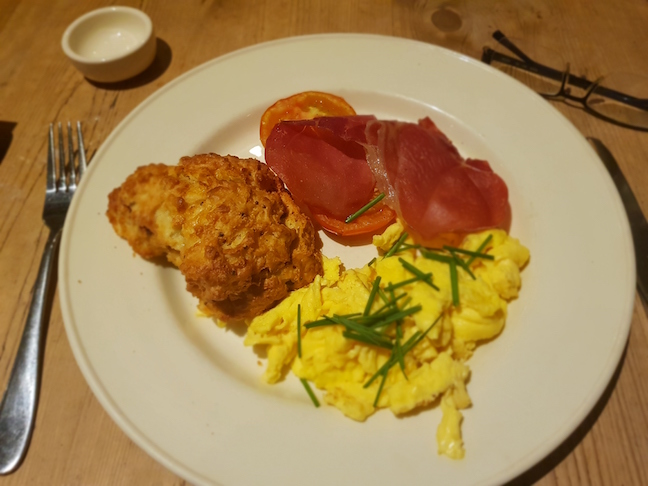 Panorama resaved, at 25pc size. The original is 18MB, we've included a much smaller version to see.
Conclusion
Samsung's Galaxy S8 should have been a tour de force, one of the highlights of the year for a reviewer. Much of Samsung's design has improved immeasurably since the "elastoplast" Galaxy S5 three years ago came out to a slow hand clap.
But at £779 the unwanted and intrusive Bixby assistant, and the cumbersome sensor placement are hard to defend. If you need an Android upgrade, last year's superb Galaxy S7 still hits spot, and keen competition from Huawei will save you a small fortune.
Samsung Galaxy S8+
Summary
: Terrific, edge to edge display marred by clunky design flaws and immature AI overlay.
Full specs are here
.
Specs
: 6.2" Quad HD (1440 x 2960, 529ppi) AMOLED display
64GB storage/4GB RAM
Samsung Kynos octacore SoC (2.35GHz Quad + 1.9GHz Quad), 64 bit
12MP f/1.7 (main); 8MP f/1.7 (front) camera
Qi fast charging; QuickCharge 2.0 (not 3.0); USB Type-C
Size: 159.5 x 73.4 x 8.1 mm; Weight: 173 g
Street Price: £779 SIM Free (Carphone)
*Bootnote
Tronc is not the Tribune Company, a US newspaper group. That's an old thing. Tronc is Tribune Online Content, a new thing. Watch the video and marvel.