Calm down, everyone – it's only a Monday storage news blitz
Another weekly roundup of everything happening, from cloud to tape
By Chris Mellor, 24 Apr 2017
Storage news, like data growth, is unrelenting.
This week we learned of new things in the cloud, tape, new storage arrays, object storage, persistent storage for containers, cloud storage gateways, deduping to disk, and ultra-secure disk drives and SSDs. Ready? Here we go.
DataDirect Networks
DataDirect Networks (DDN) has updated its WOS software to WOS Core 2.8 and WOS S3 2.3 (for the connectivity features), claiming it's competitive cost-wise with tape for archiving. We asked if comparative numbers were available.
A DDN spokesperson said: "WOS is competitive with tape storage alternatives and gets close to the cost of tape for active archives. DDN hasn't published figures and isn't referring to the cost of a tape removed and on a shelf, but rather to tapes in a library with an automated method for loading tapes (a robot) and sufficient performance to be viewed as an adequate alternative."
That's a "No," then.
DDN also told more about its new Extended ObjectAssure erasure coding: "Extended ObjectAssure is the application of a fairly common model for data protection for Object Storage and when combined with WOS' existing selection of data protection options, offers the most expansive flexibility and choice in the industry.
"It builds on WOS ObjectAssure technology to provide data protection at Local ObjectAssure efficiency while providing highest availability of data. Extended ObjectAssure erasure encoding divides the object into k+m fragments, and each fragment is stored on a separate node. Data remains available when up to m fragments are available. WOS supports a wide variety of Extended ObjectAssure configurations, where:
k is the number of data fragments
m is the number parity fragments
k+m is the total number of fragments stored
"This allows customers to get to very efficient overhead numbers for parity, especially for wide and deep codes for large data repositories. Offering this option alongside our existing Local Object Assure (LOA), Global Object Assure (GOA) and Replication now gives customers the ultimate ability to manage data protection based on the value of the data and the desired performance, latency, MTTDL and availability. All the data protection options are applied by policies at the object level, and can be intermixed within a cluster."
There was an advance in S3 connectivity with the update as well, from single to multi-site connectivity. DDN said it did this because "We  consistently hear about customers not being able to meet replication SLAs with S3."
Customers can now "access the WOS repository via S3 in multiple locations, with centrally managed credentials (including integration with LDAP and Active Directory), as well as fully protect the repository in case of local outage or disaster, with the ability to failover and failback once a primary site is restored. The solution we are announcing is very high performance and will allow our customers to meet their stringent SLA for replication."
Exagrid
Exagrid has released V5.0 of its deduping, disk-based backup software. It includes better support for Oracle RMAN Channels, Veeam Scale-Out Backup Repository (SOBR), and replication to AWS public cloud for disaster recovery.
Oracle RMAN customers can use RMAN Channels with up to 25 appliances in an ExaGrid scale-out GRID system, and enjoy global deduplication, for what it's worth in that database environment. "Sections" of data are sent to each appliance in parallel for improved performance and also for performance load balancing, as RMAN Channels will send the next section of data to the next available appliance in the GRID.
Exagrid CEO Bill Andrews exclaimed: "ExaGrid v5.0 is the first backup storage solution that provides fast backups at a rate of up to 200TB/hour per PB, and fast restores with the ExaGrid landing zone coupled with performance load balancing and failover when working with Oracle RMAN." He reckons, "There is no solution on the market that will come close to the ExaGrid approach for Oracle RMAN."
He tells The Reg, "80 per cent of our business now comes from replacing Commvault deduplication to disk, Veritas 5200/5300 appliances, Data Domain, HP StoreOnce and Quantum DXi," which is threatening to those suppliers if Exagrid's business keeps on growing.
It is outpacing the deduping to disk backup market, with leader Data Domain maturing yet still unable to offer global deduplication. Exagrid reckons it could achieve an IPO in 2019, with Andrews saying: "We are heads-down focused on a 2019 IPO. We have met with many investment banking firms and know exactly what we need to do."
Fujitsu and Oracle
Fujitsu and Oracle are offering Oracle public cloud services from a Fujitsu data center in Japan. Customers can subscribe to Fujitsu Cloud Service K5 DB powered by Oracle Cloud. The Oracle Database Cloud Service is one of the database options available from Fujitsu Cloud Service K5.
Fujitsu and Oracle formed a strategic alliance on July 6, 2016 to deliver enterprise-class cloud services to customers in Japan and their subsidiaries around the world.
A canned quote from Edward Screven, Chief Corporate Architect at Oracle, said: "By combining Fujitsu's system integration expertise with Oracle's cloud services, Fujitsu and Oracle will accelerate the transition of our joint customers' enterprise systems to cloud." Fujitsu has the largest number of Oracle-certified Oracle Cloud engineers in Japan.
This should provide a timely boost to Oracle as it focuses on growing its public cloud customer base.
Mpstor
Mpstor has a new all-flash array, the OSA-F60, with these features:
2U enclosure with 60 x 2.5-inch drive bays
Dual, hot-swap controllers
Up to 128GB of controller memory
Orkestra SAM software with inline compression, deduplication and IOPS rate limiting
Block data access over 16Gbit/s FC, 40GBitE and 56Gbit/s InfiniBand
Access protocol support for iSCSI and ISER
Field replaceable drives, power supplies and fans
Validated with Red Hat Linux (RHEL) and Windows;  dual controller software validated with RHEL multi-path and Windows multi-path MPIO
The array is rated for 1.6M IOPS with 4K random reads.
We prodded Mpstor to clarify a few things about the array. Here's the results of that probe:
El Reg What is the array's raw capacity?
Mpstor We support a total of 60x15.3TB drives in a 2U Chassis for a total RAW capacity of approx 900TB.
El Reg What CPUs do the controllers use? (including number of cores)
Mpstor We use a 10 core Intel Xeon CPU E5-2670.
El Reg 128GB DRAM per controller for the two controllers?
Mpstor We use 128GB per controller.
El Reg What is the array's latency?
Mpstor At 1M IOPS the latency is less than 2 ms.
El Reg Why not 32Gbit/s Fibre Channel?
Mpstor We support up to 16G FC, the next version will support 32G FC.
El Reg The release says field replaceable disks but it's an all-flash array?
Mpstor Every one of the 60 SSDs are hot swap FRU devices and user accessible.
El Reg The release says it's "available in a range of SAN configurations including 8x8G-FC, 4x16G-FC, 4x48G-Ethernet or 4x56G-Infiniband." but it only supports 40GbitE not 48.
Mpstor That was a typo, its 40G Ethernet.
El Reg The release says "using an automation API or conventional GUI" but there is no such thing as an automation API, only an API used for automated access.
Mpstor Correct, the OSA-F60 is delivered with a set of python CLI tools to automate the provisioning process such as RAID creation, volume creation and volume exports to hosts, as well as all monitoring functions.
El Reg An Mpstor webpage says the OSA-F60 "supports SAS expansion JBOD enclosures, expansion enclosures  can be either 2Ux60 2.5-inch SSD or 4Ux60 3.5-inch HDD drive enclosures." But it's described as an all-flash system. Why is there disk drive support there?
Mpstor The OSA-F60 is an all flash SSD array, the OSA-F60 software can manage HDDs as well. The option is there for a user to add additional capacity either as SSD or HDD.
El Reg What's the array cost?
Mpstor The price is less than US$2.00 per GB and less than $0.50 per GB effective (assuming a conservative dedup ratio of 4:1).
El Reg Can we buy one now?
Mpstor Units are available now.
StorageOS
UK-based StorageOS has announced the availability of the public beta release of its software storage which delivers highly available databases in containerised apps. lt's free to developers on the Docker Store and has recently achieved Docker Certified status for its managed volume plugin.
The StorageOS beta software has no hardware or kernel dependencies and can be installed in the cloud, in VMs, or bare metal with one command.
Deni Connor, founding analyst for SSG-NOW, thinks using containers for production is becoming more prevalent and the market will be worth $2.7 billion by 2020. Persistent storage for containers should see a rise in demand if that happens.
Register for the public beta here.
Tape Storage Council
The Tape Storage Council issued an annual report (PDF) looking at the tape market. It says tape se is expanding with demand fueled by data growth, technological advancements, tape's highly favourable economics, low energy requirements, and the growing regulatory and business requirements to maintain "access to data forever."
In 2016's fourth quarter LTO capacity shipments totalled nearly 27 exabytes (compressed), making it the highest capacity shipped quarter in LTO history. Here's a chart;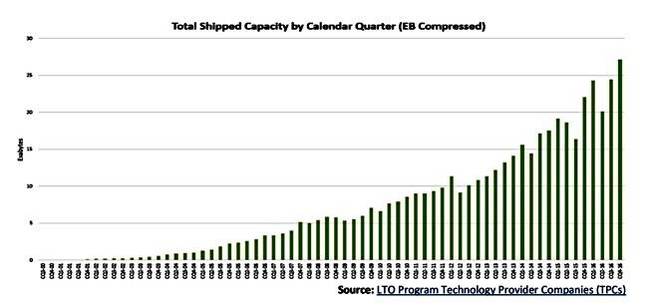 Click chart for bigger version
The council report says offers the following observations about the tape market:
Tape drives have a BER (Bit Error Rate) of 1x1019 bits read, the highest reliability level of any storage device surpassing HDDs at 1x1016 by three orders of magnitude.
Tape cartridge capacity is on an unprecedented trajectory with areal density projected to grow twice as fast as HDDs for the foreseeable future.
Tape data rates are expected to be as much as five times faster than HDDs by 2025.
Tape has a media life exceeding 30 years, longer than any other data center digital storage solution.
Energy consumption for tape is significantly less than HDDs with some studies showing tape energy consumption less than two percent of HDDs for the equivalent amount of storage.
For archiving, TCO studies indicate today's disk based storage solutions are at least six times more costly per terabyte stored than solutions based on tape libraries.
Tape's functionality and ease of use is enhanced with LTFS software and widespread HSM support.
XenData
XenData has launched a Cloud File Gateway and its software can manage a single scalable file system across two storage tiers: on-premises RAID and Microsoft Azure blob storage. It says existing file-based applications can use cloud storage without the need for modification, and its tiering policies keep frequently accessed files on local storage, which minimizes cloud access costs and Internet bandwidth usage.
The Cloud File Gateway, which runs on a Microsoft Windows Server or client computer, is optimized for video files, and includes certified integration options for video surveillance and a range of media and entertainment applications. It supports partial file restore, which allows clip creation from large video files without downloading the full file, and is scalable out to petabyte levels.
This video focus will help separate it from other cloud storage gateways such as those from Nasuni and Panzura.
It will be shown at the 2017 NAB Show in Las Vegas on the XenData booth, SL14213, from 24-27 April 2017.
Other news
Hybrid data management, analytics and integration Actian says its Actian X offering is a native, hybrid database that combines the Actian Ingres OLTP database with Actian's Vector analytics query engine. It says it can process transactional, analytical and hybrid workloads from a single database running on a single compute node, and with query times up to 10x faster than the competition.
It also has an Actian DataConnect 11 product with support for the Eclipse open source framework, and claims it brings new levels of integration and ease of use across enterprise data centres and public cloud environments.
Filer accelerator and cloud NAS access supplier Avere says Sony Pictures Imageworks has deployed its FXT Edge filer 5600 clusters to support the studio's ongoing render farm expansion and to ensure non-disruptive scalability. SPI bought its first Avere edge filer in 2010.
Cloud storage service provider Backblaze has dropped download pricing from $0.05/GB to $0.02/GB. The first gigabyte of data downloaded each day is still free. It says this price cut makes not only its storage about 1/4th of AWS/Azure/Google, but its download pricing as well. Read more in Backblaze's blog.
Copy data manager Catalogic says its latest ECX 2.6 "dramatically reduces the time and effort required to deliver secure copies of data to IT and business users." It adds application-aware support for InterSystems Caché database and Epic Electronic Health Record software on Linux and AIX (IBM Power Systems), supports SAP HANA on Linux (Intel based x86 and IBM Power Systems), and extends Microsoft SQL Server 2012, 2014 and 2016 support to physical hosts.
iStorage has introduced, it says, one of the most secure hard drives ever made, the diskAshur range; a USB 3.1, PIN authenticated, hardware-encrypted, set of portable disk and solid state drives. The set includes the diskAshur, diskAshur SSD, diskAshur PRO, diskAshur PRO SSD and the diskAshur DT, all of which are designed, developed and assembled in the UK.
These drives have a dedicated hardware based secure microprocessor (Common Criteria EAL4+ ready), which employs built-in physical protection mechanisms designed to defend against external tamper, bypass laser attacks and fault injections. All the drives react to automated hacking attempts by entering the deadlock frozen state, which renders all such attacks useless. If you don't have the PIN then there is no way in.
Seagate's LaCie has a new 2big professional 2-bay RAID storage Dock product supporting Thunderbolt 3. Its capacity rise 20 per cent to 20TB (2 x 10TB Seagate IronWolf 3.5-inch disk drives) and its IO speed goes up to 440MB/sec. Users can transfer one hour of 4K footage in one minute and get almost zero lag time when browsing photo libraries in Adobe Lightroom. Front-facing SD and CF Card slots allow direct ingestion of files off memory cards from a drone, DSLR, GoPro and other devices into Adobe Lightroom or Premiere Pro.
Rubrik said its data protection offering for Pure Storage FlashBlade, along with new integration between Rubrik's Cloud Data Management Products and Pure's FlashArray//M. It said its support for FlashBlade, Pure's unstructured data offering, has been designed to cater to companies running complex, data-intensive workloads between private and public clouds.
Object storage software provider Scality announced availability of an open-source Scality S3 Server release, under the Apache 2.0 license, with support for high availability and multiple cloud data backends. The Server software support includes AWS S3, In-memory, Scality RING, and Docker Volume. An extended set of storage services are available with Docker Volume, including Google Cloud, NetApp, HPE 3PAR, Azure File Storage, and more. It's based on a pluggable cloud repository module and can be enhanced to support any private or public cloud data service and allows the same S3 API interface to be used with any data backend.
People moves
Sphere 3D has appointed ex-IBM VP and storage systems executive Dr. Cheemin Bo-Linn to its board. She seems to specialise in distressed or near-distressed companies, having previously been on crashed Violin Memory's board.
Sphere 3D Chairman and CEO Eric Kelly said; "Her knowledge in strategic growth transformations and proven technology expertise in cloud, software and enterprise storage, combined with her vast corporate leadership experience, will strengthen our Board." We don't think Violin enjoyed its 'strategic growth transformation.'
DataDirect Networks has hired Jessica Popp to be general manager of its newly created Infinite Memory Engine (IME) business unit. She comes from being Intel's software Engineering Director at its High Performance Data Division, where she managed the development and support of the Lustre parallel file system and related products. Popp was at Lustre developer Whamcloud from 2010 to 2012, which Intel acquired in 2012. It has recently turned its acquired Lustre into an Open Source offering and, possibly as a consequence, Popp pops off to DDN.
Her job is "to build a world-class development organisation for DDN's IME business [and] oversee the growth of the IME development and quality assurance teams, advance the IME feature set, and accelerate customer acquisition and revenue growth."
That's it for this week's storage roundup. Enjoy your (hopefully now well-informed) week! ®