LG, Huawei unwrap 'Samsung Galaxy-killers'
While Samsung's away, rivals try and sit in the Android King's Chair
By Andrew Orlowski, 26 Feb 2017
MWC This year's flagship smartphones will run even faster and have even more features than last year's flagship smartphones, The Register discovered today.
Who knew?
With Samsung delaying the launch of its Galaxy S8 flagship until after Mobile World Congress, both LG and Huawei used the event to capitalise on the delay.
So let's get this out of the way first. Both giants alluded to Samsung's Note 7 exploding battery problems in a very subtle fashion. For example, LG's presenters put on their Very Serious Faces, and started talking about "personal safety." Personal safety was very important, they nodded, gravely.
What did this mean, we wondered? Phones with a rape alarm? A built-in reservoir of pepper spray, or perhaps an inflatable airbag? All of these would be fantastically useful enhancements to personal safety. No, they just meant having a phone that doesn't blow up in your pocket. Huawei also alluded obliquely to how much care is taken with its own batteries – although it's fair to say Huawei's reference was "fleeting." Neither wished to be seen to be exploiting Samsung's misfortune, although neither could completely ignore it either.
How LG and Huawei want your flagship cash
In two massively oversubscribed events at MWC 2017, first LG and then Huawei revealed their wares.
LG G6 is the more immediately impressive, given that it smartens up LG's flagship offering considerably and makes it more coherent. Phones from the South Korean giant have often featured bleeding-edge displays and cameras only to be let down by a weird combination of unwanted features, boffin-designed user interfaces, and teenage cuteness. This looks and feels much more like a mainstream Android should. About time, perhaps.
The LG G6 packs a spectacular 18:9 display in a surprisingly compact body. The bezel around the 5.7" QHD+ display has been almost completely eradicated. Most phone displays today follow a 16:9 aspect ration. The best compliment you can pay 18:9 is that you wonder why nobody's tried it before; it feels natural. As we noted last week, 18:9 allows for (in LG's words) "11.3 per cent more information!" and also allows you to view two square windows side by side. Less obvious is why you'd want to.
The G6 is therefore more comfortable to hold than an S7 Edge, and much more comfortable than an iPhone 7 Plus, both of which have 5.5" displays. LG recruited an academic ergonomist to confirm that, yes, the LG was comfortable because it had a width narrower than 72mm, and the bottom bezel is bigger than 7.5mm. Apparently. That's what ergonomists say in 2017, although they'll probably say something else next year.
Overall, this is a neat gimmick-free design. Recent LG gimmicks have included a banana-shaped display, and last year's ill-advised expansion slot.
Tech specs are unsurprisingly more whizzy than last year. The quad-core Qualcomm Snapdragon 821 supports high bandwidth LTE, and smoother 4K video. LG packs in two 13Mp sensors for its main imaging unit, as is the modern fashion. There's also 32 or 64GB of flash storage, 4GB of RAM, single or dual nanoSIM, a microSD slot that can take up to 256GB of capacity (this consumes one of the dual nanoSIM slots in that model), and a non-removable 3,300mAh battery.
LG has done away with all the buttons except the volume keys, and retains the power up button with fingerprint sensor on the rear. The LG was the first to put this round the back, and others have copied this.
And as expected, it's water and dustproof. The pricing wasn't disclosed today, but you can be sure it won't be cheap. It's expected to go on sale this quarter.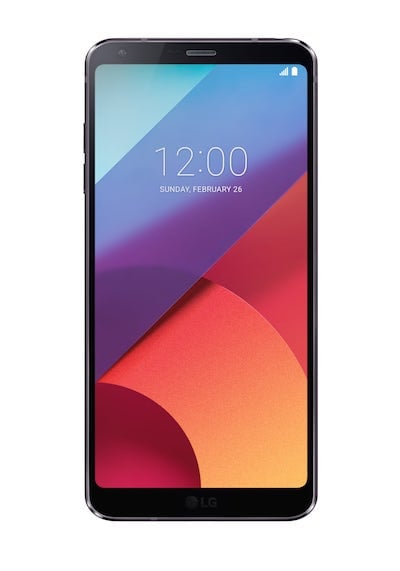 Overall it's a great return to form for a company that was trying just a bit hard to be different. And guess what – it doesn't explode. Because personal safety is important, so very important, to LG.
We'll have a fuller hands on soon.
Huawei's incremental improvement
Huawei's relentless rise over the past three years – remember, it didn't even have an LTE phone three years ago today, when it was unknown as a phone maker in Western markets – is emphasised by incremental improvements to its new P series.
There is no single headline-grabbing new feature (like 18:9) in Huawei's P10 and P10 Plus, unveiled today, with shipments starting by the end of March. But almost every aspect has been tuned and tweaked. The Leica-branded dual imaging unit now has wider aperture sensors: f/1.8. It's more drop resistant. The Kirin 960 processor, already seen in the Mate 9, packs in more horsepower. The battery is larger: 3,750mAh larger on the Plus model.
The Plus also has swankier lenses. As a byproduct of all that CPU and GPU power, the phones now detect 100 points on a face and allow the lighting on a subject's face to be tinkered with after shooting. The spare CPU cycles are also being used for defragmentation and memory optimisation, using machine learning algorithms, Huawei says, so the phone should run faster ("20 per cent") and not slow down as dramatically because of cruft.
As a quick rundown, the P10 has a 3,200mAh non-removable battery, 64GB of storage, 4GB of RAM, a microSD slot that supports up to 256GB of storage, single or dual nanoSIM, a 5.1" 1080-by-1920-pixel screen, and an octocore HiSilicon Kirin 960 chipset, all in a 145.3 x 69.3 x 7mm (5.72 x 2.73 x 0.28") 145g package.
Meanwhile, the P10 Plus has a 3,750mAh non-removable battery, 64 or 128GB of storage, 4 or 6GB of RAM, a microSD slot that supports up to 256GB of storage, single or dual nanoSIM, a 5.5" 1440-by-2560-pixel screen, and an octocore HiSilicon Kirin 960 chipset, all in a 153.5 x 74.2 x 7mm (6.04 x 2.92 x 0.28") 165g case.
As you expect from Huawei, with its 70,000 engineering graduates, there are real radio engineering claims here. Not only does Huawei call the P10 is the "world's first 4.5G phone," with quad antennae, but it makes bold claims for network reliability.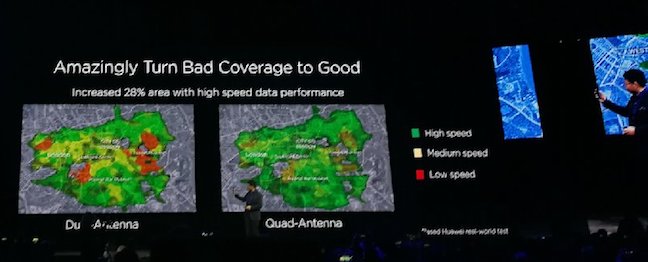 Amazing... IF TRUE
Huawei says that can translate to 60 per cent fewer dropped calls in weak signal areas. And it has some tweaks to its GPS, with "50 per cent less drift" while navigating than an iPhone.
Design wise the P10s are very similar to the P9s, but the fingerprint sensor has been moved to the front. As well as the usual black white and silver, the P10s come in two lovely colours, a green and a blue. It's the result of a new partnership with Pantone announced today, which got very Perfect Curve about the meaning of colour. Much like this, in fact.
And it won't be cheap: no UK pricing has been disclosed yet; the regular P10 will ship for €649. Both the P10 and the P10 Plus are due to go on sale in March.
And Huawei's won't explode in your pocket, because Huawei are so very, very careful with their batteries. They just want you to know that, apropos of nothing, really.
BlackBerry relaunched with a QWERTY yesterday, Nokia's revived a classic, and more companies will try to breathe life into a tired market tonight and tomorrow. ®