Alleged HPE fraud man Peter Sage once ran dodgy pharma biz
Plus: Full details of the ex-stripper who controls his European enterprise
By Gareth Corfield, 10 Feb 2017
Peter Sage, the jailed motivational speaker accused by Hewlett Packard Enterprise of perpetrating a $17.5m fraud against them, once ran a company which claimed "'traditional' pharmaceuticals simply intoxicate your body".
Sage was imprisoned in January for 18 months after the High Court in London, UK, ruled he had committed numerous contempts of court.
This followed on from his home in England being searched by lawyers from City of London firm Mishcon de Reya, retained by HPE in relation to the fraud allegations, in late 2015. Those fraud allegations will be heard in full by the High Court in March.
HPE has not responded to our repeated enquiries about the ongoing court case it has against Sage, which relate to his Space Energy venture. The case has been brought as a civil (ie, non-criminal) matter between the two parties, although Sage was jailed after breaching a 2015 court order that forced him to hand over details of his businesses and their finances to HPE's lawyers.
Since Sage's imprisonment, a number of sources have come to The Register to discuss his previous business ventures.
The dodgy health products firm
One of Sage's previous ventures mentioned by sources was the World Wide Health Corporation, a UK Channel Islands-registered firm selling pharmaceutical products in the UK. The Register has obtained a copy of an Advertising Standards Authority ruling made against WWHC in November 2000.
Sage's firm had been peddling a "preventative health product" called MSM Health Guard with the claim: "We are so confident of this product that we offer a lifetime guarantee against acquiring any additional ailment (even a common cold!) or we will refund the cost of your supply", also saying that "'Traditional' pharmaceuticals simply intoxicate your body."
The ASA upheld five of the seven complaints made against WWHC by Cambridgeshire Trading Standards, Swansea Trading Standards and Wirral Trading Standards. The upheld complaints included: WWHC claiming that lab tests showed the positive effects of MSM, without evidence; misleading assertions that common medicines such as ibuprofen "intoxicate the body"; inaccurate claims about medical conditions; use of false product testimonials; and use of the words "cure completely" along with mentions of diabetes, Alzheimers' disease, arthritis and emphysema.
Two complaints were not upheld: MSM was revealed to be a natural sulphur compound released by plants and the industrial extraction method did not render the "natural product" claim untrue. In addition, a Dr Stanley Jacobs quoted in a promotional Q&A was found by the ASA to be a credible expert.
The male escort promotion agency
Sage was also a director of an advertising agency called Premier Male Escort Services Ltd, incorporated in 1995. A source told The Register that this business consisted of selling advertising space in magazines to men who wanted to promote themselves as male escorts.
Premier Male Escort Services Ltd was compulsorily wound up in 1998 for failure to pay VAT, according to an article in the Daily Mirror of Friday 25 February 2000. The newspaper carried out an investigation into Sage's then business partner Craig Gibson, with whom he was director of a number of companies including ad agency Lorraine Dior Ltd.
Sage was banned from being a UK company director for four years by Leicester County Court, between 1999 and 2003 according to the Mirror, as a result of the companies being wound up. Since then his name has not appeared again in the list of UK company directors held by Companies House.
The Register is unable to contact Peter Sage for comment because he is currently in prison. However, a video statement made by him immediately before he was jailed has been posted on his Facebook page. Anyone watching the full 11 minutes should compare and contrast Sage's claims with the original High Court judgement.
"I, on the other hand, because the freezing order was on legal aid, just had what representation I had," said Sage in the video.
Sage's fiancee's name has popped up in close connection with a number of firms through which Peter Sage trades.
The dancer, the stripper business coaching agency and the wedding that won't be
Sage's fiancee, Thea Thorpe, was mentioned in the High Court's January judgement against Peter Sage – albeit as "Lorraine Thea Thorpe" rather than the name she uses for business filings, Lucinda Thea Thorpe.
She was found by Mr Justice Jay to be intimately involved with Sage's business dealings as well as his personal life, though not very successfully in the former case.
"She did not really have a clue about the workings of Sage International, which in one sense was hardly surprising, but she maintained her position that this had become her company," observed the judge. Thorpe was, on paper, the owner of the Sage International FZE business, a Dubai company through which Peter Sage operated in that country – but the judge ruled that Thorpe's legal ownership was a sham and that Sage himself retained beneficial control of the company.
On 3 December 2015, when Thorpe and Sage's shared Leicester home was raided at dawn by lawyers executing a High Court search order, Thorpe left the house between 1pm and 2pm for a pre-arranged lunch meeting. During that time, more than £100,000 was moved out of Sage's PayPal and bank accounts in multiple transactions over a 10-minute period.
"Ms Thea Thorpe was not a remotely convincing witness," said the judge of her evidence in court. "She adopted a tone of inappropriate levity and scattiness, with her voice falling in volume at key moments. She maintained that she was the sole author of her affidavit, but in my judgment that simply cannot be so. Apart from stylistic contrasts between her written and oral evidence, the former contains terminology which she does not understand."
"Her skills lie altogether elsewhere," sniffed the judge, which, unfairly, raised a number of Viz-style fnarr fnarr comments from readers.
The Register can reveal that Thorpe is a former stripper who worked under the stage name Lexi Lou. She now operates a stripper business coaching agency through a Delaware corporation called Lexi Ladies Academy, Inc. On her website (visually safe for work) she brags: "Don't hate Lexi because she's gorgeous, super-talented, rich as fuck, and smart as a whip."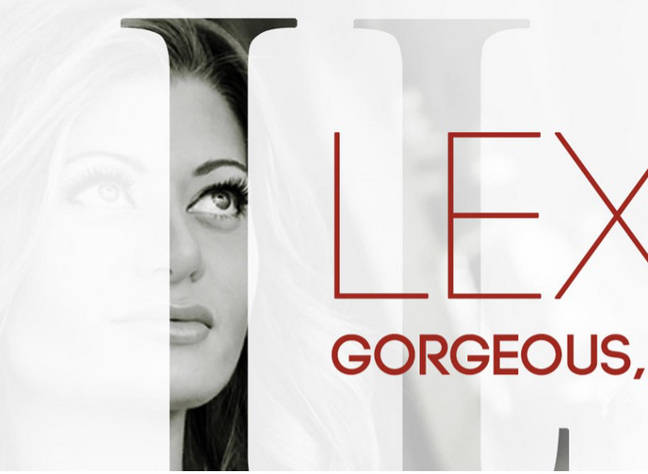 Closeup of the Lexi Lou site banner, featuring Thea Thorpe. Compare with this photo of Thorpe and Sage posing together
"Lexi developed a passion for dancing, and as a result of her incredible talent, she quickly became one of the most successful and highest paid strippers in the world," the site continues. "After spending a decade on the stripper pole, Lexi switched gears and began mentoring and studying with the most highly respected motivational and self-development experts, such as Tony Robbins, Peter Sage, Robert Caldini, Ken Blanchard, Napoleon Hill, Dale Carneige, Louise Van der vald, and many others." [sic]
Peter Sage describes himself on his website as a "qualified trainer for Robbins Research International (as recognized by the Robbins-Madanes Institute)," the corporate side of motivational speaker Tony Robbins' business. There is no suggestion that Tony Robbins was aware of any of Sage's other business dealings.
In addition, Thorpe is the majority shareholder of Quantum Development, the Poland-registered company through which Peter Sage's European operations are currently conducted. A Polish National Court Register filing dated May 2015 and seen by The Register records Thorpe as holding 4,700 zloty of Quantum's total issued share capital of 5,000 zloty.
The Register has asked Thorpe for comment on this story and we will update it if we hear from her.
As mentioned in The Register's previous story on Sage, Quantum Development appears to be the company through which registrations for the Sage Business School programme are booked. This takes place via the web domain reinventyourself.io, which is linked to from the main website at petersage.com. The former site is registered to Jill Bromige, Peter Sage's stepmother, and appears to have been taken offline since the last story.
Another website that recently disappeared is MrAndMrsSage.com, which went AWOL shortly after being mentioned in The Register's last story. It contained details of Peter and Thea's wedding, which was planned to take place in four months' time. This will be a difficult date to meet because Sage is expected to remain in prison for contempt of court until about October this year.
The Register will be reporting more about Peter Sage and Space Energy, the firm at the centre of HPE's allegations against him, in the coming days. ®