Google's hardware extravaganza: Ad giant takes on Sonos, Roku, Linksys, Amazon, Oculus... you name it
No market is safe from search engine monster
By Kieren McCarthy, 4 Oct 2016
In just 90 minutes on Tuesday morning, Google took an enormous leap into the hardware market, offering new products to compete with Sonos in the music streaming market, Roku in video streaming, Linksys in routers, Amazon in voice assistants, Oculus in virtual reality, and Apple in phones.
The sheer depth and breadth of the offering is something that only a very, very few companies in the world would even consider. Sony, maybe, at a push.
It's a huge shift for the data-hoarding company, and to pull it off it has hired top talent from outside the organization: former president of Motorola Rick Osterloh arrived in April; former Microsoft, Apple and Amazon exec David Foster arrived literally this week.
Foster reports to Osterloh and Osterloh to Google CEO Sundar Pichai. To demonstrate the size of the move, Pichai opened the event, and showing just how far Google is looking to stretch, he barely even mentioned the products that he was there to showcase.
The magic tie-in for Pichai is Google's artificial intelligence and machine learning tools: they will be the secret sauce in these new devices. A marriage of hardware and software that only Apple has ever successfully pulled off.
And what a list. There is:
The Pixel phone: a direct challenge to the iPhone.
Google Home: Amazon's Echo but in a smaller, curvier format.
Daydream virtual reality headset: cheaper and more comfortable than Oculus and others.
Chromecast audio and video streaming: with multi-room support.
Google Wifi: a mesh system of routers aimed at stealing an emerging market.
Possibly one or two others that we've forgotten.
Where to start... the new stuff.
Take me home
Google Home is an identikit version of Amazon's popular Echo – the voice-powered speaker and assistant. It will cost less than the Echo – $129 compared to $179. And based on our playing around with it, it may be better.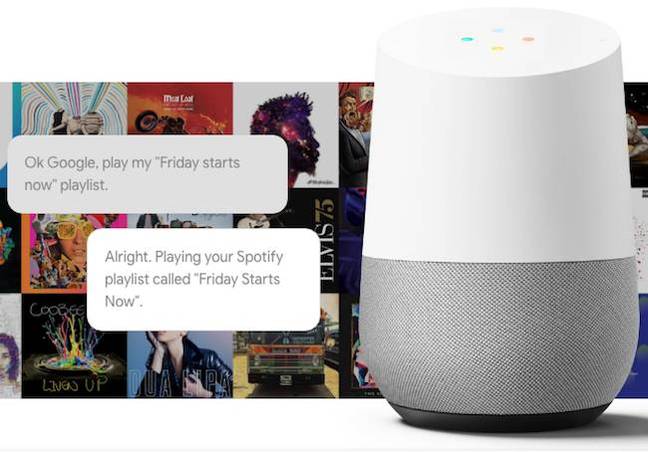 Google's version is smaller – in fact, surprisingly small – and curved, made to look a little like a chunky candle. It offers everything the Echo does: streaming music; answering questions, working with smart home products, but threatens to offer more.
Google Homes will work with one another, allowing music to be spread into different rooms on command – like the very popular Sonos music system. And they will work with both Google's AI systems, providing answers to questions, and its hardware – like the Chromecast.
In a demo, Google VP product management, Rishi Chandra, walked through a scenario where he asked the Home (Google, you need to work on a better name) to play "that Shakira song from Zootopia." Google does the smart processing – the song is called Try Everything – and starts playing it. Now that is a remarkable jump and the kind of intuitive possibility that has made the Echo a success, but taken just one step further.
Chandra also demoed the ability for Google to provide all sorts of useful things about you – culled from your calendar, email, contacts etc. It has also worked on the funky uses: "flip a coin" he asks Home. It responds with the sound of a coin being tossed and landing. "Tails," it responded. He also asked it to start playing a particular TV show on his TV – and it did, through his attached Chromecast.
We spoke with Chandra after the main event. He has several Google Homes in his home and we walked through some of the issues that only someone who has an Echo in their home will know. It's the same for Google Home: sometimes it just doesn't understand what you're saying, and man is that frustrating. "It's not perfect, but we are making it better and better," he added enthusiastically.
The only thing we remain unsure about is the quality of the sound. Despite Google setting up several home-like walled-off environments to demonstrate the hardware, it was still too crowded to get a good sense of the quality. If Google manages similar quality audio and similar quality voice recognition as the Echo, it is onto a winner.
Downsides: it seems unlikely that the small Home will have anywhere near the quality sound that comes from a Sonos system, so the multi-room setup is nice but probably not a replacement. And of course, all the demos relied on everything being held on Google's servers.
Just like Apple, Google has realized that to get a really great experience it basically needs to control every aspect it can. Working with third parties is tough – and you have to persuade them to bother.
Likelihood of success for Google Home: High.
Google's living in virtual reality
Let's jump to the realm of virtual reality.
There are lots of companies putting out virtual reality headsets this year and next. Google's response has been the almost-sarcastic but surprisingly effective Google Cardboard – literally a cardboard container that you slot your phone into and put on your head.
The new product is the Google Daydream – which is a very fancy $79 version of Google Cardboard. Unlike some other very heavy and often hard VR headsets, the Daydream is light and comfortable. It's made from the kind of material used in clothing, stretchy and soft rather than hard plastics.
It works in much the same way as the Cardboard – you slide in your new Pixel camera and a latch on the top holds it in place. Then you have a remote control – which stashes inside the headset when not in use. It works like a game controller.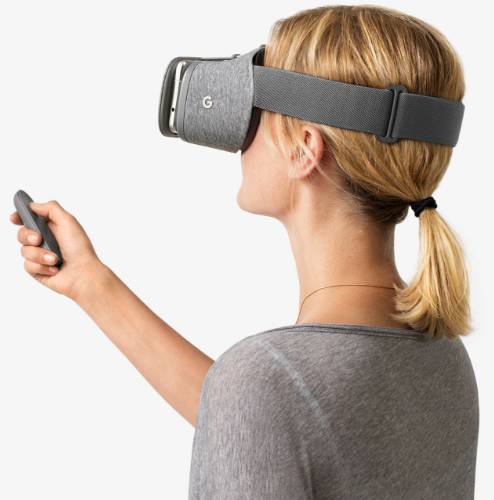 We tested it out, and amazingly, it was on a par with the other systems we've tried out, including the Oculus and Samsung Gear. In fact, due to the comfort factor – it also works over glasses – in many ways it was nicer. The experience was completely immersive, the control works extremely well, it didn't feel clunky or slow. It was fun.
That said, the focus did occasionally slip and the fact is that when you are so physically close to a phone screen, you can see the pixels. Just as a side point: are we all choosing to ignore the fact that ramming a screen inches from your eyes for hours at a time is unlikely to do your eyes or brain any good?
So, it's equivalent to the other gear out there. The big question of course is: can Google build a big enough developer market to make games for it?
It is notable that it demoed an educational VR video and an (admittedly cool) game tie-in for the new Harry Potter-style movie from Warner Brothers. Without sufficient content for gamers, even at the extremely decent price point of $79, Google is not going to find a huge market for this. But it could.
Likelihood of success for Google Daydream: Medium.
Chromecast
Rather embarrassingly, Google has called its new Chromecast streaming box the same name as a new product from the competitor Roku – the Ultra.
Google claims to have ironed out some of the bugs of Chromecast and will now stream hi-def music and 4K video through its little device. It also has an Ethernet port, showing that Google thinks it might be able to convert people into an all-Google eco-system.
Google still has some way to go if it really wants to compete with the high-end video streaming market – the Roku Ultra and Apple TV. But at the low end, for music streaming and for people wanting to stream to their TV easily, the Chromecast looks pretty compelling. It costs $69 – mid-market in terms of cost.
If you want to go all-Google, the fact the Chromecast works seamlessly with Google Home – or at least that's what Google claims – is a definite plus point. This is not going to make Apple very happy. In fact, we imagine that Cupertino is having a bit of a meltdown today.
Likelihood of success for Google Chromecast: High.
We say Wi-Fi, Google says Wifi
OK, finally, Google's new mesh Wi-Fi system.
With more and more things attaching to your home's wireless network, a number of companies have come out recently with routers that work together as a mesh so you can share lots of devices around your house.
This system works much better than extenders, and it is less hassle than wiring up several different routers using Ethernet cables. Google came out with its OnHub router last year and has taken that forward with its new system, updating the software and coming out with a nicer looking, smaller puck of a router. In fact, you probably wouldn't recognize it as a router at all.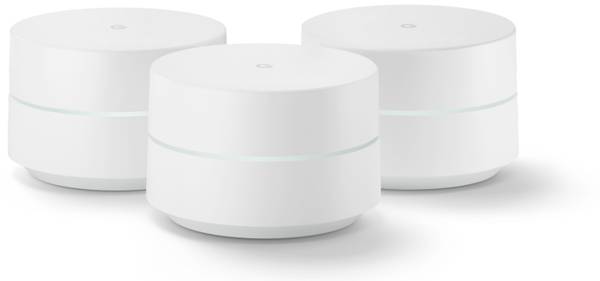 We had a good chat with product manager Ben Brown about this. The small white puck design, he argues, is superior to the traditional, ugly, rectangular box with antennas poking out of it. Why? Because people are more comfortable with sticking the little puck on tables rather than hiding them in cupboards.
The advantage to the pointy antennas, Brown argues, is basically "little more than 1dB," but pulling it out of the closet? 10dB. We doubt the 1dB low-ball figure but the reality of a router in open space is undeniable.
Brown also says the Wifi team has been working hard on the software, scanning available channels and pushing devices seamlessly onto the least congested, as well as shifting people from one box to another as they move around a home. If Google can pull this off – the marriage of software and hardware in a router – they could effectively steal the market. And with more and more of us using multiple streaming devices, as well as the slow increase in things like smart thermostats, this is definitely a growing market.
Plus, if you can take the ugly out of a router, it's not hard to see that when people make that next router purchase they will go with the little white puck over the hulking pointy box.
You can buy one of the pucks for $129 or three for $299. They ship in December.
Likelihood of success for Google Wifi: High.
Conclusion
Quite a day. In one morning, Google has entered into the consumer hardware market in a very big way. Can it pull it off? We will have to see. We ran into the man who will be key to making it work: David Foster.
David is the man behind Amazon's Kindle E-reader. He has also worked at Apple, Microsoft and Gibson – yes, the guitar company. We asked him what he thought about this whole new array of hardware that he is going to have to lick into shape for the next few years.
"Well, the truth is you probably know more than me right now about these products," he told us. He was only formally hired by Google this week. "But this is exciting."
His plan for making it all work? "Well, we will listen to customer reviews. Find out what is working and what's not and fix it." The really hard work, he noted, will be in the 101 things that have to be done when it comes to hardware that no user will ever see or know about. "That should all be invisible to customers," he said.
So there you have it – Google is doing an Apple. That Steve Jobs philosophy of marrying software with hardware to make an overall better experience. It was nearly the death of Apple 20 years ago, but its time has come again.
This morning, we may have just witnessed another one of the enormous industry shifts that the tech world lives and dies by. ®