We saw the future: Apart from the bath apps it looks like the past
In the future, no-one can tell you how much things cost
By Steve Caplin, 24 Sep 2015
100% Design Electricals While much of the 100% Design show was devoted to furniture, textiles and materials, we love stuff you can plug in – especially if it also lights up. And there was no shortage of entertaining electricals on offer.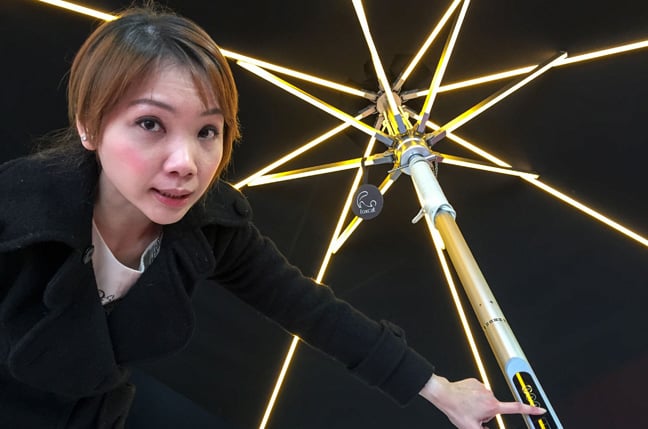 NI Parasol: For those who absolutely, resolutely refuse to go indoors
NI Parasol: Don't you just hate it when it goes dark? There you are, under your garden parasol and all of a sudden dusk turns to twilight, the sun clocks off for the night and you can no longer see your barbecued chicken skewers. But if you've wisely invested up to £2,900 in an NI parasol, such gloom can be a thing of the past. Touch the control panel on the stem and the parasol's struts will burst into life, basking you and your guests in its warming glow. Plus, you can press another button that will light up a ball on the apex, summoning a passing waiter. (Waiter not included.) Available in two shapes and four sizes from foxcatdesign.com.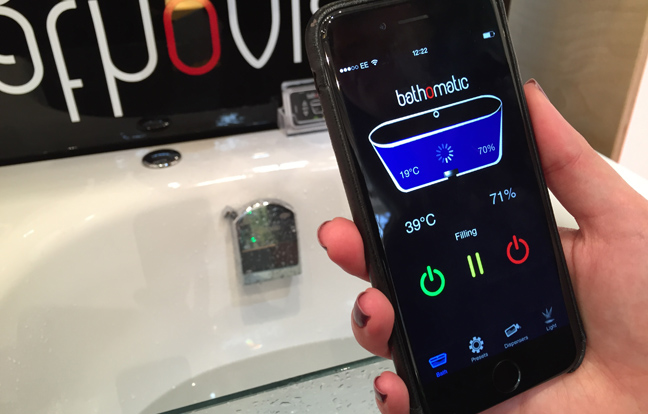 Bathomatic: Ideal if your butler is too busy to run you a bath
Bathomatic: "No one touches bathrooms," says CEO Fredy Vasilev wistfully. Which is why, having spotted the yawning chasm in the market, he produced the Bathomatic. Yep, just as you thought: it's an automated bath-filler that you control from your smartphone, naturally. You can set the temperature and fill level while you're still lounging in bed – or even on the train on your way home, as the app will also turn off the water when it reaches your desired depth. Need to run a shallower bath for the kids? The app can store profiles for each family member, so everyone gets to bathe in blissful perfection. From £2,500 from bathomatic.com.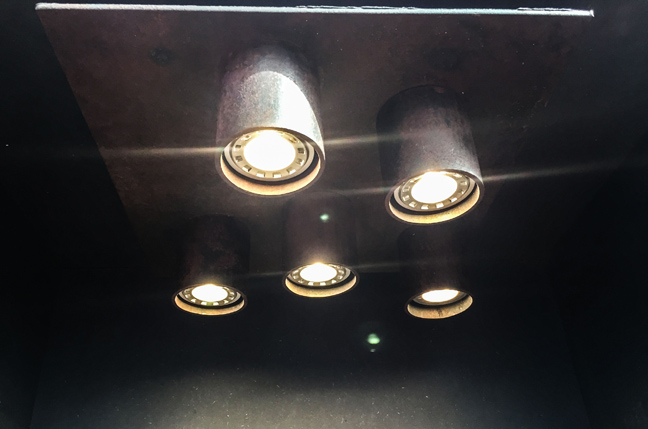 You can never have too many rusty lamps
Karven: Ever wished your metal light fittings were just that bit more rusty? Now you can get pre-rusted lighting without having to wait for it to oxidise under its own steam (see what I did there?) £150 will buy you a lamp that looks like you picked it up in a junk shop, dropped it into a septic tank, then picked it up again a month later. Available from karvenamsterdam.com in a variety of configurations.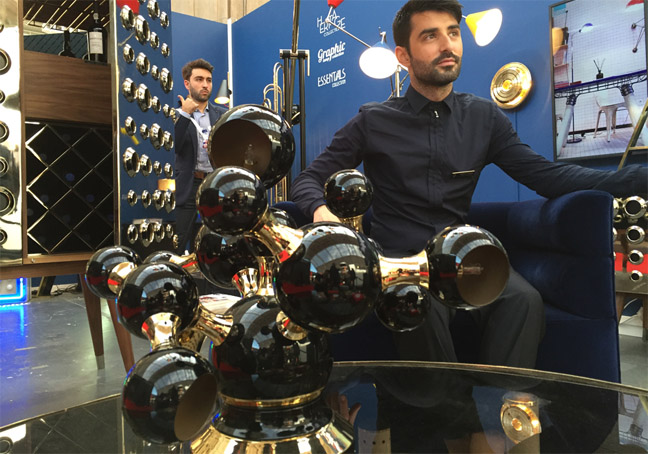 Delightfull: It probably is delightful, but we never got to turn it on
Delightfull: For those who like their decor clunky, Delightfull are proud to debut this Atomic table lamp. Made from brass and steel, it contains four lamps – none of which can be repositioned to point where you want them. They couldn't turn it on at 100% Design because the cable was too short to reach the socket. £1,970, if you want it badly enough, from delightfull.eu.
IoT switches that look like switches, dammit



Rako: For those who prefer Klingon decor to that effeminate Federation nonsense
Rako: For several years, Rako have been making systems that will fully automate your home's lighting, heating, curtains and security. And naturally, they've always provided a range of high-tech control panels to drive all that tech. But what of the traditional home owner, who doesn't want a Star Trek panel at the entrance to his baronial hall? Step forward Rako's latest innovation: an on-off switch that looks, well, like an old-fashioned on-off switch. The true control is wired in behind it, and if you like you can specify that each flick of the switch cycles to the next program on the list.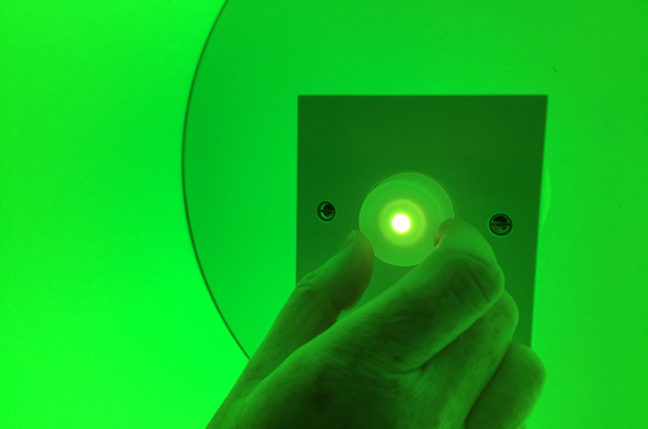 'And if we turn it to red, we can make the room look like we live in a submarine...'
Moody: "Mood control made simple," claim Artistic Licence, a London-based maker of mood lighting controls. And they're certainly simple in that there's just a single illuminated dimmer control to worry about. If all you want to do is change the intensity, you just turn the knob. Want to change the colour? Press and hold for three seconds, then turn to set the colour, then press it again, then turn to change the saturation, then press and hold for three seconds and you're back to the dimmer control. With six different models ranging from £118 to £238, the pricing isn't the only thing that's complicated.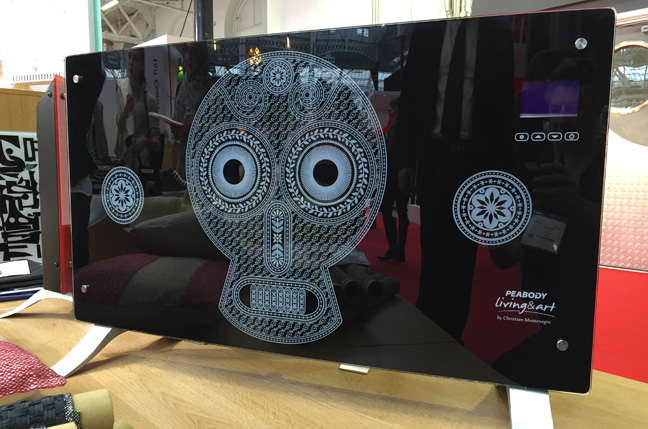 The Peabody Vitro Convector: Probably best to choose a different image for the baby's room
Vitro Convector: Take a look around your living room. What's the single ugliest object in sight? It's probably the radiator, a bland expanse of flat colour that betrays your sophisticated design aesthetic. But you can put all that behind you with this design from Peabody Living & Art, an expansive convection rad that looks more like a flat screen TV. The radiator alone will set you back $250, but the real bonus is the $20 artwork flats that you can get to fix onto the face. Each one is designed by an Argentinian artist, and they're lit by LEDs inside the radiator so it looks good even in the summer.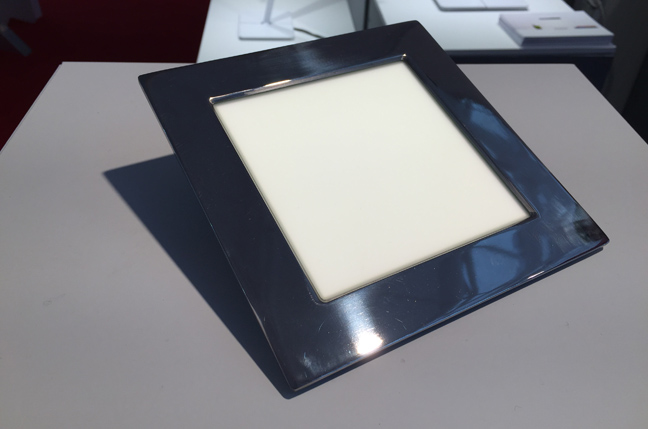 OLED Lamp: Not ideal for more bijou residences
Tile OLED lamp: This square OLED lamp gives off a flat, very even light, measures about six inches square, and is fully dimmable. It sits at a slight angle on your bedside table. Nudge it so it tilts the other way and it gently goes to sleep; nudge it back and it wakes up again. A simple and, dare we say it, beautiful design from inertiaprojects.com. Its only drawbacks: pricey at £345, and it does take up a lot of space on your bedside table.
Ali Siavoshi: Man of mystery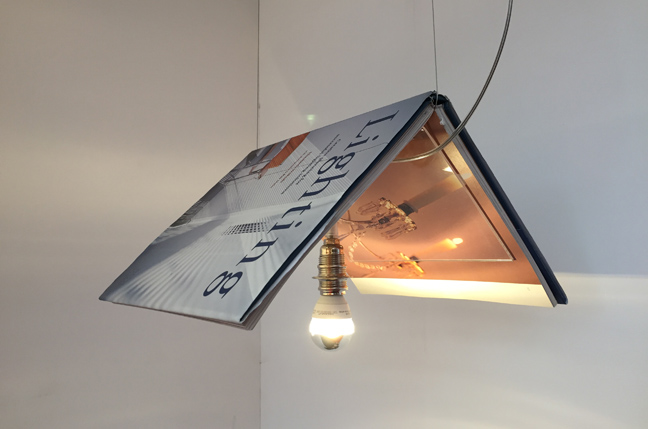 Ex Libris shade: If you see Ali Siavoshi, be sure to ask him about it
Ex Libris: Need to shed a light on your books? Or how about the other way around? A neat frame from Ali Siavoshi that turns any book into a lampshade. Unique and ingenious, for sure, but Ali's absence from the show means there's no pricing information available and there's no mention of it on his website.
'A'a Glass: If you have to ask the price... either you can't afford it or we can't remember it
'A'a Glass: Meet Tony Apilado. Tony isn't really a monk, "although I have achieved enlightenment", he points out. Tony, rather improbably, is a spokesman for Nude Designs, who represent 'A'a glass, who make hand-blown spherical light shades. And how much does one of these shades cost? Tony doesn't know. Over to his co-whatever, who's also called Tony, who does know but isn't saying. "They're bespoke," he says, refusing to put a figure on them. "Let's just say they're very expensive."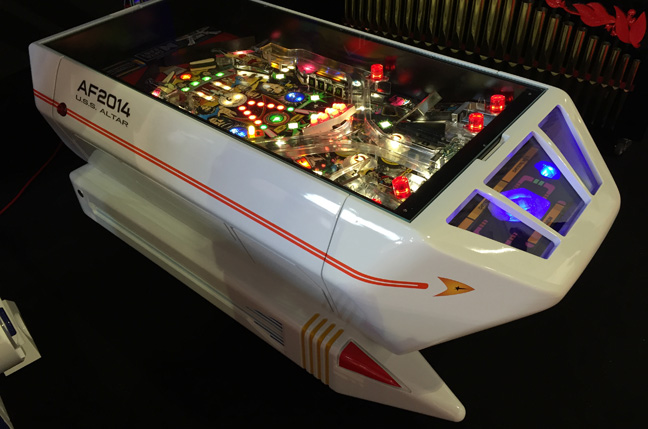 The Shuttle: Probably not compatible with Rako switches
The Shuttle: The Shuttle is a fully-restored pinball table, with all lights blazing, that's been repurposed as a coffee table by Altar Furniture. Well, not fully restored; it doesn't play pinball anymore. But it does look splendid in its custom case, shaped like a Star Trek shuttle. The bonus: open up the back and you'll find a selection of pieces of real meteor displayed on their own spotlit tray. Seriously. £6,500 starts to sound like a bargain.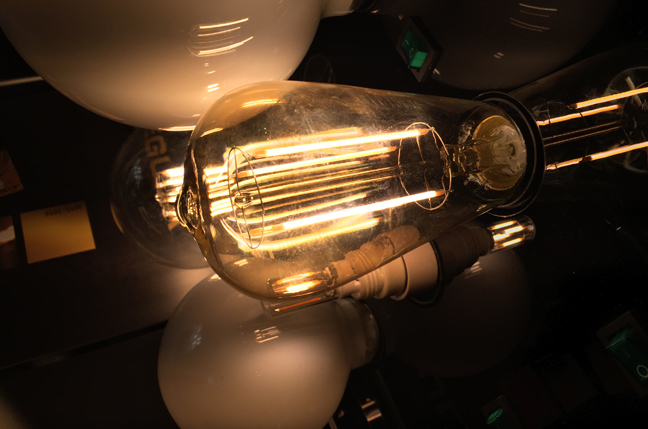 Segula LED filament bulbs: Perfect for that Shoreditch pub look
Segula Bulbs: You know those old-fashioned-looking squirrel cage bulbs that are popping up in bars and restaurants all over the place? Pretty, aren't they? But being filament bulbs, they don't last long. Now Segula have brought out a dimmable LED version, which lasts for at least 20,000 hours. At £30 each they aren't cheap, but with an output of either 6W or 4W you get a hell of a lot of light for your pennies. Oh, and they look really warm and friendly, just like filament bulbs. ®
100 Per Cent Design is ongoing this week for trade visitors and students and is open to the public on Saturday 26th September 2015 at Olympia London.