All in all, it's just another hit in the stalls: Roger Waters The Wall
Comfortably numb in the cinema
By Bob Dormon, 17 Sep 2015
Preview At a cinema near you on Tuesday 29th September we have Roger Waters The Wall. You may be forgiven for thinking, hasn't he done this before? Yup, he notched up the honour of the highest grossing concert tour for a solo artist when he took his revamped staging of this rock opera on the road between 2010-2013, which this film features in its entirety and more besides.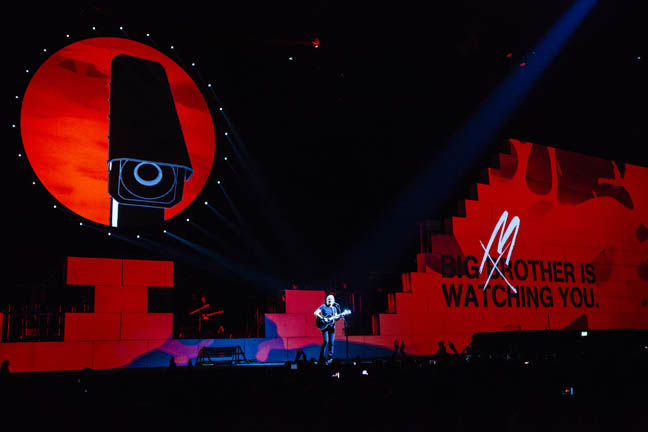 Comfortably strum
Waters penned the original album with a little help from his friends in Pink Floyd back in 1979. In the band, he primarily played bass and traded vocal honours alongside guitarist Dave Gilmour together with Rick Wright on keyboards and drummer Nick Mason. A line-up that produced the classic albums Dark Side of the Moon, Wish You Were Here and, of course, The Wall, to name a few.
When Pink Floyd took The Wall on tour in 1980, the stage show featured menacing animations (and enormous inflatables of some characters) by satirical cartoonist Gerald Scarfe, projected onto a wall that was steadily built on the stage as the show went on.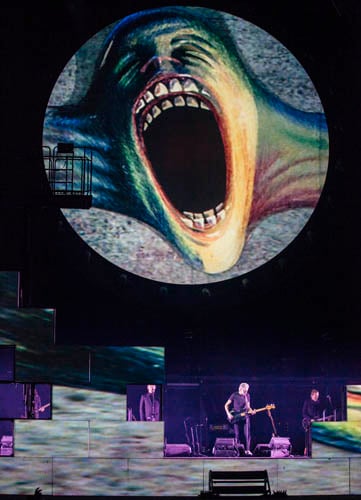 Scarfe's animations get a matte paint job to suit the bigger projection areas
In 1982, the band also produced a feature film of The Wall starring Bob Geldof as Pink, the rock superstar whose increasing insularity – building a mental wall around himself – turns him just a little bit mad. Scarfe's animations also featured prominently in this production.
So what's so special about Roger Waters' take on a project that should have 2.2 children and a mortgage by now?
The original story strongly featured elements of Waters' own upbringing, the death of his father in WWII when he was just three months old, an authoritarian school life, alienation and rebellion.
The Wall itself came out of a desire to erect a barrier between himself and the audience – something that came to mind after he surprised himself when he spat at a fan in anger who had tried to invade the stage when Pink Floyd was playing in Montreal back in 1977.
It's all personal stuff, but bringing it up-to-date for Waters' own distinctive take on The Wall in the recent tour, he expanded the concept to be a more global concern. The theme isn't so much "grumpy rock star has a break down", but something bigger, as Waters explains.
"I felt The Wall had a broader message, a more ecumenical message, a more political message, a more global message, a more anti-war message. And for all those reasons, a tour seemed like a reasonable thing to attempt. We could make all those points over and above whatever it was that I'd been trying to express from a personal point of view when I wrote the album originally."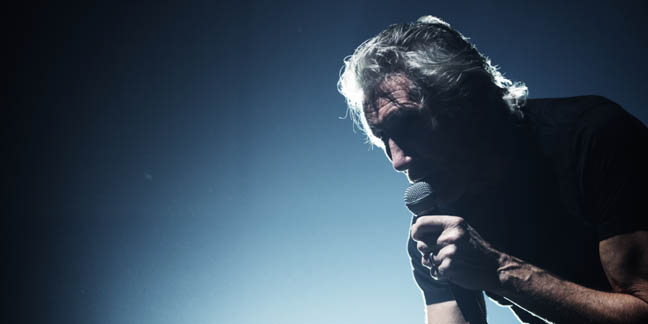 Spitting image
And if you're going to take something like that on tour, then it follows that performances would be recorded and captured on video. So if you weren't one of the four million fans who got to see the live show, the cinema presentation across the UK and worldwide at 8pm local time on 29th September is the next best thing. Admittedly, you're not going to experience the expansive stage that would feature a wall built 35ft high and 240ft wide, but you do get the best seat in the house.
Driving ambition
As a cinematic experience, the 4K shooting vividly captures the stage projections which feature new visuals from New York-based filmmaker and artist Sean Evans who worked closely with Waters as creative director and animator for the tour.
Richard Turner, Roger Waters & The Wall
The audiences were banned from bringing cameras to the stage show – to avoid the projections from becoming washed out by flash photography. This, no doubt, explains why the set visuals looked so punchy, delivered by 40 Panasonic projectors – either the PT-DZ21KE or PT-DS20KE models – each capable of pumping out 20,000 lumens.
Audience shots appear frequently throughout the movie, also directed by Evans, and the absence of cameras creates an air of concerts from a bygone era, when folk just watched and waved, sang and swayed, rather than distancing themselves from the performance by gazing through a smartphone LCD screen.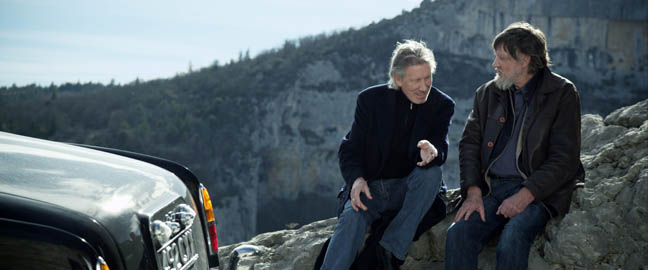 "Yes, I remember it well..." Waters and Rawlinson reminisce, sort of
What the concert goers didn't get to see was the entirely separate story that's now been woven into this cinematic production. It kicks off with Waters taking the wraps off his 1961 Bentley Continental S2 and beginning a journey into Europe. The concert footage is intercut with his progress as he visits war memorials pertinent to his family and other areas of significance.
With various companions during his travels, including old school mate Andrew "Willa" Rawlinson and later his kids, Harry, India and Jack, we get a glimpse of what drives Waters and, understandably, just how pissed off he is that not only did he grow up without a dad, but even his own father was similarly deprived. Waters' grandfather was killed in WWI when his son (Waters' father) was just two years old.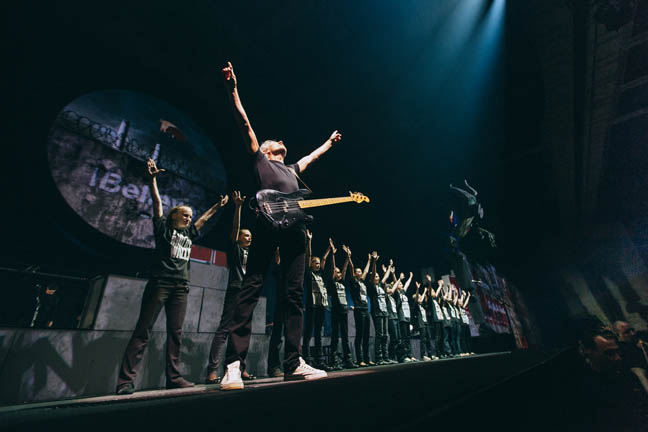 A chorus of kids for Another Brick in the Wall wear T-shirts declaring that 'Fear builds walls'.
Overall, these pilgrimage scenes are neatly edited and thankfully don't drag. There are poignant moments and some curious conversations, with a handful of odd scenes depicting moments from earlier conflicts. We even end up with a German officer sitting in the passenger seat having a smoke alongside Waters.
Back in concertland, the anti-war message is clear as The Thin Ice plays to projections of loved ones lost to conflict. As you see images of young people from the recent past appear to the lyric "Mother loves her baby…" it's a genuinely sad moment.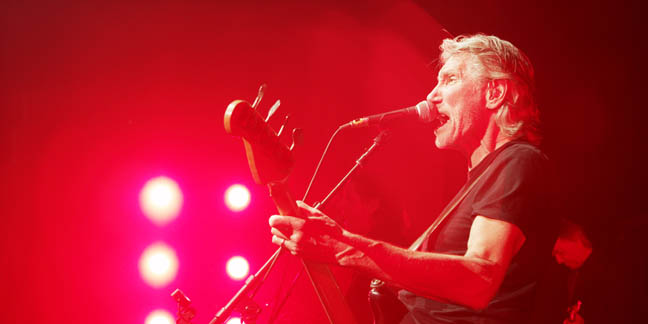 Precision bass playing from an old master
Faces from much older wars appear, each with details of age and circumstances leading to their deaths. And these aren't just faces picked at random, before the tour, fans visiting the Roger Waters web site were asked to send in the photos and details of people they had lost to conflicts. Again, this isn't played on for too long to become mawkish, but hits the right note at various times during the show.
With sincerity, Waters even does an adapted acoustic version of Another Brick in the Wall sung with a Dylanesque vocal style called The Ballad of Jean Charles de Menezes and dedicates the show to the 27 year old Brazilian, who was shot dead by police on the London Underground in 2005.
Wall of sound
Although Nigel Godrich took care of the sound mixing honours for the film, the Dolby Atmos credits go to Adam Scrivener (re-recording mixer) working alongside Jacob Ribicoff (sound editor/supervising sound editor and sound designer). While I didn't detect much in the way of blockbuster-style sound treatments – some aeroplane panning and the gratuitous use of the LFE channels to get things rumbling – what was more noticeable was the spatial positioning of the various instruments.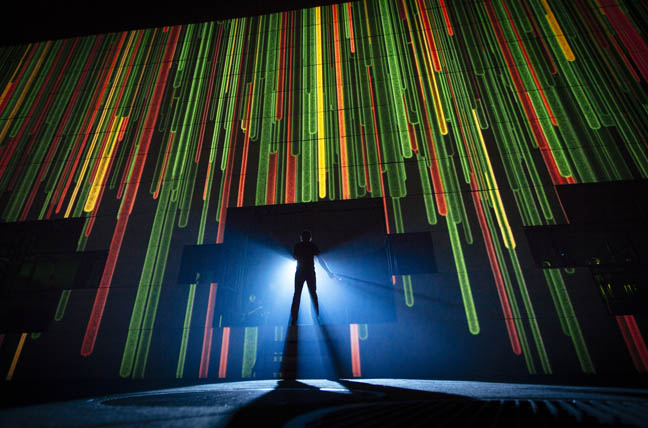 Graphic detail: 3D animations with Sean Evans at the helm played a significant part in the revamped show's projections
For instance, the guitars, rather than left and right, were also higher up in the soundfield, more 10 past 10, than quarter past nine. No doubt a different approach can be experimented with for live music, with the positioning precision of Dolby Atmos enabling instruments to be separated out from what could amount to a rather cluttered front of house stereo image.
Whatever the approach, the results are impressive, delivering an immersive soundscape that perfectly complements the lavish staging and the engaging musicianship. My only criticisms here are that the vocal level of Robbie Wyckoff, the Dave Gilmour soundalike, could have been higher – Waters was loud and clear – and I'd have like to have seen more playing, particularly some of the keyboard parts. Curiously, Roger Waters' son Harry was among those on stage tinkling the ivories and he barely gets a look-in.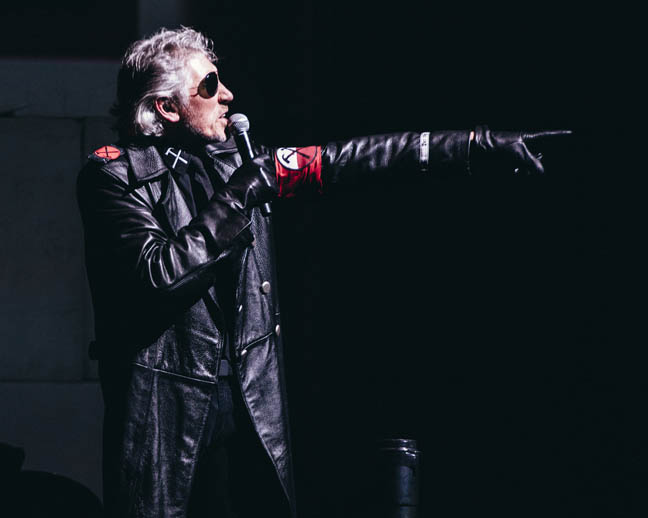 "So ya, thought ya, might like to... go to the show..." Well, now you can and see what you missed in 137 territories on Tuesday
While Roger Waters The Wall is undoubtedly a visual spectacle of gargantuan proportions, what leaves the most lasting impression is the music. Admittedly, I was familiar with album from its initial release but I don't recall listening to it anything like as much as Dark Side of the Moon or Wish You Were Here.
Yet hearing it again in the amazing clarity of a Dolby Atmos cinema, I still have the sinister yet soothing Good Bye Blue Sky, the harrowing One of My Turns and the despondent Nobody Home playing on shuffle in my head over a week after seeing the film. I've not had that sort of mental musical loop since I saw Kate Bush last year, and that was a real live concert.
Roger Waters The Wall - Full Theatrical Trailer
Yes, it does go on a bit towards the end when it all gets rather cabaret, but all in all Roger Waters The Wall is a blast, full of finely crafted rock songs and exquisite visuals that anyone with a plectrum in their pocket, a sketchbook in their hand or a tune in their head will appreciate. ®
Global cinema locations and tickets for the Tuesday 29th September showing can be found at Roger Waters The Wall with screenings across the UK at over 200 venues and at the following Dolby Atmos theatres: Olympic Studios, Barnes Picturehouse Central, London. Showcase cinemas at Bluewater CDL (Kent), Bristol CDL, Derby CDL, Batley (Leeds), Leicester, Nottingham and Wokingham (Reading).