Apple iPhone 6S: Same phone, another day, but TOTALLY DIFFERENT
Force your fingers deeper into your friends with new pressure sensors
By Shaun Nichols, 9 Sep 2015
Pics So here are the iPhone 6S and 6S Plus - basically the same phones with a few new bits and bobs.
Or as CEO Tim Cook downplayed it: "We have changed everything."
The new mobes look virtually identical to the 2014 iPhone 6 and 6 Plus smartphones. Same size screen, resolution and casing, pretty much (the 6 versus the 6S, and the 6 Plus versus the 6S Plus.)
The new iThings also offer identical 16, 64, and 128GB capacities, and prices ranging from $199–$399 for the 6S and $299–$499 for the 5.5-inch 6S Plus.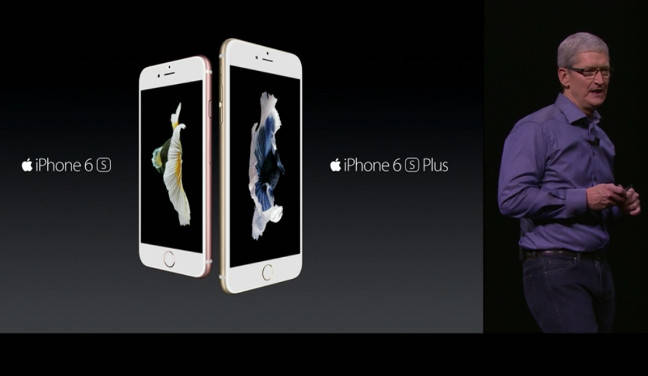 Behold ... the exact same phone!
Where the 6S will differ is under the hood, where Apple has promised beefier chips and a better camera. The 6S will use the new 64-bit ARMv8-compatible A9 processor (a 14nm system-on-chip from Samsung and TSMC) and M9 motion controller. The 6S also sports improved LTE speeds (depending on your carrier) and faster Wi-Fi connections.
New transistor architecture in the new iPhones' A9 system-on-chip. A8 was 20nm. So 14nm? #AppleEvent pic.twitter.com/1ccK9wR80G

— The Register (@TheRegister) September 9, 2015
Apple marketing head Phil Schiller also noted a stronger screen surface and a new aluminum alloy casing that, Apple hopes, will quell any fears of a "Bendgate" redux.
The camera is perhaps the biggest selling point of the 6S over last year's models. The new handset will be able to capture 4K video through a 12Mp camera capable of taking larger-resolution images. The 6S also sports a flash option for the front-facing FaceTime camera, and a new "Live Photos" option that captures images 1.5 seconds before and after you press the button. When you view the snap, you can hold your thumb down to play that three-second capture in a loop, so it looks like a super-animated-GIF with sound recording.
We guess the camera app is constantly and silently taking photos so it can capture the 1.5s of images before the button is pressed. Good luck with all this, 16GB iPhone owners.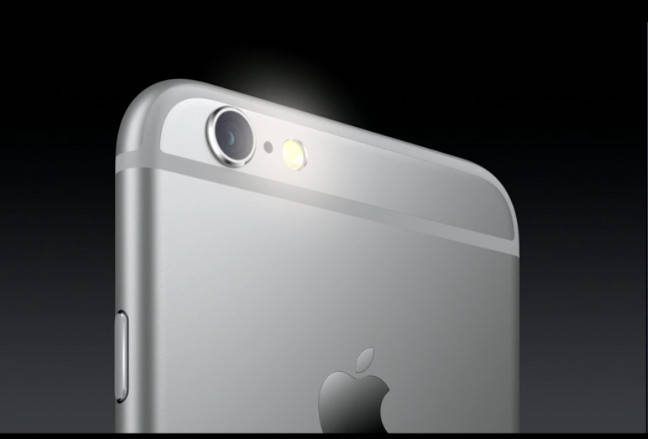 12Mp of storage-busting 4K capability
Should people want to make extensive use of those high-res photo and video options, they might want to spring for one of the higher-capacity configurations. 4K video and 12Mp images take up considerably more storage space than you may be used to.
3D Touch: That won't be annoying at all
Also touted with the 6S was the introduction of "3D Touch," a new gesture system capable of recognizing how much force one applies to the screen and the duration of a touch. Apple execs said the new options will allow users to perform "peek" functions within apps to pull up extra information or share stuff across multiple applications.
Hold your thumb down harder and for longer, and this will trigger different menus and options to appear in apps – such as bringing up messages from a friend or something.
Touch ID has also been updated to recognize user thumbprints twice as fast when unlocking the handset.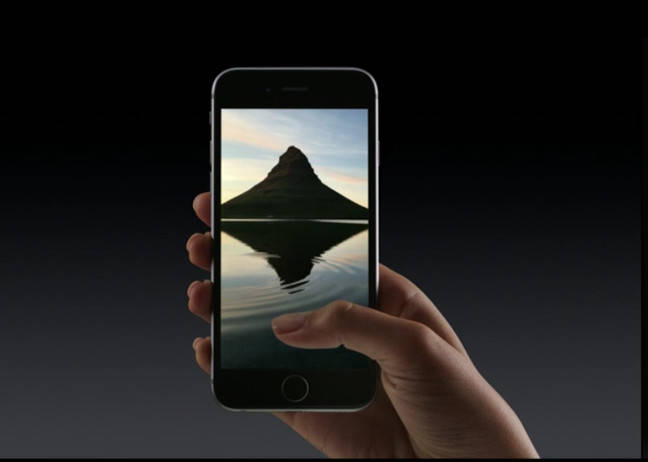 Remember those water ripples? You do now with Live Photos
The 6S and 6S Plus will be sold in four color options: silver, gold, space gray, and rose gold. Apple will offer unlocked handsets as well as carrier-subsidized options and a new "iPhone Upgrade" plan where users pay Apple a monthly fee (starting at $32) to receive the newest model every year.
iPhone 6S and 6S Plus price break down by storage. 16GB c'mon. #AppleEvent pic.twitter.com/0utBBfRHYR

— The Register (@TheRegister) September 9, 2015
iPhone prices including 6S and 6S Plus #AppleEvent Yes, from 16GB storage. Sigh pic.twitter.com/wtGKN9zQ8j

— The Register (@TheRegister) September 9, 2015
In announcing the iPhone line's increment step, Apple also revealed a price drop for older handsets. The iPhone 6 and 6 Plus will see their respective prices drop by $100, while the iPhone 5S will be sold as the entry-level option, with some carriers giving away the handset for free with a two-year contract.
iPhone 6S, iPhone 6S Plus #AppleEvent We're through the looking mirror here. True innovation. Everything has changed pic.twitter.com/YsXuEzA3u1

— The Register (@TheRegister) September 9, 2015
Apple said it will begin pre-sales for the iPhone 6S and 6S Plus on September 12 and retail launch will take place September 25. In between, Apple will post the iOS 9 update on September 16. ®