Microsoft: This Windows 10 build has 'NO significant known issues'
Know this. If you have to type 'W' to find Paint ... it's got issues
By Tim Anderson, 30 Jun 2015
Microsoft has released its bestest new build of Windows 10 as part of its Windows Insider preview programme, with general manager Gabe Aul boldly stating: "we don't have any significant known issues for this build."
Since the company has promised to release Windows 10 on July 29, you would expect it to be pretty much sorted at this point. The new build does (at last) have the feel of a release candidate.
The new "Edge" browser, formerly Project Spartan, now has the correct branding and the Windows Store is no longer marked as beta. I am typing this in the Universal Office version of Word, and it is stable. For the first time, this is a build of Windows 10 with which you might be able to get your work done.
I tried the new build both as an upgrade to build 10130 (the previous "Fast Track" build, for those on the bleeding edge) and as a clean install. Both installations proceeded without major issues, though the upgrade has a couple of broken shortcuts in the Start menu.
The clean install was deceptive, since after set-up seemed complete the Store still had 20 downloads to do, including key built-in apps such as Music, Camera and Photos, and others that are not really apps, such as "CRT RTM" (presumably a Visual C++ runtime), "VCLibs 12", "PlayReady Blue" and "drm". It seems that Microsoft is using the Store mechanism as an alternative to Windows Update for some Windows components.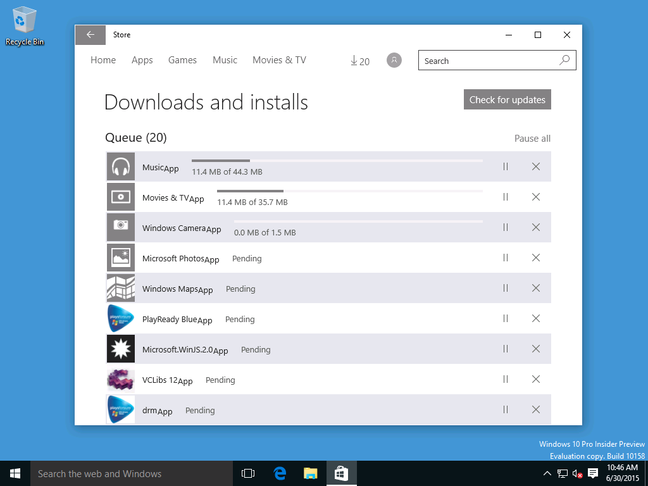 Windows is not fully installed until some apps download, including some oddities
Cortana, Microsoft's digital assistant, works on one machine set to US English, but on the other – set to UK English – she proclaims herself unavailable "in the region and language you've selected". According to Aul, Cortana's "Notebook" (the database of personal information which informs Cortana's suggestions) is now in its final stage, and includes flight tracking derived from emails and alerts for going to work or home. As in Windows Mobile 10, Cortana can now send emails. There is also integration with Office 365, for those using Microsoft's cloud for email and document collaboration.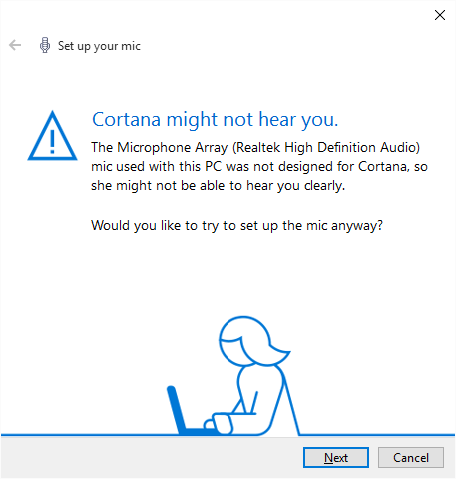 Cortana is fussy about microphones
At least we've solved the Cortana riddle
This build has solved one Cortana conundrum - why the voice input feature has not previously worked on many Windows 10 installs. On a test Samsung Tablet, Cortana popped up a dialogue box explaining that the microphone "was not designed for Cortana", but could be set up anyway. Doing the setup – which involves reading a sentence to check speech recognition – enabled voice input on the Samsung for the first time. Now Cortana can be activated with "Hey Cortana", as well as responding if you click her microphone icon, the first time this has worked on the tablet.
The Edge browser has new features, such as password and auto form-filling, as well as a Dark theme which gives it a distinctive appearance. The "Open in Internet Explorer" option remains on the Edge menu, and performs as expected, opening IE 11. This can be useful for sites which do not work with Edge, either because they use IE-specific features that Edge has dropped, or because the complexities of browser detection result in incompatible code, a situation which should become less common as Edge usage increases.
Now you can click a letter to search the Windows 10 All Apps menu
Microsoft is still tweaking the Start menu and in this build you can tap or click a letter to get an alphabet menu, so you can jump to apps beginning with a specific letter. It does not quite work, though: I tapped P in search of Paint, but it does not come up, since Paint is under Windows Accessories. I should have tapped W.
Paint does at least still exist. It is rudimentary but still a quick way to trim a screenshot or photo and starts in a blink. Calculator, another longstanding Windows accessory, has been replaced by a new-style app which takes at least a blink and half to open. When you type "Calc" in the Start menu, only the new app is listed, marked as a "Trusted Windows Store App".
The same trusted note appears for other Microsoft apps, such as Music and Photos, which is a hint that the company would like users to perceive the Store as the safe way to install apps. Whether third-party apps can achieve this special trusted status is not yet known.
A feature perhaps aimed at journalists reviewing Windows 10 is that the Snipping tool – for capturing screenshots – now has a delay option, so you can grab otherwise tricky screenshots.
No significant issues? That's unlikely, but the quality is better in this build and on the basis of one day's experience, it's good enough for professionals to assess Microsoft's new Windows. And that makes it the first build where that has been the case. ®