I Saw a Man, Once Upon a Time in Russia and How to See the World
Potent plots, oligarchs and overlords and much, much more
By Mark Diston, 13 Jun 2015
Page File El Reg bookworm Mark Diston trawls through the latest from the publishing world encompassing Owen Sheers delivery of an intense portrayal of accidents and their consequences. Ben Mezrich gives a gangster-esque spin through the corridors of power and industry in Russia, and Nicholas Mirzoeff takes on the gargantuan task of how we define ourselves visually.
I Saw A Man
Owen Sheers is a Welsh poet, playwright and novelist, and I Saw A Man is his fourth work of fiction, a novel mainly about loss and guilt. The story commences in Hampstead, North London when Michael Turner, a recently widowed writer calls on his neighbours to retrieve a screwdriver he had lent them.
Michael finds the back door open and enters, when we then have a flashback over Michael's previous life, learning how he met, married and lost his wife Caroline, a journalist killed in a drone attack in the tribal regions of Pakistan.
The first thing which becomes apparent is this is a novel full of poetic sensibility, rather than poetic language; the text is without flourishes, but unpicks the protagonist's lives deftly and with great insight. Literary middle class lives are too often rendered banal or ridiculous, but Owen Sheers' characters are very human and believable.
As Michael finds no-one in and steps through his neighbour's house, we segue back into the past again and discover how Michael had arrived in Hampstead from Wales after his wife's death and befriended his neighbours, Josh and Samantha and their two young daughters.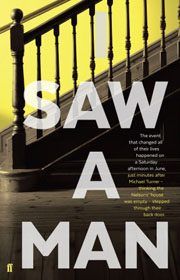 The other thread of the plot involves Daniel, the drone pilot in Las Vegas who killed Caroline. He is haunted by his actions and leaves his family and the USAF, and we learn he has contacted Michael to atone for his actions and the two start up a stunted dialogue, Michael sending Daniel lists of questions about the events surrounding Caroline's death.
Back in the present, Michael is still proceeding through Josh and Samantha's house. He climbs up the stairs, thinking of his wife and finds that the first floor too is apparently deserted. Then of course, disaster strikes and the rest of the novel concerns the fall out from this event.
I Saw A Man is a carefully constructed and powerful novel which really gets beneath the skin of its characters and shows the long-term effects of guilt and loss. The novel is set at the beginning of the financial crisis of 2007-8, and Josh works for Lehman Brothers and gets made redundant.
All three of the principal male characters seem to get irrevocably more lost as the story develops – it is a superbly scripted bourgeois Greek tragedy.
Owen Sheers is a writer of great depth and ability, and the description of Michael's literary style could be of his own: "His style became the antithesis of gonzo journalism: an eradication of the writer in writing." I Saw A Man is probably more likely to appeal to a more mature reader and those with some experience of life and loss. It was also been running on BBC Radio Four's Book At Bedtime this last fortnight, read with ominous intensity by Mark Bazeley and is currently still available on iPlayer Radio.

Author
Owen Sheers
Title
I Saw A Man
Publisher
Faber and Faber
Price
£14.99 (Hardback), £5.99 (eBook)
More info
Publication web site
Once Upon a Time in Russia: The Rise of the Oligarchs and the Greatest Wealth in History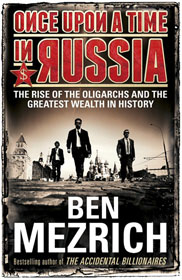 The old cliché goes that you shouldn't judge a book by its cover, but in my experience, in most cases you can't go far wrong with that, and sometimes you don't need to judge — some books confess. So the cover of Once Upon A Time In Russia appears to depict the Reservoir Dogs characters walking away from the Kremlin.
On to the author. Ben Mezrich is an ex-Harvard lad who seems to have built a career from books mainly about money and power. Once Upon A Time In Russia is the story of Boris Berezovsky and Roman Abramovich – their climb, and the former's fall from power during the Yeltsin and Putin years.
The books opens at a meeting of oligarchs at a dacha outside Moscow: "The air in the room was as tight as a coiled snake".
The first problem is that Ben Mezrich tries to keep his audience in suspense, but without any particular talent for it. Any reader with a little background knowledge can work out, many paragraphs before Mr Mezrich's prose stops dropping hints, that the dacha in question used to belong to Stalin and that the man they are to meet is Vladimir Putin.
We are then taken back to the birth of the oligarchs during the Yeltsin years, Boris Berezovsky was a Lada salesman who made a mint by putting deposits on cars at prices that would soon become next to worthless due to inflation and the collapsing rouble.
He sees an opportunity to corner the Russian oil market and strikes up a deal with Roman Abramovich who started in business manufacturing rubber ducks, but now manages oil production in Siberia.
Boris seems to have a sense of his own destiny: "If having energy is my main crime, I will be remembered well when this is eventually written about in the history books."
It soon becomes apparent that this is history rewritten as a gangster novel, stylistically crass with an omniscient narration that can read the last thoughts of dying men. "The last thing he did, before he closed his eyes was whisper one last time".
So died Dmitri in the submarine Kursk, the identity of which is badly concealed behind more paragraphs of unnecessary tension building. And when we get on to the assassination of Alexander Litvinenko in London, we zoom into the microscopic and see the effects of Polonium on a cellular level: "A fleck of silvery dust no bigger than a grain of sand ... spinning, twirling pirouetting ... Alpha particles, overexciting helium nuclei obscenely swollen by a pair of neutrons and a pair of protons".
Ben Mezrick too often sounds just plain silly, and this is a naturally great true crime story made ridiculous by the author's inept embellishments. There is too little background, no mention of the western economists who trashed the Russian economy and no great mention of the collusion of justice systems, particularly in the UK, which enabled the oligarchs to secrete their wealth.
The story ends with assassination, a mega lawsuit, and suicide. It is an epic tale badly told, and by concentrating on a few key players, Mezrick has missed the convulsions which engulfed the Russian nation and people in recent times.
If you like crap gangster novels, then this is perhaps for you, but if you are really interested in the corruption of Russian life, then Peter Pomerantsev's Nothing is True and Everything is Possible which I recently reviewed, is a much better place to start.

Author
Ben Mezrich
Title
Once Upon a Time in Russia: The Rise of the Oligarchs and the Greatest Wealth in History
Publisher
William Heinemann
Price
£18.99 (Hardback), £10.99 (eBook)
More info
Publication web site
How to See the World
"This book is designed to help you see the much-changed and changing world. It is a guide to the visual culture we live in."
So claims Nicholas Mirzoeff in the introduction to How To See The World. The first chapter is the same as the book's title and features the famous 'Blue Marble' photograph of Earth taken from an Apollo spacecraft, the first time the author claims that humanity could see itself as a whole.
Mirzoeff introduces us to the concept of the future via The Sex Pistols, who claimed that there wasn't one, and William Gibson, the purveyor of cyberspace and sees our modern cities as: "Spaces of erasure, ghosts and fakes".
We move on to how we see ourselves and soon encounter the ubiquitous selfie: "A fusion of the self image, the self portrait of the artist as a hero and the machine image of modern art that works as a digital performance".
We are given a short lesson in the history of portraiture before there are a few less enlightened views about the selfie — the man from Esquire says that they are: "The masturbation of the self image". While according to Roy Peter Clark of CNN they should be: "Selfish, self absorbed and narcissistic, the centre of our own universe".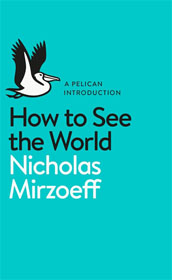 The same could be said for this book, as there is no chapter entitled "How we see each other", in fact according to Mirzoeff, we don't seem to see much at all without an intervening media. This book has many of the shortcomings of Philip Ball's Invisible which I reviewed last summer, in that the author has chosen a massive subject which is nigh-on impossible to cover completely and satisfy all.
That said, this book has more interesting sources and a breezier style. It is also very media and sociologically based, and there's a dash of science, but not much...
We are reminded that it is the brain that sees, not the eye. Then there is a rather random diversion of a chapter about military surveillance with walk-ons from Napoleon and Clausewitz before we are catapulted through the age of aerial photography and onwards to the day of the drones.
Sexuality and gender also make a guest appearance, and there are plenty of nuggets of info. I am reminded that obscene means "off stage". There are literary references too numerous to mention from Charles Baudelaire flaneuring around nineteenth century Paris to China Mieville, unseeing The City and the City before we are brought down to earth in the less fictitious cities where The Arab Spring and Occupy took place.
The slogan: "They do not represent us" is bandied around by the author. Yet it begs the question: How do we represent ourselves? Which is a question not completely answered by this flawed, messy, yet interesting book.
The author finishes with a rousing call to arms: "Once we have learned how to see the world, we have only taken one of the required steps. The point is to change it".
This book is likely to appeal to students and media practitioners, it covers similar ground to the French philosophers of the 1970s such as Roland Barthes who are mostly conspicuous by their absence. As an introduction to modern media theories, it is passable, though the title probably promises too much and overall it is likely to disappoint more discerning readers. ®

Author
Nicholas Mirzoeff
Title
How To See The World
Publisher
Pelican
Price
£8.99 (Paperback), £6.49 (eBook)
More info
Publication web site