Make Something Up, The Water Knife and Girl at War
Fight Club's Chuck Palahniuk is back on form
By Mark Diston, 30 May 2015
Page File El Reg bookworm Mark Diston looks at literature's latest with a book of scintillating short stories from Chuck Palahniuk. New York Times best selling author Paolo Bacigalupi take us into the near future with a dystopian tale of drought, detectives and delinquents. And the 1990s Yugoslav Wars are reimagined through the eyes of a young girl in an gripping debut novel by Sara Nović.
Make Something Up: Stories You Can't Unread
Best known for Fight Club, which became a Hollywood movie, Chuck Palahniuk is the author of fourteen novels, the last of which, Beautiful You, I reviewed generally unfavourably last year. The main problem I recall was the two-dimensional nature of its characters.
Make Something Up, Stories You Can't Unread is a collection of twenty-one short stories and a novella. Here we find Chuck on much better form than his previous outing. Palahniuk's protagonists, who seem to buckle under the weight of having to carry off a whole novel, have more than enough stamina here to make this book a much more enjoyable read than his last.
Palahniuk would seem to be more proficient as a sprinter than over the longer format, his observances of the modern world always pithy and amusing: "What she loves about the Home Shopping Channel is that it doesn't have commercials," and, "Coyote didn't have time to wipe his ass, he was so busy paying everyone's bills."
His satire of the Burning Man festival, The Playa Arts festival is Palahniuk at his best, exposing the hypocrisy and double standards of the tragically hip.
There are a couple of occasions where the author remixes his own catchphrase: "Prithee pay heed, the first-most rule regarding the monster is thee must nevermore speak of meeting the monster." And the schoolboy underachievers: "The first rule of flunk club ..."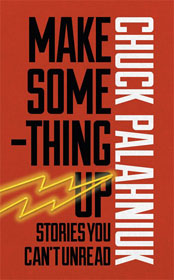 There are a few occasions when Palahniuk starts to sound very impressive indeed, coming out with gems such as, "to be a boy without a father is to grow guns in place of arms and a loaded cannon for a mouth. Always, at all times to be under siege with no reinforcements."
Such heights are usually subject to a little incoherence in the plot line, however.
The novella seems a little strained and short on ideas but overall this collection is amusing, insightful and wickedly funny. Chuck Palahniuk is probably not well served by the label of "transgressive" fiction that he has acquired; he is not of that endangered species of writer, who, according to Charles Bukowski, lead lives that are "more interesting than their books". He cannot be compared with literary extremists such as Sade, Artaud, Burroughs or even Bukowski himself, Palahniuk is far too much of a professional and times have changed.
Indeed, we are fortunate to have a writer who makes such splendid work of satirising these strange times, through the admonishing daughter ("Don't take it so personally Daddy, you just chose the wrong time in history to be a straight, white, Christian male") and this mocking little insight into one of his characters: "He wanted to be and not to be – at the same time. That's what a pioneering genius he was."
Chuck Palahniuk is a different writer set free from the constrictions of writing a "straight" novel. The same problems that made Beautiful You such a flawed work are still apparent in this collection, but Make Something Up is a much more relaxed, playful and better book.

Author
Chuck Palahniuk
Title
Make Something Up: Stories You Can't Unread
Publisher
Jonathan Cape
Price
£16.99 (Hardback), £9.99 (eBook)
More info
Publication web site
The Water Knife
Paolo Bacigalupi is an American sci-fi and fantasy writer, he is the author of The Windup Girl and some works of fiction for younger readers. The Water Knife is a return to writing for adults and is based in the near future in the south western United States.
The world of The Water Knife is a simple, but very effective invention, it takes the current drought in the area and multiplies it. Law and order is breaking down; what used to be Mexico is now "The Cartel States"; Texas is dry; its inhabitants refugees who are regarded by other Americans, pretty much as Texans today regard Mexicans. The western states and cities are fighting each other for a diminishing resource.
The Water Knife mostly takes place in Phoenix and the title refers to a gangster called Angel who works for a crooked lawyer called Caroline Case, who cuts the water supplies of other competing cities on a whim and with dubious legality. Caroline is a cartoon überbitch, with a hint of Marie Antoinette: "If they can't police their damn water mains, let them drink dust."
The book opens with Angel on board a flotilla of helicopters cutting the supplies of Carver City. Lucy is a journalist who reports on the escalating violence of the water wars and is sucked into the conflict.
The premise is that a colleague of Lucy's has uncovered some 150 year old tribal rights to the local area that could reverse the inevitable decline of Phoenix. However, anyone who comes into contact with these land rights tries to sell them to the highest bidder and is brutally rubbed out.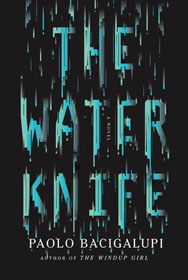 The scenario is very skilfully laid out and at its best reads as a satire of the present. Water is available from pumps at $6.95 a litre, Lucy writes direct to .epub for Kindle Post, a nice touch seeing as Amazonian DRM ain't worth shite ...
The ultraviolence that is today reported from south of the border has been effectively transposed north: "Texans strung up on New Mexico fence lines as warnings."
The first two thirds of the book are a decent read, despite the paucity of some of the characters and the repetitive nature of the double crossings and killings. Thereafter the plot descends straight to Netflix, with various characters shot or tortured and the survivors still managing a lively sex scene minutes later.
The double-crossings multiply exponentially while the human touches are as clumsy and ridiculous as Bruce Willis in high heels. Angel speaks like some retarded savant: "Don't got much faith in carbon sequestration."
And Lucy, after setting Angel up for assassination and then saving his ass, says things such as this: "It's not personal, I really like you Angel."
The disputed land rights that are central to the plot are, sadly, in the predictable place.
The author creates a clever scenario that is, alas, overwhelmed by too much Hollywood-style bullshit. Don't be surprised if it serves as the basis for next year's mega blockbuster starring Antonio Banderas and Charlize Theron. Despite a rather cheesy, obvious ending, The Water Knife is a much more engaging read than most of what passes for future fiction these days; for instance, the latest offering from Alastair Reynolds, as reviewed recently on The Register.

Author
Paolo Bacigalupi
Title
The Water Knife
Publisher
Orbit
Price
£16.99 (Hardback), £13.99 (Paperback), £8.49 (eBook)
More info
Publication web site
Girl at War
Sara Novic has lived in Croatia and the US. Girl at War is her first novel; it is the story of Ana Juric, who is ten years old and living in Zagreb at the beginning of the Yugoslavian conflict. Ana first becomes aware of the strife about to engulf her family when her Uncle Petar sends her to buy some cigarettes and the vendor asks if she requires the Serbian or Croat variety.
Ana is something of a tomboy and likes nothing better than hanging out with her best friend Luka playing football. As war reports appear on TV and air raids start to hit Zagreb: "War quickly became our favourite game… who could act out the best deaths. If there had been points, players would have been awarded extra for slow motion falls, postmortem twitching or delusional babbling was also a plus, if it wasn't too dramatic. Those who died with their limbs bent at unnatural angles and could hold their positions the longest were the winners."
Ana's baby sister has a kidney condition that necessitates her travelling to the US, so the family take her to be flown out of Sarajevo. On the return journey, Ana and her parents are stopped at a Chetnik roadblock and marched into the forest to be murdered. Only Ana survives due to quick thinking by her father.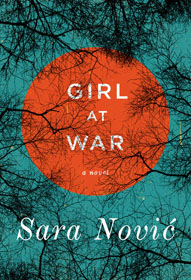 Fast forward a decade and Ana is in New York, addressing the UN about the issue of child soldiers. She has been adopted by her sister's foster parents, is about to complete her college degree but is haunted by the past, so decides to return to Croatia.
We then return to ten year old Ana, who is taken in by a local woman. She learns to strip down a Kalashnikov and when the Yugoslav army arrives, she shoots a man. She eventually returns to Zagreb where her Uncle Petar manages to get her smuggled to the US to join her sister.
Twenty-year-old Ana arrives back in Zagreb and is reunited with Luka who informs her: "It's not just your shit... you don't get to claim the war as your own personal tragedy. Not here."
Ana comes to realise that Luka's mind "...was a cavernous place I couldn't navigate." But she manages to find a degree of solace with fellow victims of war that she was unable to find in the US.
Ana travels with Luka back to the site of the roadblock and the village where she hid, which is now deserted, as well as the site of a massacre where more than seventy people died. The novel ends as the two travel to the Croatian coast where they used to holiday as children, where they find a ghost of a home.
Girl at War is a great debut. In a year that has been strong with first novels, it is as good as any I have read. War, seen through the eyes of a ten-year-old is brilliantly described, from the innocent games at the beginning to the traumatised munitions expert who can load a magazine as fast as UN regular soldiers.
The long term effects of war on the individual are simply, but very effectively written. Sara Novic manages a subtle change in the tone of the narrative between the ten and twenty year old Ana but the story benefits from an almost deadpan, traumatised style which makes Girl at War such a compelling read.

Author
Sara Nović
Title
Girl at War
Publisher
Little Brown
Price
£14.99 (Hardback), £13.99 (Paperback), £7.99 (eBook)
More info
Publication web site
®