The Harder They Come, Hunters in the Dark and Fall of Man in Wilmslow
T.C. Boyle, Lawrence Osborne and a Turing tale with a twist
By Mark Diston, 16 May 2015
Page File El Reg bookworm Mark Diston reviews the latest from the literary world with T.C. Boyle observing the saints and sinners at roots of American gun violence. Lawrence Osborne tells a gripping tale of expats adrift and running amok in Cambodia, and David Lagercrantz delivers a curious conspiracy in his fictional take on events in the aftermath of the death of Alan Turing.
The Harder They Come
Tom Coraghessan Boyle is an American writer with 14 novels under his belt. The Harder They Come is a story set mostly in California and the three main characters are sensitively drawn portraits from the spectrum of the conservatively inclined: namely, a retired special forces man, an independent libertarian woman and a complete wingnut.
Sten Stensen is a retired Marine on holiday with his wife Carolee in Costa Rica, when their tour party is held up by armed youths. Sten is pushing seventy, but his training kicks in and he disarms the ringleader and throttles him to death.
Boyle evokes the sights and sounds of Central America with aplomb: "There was the smell of the sea, tepid and redolent of small deaths."
When Sten returns home to California, he is fêted as a reluctant hero by the media.
Sara Hovarty Jennings is driving her vehicle with no seatbelt when she is pulled over by the police. She claims to have no contract with the state of California, but both her dog and vehicle are impounded. Kutya, her dog, has no rabies certificate, so is taken into quarantine, though she manages to retrieve her motor.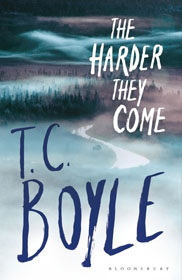 She picks up a hitchiker, who turn out to be Adam, Stensen's son. He is a survivalist and off his meds – he thinks he is the reincarnation of a long dead mountain man called Coulter. They conspire to rescue Kutya and embark on a sexual relationship.
Sara has a confidante called Christabel who mainly serves as a sounding board for Sara's feelings towards Adam: "Was she one of those people, women for the most part, who just talk to round out the sonic spectrum?"
During the course of the novel Sara and Adam become radicalised, while Sten just gets to feel old. Adam is an accident waiting to happen, with his eyes "beaming out all kind of lethal rays that could have dissolved flesh and stone alike." Of course, disaster strikes.
What is most unusual about this book is how sympathetically treated the main characters are. With literary fiction overwhelmingly written by left-leaning authors, too often conservative characters are reduced to ciphers and clowns. Boyle skilfully gets under the skin of his creations and unearths their motivations.
For instance, here is Sara, watching an old movie on telly: "Jimmy Stewart, Gary Cooper, take your pick – made all these stirring declarations about democracy and standing up for the little man… took her back to a simpler time, a time before the corporations had taken over and made a mockery of everything."
The Harder They Come is not a brilliant novel but it is certainly a very good one. T. C. Boyle has succeeded in humanising characters we too often see portrayed as clichés and cartoons.

Author
T. C. Boyle
Title
The Harder They Come
Publisher
Bloomsbury
Price
£18.99 (Hardback), £16.99 (eBook)
More info
Publication web site
Hunters in the Dark
Lawrence Osborne is a British novelist who has resided abroad for many years. Hunters in the Dark is his fourth novel and is the story of a young English teacher, Robert Grieve, who crosses the border from Thailand to Cambodia and wins two thousand dollars gambling.
He's reluctant to return to the UK and a life which is going nowhere: "You drifted through the days and nights and you forgot about the European Union and the Council Tax and the first grey hairs on your brows."
Grieve embarks on an aimless adventure. He encounters a dodgy American, Simon Beauchamp, who drugs him with opium, steals his passport and winnings and puts him on a boat bound for Phnom Penh, dressed in one of his own suits, with a hundred dollars in the pocket.
He arrives in the Cambodian capital and seems to fall on his feet. Grieve is engaged by a local doctor to teach his daughter, Sophal to speak better English. It turns out that Sophal's English is near perfect and she and Robert embark on an affair.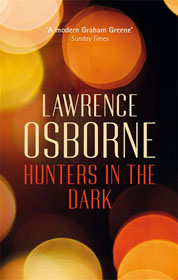 Meanwhile Beauchamp and his girlfriend, Sothea make away with their ill gotten gains, pursued by Grieve's Khmer driver. We're only a third of the way into the book when we're faced with a body and a corrupt cop, who pockets the passports and funds before heading off to Phnom Penh intent on putting Grieve in the frame.
Lawrence Osborne's writing is reminiscent of other expatriate authors adrift in exotic places. He himself mentions Malcolm Lowry and William Burroughs in this text. You could add Paul Bowles to these names and though Lawrence Osborne's prose is slightly less delirious and original than his predecessors, he is a writer of unusual ability. Here he describes the post-imperial status quo:
"But white people are remarkable – they love charging around on crusade, saving everyone. The carpet bombing and the missionaries and the NGOs – all unconsciously connected."
The character paths cross and double cross each other en route to a denouement which is a little contrived, but that is missing the point. Hunters In The Dark is a literary rather than a genre novel, so how it happens is more important than what happens. Lawrence Osborne's evocation of South East Asia is wonderfully observed and well written, the asides are understated yet impressive: "The cats sat erect and sarcastic under the yellow flamboyants."
Lawrence Osborne is a welcome throwback to an earlier age, it is very easy to compare him to expatriate writers of the fifties, in fact Graham Greene and Patricia Highsmith are mentioned in the book's blurb. But as I mentioned earlier, Osborne is more of a maverick individual than them.
While Hunters in the Dark is not of the quality of the great expat novels of the post-WWII era, such as The Sheltering Sky, Queer or Under the Volcano, it still is an excellent evocation of a drifter adrift in foreign climes and is a rare work indeed in these more globalised and very different times.

Author
Lawrence Osborne
Title
Hunters in the Dark
Publisher
Vintage Publishing
Price
£12.99 (Hardback), £8.98 (eBook)
More info
Publication web site
Fall of Man in Wilmslow
David Lagercrantz is a Swedish writer and the author of three previous novels. Fall of Man in Wilmslow is his first to be translated into English. It is set in 1954 and tells the story of Leonard Corell, a detective who is assigned to look into the death of Alan Turing, the legendary computing pioneer.
The novel opens at the very end of Turing's life as he is brewing up the potassium cyanide with which he killed himself: "The man's life consisted of too many numbers and secrets. He was different."
The first scene fades out just before the fatal dose.
We are then introduced to Detective Leonard Corell, whose investigation unearths Turing's biography in retrospect. In the wake of The Imitation Game, the biopic of Turing starring Benedict Cumberbatch, the first question which arises in my mind is: Does this book add more Sherlock shit to the Turing story?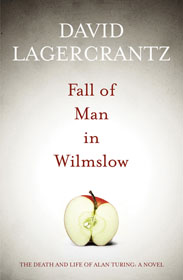 As with the The Imitation Game, Lagercrantz's Corell is a fictional copper. This book is not so much a whodunnit; it is, to paraphrase Marianne Faithfull, more of a why d'ya do it?
Corell is a complex character, a public schoolboy fallen on hard times. He has a dykish Aunt Vicky – who appears to owe a lot to Radclyffe Hall – who opens his mind to queer culture.
The author, being a Swede born eight years after Turing's death, reveals a certain lack of local knowledge, which at times is detectable. There are no regional accents apparent in Wilmslow or Manchester. The author seems to have some first-hand experience of Cambridge. It has changed much less than Wilmslow – then a sleepy market town, now a haunt of WAGS and the like.
David Lagercrantz has evidently undertaken a fair amount of research into this book, used to highlight Corell's increasing fascination with Turing and his dogged investigation into the secrets surrounding his death that ruffle feathers. However, there are a few errors showing through: the General Strike is shifted forward a decade; Corell drinks imported lager before the end of rationing; and you would have to look very hard to find ospreys in Southport, even in the Fifties.
There are a few bizarre aesthetic kinks as well. Here is one of Corell's little peccadilloes: "Ornate desks always aroused a sense of longing in him."
Unlike The Imitation Game, this novel does not play down Turing's homosexuality, nor does it make his relationship with his fiancé Joan into a central part of the story. Fall of Man in Wilmslow is not a bad book, nor is it a terribly good one. It does rather stumble between the known facts of Turing's life and where there are no details we tend to get stock historical interludes – Doris Day, The Rosenbergs and Burgess and Maclean all lurk in the shadows.
Ultimately, this book fails exactly where The Imitation Game did, it fictionalises a dead luminary to endorse a fanciful new product, and in this case you don't even get the eye candy of Benedict and Keira as compensation.
I would advise anyone interested in an authentic public school, post-war English gay voice to go straight to the works of Denton Welch, who captures the angst and aesthetics of the time so much better than this. ®

Author
David Lagercrantz
Title
Fall of Man in Wilmslow
Publisher
MacLehose Press
Price
£18.99 (Hardback), £9.99 (eBook)
More info
Publication web site