A loud, confusing, exciting jumble of the great and the gregarious
Our round-up review
By Kieren McCarthy, 8 May 2015
Collision 2015 We may have been a few miles from the famous Las Vegas Strip and all the noise and splendor, but there was no shortage of hubbub in the two giant, aircraft-hangar-like pavilions that hosted the Collision techbiz conference this week.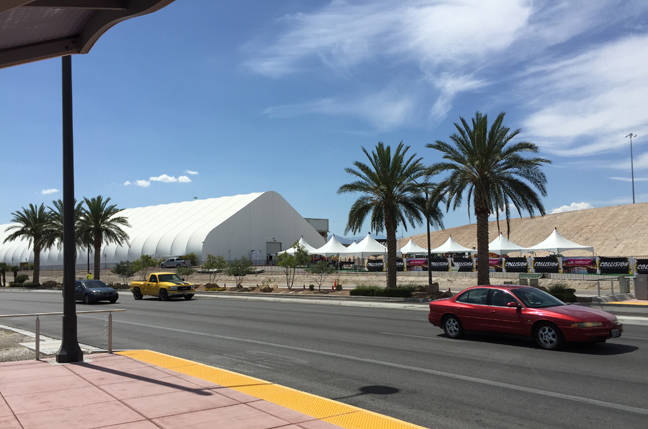 It was loud. Loud and busy. Probably too loud and busy. The big stages were shrouded in giant black curtains that helped to soak up some of the noise. Still, the vast, open-plan approach meant that on the various smaller stages spread between the two pavilions you had presenters almost yelling into cranked-up PA systems to reach attendees seated just a few feet away.
It was all very Vegas.
There was also a fair degree of confusion, which is something that you get every time a conference moves to a new venue. (This is Collision's second year in Las Vegas and its first in the aircraft hangars).
It was virtually impossible to find some sessions, some of which were listed as being located simply in "Pavilion 1." And some stages appeared to have multiple names. But overall, considering the huge increase in attendance – from a few hundred to a few thousand – the event was extremely well run and none of the real conference breakers appeared. Queues for toilets were minimal; lunch was in ready supply thanks to a bank of food trucks; most sessions started and ended on time; the internet worked.
But the real reason that Collision should have a happy future is that it achieved the main goal of every conference: it connected people.
Collision had a bustle that kept the conversations moving. It combined the traditional grand stage and important people sessions with smaller stages and short sessions, with breakouts and workshops and then four blocks of several banks of startups – the main reason people were here.
There was perhaps a little too much going on at the same time, and there was plenty of room to make the schedule a little easier to understand and follow. But attendees seemed very happy with the conversations they had and the connections they made.
But enough of that: who was actually there and what were they talking about?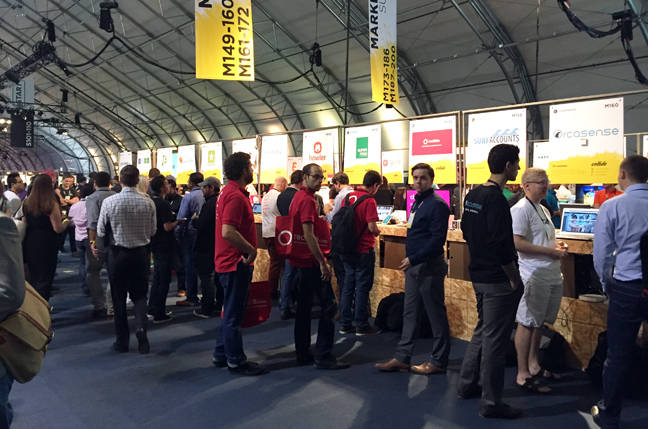 Walls of startups
The key component of the conference is allowing startups to showcase themselves and connect with people. And they were packed in. It would have taken a good hour to count all the companies there but we estimate there were around 800, all squashed next to one another on make-shift wooden stands with their name, logo, brief description and contact details fluttering above screens and stacks of business cards. The companies on display ranged from the inspiring to the ridiculous.
Some appeared to have been born from a drunken college conversation ("Yeah! We should totally do that!). For example:
The BFE (The boyfriend experience): The BFE is the Airbnb of dating for women and men who are interested in men. We make companionship without compromise possible.
Others appear to have been created by a spoof automated startup creator, including more buzzwords than real words and daft spellings:
Appprix: Appprix reduces user acquisition cost and drives engagement, retention & ARPU in mobile games …
That's Appprix with three 'p's. Similarly there is Memo with two 'm's. Yes, Memmo. What do they do?
"Memmo allows users to share emoticons and preserve memories using localized albums full of life." It almost makes you feel jealous that some people have this much spare time in their lives.
Then there's Cruise.me which might have real potential except for the fact it's actually an online cruise ship booking service rather than a competitor to Gaydar.
Many seem to have been born from people just desperate to create a startup and furiously looking about for a market gap.
Shortcut is an on-demand grooming service that sends a professionally trained barber to your home, office or hotel at the tap of a button.
This sounds like a great idea but you do have to wonder whether the founders have actually thought it through: are there really legions of professionally trained barbers in their cars ready to take off at a moment's notice to cut people's hair? And would people really want to pay the significant mark-up it is going to entail just so they don't have to walk to a shop?
In among the app creators desperately seeking niche markets were however quite a few companies that looked like they had a serious business proposition. They often arrived with a physical object.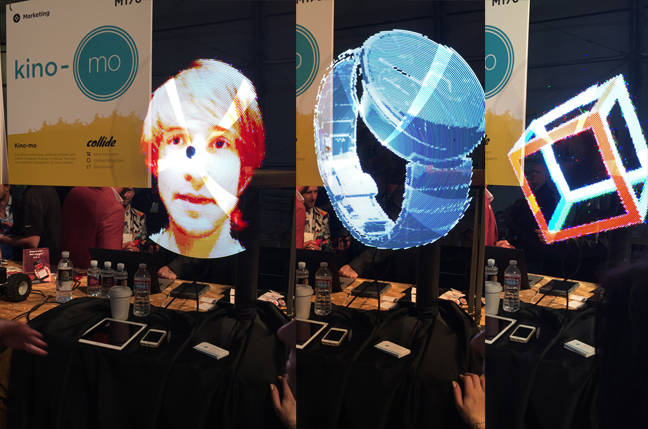 Kino-Mo had a spinning black object adorned with LEDs that creates 3D images. It has real engineering behind it, a patent pending and a business plan. Everyone that walked past the display was intrigued. The company reckons it can make the product for under $300 but it plans to make its money through the software that will allow you to display almost any image.
Likewise re:3D who have produced an industrial 3D printer that was also working and building things. It makes objects up to two feet tall and is built to last. We talked to its inventor. And the company also won the conference's pitching contest.
Some apps clearly either had significant backing or were simply blowing their Series A funding on big standalone displays rather than on the product.
CCC appeared to be one of these - a huge booth with LED displays, seats and three iPhones on stands ready to demonstrate. It's the sort of thing you'd expect to see Samsung put up. In this case it was an app that deletes your email immediately.
There were a number of problems to this however. First, you had to use only their app. You can send an email through it but anyone that wanted to read it would also have to have the app to read it. It also makes you scroll through three different screens before you can actually read the message - which would be beyond infuriating if it ended up being used regularly. You can't download attachments from an email sent to you. And once you've opened and closed it, it is automatically deleted.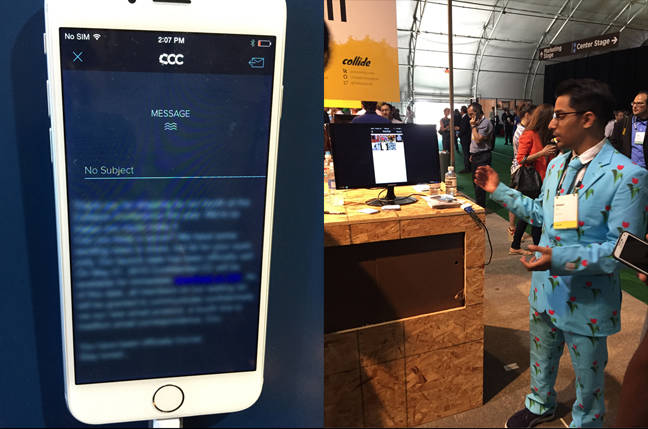 The CCC app, and a colorful presenter. Unrelated.
The idea, presumably, is to keep emails out of the prying eyes of the NSA or to limit future exposure to confidential emails. But then all the emails go through the company's servers, based in New York. So you are introducing a single point of failure and providing your most confidential information to a small company who would get served with a warrant the second more than 20 people started using the service.
No one who is actually serious about email security would consider such an application for a second - which makes you wonder why they were spending so much money on a booth when a fraction of it on market research would be a far better investment.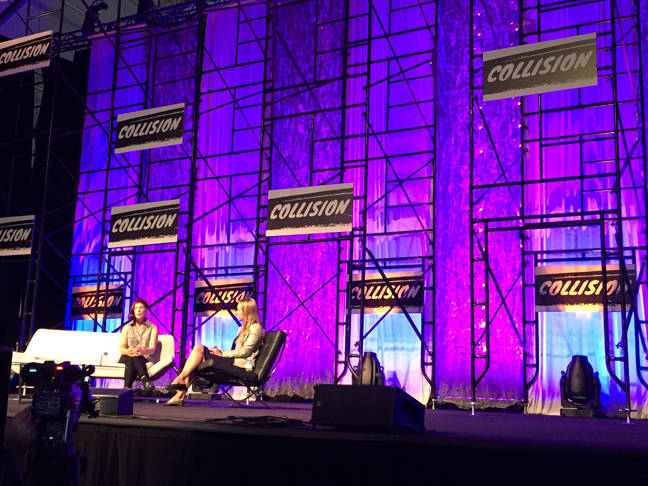 And the sessions
The sessions varied widely, as they always do. Often it was an opportunity for executives from the conference's sponsors to talk about how great their products under the guise of thought leadership.
Too often it was rambling about a subject of interest. Many seemed to like listening to journo John Battelle and search-dork Danny Sullivan muse about Google; but it can't have been only us that felt we'd got stuck in a conversation at the hotel bar and were secretly hoping someone we knew would walk past soon to give us a good excuse to duck out.
The workshops were more illuminating, small groups of people on a topic of choice. And on the smaller stages, you got to enjoy people that did not normally push themselves on the stage talk candidly, which attendees enjoyed. And then of course there was Robert Scoble who continues to fascinate himself with how important he is.
In general the sessions helped give people a break from the hustle-bustle of the rest of the conference, with the odd nugget and insight thrown in. But really Collision was about the startups and the ideas. And there were there in force. Some brilliant, some not so brilliant.
As organizer Paddy Cosgrave noted on the main stage on the second day of the conference: "In the past we've had companies like Skype and Nest out there outside. And you get the feeling that right now there is another one of those sorts of companies just over there."
He's probably right. Which is why we can expect to see people descend on Collision again in 2016. ®