How Groucho Marx lost his voice and found his funny bone
The 100 year 'artistic anniversary' of the man who made stand-up stand up
By Phil Strongman, 4 May 2015
Feature One hunded years ago this week on May 7 1915, a U-boat of the Imperial German navy torpedoed the vast ocean liner known as the RMS Lusitania – with 1,962 people on board over a thousand civilians drowned, including many from the US, which was then still neutral in World War One.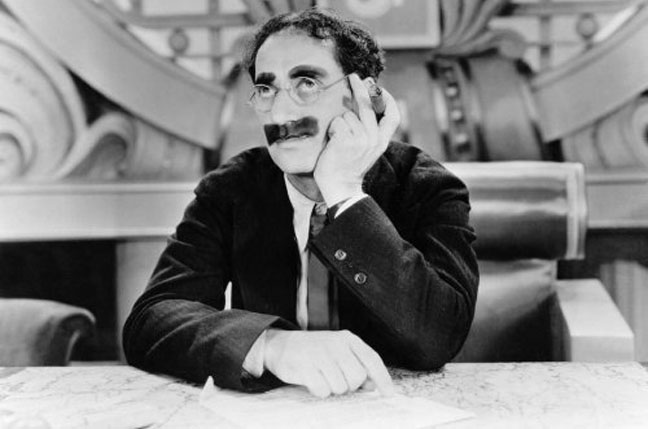 Groucho Marx in Duck Soup (1933) – image: Paramount Pictures
Following the sinking of RMS Lusitania, a wave of anti-German revulsion swept America, as German shops were attacked and their owners insulted – even American actors and comics playing Teutonic parts, or just using German accents, came in for a great deal of abuse.
Which was why, within days, a New Yorker called Julius 'Groucho' Marx – whose own mother was from a German Jewish background – abandoned the mock Berlin accent he'd been using onstage and instead opted for his own natural style of speaking; fast-talking and humorous.
And thus, by a cruel tragedy of war, was born a comic persona that was to essentially invent stand-up – as well as influencing everyone from Bob Hope to Woody Allen to Richard Pryor to Alexi Sayle to Lee Evans…
By 1915 Groucho and his brothers – Harpo, Chico and Gummo, later joined by Zeppo – were pioneering a vaudeville act that was a mixture of slapstick, skits and songs.
They had originally started out as vocal group The Four Nightingales but then, during a particularly bad gig in Texas, they had basically just given up, preferring to joke around with each other onstage. They found, ironically, that this went down with the audience far better than any singing.
They were undoubtedly amusing – what with Chico's OTT Italian accent and Harpo's mischievous mimes – but what finally made them hilarious, post-Lusitania, was Groucho's non-stop gags: joke after joke after ad-lib after joke. He was often risqué but never obscene and, after years of dealing with hecklers, he was a master of the put-down before he was in his twenties:
"…Next time I see you, remind me not to talk to you... I didn't like your play but then I saw it under adverse conditions – the curtain was up... Of course I remember the first time I had sex, I kept the receipt... From the moment I picked up your book until the moment I laid it down I was convulsed with laughter – someday I intend reading it... Go! And never darken my towels again..."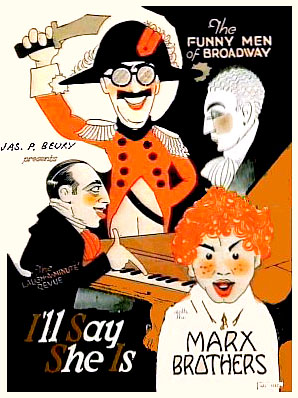 Marx Bros theatre show poster that played in Broadway in 1924
Although a master of expression – and with a fair singing voice – Groucho's sparkling humour was really the heart of the Brothers' act, humour that partly sprang from his own way-above-average intelligence.
He was "born at a very early age", in his own words, on October 2 1890 into a family with musical ambitions but very little money. As the middle brother of five, Groucho needed to earn cash fast – which forced him out of school before he was 13 years old and into several dead-end jobs.
Even so, he was a great reader, and for the rest of his life he was to consume books on a weekly basis, swiftly making him a self-educated man. And as the singing and then the clowning took off, Groucho and co were soon able to make a living from the stage.
Within five years, the newly-renamed 'Marx Brothers' were the biggest stars at New York's Palace Theatre, with three hit shows on Broadway – a record unmatched before or since. After conquering Broadway it was inevitable that the Marx boys would soon be lured to the new film centre of Hollywood.
Rogue's gallery
Things didn't go that well initially though, Humour Risk (1921) was the first of their 13 films together, and was so hit-and-miss that the studio eventually decided it was too much of a risk to release. They actually considered it so bad that they eventually destroyed the print, and the negative, the same year.
At the end of the 1920s, however, it was suggested that rather than work to Hollywood scripts, the Marx Brothers should turn some of their successful comic plays into movies – which worked beautifully. The Cocoanuts (1929), Animal Crackers (1930), Monkey Business (1931), Horse Feathers (1932) and Duck Soup (1933) swiftly followed, each one funnier than the one before, and each one a box office hit (1933's Duck Soup being a bona fide gem, with its surreal mirror scene wherein both Chico and Harpo pretend to be Groucho).
The Mirror scene from Duck Soup (1933)
By now, Groucho had refined his onstage persona – a loveable conman who came complete with a permanent cigar, clear glasses, a wide, painted-on moustache (and eyebrows) all underwritten by a looping chicken-style walk that was half-run, half-crouch. His demeanour was topped-off, of course, with his machine-gun patter of vaguely insulting jokes, often directly at society ladies – usually played by the strait-laced Margaret Dumont.
Rufus T. Firefly's introduction from Duck Soup (1933)
A Night at the Opera – produced at MGM by Irving Thalberg – followed next and is generally considered one of the team's three finest. It was also famous among Hollywood insiders, both for the ridiculous crowded cabin scene and for the furious row between the film's director, Sam Wood, and a wise-cracking Groucho.
At one point – sick of the brothers' gags and ad-libs between takes – an angry Wood yelled, "You can't make an actor out of clay!" To which Groucho had instantly replied, "No, nor a director out of Wood!"
The crowded cabin scene from A Night at the Opera (1935)
A Day at the Races, the second of the Marx Brothers golden trio and the last to be produced by Thalberg, featured one of the best fake seduction scenes (mandatory in most Marx Bros movies) wherein a cheeky floozy, working for the bad guys, tries to con the ever-willing Groucho.  
Groucho's room at A Day at the Races (1937)
Coincidentally, the movie also featured dance troupe Whitey's Lindy Hoppers performing one of the first ever filmed examples of the Lindy Hop. This was the pre-jive, pre-rock'n'roll dance that came out of Harlem and, in various forms, eventually went round the world.  
Lindy Hop dancing in A Day at the Races (1937)
The final truly great Groucho Marx film was unquestionably The Big Store, made despite the indifference of its production studio. After Thalberg's tragic death in 1937 MGM had taken far less interest in the Marx Brothers' work.
Safe bet
Despite the critical and commercial success of their previous two films, it took almost four whole years before the company finally sanctioned another movie. The Big Store (1941) was stuffed with the usual madness as Groucho and gang attempt to expose a corrupt boss who's trying to cheat a youngster out of his rightful inheritance – the big store of the title.  
Flywheel hired as floor walker in The Big Store (1941)
After a career lull during World War Two – and with his brothers now well past their comic best – Groucho moved his wit and wisdom into solo radio work. Despite a couple of false starts, he struck paydirt when he was selected to become host of You Bet Your Life, a pre-recorded interview-cum-quiz radio show – which allegedly led to this notorious remark to a woman with 19 children:
Groucho: Why have you so many kids?

Woman: Well, I love my husband.

Groucho: Lady, I love this cigar... but I take it out occasionally.
Although this was later said to be an off-air remark that never made it into the final edit – and Marx himself always claimed he'd "never say anything so vulgar" on a family show. Vulgar or not, after a dozen successful years the show made it on to American television for a successful two-year run. The sixties became a much quieter time for the thrice-married Groucho, he was after all in his 70s now, though a 1965 British TV series – the imaginatively named Groucho – started brightly enough, before fading. It eventually folded after less than a dozen weeks and was not re-commissioned.
But even as he neared his eightieth birthday, Groucho could still turn on the charm – and the humour – when he really wanted to, as in his light-hearted attack-tribute to American TV host Johnny Carson...
Groucho Marx's tribute to Johnny Carson
Groucho's last appearance on-screen came in 1976 during Joys, a feel-good TV special. He did a turn in a brief sketch with Bob Hope and the similarly aged George Burns: "Three Wise Men? No, three wizened men!" as Groucho is reported to have said during rehearsals. By now he was noticeably frail and weak – and so it was no huge surprise when he died of pneumonia the next year, on August 19, 1977. A passing mourned by friends as diverse as Elliott Gould, Alice Cooper and Elton John.
Groucho Marx's lasting influence reaches into surrealist comedy, via the Goons and Monty Python, and his death came just before the first groundswell of aggressive British stand-ups – firing non-stop and increasingly risqué gags – were to take up the torch and remake the solo comic performer.
Groucho always said, "I don't want to belong to any club that would have me as a member", but his fan club remains pretty huge to this day… ®