Memory Man, The Lady from Zagreb and Blood on Snow
A trio of crime thrillers to chill you on the beach
By Mark Diston, 25 Apr 2015
Page File El Reg bookworm Mark Diston takes a look at the new releases in crime fiction with the latest from David Baldacci that introduces a new character series. Philip Kerr wheels outs Bernie Gunther for another wartime adventure and we've some Scandi noir from Jo Nesbo.
Memory Man
David Baldacci is a bestselling American novelist, the author of thirty works of crime fiction. Memory Man is the story of Amos Decker, whose life was changed by a "blunt force trauma on the gridiron". For those on the eastern side of the Atlantic, he suffered brain damage playing American football.
The accident left him suffering from hyperthymesia, the inability to forget anything and synesthesia, a condition that associates colours with certain numbers, letters and suchlike. Amos had a successful career as a police officer and a detective until tragedy struck and his wife, daughter and brother-in-law were all murdered at his home.
Decker's life falls to pieces; he lets himself go, loses his home and job and becomes "a fat weirdo dressed as a homeless person… he looked like he should be living in a cave somewhere attempting to conspire with aliens."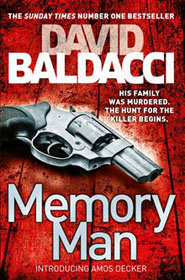 Sixteen months after his family's murders, he is informed that one Sebastian Leopold has handed himself in and confessed to the crime.
Decker heads to the police station to see Leopold for himself. As he arrives there is complete chaos: a school shooting has just taken place in nearby Mansfield High and in the confusion he manages to blag a short visit with Leopold, posing as a defence brief.
Amos is convinced that Leopold is not the perpetrator, but as the school shooting is revealed to be a massacre, his talents are required and he is joins the local police force as a consultant, using his perfect memory in the hunt for the killer.
Memory Man is a highly unlikely and unfeasible tale, but Baldacci is a master of his craft and once you accept these provisos, he drags you headlong through a fascinating and labyrinthine plot.
It is interesting to compare him with that other master of US crime fiction, James Elroy. They both use short, tight sentences but Baldacci hasn't got the black humour, the political incorrectness or the literary ability of Elroy. Yet, neither is he stuck in a mythical past, unlike Elroy.
Baldacci does modern America, the city of Burlington – where most of the action takes place – is on its arse, full of bankruptcies and foreclosures. Baldacci's novels are tighter, less over-inflated and free of Elroy's right-wing posturing, cop worship and liberal-baiting which was wearing thin by LA Confidential and has now become a cliche.
I don't know how Baldacci votes and thinks whereas with Elroy it seems all too obvious. His most recent work, Perfidia, was just more over-inflated nostalgic bluster.
Anyway. The gun used in the school shooting turns out to be the same that killed Amos's family; someone has a grudge against him. The plot is convoluted and the criminal is fucked up – aren't they always?
If you take a step back from this novel it is utterly ridiculous, but it is engaging, fast-paced and everything you could wish for in a page-turner. Amos is an unlikely but compelling hero and if the "introducing Amos Decker" strapline on the cover is anything to go by, we'll be seeing more of this character from Mr Baldacci in future.

Author
David Baldacci
Title
Memory Man
Publisher
Macmillan
Price
£16.99 (Hardback), £7.99 (eBook)
More info
Publication web site
The Lady from Zagreb
This is my first experience of Bernie Gunther, who starred as a good cop in the Third Reich in ten previous novels by author Philip Kerr. My immediate impressions were of a rather lazy Raymond-Carver-goes-to-Nuremberg pastiche.
Bernie is working for the Kripo, the criminal police, and has just sorted the Katyn Massacre for Joey the Crip – Gunther-speak for Goebbels. He is approached by a woman who requires help to recover her mansion, which just happens to be the villa at Wannsee where the Final Solution was conceived.
Philip Kerr's historical references are as tight as his plot line is loose, but there are hidden depths. Bernie has a penchant for expressionist art and the poems of Rainer Maria Rilke, though at times the prose is clumsy: "I felt my smile drying on my face like yesterday's shit."
At other times Kerr seems to mock his own pretensions: "Take my word for it realism plays very badly in modern fiction."
The titular Lady from Zagreb is one Dalia Dresner, a film star who has caught Joey the Crip's eye. Of course, our hero can't resist and therein lies the gist of our story as he meets the Ustaše, Himmler, Kaltenbrunner and assorted evil motherfuckers, and slips needy Jewish prisoners Reichsmarks and ciggies.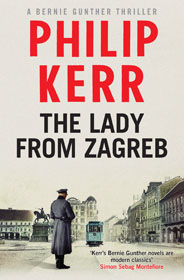 As I said, the plot is cheesy but the text has some delightful moments and philosophical maxims,such as, "I can't see the point of reading a book by someone who is dumber than you." Philip Kerr is definitely no fool. Some descriptions of his are priceless. Take Mussolini: "Looking a little like a circus daredevil about to be shot out of a cannon." Goering is characterised as Fat Hermann.
At times the political incorrectness approaches Celinian levels: "After all some Jews are just Muslims with a better tailor."
The love scenes are refreshingly sexy: "The sibilance of her stockings, the curve of her neck and the frequency of her dazzling white smiles… every time she looked into my eyes the effect was devastating as if my heart had been stopped by some beautiful Medusa."
Kurt Waldheim and Allen Dulles both have walk-on parts. There are poetic asides, too. "Perhaps it's true what Goethe says, that our destiny grants us our wishes."
The great thing about this book are the incidentals; they make a very ordinary storyline interesting as you don't know where they will be coming from. A butler "with a face like a melted elephant"? Such gems are worth trawling for.
Bernie Gunther is a preposterous and hilarious invention. I believe another episode is already in the pipeline. It's like Sven Hassel meets Richard Allen. It's like wholemeal poptarts or a good drug story that features M-CAT – a rare species indeed.
That Philip Kerr can keep his writing fresh and interesting after so many outings with Bernie Gunther is a rare talent. The man is no thriller writer, but he is cheeky, tasteless, occasionally outrageous and his historical research is impressive. Sir Ian Kershaw could probably pull him to pieces but I can't. It's a shame Reiner Werner Fassbinder isn't still around to direct a film version.

Author
Philip Kerr
Title
The Lady from Zagreb
Publisher
Quercus
Price
£18.99 (Hardback), £9.49 (eBook)
More info
Publication web site
Blood on Snow
Regular Page File readers will be aware of my aversion to corpse fiction. Call it crime, thrills or what you will – one dead body is pretty much the same as the next, and I've met too many crims to harbour any voyeuristic tendencies.
Even so, I do have a soft spot for the Tartan Noir genre. I once asked a Scottish crime writer why they were so good; she put it down to the shit weather and their miserable disposition.
I have heard of the Scandi noir fashion but don't do telly, so reasoned that with their even worse climate, Scandinavian crime writers could be even better than the Scots.
Jo Nesbo is a Norwegian writer with ten previous crime books under his belt. Blood On Snow is the story of Olav, a dyslexic hitman who wipes out transgressors for a smack dealer. He is an executioner with a heart, we hear, and rescues disabled deaf and dumb maidens from prostitution, only to weirdly stalk them.
One day Olav's boss gives him a contract to wipe out Mrs Smack Dealer, as she's been playing the away fixture. Our man stakes out the marital home and observes her illicit squeeze visiting, slapping her around and giving her one on a chaise longue. Olav follows him, rubs wipes him out and phones the boss – only to find out he's killed the boss's son.
Our protagonist makes away with Mrs Smack Dealer and they appear to instantly fall in love. Realising that both their lives are in danger, Olav contacts Mr Smack Dealer's main competitor for some assistance in wiping out his rival. In the manner of Toshirô Mifune in Yojimbo (later covered by Clint in For a Fistful of Dollars) he orders three coffins.
We are then treated to a flashback to Olav's tormented childhood: mummy was a piss artist and daddy was an abusive sex offender, until Olav converted him into a shish kebab using a ski stick. His last words: "That's my boy."
We get the usual twists, double crosses, a shootout and a semi-surprise ending. Maybe you could put some of this novel's defects down to clumsy translation, but that cannot excuse the blatant lack of original ideas or disguise the wafer thin characters that even the author doesn't seem to care too much about, so why should we?
I guess with the exception of Anders Brevik, the murder rate in Norway is so low, cheap voyeurism is the only alternative. Compared to the best Scottish crime fiction this is dire, so bang goes my theory: crime fiction's thrills peak around the latitude of Glasgow and Edinburgh, I definitely won't be investigating the merits of Inuit crime fiction any time soon.
We are constantly reminded of the high living and educational standards of Scandinavia but this is writing of a teenage standard with a join-the-dots plot. The problem is that Jo Nesbo is 55. I believe he has an alternative career as an economist; that is surely no excuse to write like one.
Currently suffering sunburn on the Algarve, I thought Blood on Snow might at least cool me down, but alas, it didn't engage me enough to really work as holiday pulp. ®

Author
Jo Nesbo
Title
Blood on Snow
Publisher
Harvill Secker
Price
£12.99 (Hardback), £8.98 (eBook)
More info
Publication web site