Philip Glass tells all and Lovelace and Babbage get the comic novel treatment
Plus: Love, Sex and Other Foreign Policy Goals
By Mark Diston, 18 Apr 2015
Page File El Reg bookworm Mark Diston chews through the latest literary treats with a fascinating autobiography from composer Philip Glass. Jesse Armstrong of Peep Show fame has a debut novel and for comic novel fans we've a curious take on the development of the first computer from Sydney Padua.
Words Without Music
Philip Glass is a renowned American composer and Words Without Music is his autobiography. Glass describes growing up in a secular Jewish family in Baltimore: his mother is a librarian and his father graduates from auto mechanic, via car radio repairs, to owning a record shop where young Philip gets his earliest musical education.
His childhood recollections remind me of the biography of another upwardly mobile young Jewish lad, Richard Feynman. Glass is something of a precocious individual, gaining entry to Chicago University at age 15 where, unlike Baltimore, students aren't segregated: "I think it took me less than a minute to realise that I had lived my whole life in a place that was completely wrong… it was a revelation."
Glass hears Chicago Jazz as "a variant of baroque music" and recalls some advice proffered to him by Ornette Coleman: "Don't forget Philip, the music world and the music business are not the same."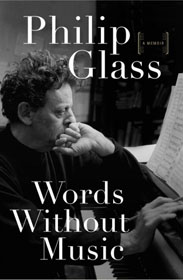 Glass constantly asks himself: "Where does music come from?"
After university, Glass attends the prestigious Juilliard music school in NYC, supporting himself by taking a variety of blue collar jobs. He does not make a living from music until age 41, after 24 years of day jobs including plumber, crane operator and taxi driver. His most famous cab fare, he says, was Salvador Dali.
He meets his future wife, Jo Anne, in New York and they both leave the US to study in Paris; he music, she theatre. From there the couple embark on an overland journey east, eventually arriving in India.
Glass confesses: "At age 29 I was completely ignorant of any non-western music." This trip changes that and Glass describes the sights and sounds of his journey which leave him with a passion for all genres of music and a lifelong attachment to Tibetan Buddhism. Despite all the travelling, Glass feels that "the biggest influence on my music has been in fact the energy system known as New York City."
Upon his return he rents a loft space, part of which he shares with avante-garde composer and instrument inventor, Moondog. His musical and artistic connections are related; probably the best yarn is that of Jerry Lieber, another Baltimore boy who was saved from bullying by Glass's mother, and repays the debt by advising Glass to set up his own publishing company.
Success eventually comes to Glass in the mid-seventies with Einstein on the Beach but he still drives cabs for another two years to pay off the debts that he incurred staging his first opera.
The latter part of the book deals with success and loss, concentrating more on the latter. The death of his partner Candy to liver cancer in her late thirties is related and there are tributes to her and other late friends and collaborators such as Allen Ginsberg and Doris Lessing.
Of course, there is much of Words Without Music that deals with the composition and staging of his works, but you don't have to particularly enjoy Glass's music to appreciate this book. It is a fascinating observation on the nature of art, being an artist and the benefits of keeping an open mind, Philip Glass is a truly thoughtful, talented and inspiring writer. Words Without Music is not only one of the best musical biographies that I have ever read, it is also a brilliant meditation on the nature of life and creativity.

Author
Philip Glass
Title
Words Without Music
Publisher
Faber and Faber
Price
£22.50 (Hardback), £16 (eBook)
More info
Publication web site
Love, Sex and Other Foreign Policy Goals
Jesse Armstrong is a television scriptwriter and the co-author of the screenplay to the acclaimed film Four Lions. He's probably best known to British audiences as the co-writer of the comedy series Peep Show and the sweary political satire The Thick of It.
Love, Sex and Other Foreign Policy Goals takes place in the early 1990s and is narrated by Andy, who has "one of the most coherent foreign policies of anyone working on a building site in the Manchester area."
The opening of the story finds Andy feeling inadequate at a posh birthday party for the girl of his dreams, Penny. At the gathering, Penny announces that she is off to Bosnia to deliver aid and perform a "peace play". Despite parental opposition, her mind is made up.
We are then taken back to the recent past and discover that Andy migrated to Manchester from the Welsh borders, following his student girlfriend, Helen. As Andy and Helen's relationship disintegrates, Andy joins a Stop The War meeting where the idea of the trip is conceived.
Andy is dragged along by his unrequited passion for Penny. The theatre group is basically a bunch of student wankers, "grotesque and terrifyingly pretend little adults."
The first third of this book is truly an unedifying experience, the characters are so trite and ridiculous.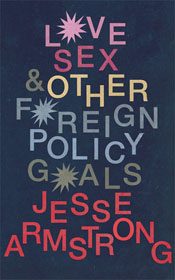 Andy describes his feelings for Penny thus: "Like wanking over a picture of Mahatma Gandhi, it proved hard to translate one strong feeling into another." If I wasn't being paid to read this book, I would probably have given up with it, much as I did with Four Lions after about 20 minutes of viewing.
However, when our crew get to Zagreb and new characters are introduced, things drastically improve. Firstly, there is a hilarious dinner party full of reactionaries at the British Embassy. "If Halifax could have made a decent peace with a trustworthy National Socialist, then there could have been a British Imperial Indian summer of extraordinary capital accumulation."
Once our heroes and heroines are taken out of their comfort zone, the novel becomes a decent satire of naïfs well out of their depth in the tradition of Candide. We even get a mention of Pangloss's 'best of all possible worlds' – "I felt I was a strident anti-racist. But on the strict unspoken understanding that this attitude should never cost me personally."
The troupe's experiences of the chaos of war causes a revelation: "Everything was becoming clear. Too clear – on the big boring canvas of the war." Inevitably, one of their Bosnian associates eventually tells them what for: "Who are you to care about the whole world? Sending out blankets and your rice covering the world with your newspaper articles, like gunboats. Who the fuck do you think you are to care about me?"
As the author states earlier: "Is there any charity without a PR plan? Without a logo?"
Despite a somewhat excruciating start, Love, Sex and Other Foreign Policy Goals turns out to be an entertaining satire. As disillusion finally sets in, our crew reassure themselves: "At least we did something."
Love, Sex and Other Foreign Policy Goals is a late bloomer. It is a tribute to Jesse Armstrong's ability that he can rescue a decent first novel from such an unpromising beginning. I must have another go at Four Lions, which I am assured is another fine work with an underwhelming introduction.

Author
Jessse Armstrong
Title
Love, Sex and Other Foreign Policy Goals
Publisher
Jonathan Cape
Price
£12.99 (Hardback), £8.98 (eBook)
More info
Publication web site
The Thrilling Adventures of Lovelace and Babbage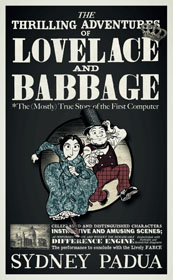 Sydney Padua is a graphic artist and animator. The Thrilling Adventures of Lovelace and Babbage is comic novel, an amalgamation of history and fantasy in a steampunk style, featuring the fictionalised characters of nineteenth century digital pioneers Charles Babbage and Ada Lovelace.
Anyone requiring an accurate historical account of their lives steer clear; this starts off like a Writers and Readers For Beginners edition but soon degenerates into comic book fairyland. Whether you find this entertaining and fun or a bit too contrived really depends on personal taste.
Charles Babbage is depicted like the most raving lunatic interpretations of Victor Frankenstein or a deranged Shakesphero gazing fixedly at the firmament: "Silence minion, who can comprehend my unavailing struggles?"
Ada Lovelace, meanwhile, is portrayed as a kind of Winona Ryder on ecstasy, eyes permanently bugged out on stalks.
At the beginning of the book we are introduced to our main characters and the plot sticks to historical fact – or thereabouts. Ada, as you may know, was the daughter of one of England's most overrated poets: George Byron and Anne Isabelle Milbanke, a keen mathematician who worried that her daughter might inherit her father's poetical traits and so tortured her daughter to convince her otherwise.
"She was given lessons on a "reclining bed" to perfect her posture. If she fidgeted even with her fingers, her hands are tied in black bags and she was shut in a closet. She was five years old."
The first apparent problem is that all the interesting information is contained in footnotes. After twenty pages of biography we learn that Ada died of cancer aged 36 and that Babbage died a bitter failure.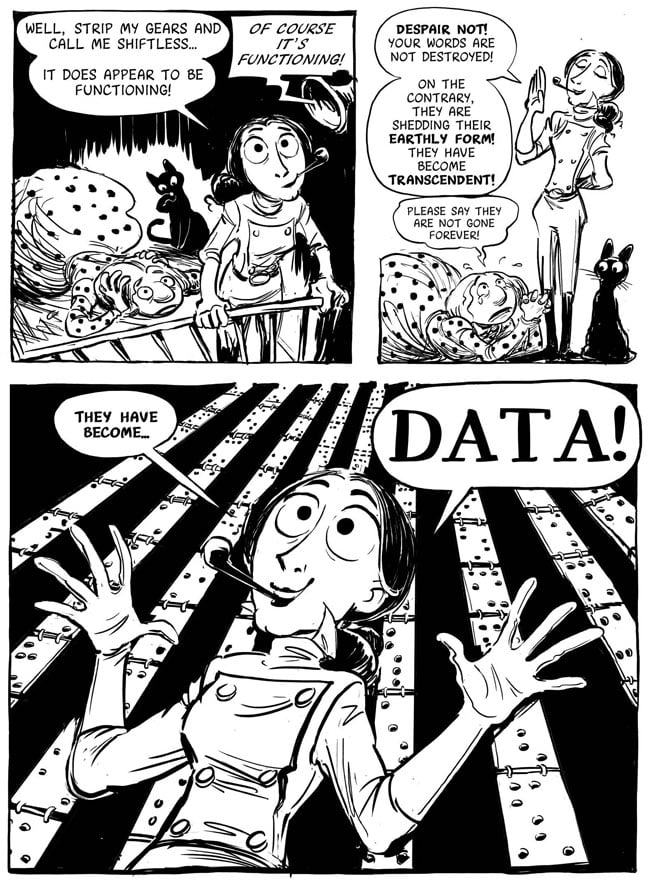 But reality is only a minor hiccough in Sydney Padua's multiverse; in some other spacetime Charlie and Ada are heroic crimefighters. It is all a bit Doctor Who, the shitty Victorian episodes BBC scriptwriters seem so fond of. "To the Difference Engine!"
There are more copious footnotes which seem to refer to actual historical events, interspersed with music hall type bills advertising thrills which never materialise. Queen Victoria makes a walk on. The footnotes continue on nearly every page and tell a more coherent tale than the comic strip.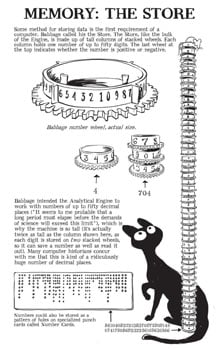 Getting technical – click for a larger image
There are a few facsimiles of pages from Punch, yet I can't even detect what crime our heroes are supposed to be fighting – this is truly one unholy mess. My guess is it could be fathomed as edutainment – a fantasy comic on the one hand to make the footnotes of history more digestible. A pity, then, that the book has American spelling and uses 'math' instead of 'maths'.
Even so, the ending of the story resembles Alice in Wonderland, before we are presented with some lengthy appendices which feature Charles Dodgson (aka Lewis Carroll), and even they aren't allowed to stand alone without more copious footnotes. Admittedly these are interspersed with references and diagrams regarding discoveries of historical significance which appears, again, to be a way of offering some reference material. Finally, there is a comic book epilogue which leaves me none the wiser.
Sydney Padua is a decent graphic artist, but as a writer she seems unable to contrive a storyline and stick with it. The book is crammed full of text but it is presented in a very random fashion and no amount of historical documentation can disguise the paucity of the storyline, which doesn't do anything, go anywhere or mean anything.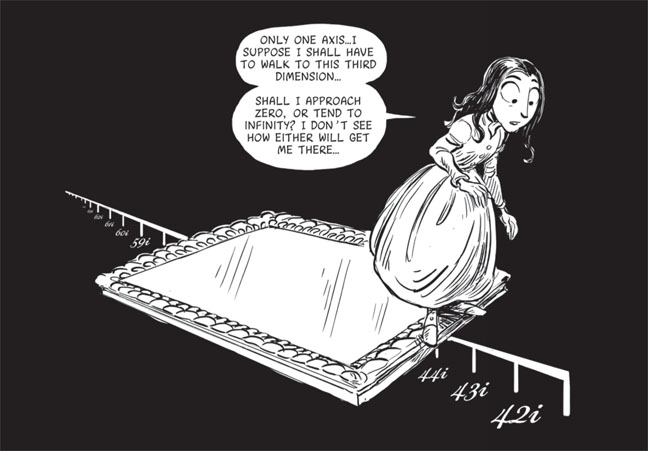 No doubt the idea was to make these two historical figures appear engaging and to feature some kind of adventure to stimulate learning. It's an approach that may well appeal to a younger audience, used to leaping from one topic to another with their online meanderings, but the logic behind The Thrilling Adventures of Lovelace and Babbage doesn't compute for me. ®

Author
Sydney Padua
Title
The Thrilling Adventures of Lovelace and Babbage: The (Mostly) True Story of the First Computer
Publisher
Particular Books
Price
£16.99 (Hardback), £9.99 (eBook) on sale 21st April, eBook 7th May
More info
Publication web site