17 Carnations, The Art of Creative Thinking and Last Night on Earth
Royalty and Nazis, invigorating ideas and more
By Mark Diston, 11 Apr 2015
Page File El Reg bookworm Mark Diston looks at literature's latest with biographer Andrew Morton's take on our estranged royals' relationship with Adolf and his pals. University lecturer Rod Judkins compiles a book brimming with ideas to boost creativity and Kevin Maher's second novel has an Anglo-Irish, pre-millennium theme combined with some very colourful relationships.
17 Carnations: The Windsors, the Nazis and the Cover-Up
I chose to review this one from the title, so my heart dropped a few parsecs when I realised it was by Andrew Morton, he of Diana: Her True Story notoriety. His bibliography nosedives even from there, being mainly the worst kind of celeb trash biographies: Cruise, Angelina, Posh and Becks, Will and Kate... Oh dear, what have I got myself into?
Incredibly, this is not a bad book. It's not brilliant nor original either, but it treads the borderline of gossip and popular history with aplomb.
17 Carnations is essentially a biography of the most interesting part of the lives of King Edward VIII – later the Duke of Windsor – and Wallis Simpson, covering the period between their meeting and the end of World War II. It is the story of their dealings with Fascists, Falangists and other dodgy reactionaries in the wrong place and at the wrong time.
The title is a bit of a red herring and refers to an alleged gift from Nazi Foreign Minister Joachim von Ribbentrop to Wallis Simpson. The trouble is, no-one can remember if they were actually carnations or roses or if it was a one-off or a daily floral tribute. Fortunately, the greater part of this book is based upon more reliable sources.
Andrew Morton gives us a potted childhood of the future Edward VIII, describing how his pacifism was based on his personal experience of the Western Front during WWI and how he felt constrained by his profession of "princing". The origins of Wallis Simpson are also investigated – the author seems to regard her as an ambitious individual more interested in status than money and not the common gold digger she is portrayed as.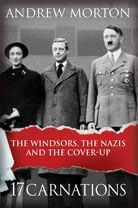 What is never in doubt is the degree of passion between the two main protagonists. Their deepening relationship is well written, while the consternation of the British establishment is hilarious as the abdication crisis dramatically unfolds.
There are a few unanswered questions: if Edward was such a Nazi, why did he hole up in the Rothschild's Austrian schloss after the abdication? Edward and Wallis are reunited and are married in Paris, thereafter their fate would have been to become, "the arch beachcombers of the world" were it not for World War II.
During the crisis days of 1940, Hitler regarded Edward as a possible puppet he could place on the British throne. As France falls, the couple escape through Spain and Portugal pursued by secret agents from both sides. As the future of Britain hangs in the balance, all Wallis cares about is her Nile green swimsuit, while Edward contacts the Nazi occupiers asking if they'd mind awfully looking after his properties in Paris and Antibes.
Edward seems more retarded than fascist, as a drunken doctor who accosted him said: "Why don't you try to grow up and behave?"
The lad seems to have the monarchy down to a tee though: "What a smug, stinking lot my relations are... you've never seen such a seedy, worn out bunch of old hags."
This is not a work for serious students of history, who are better off starting with Phillip Ziegler's biography King Edward VIII, which is much quoted in 17 Carnations.
Andrew Morton does tail off a little during the last quarter of the work, which involves a hunt for Nazi documents that prove little that was not previously known. But overall, 17 Carnations is nowhere near as bad as I had imagined and makes suitable light holiday reading.

Author
Andrew Morton
Title
17 Carnations: The Windsors, the Nazis and the Cover-Up
Publisher
Michael O'Mara Books
Price
£20 (Hardback), £6.99 (eBook)
More info
Publication web site
The Art of Creative Thinking
Rod Judkins is an educator, artist and writer, who describes himself as a hunter-gatherer of creative techniques. He opens his book by recalling his youth at art college, the first time in his life that he had been allowed to experiment and make mistakes.
Rod does make some outrageous claims, such as "the principles of Jazz improvisation could make an admin office run more smoothly". As I recall, improv doesn't even make Jazz run more smoothly. He has also "helped a company to sell their designer furniture by promoting it as uncomfortable". Could he be the creative genius behind homeless spikes?
This may sound like Rod is punting the Emperor's new clothes, but I think this book has been written for design students and those from the "creative industries" who haven't lived much and panic when deprived of a screen.
He begins badly by citing Salvador Dali as a renaissance man. What he doesn't mention is that most of the fields that Dali worked in were as a result of his celebrity in the art world.
Judkins goes on to claim that a space shuttle disaster was the fault of Powerpoint, which "encouraged poor thinking by its very design". The same could be said for this book. Whilst there is plenty of food for thought and some excellent quotations, Rod Judkins does not go back to original sources.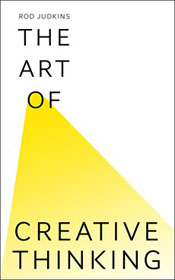 Besides Dali, we are introduced to other artists such as Rene Magritte and eventually there is a quote from André Breton. Afficionados of the surrealist movement will wonder at the omission of the immortal quote from Lautreamont – "When the sewing machine meets the umbrella on the operating table" – which so heavily influenced the 20th century avant-garde thinking, and the surrealists in particular.
Mr Judkins may have been to art college, but he needs to brush up on his reading. He attributes the quotation: "Kill your darlings" to Stephen King, when William Faulkner trumped him by at least half a century. William Burroughs cut-up technique is described too, but no mention is given to its originator, Brion Gysin.
We're also treated to some office conventional wisdom, in that "the most common decision at a meeting is to have another meeting". My favourite quotation in this book is from Churchill: "Success is the ability to go from failure to failure without losing your enthusiasm."
But what there isn't is Arthur Rimbaud's "Derangement of the senses" – not a word about the influence of drink and drugs on creativity, despite quotations from some of history's greatest imbibers.
There is also little mention of the downside of a creative life – the biographies of original thinkers are littered with madness, addiction and suicide. It is not a path for the faint-hearted and should probably come with some sort of health warning.
If you are a digital designer or scion of the creative industries who needs to think outside of the box, this book may help. But kids, if you really want to lead the creative life, be prepared to dispose of family, friends, money, respect, health and status. Or rather, be prepared to let them dispose of you, unless you want to end up like Rod – advising on selling masochistic furniture.

Author
Rod Judkins
Title
The Art of Creative Thinking
Publisher
Sceptre
Price
£9.99 (Hardback), £5.99 (eBook)
More info
Publication web site
Last Night on Earth
Kevin Maher is an Irish writer, journalist and film critic. Last Night on Earth is his second novel and is based around the story of Jay, an Irish immigrant to London in the 1990s.
Firstly, we are treated to a flash forward to the birth of Jay's daughter, depicted from the baby's point of view, the umbilical cord cuts off blood flow to the brain and she is born brain damaged. We are then taken back to Jay's early days in London, mostly narrated to his mother.
Our hero seems to fall on his feet and after a short period labouring, he is chosen to be in a documentary about immigrant labour in the capital. Jay's knowledge of movies impresses the TV crew and he is signed up to make a film review program called Screen Grab.
The text cuts forward to the future, when Jay's Irish-American partner Shauna has left him for her Danish shrink. We are introduced to a demented Irish thuggette called "The Clappers" who catches up with Jay in London and claims to have killed the Danish shrink as a favour. These shenanigans necessitate the flight of Jay, his disabled daughter and The Clappers back to Ireland.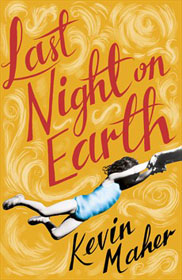 The story continually segues backwards to Jay and Shauna's life together. Meanwhile Jay visits his mother, who does not recognise him, so it appears the respondent of much of this work is unable to read or understand it.
Kevin Maher is an accomplished writer and storyteller, but can't seem to work out whether he wants to be James Joyce or Kathy Lette. The opening birth scene is straight from the tradition of Irish poetics, but whole stretches of the novel feature London media lives at their most banal and trivial, with only a light dusting of satire. There are too many crap film references, which are likely to lose those without similar tastes.
The text seems to get more disjointed and random during the second half and becomes increasingly difficult to read. Maher isn't another Roddy Doyle, who entertains and can be instantly forgotten – he has a fine turn of phrase, but little sense of direction. Here he is describing life without love:
Tons of unopened boxes of Cadbury's Milk Tray, all because the lady realises that love is nothing and that existential horror is everything.
And the comparison of a neighbour's loud orgasm sounds to a Hezbollah funeral is priceless. But overall, this is too much of a messy mélange of high and lowbrow, where Habermas meets Miami Vice. There is too much blarney, too little action, and the back-and-forth edits are performed too often for no particular reason.
When it comes to the ending, alas, Kathy Lette eventually triumphs over James Joyce. This is a most frustrating book, as Kevin Maher is not without talent and maybe there is something to be found in it if you were Irish abroad in London during the 1990s. Yet compared to a modern Irish classic such as Kevin Barry's City of Bohane, Last Night on Earth seems very lightweight and disorganised.

Author
Kevin Maher
Title
Last Night on Earth
Publisher
Little Brown
Price
£14.99 (Hardback), £13.99 (Papaerback) £7.49 (eBook)
More info
Publication web site