Blood Relatives, The Tears of the Rajas and The Fifth Gospel
Ian Caldwell finds religion (again) and more
By Mark Diston, 28 Mar 2015
Page File El Reg bookworm Mark Diston looks at literature's latest with a compelling debut novel from Stevan Alcock. The days of empire in India get up close and personal due in no small part to Ferdinand Mount's well-documented family history. And for those with a taste for antiquity, Ian Caldwell's latest gives Dan Brown a run for his money.
Blood Relatives
Stevan Alcock is a writer who was raised in Yorkshire. Blood Relatives is his debut novel and is set on his home turf during the late 1970s. It is the story of Rick Thorpe, a young gay man coming of age in Leeds during the time of the Yorkshire Ripper murders.
Our protagonist is a teenager working as a delivery boy on a Corona fizzy pop van. One morning in 1975 the delivery route is blocked off by a police barricade. A young woman has been murdered; she turns out to be Wilma McCann, the first of the Ripper's victims.
The story follows Rick as he struggles to find other like-minded individuals in the city. The text is punctuated by the murders as they take hold of the community around Rick. It is a sensitive and wonderfully told story of a young man coming to terms with himself and the world around him.
Alcock captures late Seventies Britain perfectly, however there are a few chronological errors which interrupt the flow and have you nitpicking for more. For example, the final Test match between England and the West Indies in 1976 was at the Oval, not Lords (Richards 292, Amiss 203, Holding 14 wickets).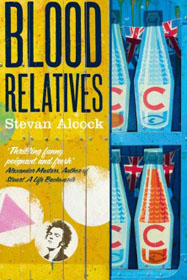 Rick also mourns the Sex Pistols' split in New Year 1977, when they were yet to finish their final US tour and were in fact, live just down the road in Huddersfield the week before. There are a few more minor musical and cultural inconsistencies and a little revisionism. The protagonist describes Magazine in 1978 as post-punk, a phrase not invented until long after the event.
Yet these are minor flaws in a very impressive work, Stevan Alcock's prose fairly zips along and Rick is an excellently drawn character. There are a few memorable descriptions, such as this of a black prostitute teaching Rick to dance: "Lourdes... danced around t'room to her ska music, her buttocks shimmying like maggot-filled medicine balls". And "Kev... lost his little finger in a die press, so his tattoos read love and hat". And here's one phrase which I recall hearing myself more than once, back in the day, Rick's mother's malapropism: "Desecrated coconuts".
Working class life in the 1970s is affectionately and very accurately recreated. Alcock's Yorkshire dialect reads rather like Alan Sillitoe's Nottinghamshire kitchen sink dramas, but in the intervening decade or two, the times have moved on and British culture has become more colourful, varied and interesting – less white, less hetero, less gender specific.
Rick's family goes through some life crises, during the novel with his grandmother and stepfather, in particular and inevitably skeletons appear from the closet. "Pity you can't build your family out of LEGO bricks and if you don't like it, tear it down and build another one".
The murders seem to galvanise individuals in the community towards change. Peter Sutcliffe, the man who in real life was eventually convicted of the Yorkshire ripper murders, exists in the book as a very distant character, but does make his presence felt nonetheless.
The novel ends on the day of his capture amongst the baying crowds outside Dewsbury Police Station where Sutcliffe is held and Rick renews some old acquaintances. Last week I proclaimed Claire Fuller's book as the best first novel by a British writer that I'd read this year. It is fanciful to compare Blood Relatives to Our Endless Numbered Days – they are very different works – but both are debuts of the highest quality.

Author
Stevan Alcock
Title
Blood Relatives
Publisher
4th Estate
Price
£14.99 (Hardback), £9.99 (eBook)
More info
Publication web site
The Tears of the Rajas
Ferdinand Mount is a baronet, journalist and conservative politician. The Tears of the Rajas is a history of the mid-period of the British Empire in India, as told through the lives of Mount's ancestors.
The author begins by telling us the tale of his Aunt Ursie, a wonderful eccentric: "She hung out in residential hotels... tending... to select those where gruesome murders had recently occurred"
Mount's family were aware that Aunt Ursie had written a family history, which none had bothered to read. This changes after The Sunday Times published an article linking one of David Cameron's ancestors to a massacre during the Great Indian Mutiny of 1857.
You see, our current prime minister's mother is the author's first cousin. The source which The Sunday Times used was none other than Aunt Ursie's family history, which the author finally reads and is the inspiration for his book.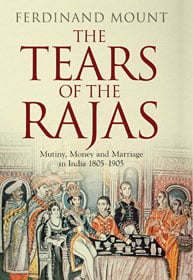 Ferdinand Mount descends from the Low family of Fife, lowland Scots who were typical of the Empire's administrators during the 19th century CE. The main character of this work is John Low who worked his way through the ranks to a generalship and a knighthood during his half-century stint in India.
Mount takes us through the early days of the British in India, quoting Sir John Kaye: "In the plenitude of our national self love, we encouraged the conviction that Great Britain had conquered Hindoostan by a series of purely defensive measures."
He goes on to say, "The British Empire in India was the creation of merchants and it… had to operate at a profit".
The rapacity, double standards and conduct amounting to daylight robbery committed by the East India Company ultimately lead to the Great Mutiny of 1857, but we first meet John Low as a lieutenant putting down a smaller mutiny in Vellore in 1806. Mount points out that ignoring the lessons of Vellore led directly to the Great Mutiny, one of 110 uprisings between 1783-1900.
John Low is first and foremost a soldier and ultimately obeys orders, but he is an intelligent and perceptive individual who questions much of British policy in India. He is not one of those who Mount pillories, "The British establishment has never been shy of rewarding failure".
The build up to the Great Mutiny is superbly told. Ferdinand Mount weaves family history, official documents and personal correspondence into a compelling tale of cultural divides, ignorance and greed. The English settlers are brought to life in a manner which is rare; their hopes, fears, delusions and disasters are catalogued alongside the traditional examples of British understatement and sangfroid.
Take this example from the correspondence of a magistrate, surrounded and outnumbered: "I never was better in my life than I am now and we are all very jolly and have fun… I'm so glad you have a fellowship (to Oxford)".
As for the officer who was hit by cannon fire? "Oh, there goes my arm and leg, give me a glass of water."
The Great Mutiny is well described but resembles colonial wars the world over, the retribution and consequences being strangely familiar. The story rather peters out after 1857 when John Low returns to the UK. His son Robert is involved in the Second Afghan War, but is not at the centre of events as his father was.
The Tears of the Rajas is an excellent work. Ferdinand Mount, although writing about family and the past – favourite subjects of the conservative – is always questioning and never complacent. Although this book may have worked better if had just concentrated on the life of John Low and cut off some forty years earlier, it is still the best that I have read about the British in India during the nineteenth century.

Author
Ferdinand Mount
Title
The Tears of the Rajas
Publisher
Simon and Schuster
Price
£25 (Hardback), £14.99 (eBook)
More info
Publication web site
The Fifth Gospel
Ian Caldwell is an American novelist and the co-author of the bestseller The Rule of Four, which was released in the wake of The Da Vinci Code and ploughed a similar furrow. So it may not come as a total surprise to discover that his new novel involves ancient manuscripts, religious artefacts and secret societies.
The Fifth Gospel is set in 2004 and is narrated by Alex Andreou, an Orthodox priest who is on a mysterious diplomatic mission to The Vatican. He is the single parent of a young son, Peter. Alex has a brother, Simon, who is an agent of The Secretariat, a kind of Catholic ninja.
The brother's father had an ambition to reunite Eastern and Western churches by proving the authenticity of the Turin Shroud, but was thwarted when radiocarbon dating conducted during the 1990s had indicated the Shroud to be medieval.
Forward to 2004, an archeologist, Ugo Nogara, is investigating The Diatessaron – an amalgamation of all four gospels. He believes that he has found evidence that the Shroud had been in Edessa (modern Urfa in Eastern Turkey) during the early centuries of the Christian era and had been brought west by crusaders and that the radio carbon dates had erred as they were performed on a later repaired section.
The novel opens with Simon phoning Alex to come quickly. Alex finds Simon bent over the body of the dead archeologist. Alex's flat is simultaneously burgled, apparently by parties looking to find the secret which Simon and Ugo have uncovered.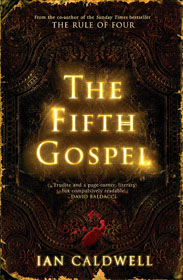 The introduction to the novel is well set out, if a little slow moving, but I guess they don't party like they used to in St. Peter's. We are told, "Nothing fans a religious delirium quite like Vatican silence."
We are drawn into a web of intrigue rather reminiscent of the Cold War cloak-and-dagger yarns, with their east and west, secret codes and double and triple agents. The characters are ciphers; the conspiracy is the book.
"Priests underestimate the appetite of laymen for cheap thrills about Jesus". I think we disbelieving laymen are less picky where our cheap thrills originate. Simon is picked up for the murder of Ugo and then the novel commits suicide: "The truth that moves the lifeblood of our faith is a thumping impulse towards self destruction."
Firstly we are treated to some ridiculously homoerotic flashbacks of Simon, the novitiate becoming a bare-knuckle prize fighter to turn street kids towards God: "But when he pulled off his shirt – stripped it off like a skin of glue – I felt my throat tighten, because I knew those muscles. I knew the way they stretched around that backbone like wings."
Then Alex's estranged wife turns up and you can almost hear the syrupy strings of a film score building up. At this point I find Mr Caldwell is grasping at clichés and I can no longer take him seriously. I pray for the Nunslinger to enter and wipe out the whole cast, but no such luck; the tale meanders through scriptural minutiae and the wafer-thin characters follow the unfeasible storyline like sheep.
The Fifth Gospel starts with a death and ends in a nativity. This is not an atrociously written book, it is just a bit boring at times and gives rather too much of a nod to the Dan Brown bandwagon. Alas, it is a somewhat underwhelming addition to a sub-genre that only the most hairsplitting of religious pedants and tragic conspiracy theorists are likely to enjoy. ®

Author
Ian Caldwell
Title
The Fifth Gospel
Publisher
Simon and Schuster
Price
£14.99 (Hardback), £8.99 (eBook)
More info
Publication web site