We're not sure what it is, but we like it: Lexus NX300h hybrid SUV
£40,000 of style and substance
By Alun Taylor, 15 Mar 2015
Vulture at the Wheel Oh, for the days when it was obvious what category a car sat in. You see, I don't rightly know which pigeonhole to try to shove the latest Lexus NX300h into. The closest thing in spirit is probably Nissan's Juke, another style wagon that is part SUV, part four door coupé.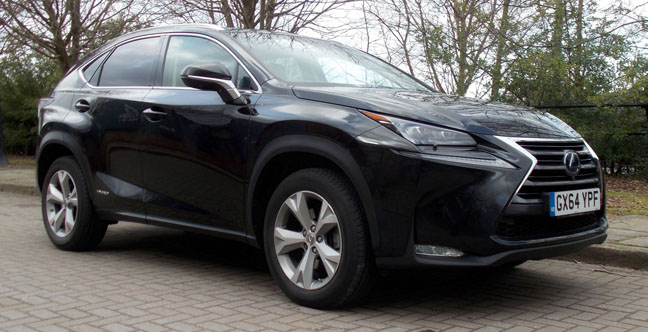 The Lexus NX300h – looks like a Cylon's bonce bucket
Granted, the new Lexus hybrid is bigger, more expensive, more electric and more SUV-ish than the Nissan, but I suspect it is the result of much the same demographic analysis – and aimed at the same sort of customer.
Like the Juke, the NX300h is as much about looks as anything else. Lexus' new corporate grille makes it look positively threatening while the bodywork is awash with ripples, bulges and strakes. I never thought that the 2013 LF-NX concept would drop an acorn so close to the tree but kudos to Lexus for being bold.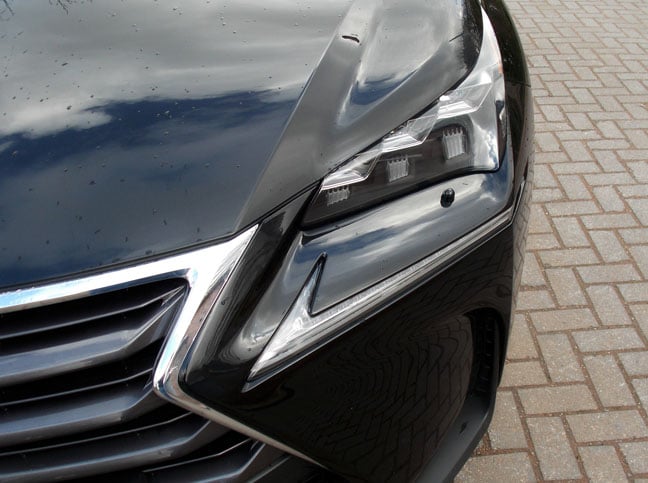 Detailing is busy to say the least
I couldn't describe the new Lexus family conk as pretty but at least there is a now a resemblance across the newer models in the range. That is something long, long overdue. You certainly won't overlook the NX300h in the carpark.
All that styling has done nothing for its wind-cheating credentials though. At 0.33 the NX300h's coefficient of drag is far from Prius-slippery. It seems there is still work to be done squaring the circle of designing a hybrid for both eco friendliness and urban posing.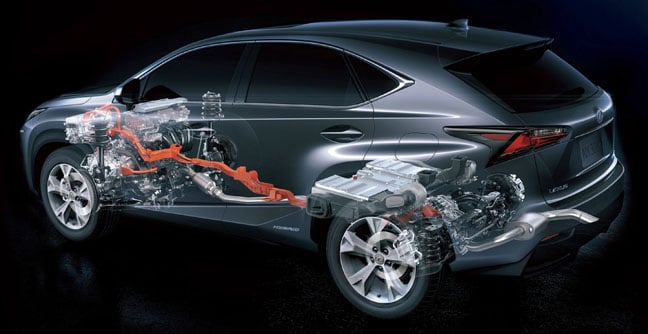 Biblically complex powertrain
One reason the NX300h exists at all is that the floorplan has been borrowed from the rather more mundane Toyota RAV-4. Thankfully, the parts of the NX300h that make it move are rather more interesting.
The drivetrain consists of a 16-valve DOHC 2.5L 4-cylinder Atkinson cycle petrol engine, a 1.6kWh nickel-metal hydride battery and two electric motors. One motor's rated at 50kW, turning the back wheels and the other, rated at 105kW, is plumbed into the "Electric CVT" transmission at the front.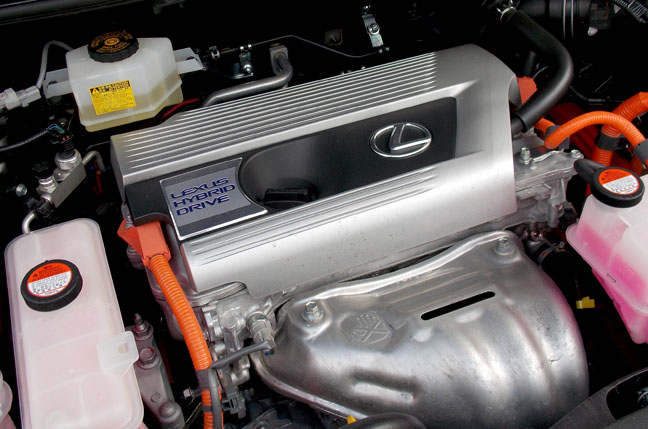 2.5L 4-pot with hybrid gubbins
That equates to a total output of 145kW (195bhp) and 210Nm (155lb-ft) at the front wheels, fuel economy of 54.3mpg and CO2 emissions of 121g/km. I'd take that economy figure with a pinch of salt. After a week of driving my average consumption was a rather less impressive 38mpg.
Economy drive
Having a Ni-mh battery you can't resort to electric drive to improve the economy. Yes, it has got an EV button, but the maximum electric-only range is about one mile and the maximum speed is 28mph. But that's on paper. In reality I never got much above 20mph before the petrol engine chimed in.
That means that the NX300h most certainly does not qualify for the Government's OLEV £5,000 'leccy car discount.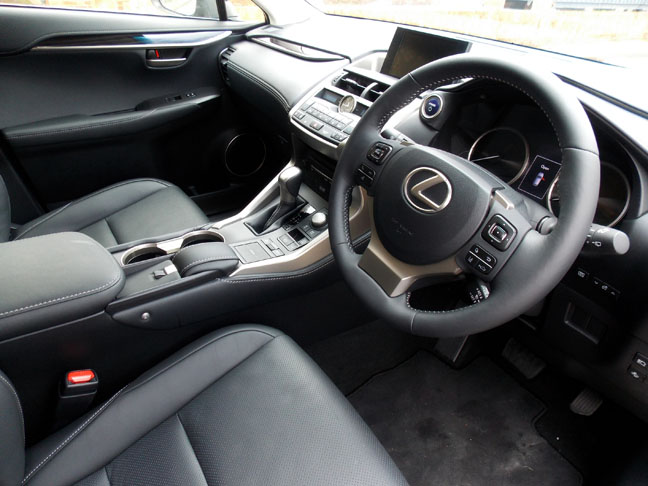 More kit than you can shake a stick at
If economy is a bit so-so, what about performance? Well, flat out you will be doing 112mph and you can dash to 62mph in 9.2 seconds. In-gear acceleration is more impressive thanks to all the on-demand 'leccy motor torque: a theoretical maximum of 270Nm from the front motor and 140Nm from the rear.
While the Lexus is a four-wheel drive machine don't expect to be able to follow your neighbour's Range Rover Evoque over hill or down dale. The Lexus system is there more to keep everything ship-shape on slippery tarmac, rather than to go bog trotting.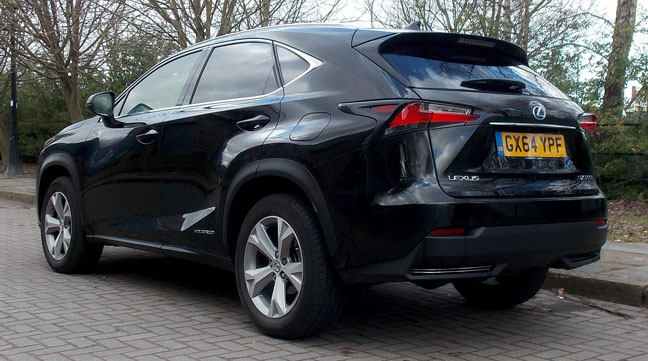 This SUV has haunches
Accelerate hard and the power monitor shows the rear electric motor lending its shoulder to get you moving. If the traction control system detects a loss of grip at the front it will fire up the rear drive motor to keep everything on the straight and narrow.
CVT transmissions are never much of a recipe for driver enjoyment but the gearbox in the Lexus shows promise. As is typical of Lexus/Toyota hybrids, it uses a system of planetary gears to blend power from the petrol and electric motors. And it does so seamlessly.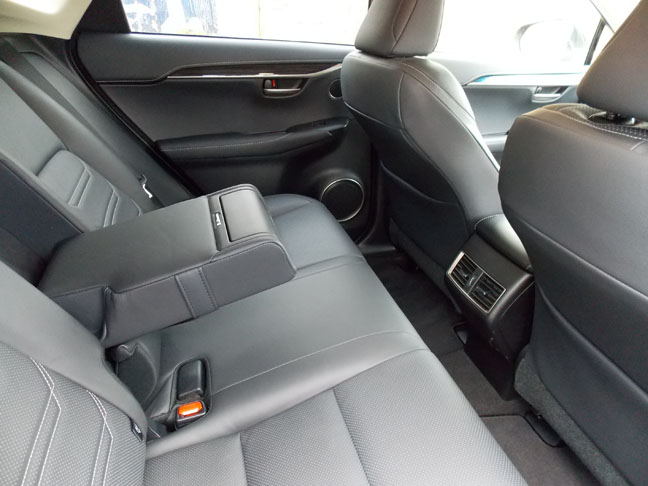 Plenty of leather and space in the back
To be a wee bit more precise, the planetary gear set fulfils three roles simultaneously: it operates as a power split device between the generator and front wheels; as a reduction gear for the electric motor, and as an electronically controlled constant velocity transmission.
When you plant your foot there is the usual rise in noise levels as the engine revs and the transmission catches up but it's a surprisingly pleasant noise – throaty and eager. It reminds me of the only other 2.5L four-pot I've ever driven, a Porsche 944. And having two electric motors means there is plenty of instant thrust to get over the CVT lag.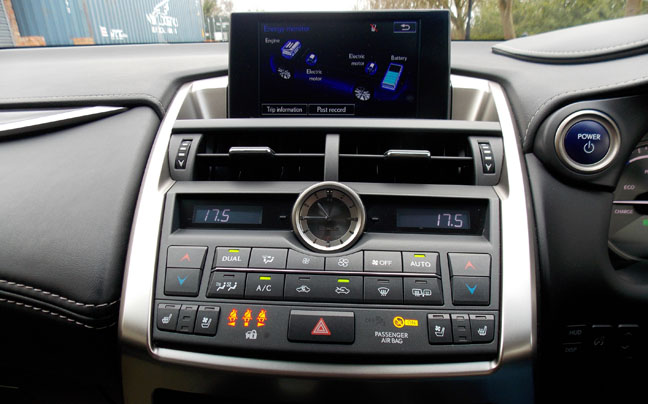 Energy monitor shows what is powering what – the display sits high which is good
Lexus is making much of the small improvements to its hybrid-drive system, including a new water-to-oil cooler for the front electric drive motor and a new trans-axle assembly that does a lot of rather dull-sounding things better than before. The NX300h also has a unique torque control system to reduce pitching motion when driving on an uneven road surface.
Toys 'R' Us
What does that all add up to? Well, in terms of drivetrain refinement and driving enjoyment, the NX300h is the best Toyota/Lexus hybrid I've ever driven. It handles pretty well, too. For what is quite a tall and high-riding old bus you can hustle it along with some abandon and still not find yourself upside down in a field.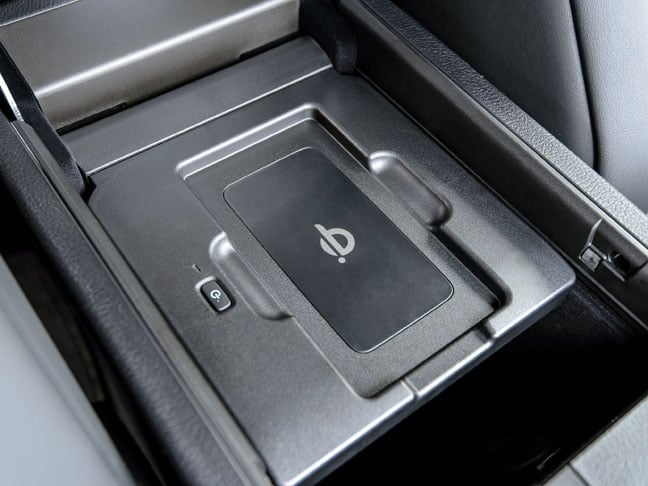 Wireless charging plate, anyone?
Slightly letting the side down are the brakes. Not for their efficacy; they haul the two ton NX300h to a standstill in very short order. No, it's the feel.
Like many hybrids there is a rather dead and rough feel to the brakes. It's a side-effect of recuperative retardation with a generator (actually generators in this case, as both the front and back electric motors can charge the battery) rather than with good old discs. It's not a deal breaker, but it is worth a mention.
Being a high-end Lexus you get toys galore. They include a Qi wireless charging tray for your mobile phone, Lexus' new Remote Touch Interface touch pad control system, a 360-degree panoramic view monitor that can give you a funky bird's eye view of the car and its immediate surroundings and a 6.2-inch head-up display.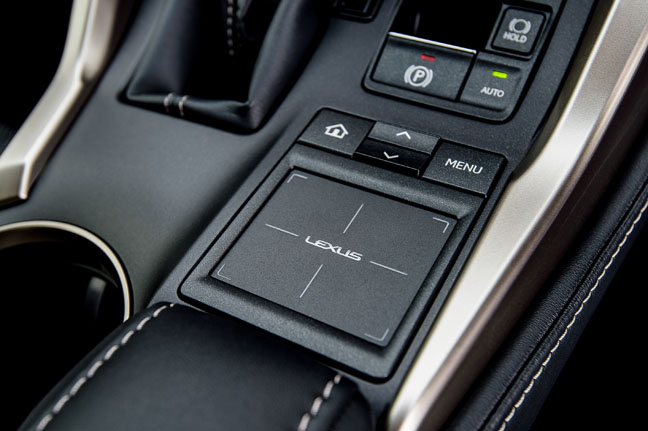 Touchpad falls easily to finger
The Remote Touch Interface deserves a few words because it is a Rather Good Idea. Drag your finger over the touchpad on the centre console and a highlight marker moves from one button to the next on the high-mounted display; up, down, left, right or diagonally. Just tap the touchpad to select.
As a way of navigating a complex interface while on the move it's a winner because you can keep your eyes on the road and the display – at more or less the same time – and not have to look at the touchpad at all. My review car also came with a 14-speaker Mark Levinson stereo which was, quite simply, stunning.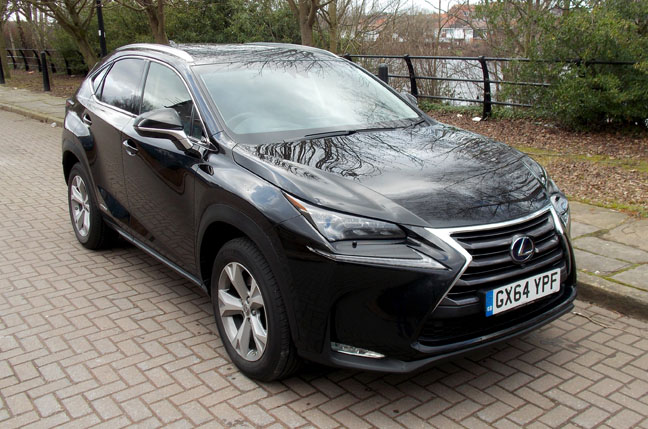 New Lexus family nose can scare the children and the horses
The Reg Verdict
The NX300h is not an easy car to nail down. It's not a true 4x4 SUV, not a 4-door sports coupé and not a load hauler. Like the Nissan Juke, it's a semi-tough style statement for urban types. As far as that goes, it does a good job.
If you don't intend driving over any mountains or moving huge wardrobes it's a practical and luxurious hatchback that is enjoyable to drive. £44,000 is a lot for a style statement, even one as specced up to the hilt and well screwed together as the top of the line Lexus NX300h I drove.
Still, the target demographic (remember, the TV commercials feature will.i.am) are unlikely to be disappointed if they take the plunge. And being a Lexus it won't break down and dealer support will be tip-top. ®

We're not sure what it is, but we like it: Lexus NX300h hybrid SUV
Lexus NX300h hybrid SUV featuring a 4-cylinder 2.5-litre petrol engine and two electric motors delivering 145kW (195bhp)
Price:
From £29,495, £43,640 (as tested) RRP