So You've Been Publicly Shamed, Style and The Buried Giant
Jon Ronson, Joseph Connolly and Kazuo Ishiguro, hot off the press
By Mark Diston, 28 Feb 2015
Page File El Reg bookworm Mark Diston leafs his way through three forthcoming releases. Remains of the Day author Kazuo Ishiguro's first book in a decade takes us on a mythical journey. Jon Ronson engages in a journey of his own having been victim of a social networking stunt. And Joseph Connolly entertains with his tale of guilty pleasures and domestic obsessions.
So You've Been Publicly Shamed
Jon Ronson is an author and documentary maker. His latest book is about the modern phenomenon of public shaming, mostly via social media, although also taking in other aspects such as the tabloids and courtroom cross-examinations.
The book opens when the author discovers a fake Twitter account in his name and he decides to confront his identity hijackers face-to-face.
They turn out to be "academics" – although pretty stupid ones – who are shamed into retiring the fake Jon Ronson due to the adverse public reaction when a film of their meeting is posted on YouTube.
This event inspires the author to consider public shaming as a whole and seems to be the catalyst which led to the writing of this book.
Ronson sets out to meet individuals who have suffered this ignominy and allow them to tell their stories. He begins with an American academic who was caught out plagiarising his earlier work and that of others by an astute freelancer. This is followed by the tale of a rich white girl who makes a bad joke about poor black people. The resulting backlash results in both losing lucrative jobs and status.
"I hate not knowing what's on Twitter," confesses Ronson as he meets a series of individuals whose trivial detritus left on social media sites blows up in their faces in the form of public outrage, chastisement and the loss of careers and families.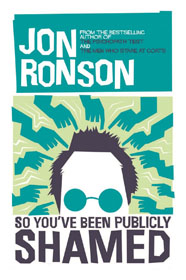 A couple of detours follow, as Ronson meets a Texas judge who prescribes public humiliation as punishment and we're treated to a quick potted history of the rather shady history of Group Madness, as described by the likes of Gustave Lebon – a 19th century doctor whose views belong firmly in that era – and Philip Zimbardo, who ran the notorious Stanford Prison experiment. Both appear to be downright charlatans, though a number of their spurious ideas have become accepted by many.
One of the most perceptive of Ronson's interviewees is Mercedes, a member of 4chan, responsible for some of the most aggressive public shaming campaigns. The perpetrators?: "A lot of them are bored, understimulated, overpersecuted, powerless kids… on the internet we have powers where we would otherwise be powerless."
The author then meets Max Mosley who was exposed in the News of the World as an S&M enthusiast. He refused to be humiliated, took the paper to court and won, garnering a lot of public sympathy in the process – though Ronson does point out that there is a lot of gender inequality when it comes to similar cases involving women.
Our intrepid investigator visits an extreme porn shoot to investigate the shameless and finds them very polite and charming. He then signs up for a course in how to banish shame and meets some strange individuals.
The conclusion is taken up by a company who manipulate Google: reputations.com, who have refused business with paedos. Ronson asks their names and gets slapped down for "the prurient curiosity of the type you condemn in your book".
Jon Ronson's great strength as a writer is his empathy with his subject, which seems to bring about trust and openness from his interviewees. Like all journalists, he is a voyeur, but he is sensitive with his material and self-analytical enough to realise his own part in the phenomenon. So You've Been Publicly Shamed is an interesting commentary on human behaviour and its consequences.

Author
Jon Ronson
Title
So You've Been Publicly Shamed
Publisher
Picador
Price
£16.99 (Hardback), £10.99 (e-book) on sale 5 March
More info
Publication web site
Style
Joseph Connolly is a bibliophile, journalist and the author of many works, both fiction and non-fiction. Style is his thirteenth novel and is the tale of three characters in pursuit of their own idea of style and its destructive consequences.
Terence is what you might call a connoisseur: Scandi furnishings, Havana cigars and a decorative Luger. He is married to Amy, the pushy mother from hell who will do anything to see her son, Alexander, graduate from boy model to Hollywood. Amy's protégé is Dolly, whose style is more akin to Hello! and who would do anything for a diamond-encrusted Rolex.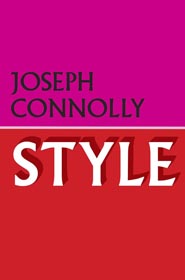 Terence is a brilliantly drawn character and he envisages Amy's ambitions for his son to become "the latest freak in the increasingly grotesque freakshow that the entire world has now become".
We get a hilarious history of Terence's love life. How he married Amy, but how his soulmate is KT: "Eames, she said is a god… either you know this to be true or else you are one of them. The outsiders, the flounderers, the stooges, the civilians, all the blind buffoons…"
This is a parable of a very modern phenomenon, but it is reminiscent of the style of Amis père – the men seem incorrigible rogues, the women are a tad two-dimensional. And yet, Joseph Connolly gets under the skin of his characters and presents their interior monologues in a convincing and entertaining manner – even Dolly, who is an update of the Pygmalion/My Fair Lady tradition: "Dolce & Gabbana, they got this new perfume for babies. Ahhh… reckon that's ever so sweet."
Connolly gets away with a lot of stereotyping through the love and attention he bestows on his characters as their obsessions threaten to destroy them: "She had me really, at the mention of my Saarinen table. Her sincere appreciation. It was only then that I really began to see her."
Terence states their raison d'être to his mistress: "What other two people have you ever met in the whole of your life KT, who have so much... style...?" His wife loses it: "The madness of Amy's gaze can wither a dazzle of flowers… cause masonry to tumble" and Dolly goes to extremes because, in her own words, "I want style more than anything else in the whole bleeding world".
The styleless are treated with disdain. A neighbour is regarded as "possessing the lithe and antelope grace of a grand piano: A buffalo wearing a frock… and brutal when roused".
All the characters eventually get their comeuppance and – in the manner of the species – don't seem to learn a great deal from their experience. The moral of Style is that "there are other things in life apart from style".
Joseph Connolly is a class act. Designer living and the cult of celebrity has never been more of an oversubscribed subject, yet his own breezy, ironic style breathes life into a rather familiar story. Style really isn't my usual style, but Joseph Connolly kept me entertained throughout. It incorporates the best of the books Kingsley used to write and which Martin can't quite seem to manage.

Author
Joseph Connolly
Title
Style
Publisher
Quercus
Price
£16.99 (Hardback), £9.99 (e-book) on sale 12 March
More info
Publication web site
The Buried Giant
[Warning, there may be spoilers ahead – ed.]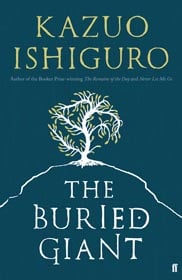 Kazuo Ishiguro is a novelist who has twice been a Booker Prize winner. The Buried Giant is his eighth novel, a fantasy based on Olde English myth, which takes place after the battle of Mount Badon, the last of King Arthur's struggles against the Saxons.
The story focuses on the journey of an old couple, Axl and Beatrice, who are travelling to visit their son. Ishiguro has a good handle on the English species: "The people who lived nearby – one wonders what desperation led them to settle in such gloomy spots."
The locals are beset with memory loss, which is explained by some as a mist which afflicts those who have been "forgotten by God", though it turns out that it is caused by female dragon breath. Cue the appearance of an heroic dragon slayer, a strange boy and a rather old and quixotic Sir Gawain on loan from the Round Table.
The tale reveals some pagan/Christian rivalry:
"Is your Christian god one to be bribed so easily with self-inflicted pain and a few prayers?"
"Our god is a god of mercy… whom you, a pagan may find hard to comprehend."
What you don't get from Kazuo Ishiguro is the usual angle in this type of story. He is not a Celtic nationalist with lists of unpronounceable names for every character and place and he is not an academic nutcase with a dubious re-reading of Gildas or The Venerable Bede. In short, he doesn't break the golden rules of good fantasy writing of keeping the story straightforward and the language simple. That said, there is a bit of Shakespearean grandstanding towards the anti-climax.
Kazuo Ishiguro seems to have intended to write a historical fantasy for adults, but is ultimately a little too clever and labyrinthine for his own good. The denouement of this story never really happens, the dragon virtually falls on the hero's sword. A Saxon versus Brit showdown is similarly undramatic.
No significant memories return after the dragon's demise and we leave Axl and Beatrice taking a ferry ride, having still not met their son... or is this some clumsy metaphor for the afterlife? I really can't tell. As for the buried giant, if you were assuming that he plays a significant part in this story, you'd be wrong.
But the main problem with this novel is that it goes nowhere fast: the couple's erased memories seem barely worth recalling and the mysterious boy's destiny is never explained. This is a book of too much filler and not enough action, a fantasy tainted by too much reality.
Kazuo Ishiguro's approach to the genre is unusual, it has to be said. By downplaying the action, the fantasy element has to be imaginative, but it is tacked on as if an afterthought, leaving little more than a stylish dark ages soap opera. There is little romance and next to no sorcery, meaning the end result of this book is to render the magical mundane. ®

Author
Kazuo Ishiguro
Title
The Buried Giant
Publisher
Faber and Faber
Price
£20 (Hardback) £12.99 (e-book) on sale 3 March
More info
Publication web site