In praise of China's CROONING censors: Company songs NOW!
Singing in the pain, just singing in the pain
By Alistair Dabbs, 14 Feb 2015
Something for the Weekend, Sir? Clear the desk of work, put the phone on voicemail, set your email to auto-reply and sign that restraining order against the increasingly desperate Madonna. Allow nothing to interrupt the 3:11 of sheer pleasure that is Cyberspace Spirit, the televised performance of the official anthem for China's web censors.
As soon as I watched the video here on The Register, I knew this was the story of the century (so far) and thus my original column for this week was consigned to the bin.
Of course, some of you might suggest that the bin is the best place for such things on a more regular basis, but don't worry, I confidently predict it'll be unpicked of orange peel and the hairs blown away for publishing next weekend.
There is so much to love about this song, I don't know where to start. It's probably its very existence that gives me such a thrill. Rather than being ashamed or peeved to admit to the rest of the world that China's censorship of internet access by its citizens is both cack-handed and doomed to failure, the very net spooks that put up the virtual No Entry signs are singing about how fantastic it is to be ill-informed.
I love the fact that, despite their tuxedos, the male lead singers appear to have been chosen to represent idealised IT workers: both bespectacled, one tall and skinny, the other short and fat. I love that they have been paired up with in-your-dreams girlies wearing mad smiles and flowing dresses last seen hanging off the Nolan Sisters in a 1977 edition of The Two Ronnies.
I especially love the flashy-but-dim Eurovision-style camera direction of the video as it sweeps past the backing choir while none of them is singing.
Even if this doesn't light your fire, surely it must give you a snigger during the opening bars simply because it sounds as if they're about to launch into that most romantic of St Valentine's Day ballads, Sit On My Face.
Imagining the song as a Chinese adaptation of the Monty Python classic certainly gives the video an extra buzz – and the singers' cheerful facial expressions new meaning. I eagerly await some wag to add the SOMF lyrics as subtitles and re-issue the video back into China.
As they stand, the lyrics are incomprehensible, but this is probably due to the quality of the over-literal Wall Street Journal translation. I'm not quite sure what to make of "Incorruptibility is the clear rippling of a nation" but it makes me feel naughty and now I feel like searching for some online porn – which is, I'm pretty sure, precisely what the singers WON'T let me do.
I think the next line says something about having a hovercraft full of eels, but enough of that.
Censorship issues aside, the wonder of Cyberspace Spirit is that it took China so long to author a theme song about IT. Here in the West, before the influence of the net turned five-knuckle-shuffling into an Olympic sport, tech businesses revelled in their company songs.
The most famous of these was IBM. The story goes that some musically gifted employees of the old Big Blue spontaneously formed choirs and bands, rather like City ukulele orchestras and Glee clubs are run today, and then justified their time-wasting by performing songs in praise of their employer.
For those of us who suffered the indignities of, let's say, a "traditional" school education, the very idea of a company song is too close for comfort to that of a school song. I'm not exactly Nigel Molesworth but the thought of IBM employees singing about IBM always makes me think of Latin lessons, board rubber chalk and carbolic soap.
On the other hand, it could be that the whole business was a scam for dossers. You'd be practising how to sing this shit during office hours, remember. But what if your line manager chose to object to such blatant time-wasting?
Well, reading through IBM's 88-song lyric book, you may notice that for every generic "IBM! IBM!" sung to the tune of Jingle Bells and "Selling IBM, we're selling IBM" to the melody of Singing in the Rain, there are half a dozen songs dedicated to individual members of the board of directors.
Imagine trying to get your work-shy, mug-carrying Larrys booted out once they'd composed an official company anthem to the tune of It's A Long Way To Tipperary extolling the virtues of the boss by name.
Oki dokey song in pokey
The company song went away for a generation but nearly returned in the sensible 1990s. I remember printer manufacturer Oki inflicting a company song on us poor computer magazine hacks, not once but twice, during a European press briefing during that decade. Rather than murdering the self-esteem of its own employees, Oki took the wise decision to hire an unknown Dutch pop group to do the honours.
The band performed the naff song, The Colour of Business, to open the press conference at which a range of natty colour laser printers was launched. Colour, you see? Just imagine the reaction of 100 journalists from across Europe stuffed into a mini-theatre as a wedding band performs a ballad about Oki printers.
Most sat there with gaping mouths, not sure what to do. Around me, international colleagues were scratching their heads, turning red with embarrassment; some began to rock back and forth with panic in their eyes; some giggled nervously; others looked close to tears; all of us willing the three-minute dirge to end and put us out of our misery.
That evening, during a gala dinner (oh those were the days), we were promised some musical entertainment. As the main course was served, the band stepped up, announced "This is our new single" and proceeded to perform the bloody Oki song all over again. We couldn't get away: it was a case of listen or go hungry. Talk about a captive audience.
And did he really say "new single"? I have since looked for it online but it has never turned up – not that I particularly want to listen to it again, mind you, but I would like to have proof to back up my anecdote. Unfortunately, this was before media-recording smartphones were affordable and, frankly, I was too appalled to remember to switch my MiniDisc recorder on.
Still, to this day, I can warble the chorus, complete with dodgy Euro accent: "Oooooh-keeeee ... zer colour off biiiizneeeezzz". See? I remember the song. This marketing shit really works.
Anyway, we should feel inspired by the Chinese web-spoilsports to give the company song at least one last hurrah. To get the ball rolling, I came up with some ideas for an official anthem for The Register.
My research efforts have revealed that the trick is simply to change the lyrics of a widely known song. Don't choose songs you might actually like or regularly listen to because it simply won't work. I know this because I wasted an hour trying to perfect the inflection of chanting "The Register – yeah!" to the rhythm of Slipknot's People = Shit. It's more difficult than you think.
Then I considered that a foot-tapping pop hit might be easier. Here's my experimental ode to The Register, intended to be sung to the chorus melody of Village People/Pet Shop Boys' Go West:
(El Reg) If you have time to spare
(El Reg) We have tales to share
(El Reg) 'Bout data overload
(El Reg) And malicious code
(El Reg) Read the IT news
(El Reg) Count the comment views
(El Reg) Laugh at Sony's hacks
(El Reg) While wearing women's slacks
If this seems a little pompous and, unlike Moss, you don't like the idea of buying trousers from the ladies' department, I'll leave you this week with the following easy listening classic, to be crooned by El Reg readers to the tune of Let It Snow:
Oh the Worstall politics are frightful
But Lucy Orr is so delightful
And since CIOs piss us off
Where is BoFH? Where is BoFH? Where is BoFH?* ®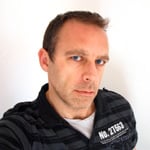 Alistair Dabbs is a freelance technology tart, juggling IT journalism, editorial training and digital publishing. He promises to run his intended column about robo-journalists next week, unless of course something more interesting crops up, which I must admit is setting the bar very low. Better still, I might get a robo-journalist to write it for me again.
* He's here.