Windows 10: The Microsoft rule-o-three holds, THIS time it's looking DECENT
Cortana, Spartan, Xbox, DirectX 12 – oh my
By Iain Thomson, 22 Jan 2015
Analysis The old adage that you never install a Microsoft product until version three appears to be holding true in operating systems with Windows 10. Windows 8 was a disaster, Windows 8.1 a waystation, but Windows 10 is looking like a very solid system.
"We want people to love Windows on a daily basis," said CEO Satya Nadella at Wednesday's preview presentation in Redmond – conjuring up an unpleasant mental image. "We will make Windows 10 the most loved version of Windows ever."
Certainly Windows 10 will be the most adopted and used version of Windows ever. The 12-month free upgrade offer for Windows 7 and Windows 8.1 users will spur massive adoption figures on release and save Redmond from the rather embarrassing position it finds itself in today, where Windows 8.1 is less used that the 14-year-old Windows XP.
Under the new model, current Windows users get free upgrades and we'll be in the world of Windows-as-Service. Once the offer period is over there may be upgrade charges – Microsoft ducked questions on this – but analysts don't think this is likely.
"I'm inclined to believe is Microsoft will now take their revenue stream off the consumer past the point of purchase," Wes Miller, analyst at Direction on Microsoft, told The Register. "Instead they'll monetize users through services like Office 365."
Windows Phone is dead, long live Windows 10
Microsoft also made clear that the Windows Phone brand is dead – something we've been hearing rumors about for a while. From now on, Redmond's smartphone OS will also be known as Windows 10.
Microsoft has spent more than a decade trying to build a mobile operating system that's popular yet has failed. The re-brand to Windows 10 could help the firm escape Android and iOS comparisons and might also solve the lack of applications on its platform.
Key to this is the concept of "universal apps." The team demonstrated PowerPoint, Outlook, and Calendar applications running on PCs and phones with the same sorts of functionality, albeit with some UI tweaks.
All of the data in these applications will be switched between phones and PCs seamlessly, Microsoft promises, and users will be able to back up and sync their data to Azure. For example, pictures taken on the smartphone will be uploaded to Azure, as will be photos held locally on the PC, and the same will hold true for your music collection.
Microsoft is hoping this will encourage developers to do the same with their own applications – essentially offering a "write-once" strategy for phones and PCs. If the model takes off, Windows smartphone users will see a big boost in the number of applications that will run on their handsets and close the gap with Android and iOS.
Cortana everywhere
Voice control via Cortana is also going to be a massive part of Windows 10, both on smartphones and the desktop.
Cortana is being firmly embedded into Windows 10 in a way that makes Siri look like a piker. The digital assistant now comes with support for seven languages, plus a rather cute "Yoda impersonation" system that should prove popular.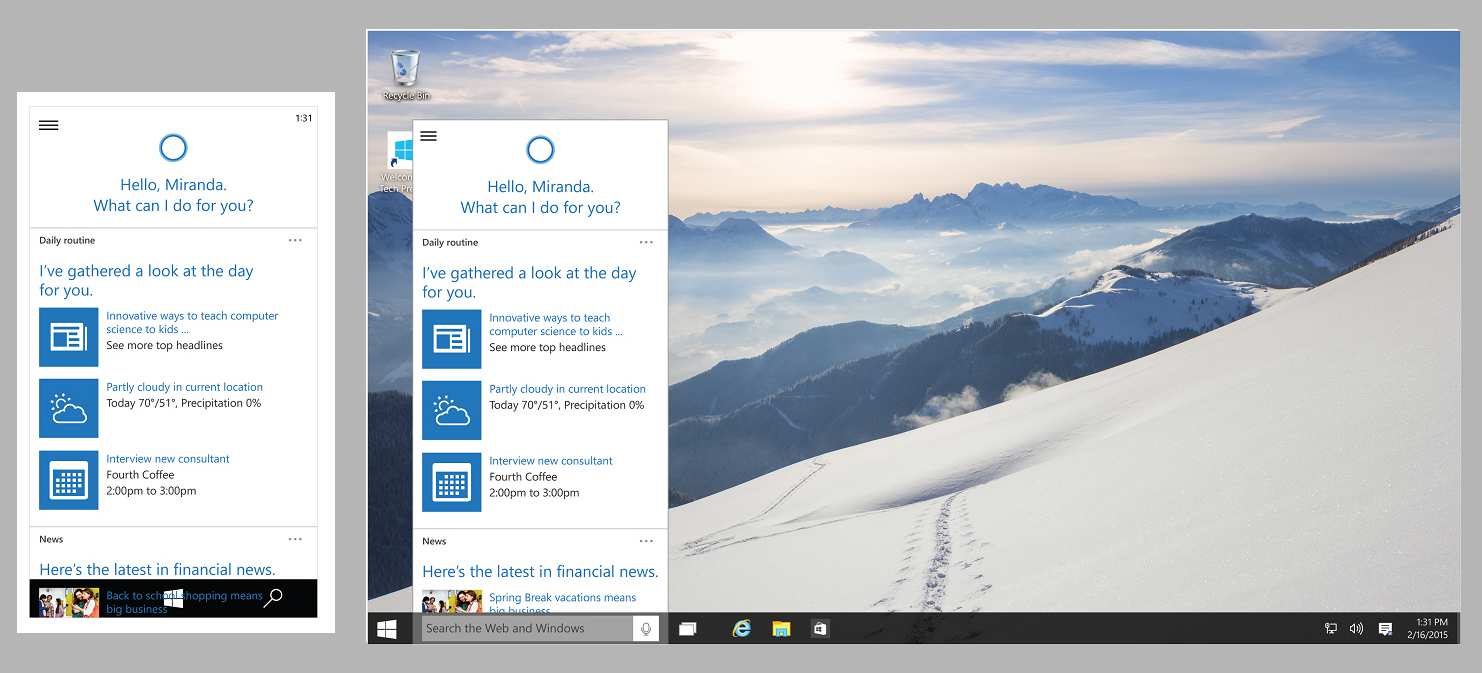 Screw you, Siri: Microsoft has Cortana running on phones and PCs (click to enlarge)
But Microsoft wants Cortana to do more than just answer questions. Based on Wednesday's demonstrations, Cortana will be taking dictation of emails (and sending them), managing search both online and off, adjusting features like map routes, and will be used to turn apps on and off via voice control.
On the search side, Cortana will now show up right in the revived Start Menu bar on Windows 10 and will direct a lot of internet searches to Bing, as Windows 8.1's built-in search does now. For smartphone users, the demonstrations showed Cortana taking up the whole screen and displaying voice commands, which can presumably be edited if the software mishears a command.
Microsoft was keen to stress that there's still a lot of development work to do on Cortana. Some of the features on display today won't be in the preview builds available to developers for five months or more. But voice control is going to be a key part of controlling computers, in Microsoft's view.
This is Sparta(n)!
Cortana is also going to be playing a part in another big change that's coming in Windows 10 (one that was widely leaked): "Project Spartan," Microsoft's new web browser.
Based on what was shown today, you're still going to get Internet Explorer with Windows 10. Microsoft needs to keep it around because of the huge number of legacy applications that are built to work only with it. But its legacy support makes IE clunky and insecure, so Redmond is hoping Spartan is the way forward.
In a nutshell, Spartan is a cut-down browser, which Microsoft rather ambiguously said would be optimized for the languages the web is written in today. It's got a much more, well, Spartan look and feel than IE – one vaguely reminiscent of Chrome – and Cortana is tightly integrated.
For example, one demonstration showed a search for a restaurant's website using the browser. The results were displayed as normal, but in the top right-hand corner, Cortana pops up with details including directions to, hours of, and a menu for the restaurant.
But Spartan is more than a simple browser. Joe Belfiore, Microsoft's operating systems veep, demonstrated how websites can be annotated and users can add comments using either a keyboard, a pen, or their finger. Then add the ability to share the annotations and you've got something that's really rather useful.
When dealing with multiple websites, Spartan builds a reading list in a menu on the right hand side of the screen. This will also download and store the web pages so that they can be read offline, as well as porting them between PC, tablet, and phone.
Grabbing gamers by the Xbox
Every copy of Windows 10 will come with an updated Xbox application baked in. The app has been redesigned to show not only available games but also friends, recent actions, and social forums on a single page – but that's a minor tweak.
Windows 10's new Xbox app (click to enlarge)
What's a much bigger deal it that now Xbox and Windows 10 users can play console games with each other online. As long as both players have the same version of the game, they can slay orcs together as though they were sharing the same console.
In addition, if you have an Xbox in the house you can stream games to your Windows 10 laptop or PC using the application and even turn the console off remotely. There are limits to this – the Xbox won't play two games at once and if the game requires a disk it'll have to be installed in the console. Streaming also won't work outside a LAN. Still, it's still a huge step.
The other side of this is that Windows 10 users will be able to stream PC apps to their Xboxes to display them on their TV screens. "We're not expecting Excel on the big screen," said Phil Spencer, head of Xbox, "but it would be easy to do so."
Windows 10 will also make full use of DirectX 12. The new software allows developers to at last get full CPU and GPU control for games and Microsoft claimed that this could lead to a 50 per cent performance boost for some games.
The other big screen
Microsoft also threw a couple of hardware announcements into its Windows 10 hoopla. The HoloLens was the star turn of these, but Microsoft also showed off its latest move into big screen computing.
The SurfaceHub is an 84-inch 4K screen with "compute capability" and motion sensors built in. The unit is basically a massive digital whiteboard with pen capability built in, as well as the ability to take data from Windows 10 PCs in the room and display information for annotation and sharing.
Microsoft has a peculiar love for these kinds of big screen systems. It bought Perceptive Pixel in 2012 and both Nadella and former CEO Steve Ballmer have raved about big screens. Everyone else seems iffy on the idea, but SurfaceHub is rather nifty in its way.
The system runs a version of OneNote that can be used in either individual mode or as part of a shared data group. The motion sensors detect when someone enters the room and switch the system on, and when everyone leaves it automatically wipes itself after backing up files to a specified system.
The enterprise is yet to come
Wednesday's Windows 10 preview event was mainly about what consumers are going to get out of the new OS, but that's only half the story. Microsoft also dropped some interesting hints about what's coming down the line on the enterprise side.
For those who like the idea of public cloud systems, Windows 10 is being constantly tweaked to work with Azure, Nadella said.
For those companies that like to keep their data in-house, there will be some major upgrades to Microsoft's server software, he explained, but also for client systems. The hypervisor technology Microsoft has developed on the server side, for example, is now also baked into client versions of Windows 10 and is key to getting the new security lockdowns to work.
The next Windows 10 preview build will be pushed out to developers in the next two weeks and there will be more details on the phones given out at Mobile World Congress in March. Updates on Xbox will arrive in time for the Game Developers Conference the same month.
There are no firm details on the final launch date for Windows 10, other than an oft-repeated "when it's ready." Given Microsoft's past release schedule, however, autumn looks like a good bet. ®