Intel touts tardy Broadwell Core CPUs for laptops, PCs
Expect first devices on store shelves this month
By Neil McAllister, 5 Jan 2015
CES 2015 Intel kicked off this year's CES conference in Las Vegas by taking wraps off the much-delayed fifth generation of its Core line of processors, along with the newest generation of its Atom chips for tablets.
The new Core line, codenamed "Broadwell-U," brings Chipzilla's 14-nanometer process technology to mainstream desktops, laptops, and all-in-ones.
Think of it as big brother to the Core M, aka "Broadwell-Y," the low-powered version of Intel's 14nm tech for ultra-thin tablets and two-in-ones that launched in late 2014.
The Broadwell-U line will come in the familiar Core i3, i5, and i7 designations, including ten 15-watt parts with onboard Intel HD Graphics and four 28W parts with the higher-end Intel Iris Graphics. The chips announced at CES are all dual-core models, with each core able to run two separate processing threads.
The move to 14nm means Broadwell chips are both smaller and more efficient than the previous-generation "Haswell" processors. A Broadwell Core i7 sits on a die that's 37 per cent smaller than that of the corresponding Haswell chip, while packing in 35 per cent more transistors.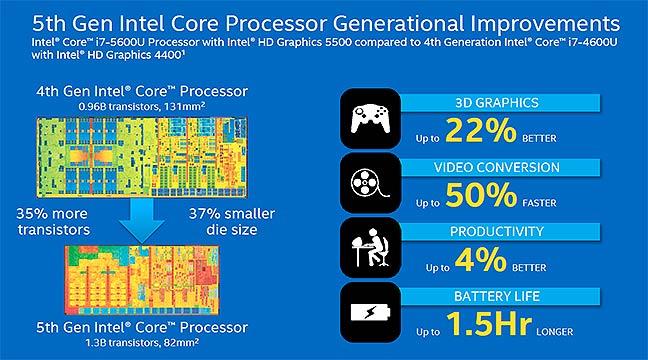 Intel's 5th generation "Broadwell" Core chips outpace the earlier "Haswell" (Source: Intel)
Intel is particularly proud of the graphics performance upgrades of the 14nm chips. Broadwell offers up to a 22 per cent improvement in 3D graphics performance, the company said, and video conversion runs 50 per cent faster.
Performance of basics productivity applications, however – such as Excel and Word – is only increased by 4 per cent over the equivalent Haswell processors, a fairly lackluster showing.
On the power-consumption side, Intel claims a system with a Broadwell chip can run up to 90 minutes longer on battery than one powered by the respective Haswell chip.
But Intel also touted the new, ancillary features of the Broadwell line, which it says are designed to deliver "more natural PC interactions" and will "drive new experiences." Like the Core M, the new Broadwell chips include support for Intel RealSense technology, which Intel says will allow password-free logins via 3D face recognition. Also included is support for Intel Wireless Display (WiDi) and Wireless Gigabit Docking.
Better Skylake than never?
"With the 5th Generation Intel Core processor availability, the 'Broadwell' microarchitecture is expected to be the fastest mobile transition in company history to offer consumers a broad selection and availability of devices," Chipzilla said in its fact sheet [PDF] announcing the new chips – but some industry-watchers aren't so sure.
The Broadwell microarchitecture was first announced in the summer of 2013 and the first chips were expected to ship by the end of 2014, but manufacturing problems and other glitches forced Intel to push its ship dates into this year.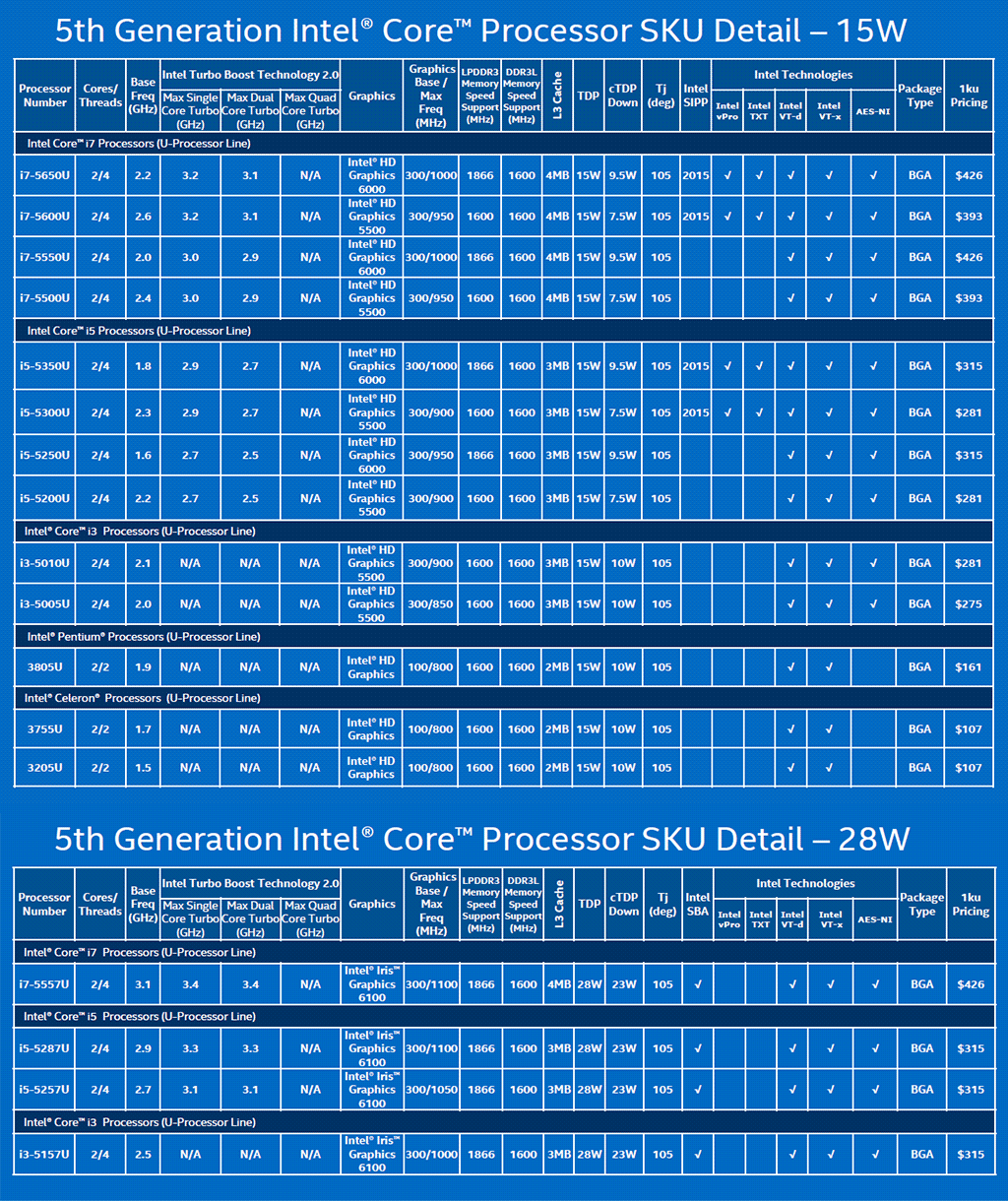 Intel is giving OEMs a lot of options with Broadwell, at a lot of price points (click to enlarge)
As a result, manufacturers weren't able to ship Broadwell-based devices in time for the holiday shopping season, although they're now expected to start hitting retailers' shelves in January. Consumer-class machines will arrive first, while those with Intel's business-oriented vPro feature package will ship by the end of the month. Further down the road, quad-core chips codenamed "Broadwell-H" are expected to ship later this year.
But there's also the matter of "Skylake," Broadwell's successor, which will bring even further improvements over the current-generation 14nm chips. At the 2014 Intel Developer Forum, Intel CEO Brian Krzanich said the first Skylake parts were on track to ship in the first quarter of 2015.
That should be enough to give many OEMs pause, because while Broadwell is a pin-compatible replacement for Haswell, Skylake will come in a new package that will require additional engineering from device makers.  Some analysts believe many manufacturers, particularly makers of desktop PCs, may choose to skip Broadwell-U and hold out for Skylake.
But with rumors surfacing that Intel may be slowing down its Skylake release schedule to give Broadwell a bit of breathing room, it's hard to say just how big of a splash Intel's latest processor tech will make.
...and a Cherry Lake on top
Meanwhile, Intel on Monday also announced that it has begun shipping the first chips from its new "Cherry Trail" line of Atom processors. Cherry Trail is a beefed-up version of the Braswell Atom designs that were announced at the Intel Developer Forum in China last year. While Intel is hoping Braswell will make it into smartphones, Cherry Trail is aimed squarely at tablets.
Intel did not provide details of the first Cherry Trail chips' feeds and speeds at CES, although the initial batch are thought to be clocked at around 2.7GHz and they should provide a significant improvement in graphics performance over the earlier-generation "Bay Trail" chips.
Intel says the first devices featuring Cherry Trail chips should start appearing in the first half of 2015. ®