What's MISSING on Amazon Fire Phone... and why it WON'T set the world alight
You fought hard and you saved and earned. But all of it's going to burn...
By Alun Taylor, 26 Nov 2014
Review Having a headline piece of consumer tech crash and burn in the US market is every company's nightmare – and that's exactly what happened to Amazon's Fire Phone, whose price has just PLUNGED from $449 to $199 Stateside.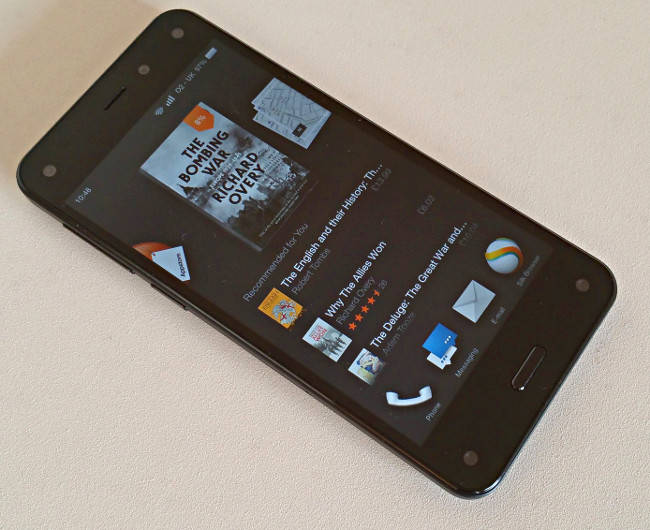 Hefty bezels: Amazon's Fire Phone is pretty pricey
Sales of the AT&T exclusive have been disappointing, to put it mildly, with the failure blamed on overly ambitious pricing and mediocre hardware.
Jeff Bezos's latest toy is now available in Blighty through an exclusive deal with O2. Amazon and O2 are certainly splashing the cash on above the line advertising, but should we care?
Before we get into the technical nitty-gritty, a few words about price. On pay-as-you-go the Fire Phone will set you back £399. That's only £20 less than a SIM-free Motorola Moto X. The cheapest contract costs £27 a month but that only gives you a measly 500MB of data. The next cheapest, with 2GB of data, costs £32 per month.
For one pound more O2 offers the rather fine Sony Xperia Z3 Compact with the same allowances. The Fire Phone, then, is most decidedly not cheap.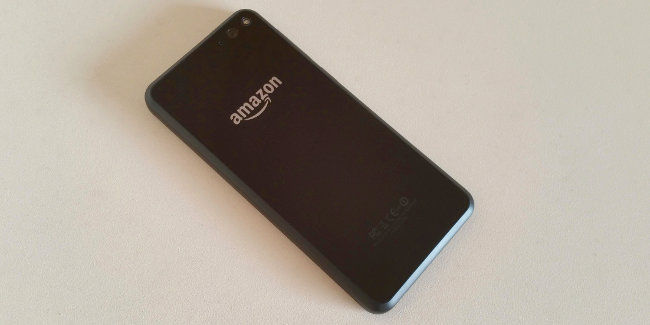 Reverse: There's no doubting who made this mobe
Initial impressions of what you get for your hard earned are not that encouraging. The Fire reminds me a little of the Nexus 4, albeit a more squared off version. It's the all black colour scheme and Gorilla Glass front and back that does it, and the fact that at 160g and 139.2 x 66.5 x 8.9mm it's rather heavy and big for a phone with a 4.7-inch display. Like the iPhone 6, the Fire's looks aren't helped by the amount of bezel above and below the screen.
The display is another hark back to the Nexus 4. It only packs 720 x 1280 pixels. Put another way, that's the same as the latest 5-inch Moto G, a device that's yours for £150. Granted, the Fire's IPS display is a fine example of the breed, bright and colourful, but there's not much wrong with the Moto G's screen either.
Get a grip on that rubber
On the plus side it's a very solid and well-made device and the rubberised polyurethane frame makes it easy, and comfortable, to hold. The control layout is conventional but highly functional and the oblong iPhone-esque home button below the screen has a very satisfying action.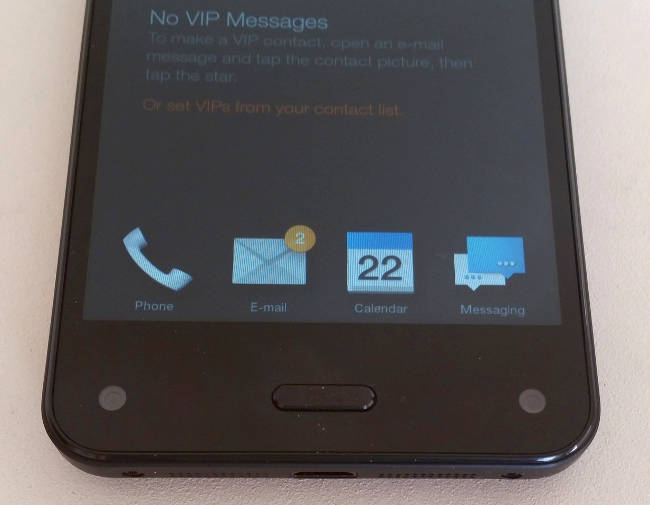 Mobe-esque: That home button looks familiar to both fanbois and fandroids alike...
There's a speaker at both ends of the handset firing out of a grill next to the audio and micro USB port respectively. The sound they make is good, if not exceptional.
The battery, all 2,400mAh of it, is fixed in place and there is no storage expansion so you have to make do with the 32 or 64GB built-in depending on model. My 32GB device showed just shy of 25GB free. Connectivity is taken care by a 4G/LTE cellular radio, 802.11ac Wi-Fi, an NFC chip and Bluetooth, though the last is only v3.0. Phone calls made with the Fire sounded fine.
Running the show is a 2.2GHz quad-core Qualcomm Krait chip and accompanying Adreno 330 GPU with 2GB of RAM. It's actually a Snapdragon 800 chipset, rather than an 801 component – let alone an 805. That's not to say the Fire Phone isn't a slick and powerful device, it is, but you are still paying top dollar for a rather dated chipset.
The cameras are the strongest part of the hardware offering. The 13MP rear shooter may not sound like much but the f/2.0 lens produces some pretty decent results and the optical image stabilisation pays real dividends in low light even if the focus speed takes a knock. The camera interface is very, very simple - basically you have a choice of HDR on or off when it comes of picture settings. The Fire has a dedicated camera button on the left which also launches Firefly, about which more below.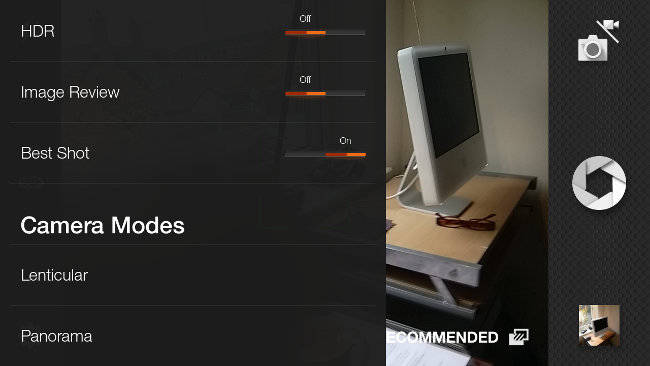 Nice 'n' easy: The Fire Phone's camera interface is dead simple to use
As for that 2,400mAh battery, it'll easily get you through the full day and then some on a full charge – or let you watch a high definition video for just over seven and a half hours. That's nothing to get too excited about at the arse end of 2014.
3D imagery on a 2D screen? Hmmm, tell me more
The fact is that for the money the Fire Phone's hardware spec is not particularly appealing at the price point. Yes, you get a year's free Amazon Prime membership (and, at the time of writing, a free speaker worth £199) but O2 offers the Sony Z3 Compact with the same speaker. The Fire's potential redemption depends entirely in its unique hardware features and baked-in Amazon services.
The big selling feature here is Dynamic Perspective. This involves the screen presenting an ersatz-3D image by detecting the position of your head (and thus point of view) using four small but clearly visible cameras and four IR sensors. Hence the wide bezels.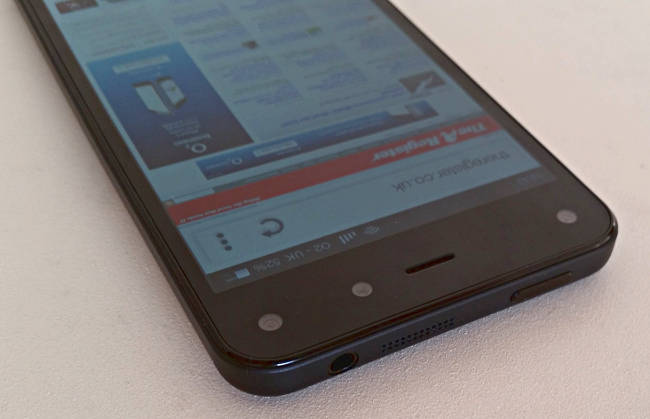 Chunky: Cameras fill a lot of the dead space around the phone's top and bottom
With apps and games that are optimised for the system, Dynamic Perspective is rather impressive. The effect is not of images coming out of the screen, rather that you can see things under the screen. I was prepared to dismiss DR as a gimmick but it's not. The problem is that there are only a handful of apps and games available that have been coded with the system in mind.
An interesting use of Dynamic Perspective is in the camera's so called Lenticular Mode. Take a selection of two or more shots and you can pan between them as you change your point of view. The end result can also be exported as an animated GIF.
I've heard many journalists say that the Fire Phone's user interface (the phone runs Fire OS 3.6.2, a fork of Android 4.2.2. Presumably an update to Fire OS 4, a fork of 4.4.4 will come along at some point) is unintuitive and hard to master. I'm not sure I agree. Yes, it's different from Android but it really doesn't take long to get to grips with.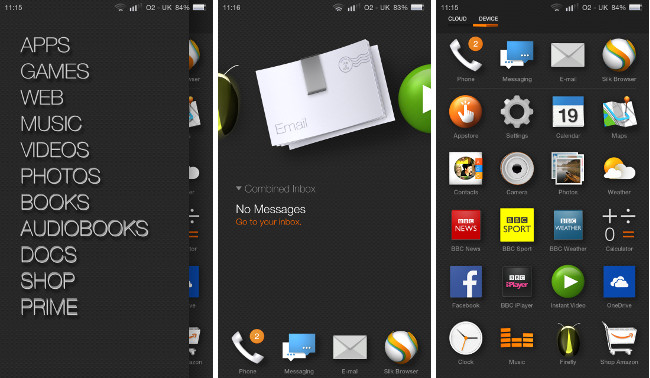 The Fire Phone UI. L-R: Amazon goodies; the Carousel UI; and the app tray
In a nutshell it's a bit like a mix of BlackBerry OS 10 and KitKat Android with screen swipes figuring large in the navigation process. Recently used apps or recently accessed files show up in a home carousel below which sits a taskbar in which you stuff your choice of four apps or four app folders.
Straightforward to use - and it plugs into your Amazon gumble
Once you get your head around what swipes, swivels and tilts of the phone do - for instance, a swipe up the screen will move whatever is being displayed back a step, while a tilt left or right will bring a context dependent menu into view - then Fire OS is really no more or less intuitive than any other mobile OS. I found the various single-handed gestures easy to master and useful.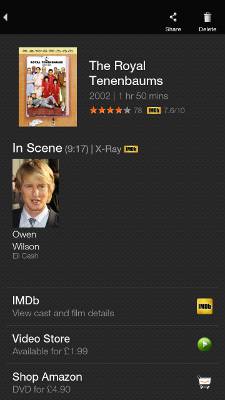 The Amazon-as-content-provider side of things hoves into view via the content sidebar. Slide this out and you'll see a list of all the stuff you've bought from Jeff or stored in his cloud. Apps, games, videos, books, docs, all your Amazon Prime stuff. As a way of accessing your media it works a treat and brings us to the very core of the Fire Phone conundrum. If you have a load of content bought from or stored with Amazon it's worth having. If you don't, it isn't. Simple as that.
Being snuggled up to Amazon is important to get the most out of the Fire Phone's ID-everything facility called Firefly. Launch the app and point the camera at something - a picture, a URL, a phone number, a bar code, and Amazon will tell you what it is. It works with music and video too. If it's a purchasable item you get pointed to said item on Amazon.
For music and images I found Firefly to be reliable but the video ID feature is a bit hit and miss. Listening to the soundtrack (it doesn't actually look at video) it identified Star Trek: Into Darkness and Baz Luhrmann's Romeo and Juliet in short order but Withnail & I it knew not. So up yours, grandad!
Other interesting software features include the Mayday live online help facility which we've already seen on Kindle Fire tablets. It is pretty handy for smartphone newbies but I suspect it's as useful as tits on a boar to the average Reg reader. And X-Ray, a bit of code that brings up IMDb-sourced information relating to the actors appearing in a given scene of any video streamed from Amazon. X-Ray is genuinely useful.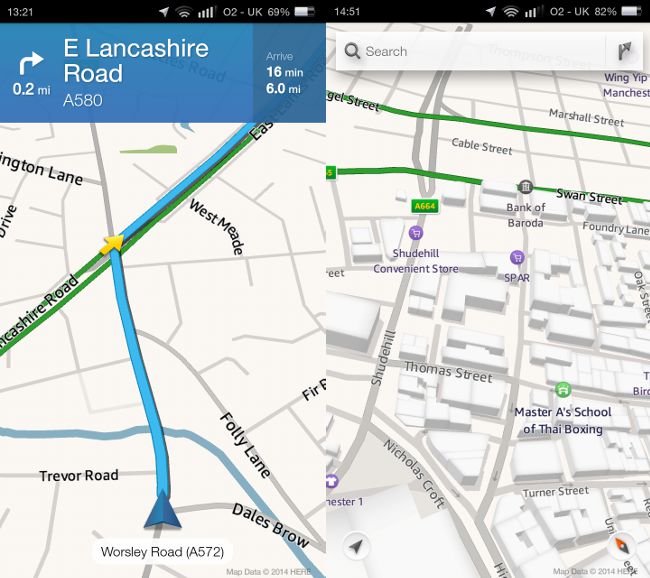 HERE turn-by-turn maps are part of the Fire Phone package
The big issue with Fire OS is neither its feature suite nor the the absence of Google's apps because the Fire OS mapping and navigation, e-mail, music, photography andother apps are more than good enough just as long as you are not already heavily invested in Google's (or anyone else's) cloud services.
Hi Jeff, take a seat. We need to talk about apps
No, the issue is all the other stuff that is missing. Both my banking apps are absent from the Amazon app store, as is the official Dropbox app. And the Guardian. And Uber. And Foursquare. Granted, a lot of the major apps are available, including Spotify, Glympse, Netflix, BBC iPlayer, Instagram and VLC, but the plain fact is that Amazon's app store is a poor relation to Apple and Google's equivalents.
Yes, of course you can sideload regular Android apps but there are the usual caveats about security and malware-riddled apks sourced from dubious websites. And you can forget about running any apps that require Google's Play Services.
Incidentally, by way of disclosure Amazon gave me – and as far as I know every other hack who's reviewed the Fire Phone – £50 to splash in the Amazon store on top of a 30-day free trial membership of Amazon Prime.
The Reg Verdict
As a stand-alone product the Fire Phone doesn't quite cut the mustard. This is mainly because the hardware and the price don't match and the absence of Google's Play Store means that you'll have to do without some of the apps that a lot of people take for granted. The Dynamic Perspective and Firefly features are not, in my book at least, enough to compensate for these failings, even though I enjoyed using both.
If you are already knee-deep in Amazon-sourced media then perhaps there will be more of an attraction – though the lacklustre sales of the Fire Phone in the US suggests that while the Amazon connection is enough to sell a shed-load of aggressively priced Kindle Fire tablets it's not enough to sell a lot of expensive smartphones. For £200 on PAYG, or £20-25pcm with a 3GB data allowance, more people would be tempted. ®

What's MISSING on Amazon Fire Phone... and why it WON'T set the world alight
Expensive but thoughtfully done, Amazon's Fire Phone is a decent standalone product. It's a shame the hardware doesn't reflect the price tag.
Price:
£399 (PAYG) / from £28pcm on contract... $199 in the US! RRP