Pervert's Guide man's new book, an urban myths tome and Youth, an underrated gem
Some juicy reads for your weekend
By Mark Diston, 22 Nov 2014
Page File El Reg bookworm Mark Diston trawls through at publishing's top notch texts. Bad boy philosopher Slavoj Žižek puts Russell Brand in the shade with his latest cultural critique, while urban mythmeister Jan Harold Brunvand has revised his entertaining and enduring tome that's a goldmine for comedians and sketch writers alike. And we've a new translation of German literary great, Wolfgang Koeppen.
Trouble in Paradise
Slavoj Žižek is a Slovenian philosopher and activist who is the author of more than 50 books and the maker of the films: The Pervert's Guide to Cinema and The Pervert's Guide to Ideology.
Žižek has been quoted as saying that his work is to engage in critique, rather than to answer questions or provide theories. He evidently plays to his strengths, as he is a master of the former and decidedly sketchy on the latter.
Trouble in Paradise is dedicated to the prostitutes of the Café Photo in Sao Paolo, a bunch of elite feminist hookers. He also namedrops Julian Assange, Chelsea Manning and Edward Snowden as contemporary heroes.
The book opens with a few Žižekesque literary quotations from the likes of Ernst Lubitsch and Berthold Brecht, before updating us on global current affairs. Slavoj has been to Seoul to lecture about communism and muses on the wealth and high technology of South Korea, which simultaneously has the developed world's highest suicide rate. He is also fascinated by the apparent hermaphroditism of North Korea's leaders.
Žižek gives us his incisive views about recent events in Syria and Ukraine. He compares the contemporary neoliberal political scene to Karl Marx's critique of the German ancien régime which "only imagines that it believes in itself and demands that the world should imagine the same thing" [PDF].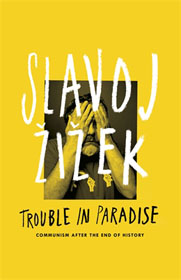 There are a veritable multitude of cultural references, both high and low brow. Julie Andrews reprises her role in The Pervert's Guide, climbing every mountain towards the pleasure principle.
Žižek was one of the few who understood the sign language translator at Nelson Mandela's funeral. Apparently it was the poor, black crowds to whom Thamsanda Jantjie was signalling and his message was: "The dignitaries don't really care about you."
There are few individuals who cut through the bullshit and are able to read current affairs like Žižek, despite the countless literary and filmic references that litter his texts, his arguments are well formed and compelling. Compared to the local revolutionary talent, he makes Owen Jones seem like a naïve, parochial youth and, in my mind, Žižek is a better stand-up comedian than Russell Brand can ever aspire to be.
He mentions the February 2014 riots in Bosnia, where the three nationalities who were killing each other 20 years ago marched together against their nationalist elites...the subtext, I guess, is: If they can do it..?
The first 150 pages of this book contains the most coherent world view that I have heard Žižek express. His is a towering intellect, he has even managed to avoid Marx's mistake of providing a prescription against the demon capitalism that he pillories so well. He reminds us how hard fought left wing victories have been: "Egalitarianism and universal welfare were conditioned by the unimaginable catastrophes of world wars and crisis."
Alas, the last 30 pages of Trouble in Paradise are somewhat disappointing. Žižek starts getting lost in Lacan and Heidegger and not only is it not very interesting, it doesn't seem very relevant either.
Still, he offers a great Orwell quote: "Every revolutionary opinion draws part of its strength from a secret conviction that nothing can be changed"
Paradoxically, Žižek reassures us that: "Only a radical leftist can be today a true conservative," and that he "hopes that the attentive reader will discern beneath the multiple topics, the communist horizon."
Slavoj Žižek is an impassioned writer who approaches his subject from every conceivable angle, some more relevant than others. Most importantly he questions everything, is hardly ever boring and – most essentially for a philosopher – rarely fails to make his audience think.

Author
Slavoj Žižek
Title
Trouble in Paradise: From the End of History to the End of Capitalism
Publisher
Allen Lane
Price
£16.99 (Hardback) on sale 27th November
More info
Publication web site
Too Good to be True: The Colossal Book of Urban Legends
Dr Jan Harold Brunvand is a professor emeritus of The University of Utah, he is an American folklorist best known for spreading the concept of urban legends as modern folklore. He has written extensively on the subject since the 1970s.
Too Good to be True, first published in 1999, has now been released in a revised and expanded second edition. In the introduction, Brunvand quotes Nobel Prize winning novelist Gabriel Garcia Marquez, who in 1989 discusses plots that are: "Passed down from generation to generation and country to country, with slight modifications along the way." He suggests: "There ought to be an anthology of these stories that are repeated all over the world."
Fortunately, Brunvand is on the case and Too Good to be True is the answer to Marquez's appeal. Some of these myths predate urbanisation, versions in some cases stretch back as far as Aesop. Too Good to be True is divided into sections: Sex, Dogs, Cars and so on. It is a substantial anthology culled from more than forty years of investigations.
The first impression is akin to watching a programme of short comedy sketches; the book consists of a multitude of routines, often cross-referenced to many sources. This is an invaluable book for anyone who has ever tried to write or perform comedy – a goldmine of stock material that can be adapted and a handbook of humorous situations complete with punchlines.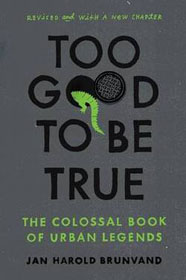 After a few hours trawling through Too Good to be True, it seems that there is hardly an element of modern life that is free of urban myth. There is an overall feeling of sitting through a series of any generic sitcom – the guy who buys condoms from his date's father, the Cadillac convertible that gets filled with concrete... you can almost hear the canned laughter.
There are cultural misunderstandings, caught-with-your-pants-down escapades, The Dead Parrot Sketch [YouTube] repeated across multiple species ad infinitum. As a reference work, Too Good to be True is fun to dip into, but it is not so satisfying consumed in large portions. There is a flatness to the narration, reminiscent of wading through an anthology of tabloid media.
Too Good to be True is a comprehensive volume of that grey area between fact and fiction in which most of modern life seems to exist. To judge by his bibliography, Jan Harold Brunvard does seem to be rather a one-trick pony, and has been exploiting his pet subject for more than four decades.
The format of this book is probably better suited than most to a digital version where multiple sources and media versions could be linked more effectively. There are few books that I could better recommend to writers of light entertainment, the material is laid out like an archeology of humour and is an endless source of routines and twists that can be adapted to just about any situation.
As a coffee table or toilet browsing material, it is passable, but as a straightforward read, at 530+ pages of mainstream comedy routines, it is not what you'd call the most engrossing narrative.

Author
Jan Harold Brunvand
Title
Too Good to be True: The Colossal Book of Urban Legends (Revised Edition)
Publisher
W.W. Norton and Company
Price
£12.99 (Hardback)
More info
Publication web site
Youth: Autobiographical Writings
Wolfgang Koeppen is a major 20th century novelist, most famous for his post-WWII trilogy: Pigeons on the Grass, The Hothouse and Death in Rome. As the title suggests, Youth is a book about his younger days.
It was completed in 1976 and is the last of his major works to be translated into English.
The book opens in November 1918, with Germany on the brink of defeat and our protagonist delirious in hospital with flu, watching the portraits of the leaders of the Second Reich hung on the wall dissolving. The first apparent thing is that this is no privileged life: "Just plebs everywhere you looked."
Wolfgang Koeppen was born illegitimately in 1906 and came of age at the time of Germany's post-war collapse. His mother was a prompter at the local theatre and her son seems inspired with a thirst for knowledge.
Youth reeks of poverty, hunger and hopelessness – even though it was written nearly half a century after the events recorded, sometimes with the benefit of hindsight, as in this description of the local courthouse: "Something for Franz Kafka of Prague to have described, whom I then didn't know and who later coloured my memory."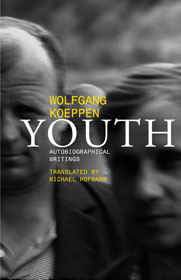 Inevitably comparisons can be drawn between Koeppen and his contemporaries such as Kafka and Alfred Döblin – whose most famous novel: Berlin Alexanderplatz – takes place in a similar milieu.
But Koeppen is younger, more impoverished and more lyrical, his work is more the literary equivalent of the art of George Grosz and Otto Dix, he is an outcast: "I didn't look up to some people or look down on others, but saw in all forms of existence merely varieties of disguise that didn't suit me."
With his clothes in rags and no shoes, Koeppen lived the life of a vagrant: "I would rest where I was in the way. I lay down on the street, in people's doorways. I stretched out on the grass verges put there to beautify the scene for the bourgeoisie."
Like many of his generation, he is captivated by the cinema and theatre, when his mother or a friend can get him in for free. And there is always literature: "Libraries attracted me. I haunted them greedy and addicted...I was irresistible, the librarians were helpless...They opened their shelves to me...I guzzled type. I forgot myself. I sat in the public square like a drunkard. The alphabet swept me away."
Koeppen goes to Berlin, blags a one night stand as an actor in a theatre. He eventually decides to go to sea, getting his first boat to Finland. Youth closes with him taking leave of the girl who has given him shelter.
The book also contains Once Upon A Time in Masuria, which Koeppen wrote in Munich towards the end of his life in 1991, looking back at his childhood after revisiting his birthplace, now part of Poland. It is a short, nostalgic piece about change and the past and complements Youth very nicely.
Wolfgang Koeppen is a writer of the highest calibre and it is incredible that he is not better known in the English-speaking world. A tip of the hat to translator Michael Hofmann: Youth is an excellent work and I can recommend it to anyone interested in top quality literature. ®

Author
Wolfgang Koeppen, translation by Michael Hofmann
Title
Youth: Autobiographical Writings
Publisher
Dalkey Archive Press
Price
£10.95 (Paperback)
More info
Publication web site