HPC bods boogie to 68 new Top500 hits at New Orleans show
Intel, IBM and ARM flex flop-tastic muscles
By Chris Mellor, 18 Nov 2014
SC14 The SC14 supercomputer show at New Orleans saw Intel getting its Xeon, Phi and Lustre hooks into many suppliers, IBM pushing its POWER credentials and ARM punching in there too.
There was nothing dramatic, exascale computing not yet having been reached, but a lot of incremental improvements.
The November 2014 Top500 list has 68 new systems listed, with a total of 23.144 million deployed cores, 11.7 per cent more than a year ago. Total petafloppage is 308.9 petaflops, 23.5 per cent more than a year ago, and 50 systems have more than 1 petaflop of performance (there were just 37 a year ago).
The new systems include 32 from HP, 13 from Cray and three from IBM. Stifel Nicolaus MD Aaron Rakers believes this highlights "IBM's competitive dislocation in the supercomputing industry."
He produced a chart showing Cray catching up with IBM in the Top100 area: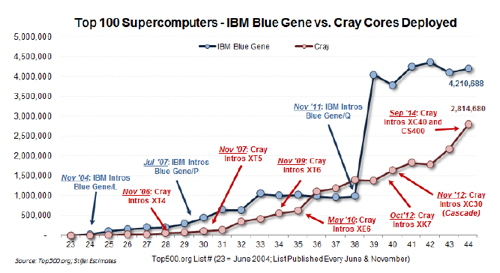 Stifel Nicolaus chart.
DataDirect Networks is one of the many firms working with Intel and has developed its EXAScaler Lustre appliance with over 4.8PB of usable storage using 6TB disk drives, 100MB/sec sustained scalable per-drive performance, up to 40GB/sec sustained throughput and up to 1.5 million IOPS.
DDN boasts about it Lustre metadata performance, in excess of 100,000 file creates per second. It uses a Lustre v2.5 client and has support for dual-rail InfiniBand. The Lustre is Intel's Engineered Edition for Lustre Software –can we say IEELS? EXAScaler can use DDN's backend SFA12KX and SFA7700X storage products.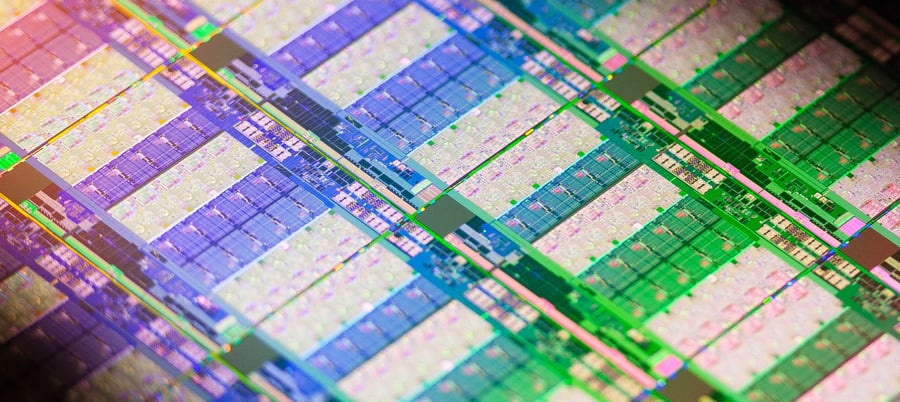 Part of Intel Xeon E7 v2 die
Cray is looking at using 64-bit ARM processors and other power- and performance-efficient processing technologies, such as custom ASICs and low-power Intel processors, for its supercomputers and data analytics systems. It has got a contract to do this from the US DoE's Office of Science and the National Nuclear Security Administration under a programme called FastForward 2.
It is also working with Cavium to deliver Cray clusters based on Cavium's 48-core work load-optimised ThunderX 64-bit ARMv8 Data Center and Cloud processors to analyse ARM use in supercomputing.
Power-efficiency is important for exascale computing, according to a canned quote from ARM CTO Mike Muller: "Planning for Exascale computing presents some significant power challenges to this industry … ARM welcomes Cray's pioneering research to explore how 64-bit ARM technology can improve performance density for future supercomputing platforms."
Cray has won an $80m contract to provide King Abdullah University of Science and Technology (KAUST) in Saudi Arabia with multiple Cray compute, storage and analytic systems:
XC40 supercomputer with DataWarp technology, named "Shaheen II" and 25 times more powerful than its current system.
Sonexion 2000 storage system.
Cray Tiered Adaptive Storage (TAS) system.
Urika-GD graph analytics appliance.
Slippery Edges
Dell announced an HPC storage product with a long name: Dell Storage for HPC with IEELS. Acronymising it produces DSHIEELS which is marginally better, although our rude sub-editors, the headline gang, might have preferred Dell Storage for HPC with Intel Terafloppery ...
It's an integrated bundle of Dell server and failover-enabled storage hardware and Intel Lustre software (open source). The hardware uses redundant PowerEdge 630 servers, MD3460 arrays and MD3060e enclosures.
Dell says the the PowerEdge C4130 is the only Xeon E5-2600v3 1U server to offer up to four Phi GPUs/accelerators. It can achieve over 7.2 teraflops on a single 1U server and has a performance/watt ratio of up to 4.17 gigaflops per watt.
Dot Hill provided another example of Intel's effort to commoditise supercomputing with a scale-out Lustre file server using Dot Hill's Ultra48 AssuredSAN 4004 and Ultra56 4004 storage arrays, and Intel's Lustre (IEELS). The 4004s support both SSDS and disk drives and have adaptive caching which, Dot Hill says, "are employed to accommodate dozens and even hundreds of independent streams of data without degrading overall throughput."
Seagate showed up at the show with a refreshed ClusterStor, its ClusterStor Engineered Solution for Lustre (CSESL) to give it its full name, delivering, it says, up to 700 per cent faster metadata processing.
It uses Lustre 2.5 and customers can have up to 16 Lustre Distributed Namespace metadata servers per single file system, with support for up to 16 billion files per file system and 1TB/sec performance. Cray is OEM'ing the ClusterStor system in its Sonexion 2000 product.
Seagate is also announcing a ClusterStor Secure Data Appliance (SDA) with the Kerberos network authentication protocol to enable symmetric-key cryptography. It's intended to guard against insider threats by using Kerberos to encrypt network data traffic between the compute client and storage system.
Cool as ICE
SGI sent a warm flush to attendees' cheeks with its ICE XA supercomputer, which its calls the sixth generation. It's a water-cooled, Linux-running beast using Xeon E5-2600 v3 processors and can scale out to 1,000s of nodes and, 100s of 1,000s of cores offering from teraflops to tens of petaflops of performance. Nodes can be augmented with Intel Phi Coprocessors or NVIDIA GPU Accelerators, and interconnect using InfiniBand.
The air and water cooling system is claimed to boost cooling efficiency by at least 30 per cent saving customers "millions of dollars in energy costs."
SGI sees a pathway to exascale supercomputing by:
Bringing storage closer to processors coupled with smart data placement to accelerate I/O and reduce power consumption.
Managing power consumption at a job level.
Using higher facility water temperatures and full liquid immersion to further reduce cooling costs.
Predicting hardware failure with node location through continual analysis of system data.
Utilizing in-memory technology to provide "computational steering" for massive jobs on HPC to avoid time and resource loss.
Get an ICE XA datasheet (PDF) here.
A Newisys NDS-2244 NVMe SSD JOD performed at 15,397,084 IOPS at the New Orleans Supercomputer show – 15.4 million IOPS.
We think it might be a development of Newisys' NDS-2241 rackmount storage head/expansion unit, expansion unit, with 24 x 2.5-inch drive slots. These would be filled with NVMe interface SSDs with data access over PCIe.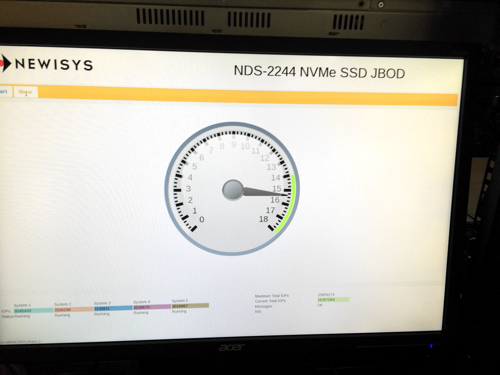 Newisys NDS-2244 showing 15/4 million IOPS performance.
A correspondent sent us this enticing shot and we're trying to find out more.
SGI's ICE XA is available for order and begins shipping in spring 2015. The latest version of DDN's EXAScaler is available now.
Seagate's ClusterStor Engineered Solution for Lustre is currently available. ClusterStor SDA with Kerberos enablement should be available in December. ®