Be Your Own Big Brother: Going to pot
Cloud computing for gardeners
By Nigel Whitfield, 9 Nov 2014
Feature A lot of the tech we've looked at so far in this series has been for safety – like monitoring seniors – or curiosity, like pet tracking. Another very useful area is productivity... and we don't mean the sort that involves management jargon.
We're talking horticulture. With the right tech, even the least green-fingered of us should be able to keep alive something more exciting than a cactus. If you thought plant-related tech was just about robot lawn mowers – they'll be the first to rise up against us, with their whirling blades, mark my words – and automatic timers for lawn sprinklers, think again.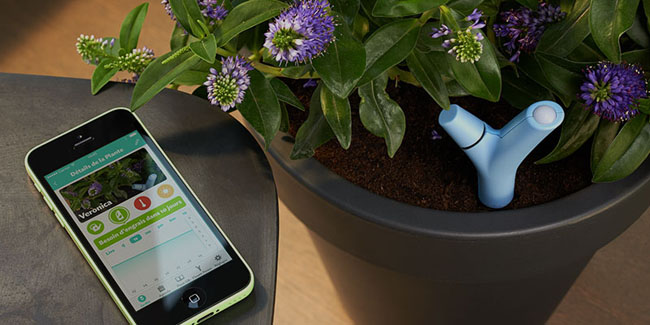 Drone-maker Parrot uses Bluetooth LE in its Flower Power sensors
If a pot plant has seemed beyond you, then Parrot's Flower Power could be the answer. Better known for its drones and Bluetooth kits, the firm's gizmo sits in the tub or in the ground, and is powered by a AAA, communicating with a phone via Bluetooth LE.
Tell the Android or iOS app what sort of plant it is and the sensors for moisture, conductivity, temperature and sunlight make sure you're told when to add water, fertiliser, and even if the plant's in the wrong sort of place.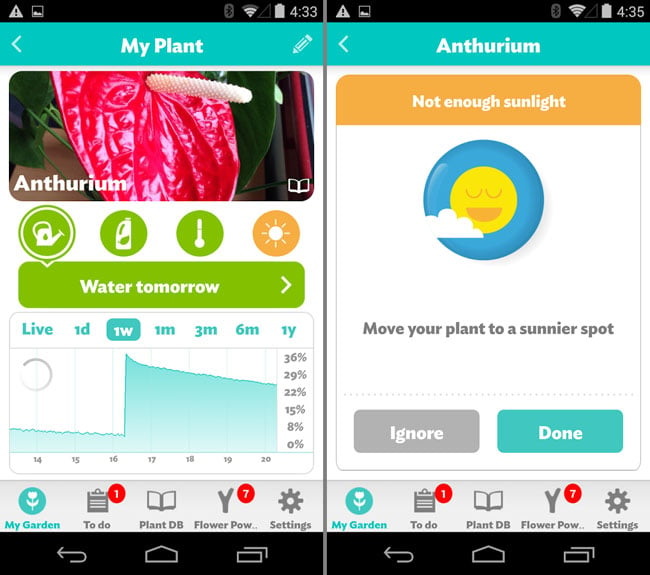 Parrot Flower Power app on Android
Of course, you'll have to go near the plant from time to time to get readings, so if you're that forgetful, a Pet Rock may be a better bet. At £42 for each Flower Power sensor, costs will mount up if you want to monitor many plants, but for a few prized ones, it may well stop that indoor fruit tree from just being an expensive lemon.
In a similar vein are the Koubachi plant monitors. The indoor versions start at €69, and the outdoor at €99. With Wi-Fi instead of BT LE, they're compatible with more devices, and there's a browser interface too.
Based on Wi-Fi, the Koubachi sensors are compatible with more devices, and can even link to IFTTT
And, though the sensor costs more than the Parrot, it's possible to use one device to monitor a lot of plants, moving it between them to ensure the best data for each one. One notable feature of the Flower Power, not yet available on the Koubachi, is support for IFTTT. So, your plants can tweet when they need watering.
With both systems, you'll have to set up the details of the plants correctly, of course, and that depends on finding the right one in the appropriate database. The Koubachi app can help you identify plants by picture, too. But are gadgets like this really useful?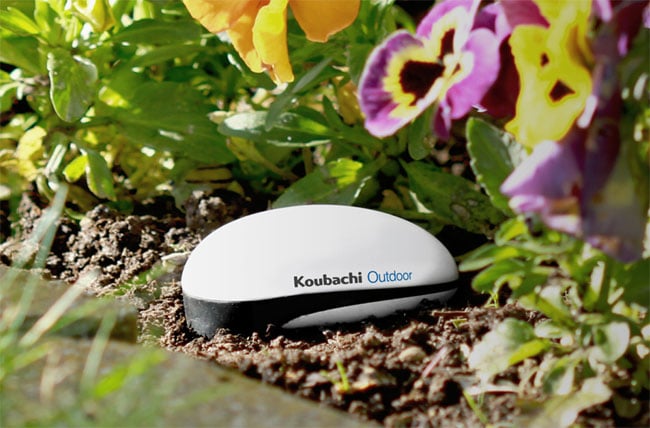 In bed with Koubachi
One Koubachi user I spoke with told me the health of his lily was definitely improved thanks to watering reminders and accurate monitoring. But he was more sceptical about the reminders for misting, fertilising and light, concluding that, while useful, it's also flawed... and expensive.
Automated horticulture
If watering your own plants seems like too much hard work, even that can be automated. The Parrot Flower Power can work with the Growatch box, which also links to other sensors, and can either just monitor or control equipment via smart plugs. So it can turn on and off pumps, for example, controlling a hydroponic system for you.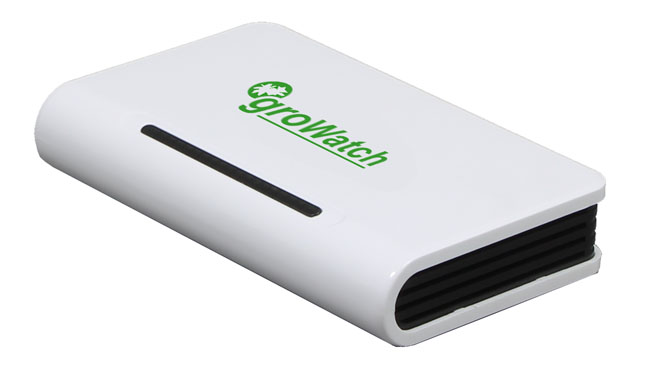 The GroWatch can use data from a Flower Power, as well as its own sensors, to control pumps and other devices
Similarly, the GreenIQ box is designed to control an irrigation system using a combination of schedules and internet weather reports, as well as turning lights on and off at set times. They're working on an updated model, due out later this year.
For a more DIY approach, the EcoDuino from DF Robot is an arduino-based kit that controls a water pump based on a moisture sensor, and at around £32 is priced fairly attractively.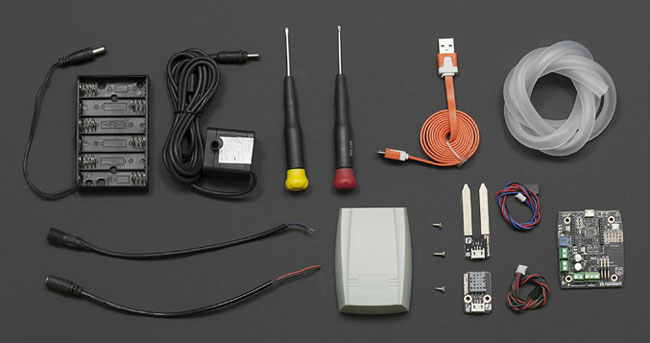 EcoDuino DIY from DF Robot
In a similar vein are projects like HarvestGeek and Bitponics, both of which aim to help with a mixture of cloud-based services, automated alerts and reminders and device control. However, despite there appearing to be plenty of interest, both these products seem to have gone a little quiet of late, which is a shame.
Edyn is one new entrant that is aiming to ship product in the spring of 2015. Its system, like Flower Power and Koubachi, is based around a soil sensor. In Edyn's case, it's designed to be used outside, and is topped by a photovoltaic cell to charge the internal battery. It communicates by Wi-Fi and the $100 sensor is complemented by a $60 water valve which is used to control your irrigation system.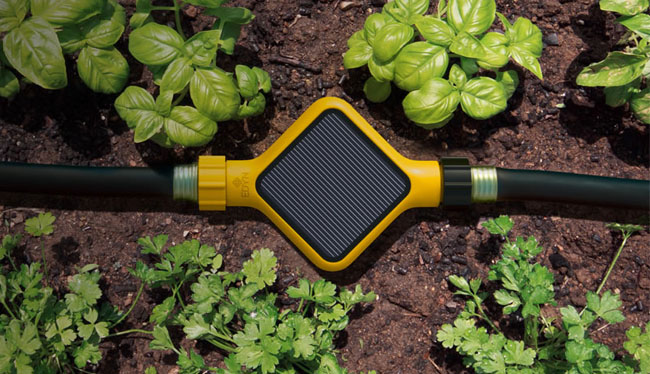 With a soil sensor and Wi-Fi water valve, Edyn aims to make life idyllic
As well as looking after the plants you already have, Edyn can make recommendations for the sort of plants that will grow well in your conditions. That may make it particularly appealing to those who are starting from scratch.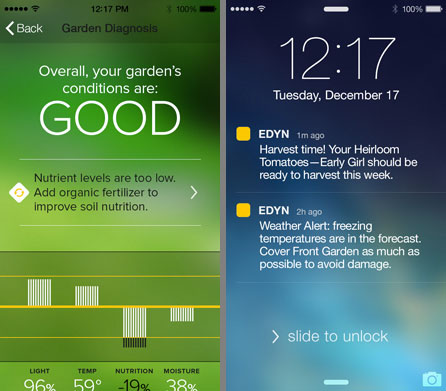 The Edyn app can not only tell you what to do, but will suggest what to grow
Cloud computing?
If you don't mind a little back-breaking work with a soldering iron instead of a hoe, it's probably worth checking out the GardenBot site, which has plenty of information about how to create your own monitoring equipment.
It details designs and components required to build sensors for tasks such as tracking soil temperature and moisture levels – though it has to be said that you can buy a ready-made sensor from places like Seeed for $5.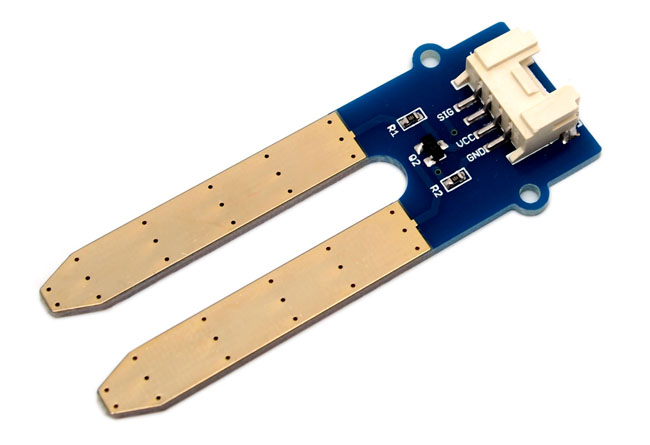 Here's one we prepared earlier: Seeed moisture sensor
You could of course go for a simple weather station, and there are plenty of those around – they're nothing new, really. However, the latest models are of course part of the "internet of things", and Netatmo's even includes a Wi-Fi Rain Gauge.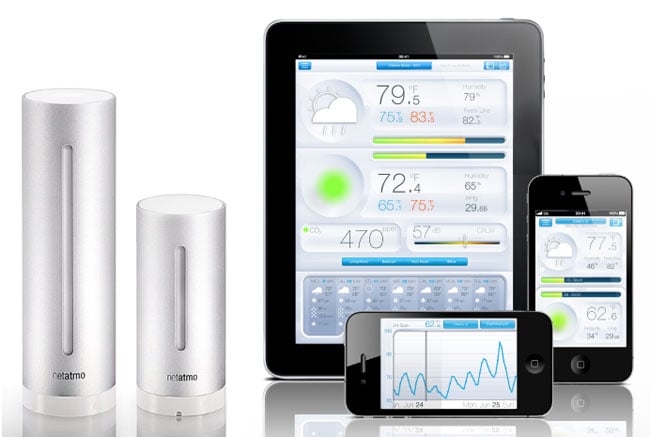 We ran a full review of the NetAtmo Weather Station last year, which proved effective in a variety of environments. Yet at £139 plus another £59 for the Rain Gauge, it's a fair old whack if you only want to keep an eye on the garden.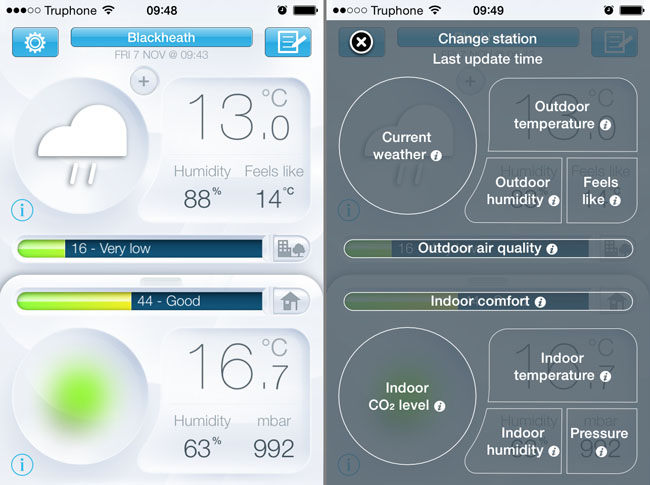 Keep an eye on indoor and outdoor environments remotely
Still, you do also get air quality monitoring, including indoor CO2 levels, alongside the full temperature and humidity. And, of course, there's no reason why you couldn't use such a system to monitor your greenhouse, either.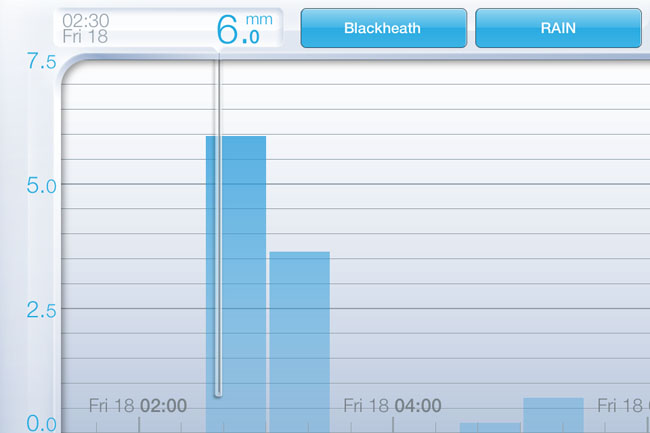 Heavy rain: when viewed in landscape mode, the app offers graphs of its various telemetry functions.
While Netatmo is perhaps a tool for the more traditional gardener with a head full of knowledge, with Flower Power and Koubachi, the intention is to make us all green-fingered.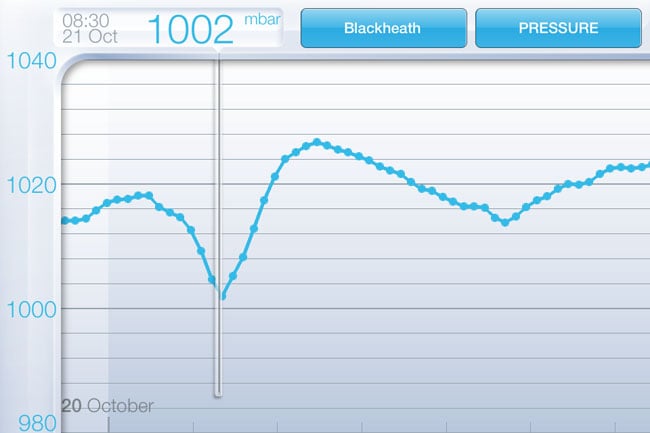 Hurricane Gonzalo shows up as a dramatic drop in pressure and general weather trends can be identifed too
Digging deeper
To a large extent, what you're paying for with these systems is not the actual sensors themselves, but the cloud-based analysis of the data they provide. That's what lets you how much moisture, or fertiliser, different plants need. But is it worth it? Or should you just stick a Maplin £10 moisture sensor in a flower pot?
Do you use garden tech to beat Bert Fry at the Flower and Produce Show? Can you get more from your grow-bag with a moisture sensor? Or do you prefer to rely on gut feeling to keep things green? Let us know your experiences with this kind of monitoring. ®