Police in U-turn as 'shop a gun-owner' hotline is scrapped
Now, about that random spot check campaign...
By Gareth Corfield, 9 Nov 2014
Downrange A Crimestoppers hotline set up specifically to target legal gun owners has been shut down following a campaign by the Countryside Alliance.
The hotline was set up after the Association of Chief Police Officers (ACPO), the trade union for top cops in Blighty, announced a raft of measures targeting the licensed firearms community in mid-October.
Countryside Alliance executive chairman Barney White-Spunner said: "We had a helpful and constructive meeting in Downing Street to discuss the ACPO Firearms initiatives and their proposed Crimestoppers campaign."
Along with new wording in the Home Office Guidance on Firearms Law permitting random spot checks on members of the licensed firearms community, ACPO also had Crimestoppers, the anonymous shop-a-crim organisation, set up a dedicated hotline for people to report "concerns" about lawful gun owners.
"Chief Constable Andy Marsh [the ACPO lead on firearms licensing] and I have subsequently agreed a letter to all firearms licence holders which informs them that there will no longer be a specific firearms licensing Crimestoppers hotline number," continued White-Spunner in a press release on the Countryside Alliance website.
"We are very pleased that ACPO and the Government have listened to the thousands of licence holders who have lobbied their MPs and have taken action to address their concerns," he concluded.
"There is little evidence of legal firearms users being involved in terrorism or criminal activity" - Chief Constable Andy Marsh, 5 November 2014
You can read the full Countryside Alliance/ACPO joint letter below:
ACPO Joint Letter 5 November 2014
Are the police finally beginning to get it? It seems so
Nobody really knows what prompted the police to start cracking down on lawful gun owners, other than the usual vague blather about terrorism which has become so all-pervasive that ordinary people tune it out whenever authorities mention it.
That aside, it's a good thing to see the police accepting that this campaign was alienating the licensed firearms community, as Chief Constable Andy Marsh acknowledges.
"I am conscious that what we are doing may have been misunderstood," he writes. "I would like to provide some reassurance to those in the shooting community who may feel that they are being unfairly targeted. This is not our intention. It would be neither productive nor effective."
Which is quite right. As your correspondent has previously noted, alienating law-abiding people by encouraging others to "report concerns" about them is not the way to get them on the side of the police. It's good to see the police acknowledging they made a mistake here and withdrawing the hotline.
Spot checks are still on the menu, though
"The police have a responsibility to keep people safe so we need to be sure that concerns about gun owners are heard and looked into," continues CC Marsh, "even if the vast majority come to nothing. I can assure you that all the home visits will be largely intelligence led, carried out professionally and that gun‐owners will be treated with respect."
To dispel any lingering fears that the police are turning against the licensed firearms community - despite the attitude of Cheshire Police's Chief Inspector Sarah Edgar, who seems to have instructed her department to treat this as an opportunity to carry out random spot checks on the slimmest of justifications - CC Marsh states, in black and white:
Our shared interest is to safeguard the public, not impede the legitimate pursuit of shooting activity.
One last thing
A source sent your correspondent this copy of what appears to be a leaflet issued by Greater Manchester Police's firearms licensing department. We have asked them to confirm whether it is genuine and will update this story if we hear back from them.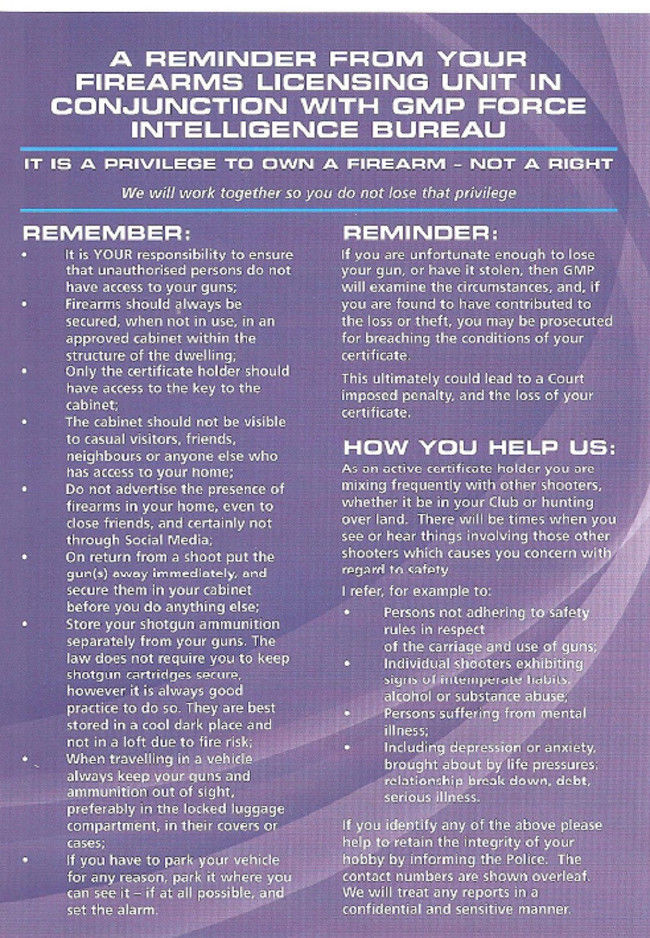 Flyer: "If you are unfortunate enough to lose your gun, or have it stolen, then... you may be prosecuted". Click to enlarge.
It's the right-hand column which has your correspondent scratching his head. Presumably the anxiety caused by all these "you vill report zer koncernz to us or else!" orders from the police should now be reported for their consideration? ®