Sporty in all but name: Peugeot 308 e-THP 110
Car of the Year? Arguably. Engine of the Year? Indubitably
By Alun Taylor, 26 Oct 2014
Vulture at the Wheel Peugeot's recent mid-sized hatchbacks have been a less than inspiring bunch. The 307 and the original 2007 model year 308 were dull, globulous mediocrities and not very well screwed together to boot. The all-new 308 however is a rather more interesting bag of bananas.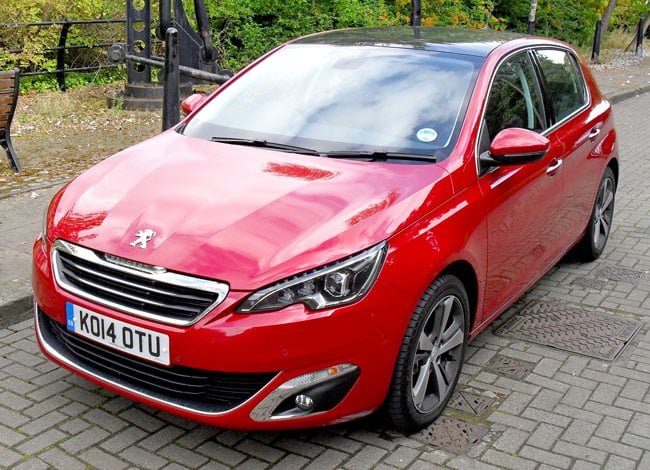 Peugeot's 308 e-THP 110: handsome in a chunky sort of way
To start with, it follows in the design and engineering footsteps of the altogether rather excellent Peugeot 208 that we reviewed on these pages in GTi form. Indeed, it beat the BMW i3 and Tesla Model S to the European Car of the Year gong for 2014. In other words, it trumped two cars that I would happily sell my left testicle to own.
The exact model that I've been using and abusing is the e-THP 110 Allure, which packs the brand new three-cylinder, turbo-charged 1.2L 110bhp PureTech petrol engine. Like Ford's EcoBoost motor, it is one of the new generation of forced induction small engines that produces an unfeasibly large amount of power and torque from a block that is positively miniscule in both size, weight and displacement.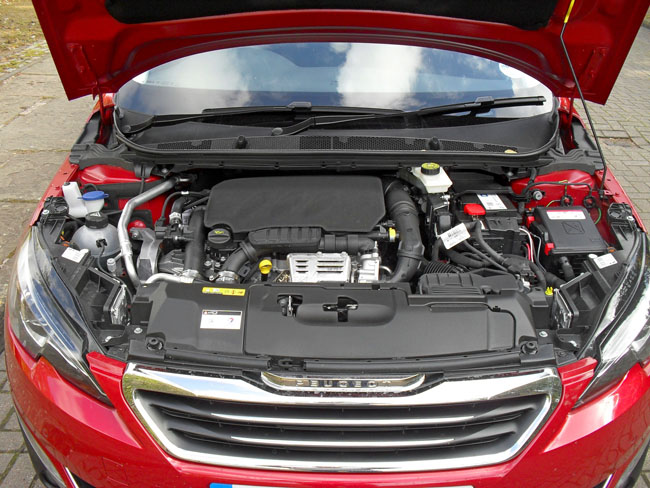 1.2L 3-pot turbo is a damn fine engine – click for a larger image
On paper it boasts a CO2 emissions figure of 107g/km and EU combined cycle fuel consumption of 61.4mpg, both of which are pretty impressive numbers.
Before we get onto the Peugeot 308 itself, a few words really do need to be said about that PureTech motor. Not to beat about the bush, but it's a little jewel of an engine. It's eager, refined and more than willing to rev right up the redline. It's the sort of engine that will put an smile on the face of anyone with even a modicum of technical sympathy.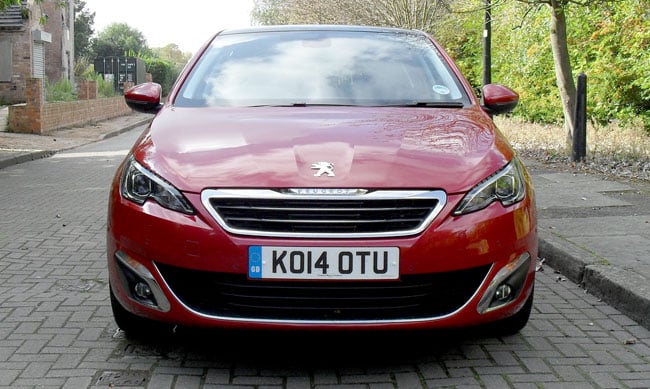 Nose follows the Pug family style
Now, I'll grant you that the combined effect of 110bhp and 151ft-lb of torque doesn't exactly hurl the 308 towards the horizon like a howitzer shell. Yet 95 per cent of that torque is available from 1,500 to 3,500rpm. As for turbo lag, there is none. So this new Pug hustles along much more rapidly than the official 0-62mph time of 11.8 seconds suggests.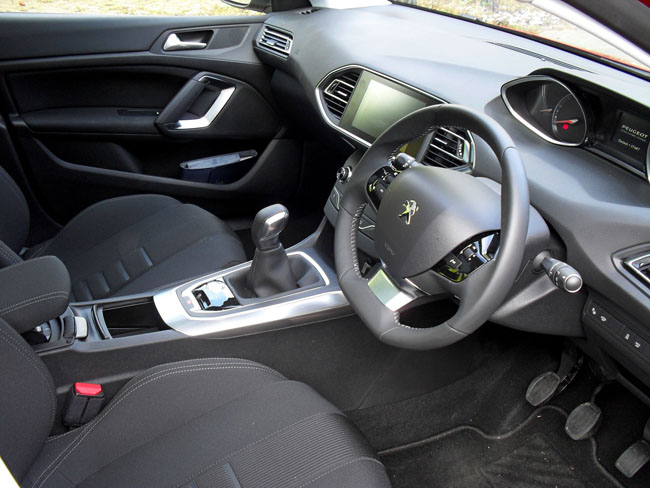 Pleasing hand job: gear change is light, positive and slick
Pressing on is made that much easier by the very positive and slick short-throw five speed manual gearbox. Not that you actually have to swap the cogs all that often if you don't fancy it. If you are feeling lazy, the 308 has you covered. I pulled away from near walking speed in a motorway jam in fifth gear without any commotion or hesitancy on the part of the drive train. Keep the pedal to the Axminster and the 308 will casually romp up to 117mph which is more than enough for man or beast.
A touch too much
As is the case with most modern cars, the EU consumption figures you see on the windscreen sticker do rather flatter to deceive. Over the course of a week and nigh on 600 miles I managed 45.4mpg from the Peugeot 308. That was over a mix of motorway, urban and open A road driving, with me working the engine hard. I'm pretty confident that it is a number a little below that which most owners can expect.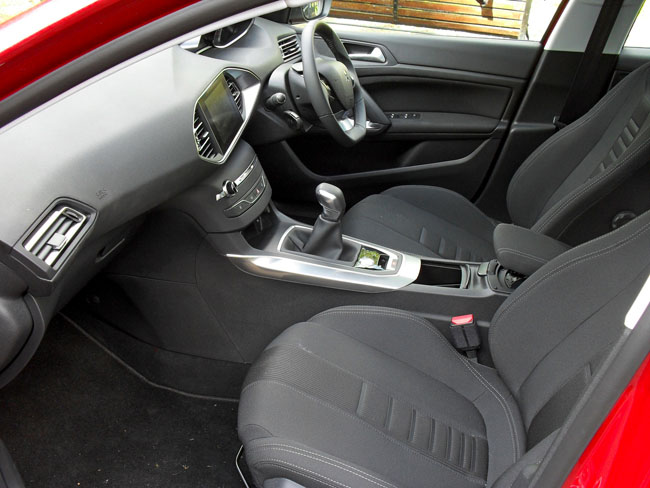 The cabin appears very Germanic but also very well made
Inside the 308, Peugeot's recent efforts to up its game with regard to build quality are clearly in evidence. VW/Audi-like is the best way to describe it. Yes, it's a bit dark and sombre thanks to Peugeot's cabin designers grasping Germanicism to their Gallic bosom with unquestioning vigour. From the switchgear to the seats to peripheral gubbins like the sun visors and glove box lid (which is way too small incidentally), it all feels well made and like it will last.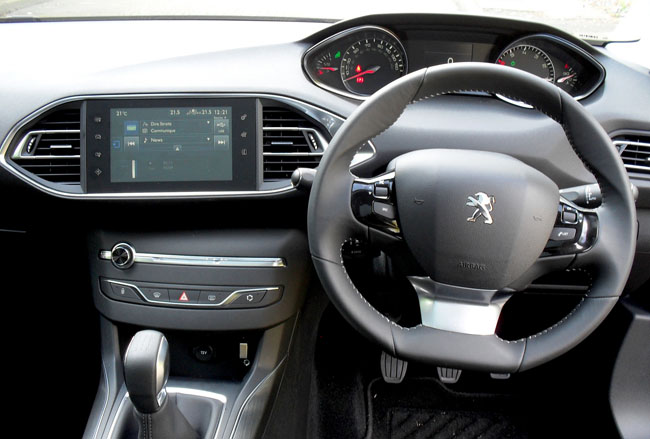 The 9.7-inch touchscreen display does pretty much everything
The Peugeot 308's dashboard is unusually spartan due to all the major controls being housed on the 9.7-inch capacitive touchscreen that dominates the centre console. I'd say that Peugeot has gone a little too far with this. For instance, to change the temperature or the fan settings, you need to bring up the relevant display and use the touch controls rather than just turn a big old knob from blue to red or one with various fan settings painted around it. You don't need to take your eyes off the road to use knobs, you do to use a touch screen. Such is progress.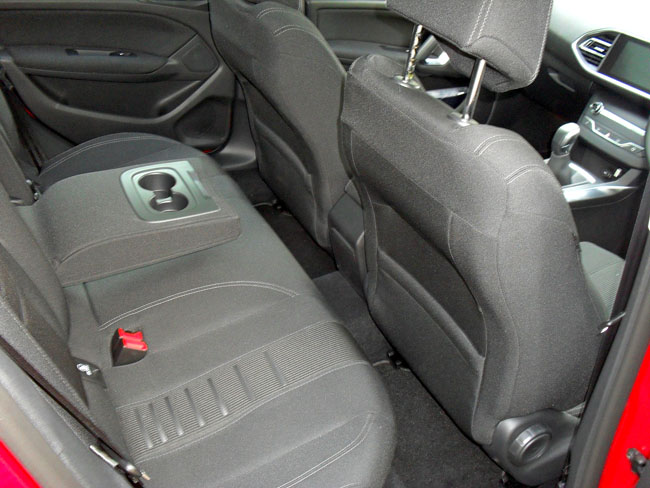 Supportive seats up front and sufficient rear leg room will fit five in total comfortably
One design feature I was thoroughly impressed to see carried over from the 208 is the small, low-slung steering wheel, with the instrument binnacle visible over the top of it. This isn't a layout that is being received with universal approval by the motoring press but I like it. A lot. It makes the entire driving experience that much more intimate and focused.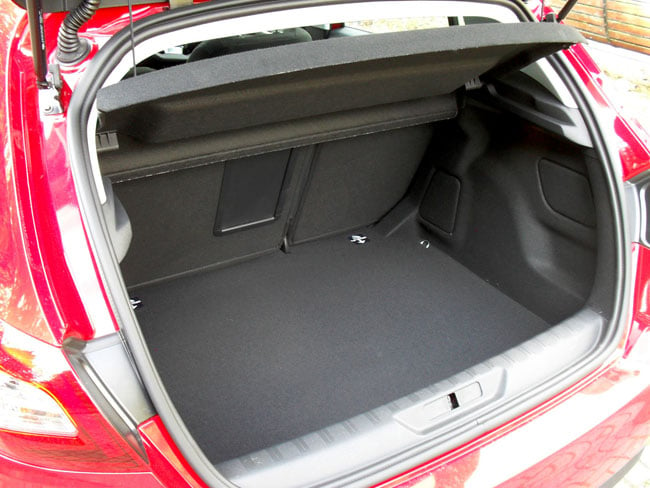 A decent sized boot and, of course, the back seats fold down for more
The 308 e-THP is no hot hatch (a 202bhp GT model will be with us shortly) but wedge your backside into the comfortable yet supportive seats and it all feels far more sporty than you'd expect from a five-door family hatch.
208 state
On the outside, the 308 looks much like a big 208. That is no bad thing in my book as I'm a big fan of the 208's looks. Handsome, taut and purposeful are the sort of words I'd use to describe it. It's certainly far less fussy than the Ford Focus, a design that's not really grown on me since it was launched. And it's more obviously a new shape than the current Golf, which, though a pretty enough wagon, looks a tad too much like Golfs of yore.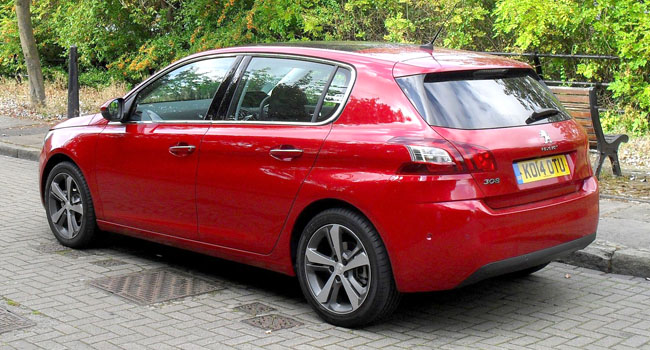 Alloys come as standard on the Allure but not the panoramic glass roof
Peugeot is making much play of the fact that, despite class-comparable interior space, the new EMP2 platform makes the 308 the smallest car in its segment. I've no desire to start rummaging through spec sheets to see if the width of 180cm, height of 146cm and length of 425cm actually does make the 308 the smallest C-segment motor about, but there's no doubting that it is a well packaged car and very easy to manoeuvre in tight spaces. The short overhangs (863mm less at the front and 770mm less at the rear than on the model it replaces) help.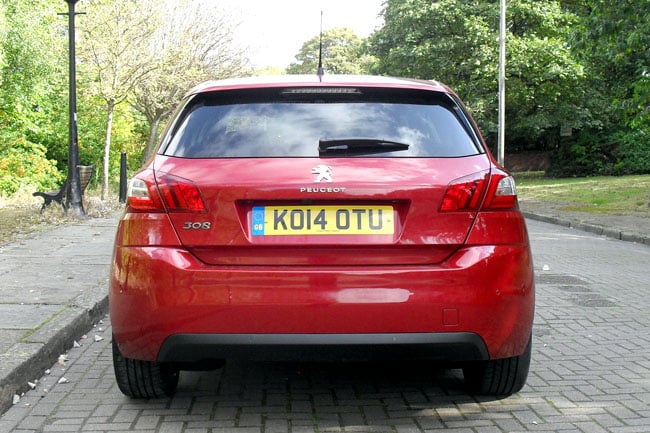 From the back, the design owes lot to the 208
When it comes to driving dynamics, the 308 is exactly what you'd expect from a compact French family car. The ride is well damped yet compliant and comfort and refinement levels are high. It's not quite as rewarding a car to hustle along a twisty country road as Ford's Focus or the VW Golf, though, and there is more body roll in evidence than in either the Ford or VW. But the differences are pretty marginal and I suspect irrelevant to the vast majority of motorists. A quick romp over the Pennines certainly didn't leave me feeling short changed in the thrills, spills and grins department.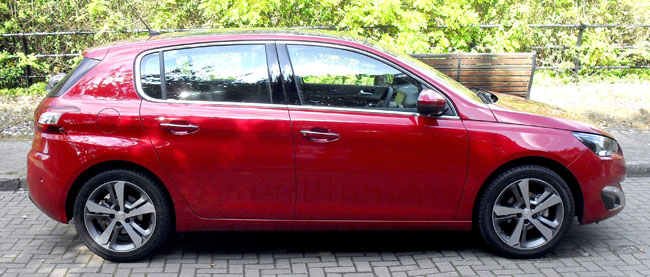 Bold hip-line gives the 308 a taut profile
So how much will this Gallic hatchbackery set you back? Just over 19 grand in Allure spec, which bundles those funky 17-inch alloys you can see and includes an optional panoramic glass roof, LED daytime running lights (whose major contribution is to make you forget you've not turned your headlights on when you drive in town at night), parking cameras and a very efficient Stop/Start system. Not cheap then (the range kicks off at £14,895 OTR), but class competitive and with enough toys to keep you amused in a traffic jam.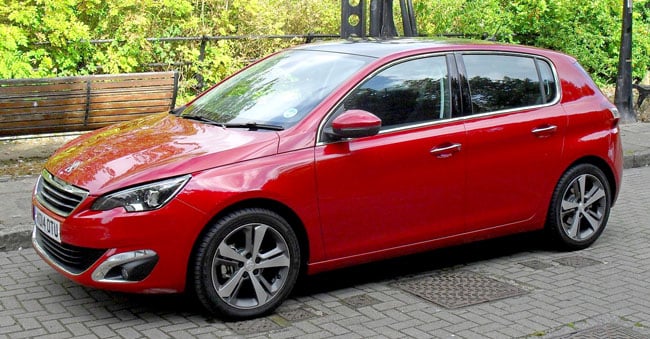 Great performer and looks like a big 208, which is surely a good thing
The Reg Verdict
The essential question to ask here is: would I recommend the new Peugeot 308 over a Ford Focus or VW Golf to a friend? The former is a superb handler and something of a technical tour de force, while the latter is the finest example to date of the best family hatchback conceived by a German.
The 308 is less fussy than the Focus both inside and out and while not as sporty, it is the more comfortable car. The Golf has impeccable build quality to offer and class leading leasing residuals but the 308 feels every bit as well made, at least as far I was able to tell over the course of a week. And then there's that funky little three-pot turbo engine to take in consideration. It's something a bit special. If it was my money, I think I'd be driving away in the Peugeot 308. ®

Sporty in all but name: Peugeot 308 e-THP 110
Five-door hatchback with a three-cylinder petrol turbo engine notches up an impressive performance in terms of both power and economy
Price:
From £14,895 OTR, £19,045 (Allure tested) RRP