Weekend reads: Russell Brand's Revolution and Joy Division's Ian Curtis gets lyrical
And Lemony Snicket's author goes piratical
By Mark Diston, 25 Oct 2014
Page File El Reg bookworm Mark Diston peruses the pick of publishing this week and finds he prefers Russell Brand when he's on the page rather than on the telly, as the media messiah offers more words of wisdom on society's ills. The work of Joy Division's vocalist and lyricist is presented as never before and Daniel Handler, known to many as Lemony Snicket, has an intriguing tale of the high seas to tell.
Revolution
There are few individuals who can polarise opinion like Russell Brand. My landlady wants to shag him to death, whereas I yearn to see him star in an ISIS snuff video. That reason alone made it essential to review Chairman Brand's little red booky wook: Revolution.
The first advantage of consuming Brand via the page, rather than the TV, is evident: you don't have to look at him or listen to his voice. Comedians' books are nearly always hit-and-miss affairs; great stand-ups such as Frankie Boyle have corpsed badly even when utilising similar material, i.e. their autobiographies.
I have never found Brand the comedian at all funny. However, it is immediately apparent that the boy can write in a direct and engaging style. It is easy to compare Brand's book with Owen Jones's The Establishment as they seem to have teamed up into a Blair and Brown double act recently: Russell charms them, Owen does the politics. Yet Owen plays the politicos at their own game and has all but joined the establishment he eschews.
Brand is a different character entirely, having come from closer to the wrong side of the tracks rather than Jones's upwardly mobile Fabian background. Brand has the advantage of a very different perspective that you need to have been down to see:
"Anyone who's been poor and gets rich is stalked by guilt and fear"
and that his current celebrity is: 'The accumulation of a million easy treats, a license to speak your mind or sulk"
Brand is what you might call a broad rather than a deep thinker. There are a few pithy one liners such as the one that dismisses the current establishment as: "A cartel of Etonian skanks"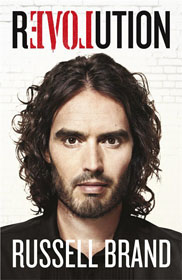 And amusing disclaimers like: "Legally though, I'm obliged to say that Hitler and Murdoch are two distinct entities and that Hitler is a worse bloke."
The narrative veers from the banal ...
"If we've learned anything from Blackadder it's that history is a shithole" and ... "The Arab spring we were all so excited about on Twitter turned out to be fuck all"
... to the mystic philosophical ...
"I remain uncharmed by the incessant rationalism that requires the spirit's capitulations."
Russell Brand is a practitioner of transcendental meditation and in many places he seems to be stuck between the media and the Maharishi. His sources are eclectic to say the least, everyone from Guy Debord to Alan Devonshire gets a mention.
Brand is aiming for a very spiritual and holistic revolution, quoting Swami: "All desire is the inappropriate substitute for the desire to be at one with God."
Brand exhorts us: "The revolution cannot be boring" and there are a couple of classic pieces of satire: "I know the only productive attitude to have towards a paedophile is one of loving, inclusive, rehabilitative tolerance, how can I not afford the same stance to George Osborne? Well, he has fucked over more kids than the average nonce."
In practical terms, Brand extols the Spanish and Cuban revolutions, quoting George Orwell – regarding the halcyon days of the anarcho-syndicalist Barcelona – yet he neglects to quote the same author when the anarchists, communists and Trotskyists were at each other's throats a few months later.
Revolution is woolly and confused. Russell Brand comes over as something of a Marxist-Lennonist. A follower of Groucho, rather than Karl. Nevertheless, his thinking, however naïve, is refreshing and out-of-the-box. Although I won't be competing with my landlady for access to Russell's charms, I did end up thinking he was somewhat less of an arsehole after reading this book.

Author
Russell Brand
Title
Revolution
Publisher
Century
Price
£20 (Hardback), £9.98 (eBook)
More info
Publication web site
So This Is Permanence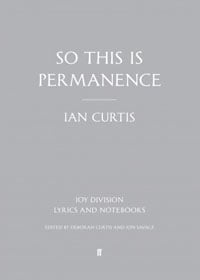 Ian Curtis is the legendary frontman of the shortlived, brilliant and very influential Joy Division. A selection of Ian's lyrics has appeared as an appendix to Deborah Curtis's Touching From a Distance and also in the Heart and Soul Joy Division boxset. So This Is Permanence gives Ian's work the full Factory treatment, reproducing his handwritten lyrics, notebooks and more.
The cover is faux Peter Saville and resembles Joy Division's live album Still. Curtis is one of the few modern lyricists who translates well from song to the page. He is the master of opening lines, take the book's title for instance from 24 Hours:
So this is permanence, love's shattered pride.
What once was innocence, turned on its side.
A cloud hangs over me, marks every move,
Deep in the memory, of what once was love.
There are a generation of misty-eyed old gits, myself included, who think contemporary poetry hit its peak in Manchester some time around 1980: to whom the likes of Ian Curtis, Mark E. Smith, Howard Devoto and John Cooper Clarke are the business, and successive generations of misty-eyed young gits keep picking up on the message.
Video of 24 Hours by Joy Division
The singer's widow, Deborah Curtis, together with author Jon Savage has done a sterling job in piecing together this deluxe edition. Deborah's foreword gives insight into the working process of Ian Curtis and John Savage puts his work into perspective.
However, there are glaring omissions in this book as handwritten version of seven songs are missing and have therefore been omitted. These are not only early Warsaw tracks like The Drawback, but include the landmark Digital, a couple of tracks from Unknown Pleasures and some of his greatest later works, including the last track from Closer: Decades and both sides of the Ceremony single.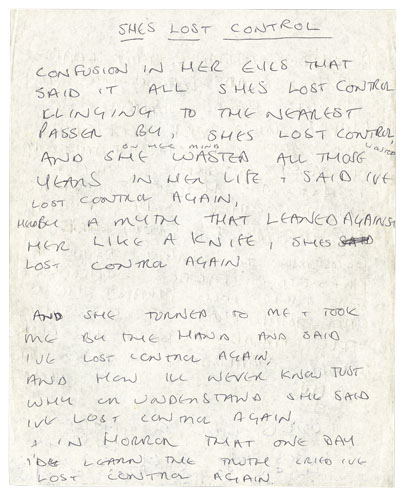 She's Lost Control from Unknown Pleasures (1979) was also covered by Grace Jones as the B-Side to Private Life (1980) with Sly Dunbar and Robbie Shakespeare giving it a very different feel
Deborah Curtis called Closer Ian's valediction and to see it reproduced without its finale will irk many of the JD faithful. While typed versions of these songs would arguably change the mood of So This Is Permanence, it is still a hard decision to justify considering the book's premium price and the fact that Ian Curtis's complete works amount to only 45 songs.
That aside, there remain many interesting alternative versions and fragments in the appendices, with fan letters, fanzine interviews and some reproductions of the covers of Ian Curtis's paperback collection.
There is always a landscape and an enigma with Ian Curtis and that will always be the case, as he is no longer around to explain his words and few paid such great attention to them until after his suicide in May 1980. Shortly after, I remember buying and playing Love Will Tear Us Apart about 30 times on repeat and I've never done that with any other track.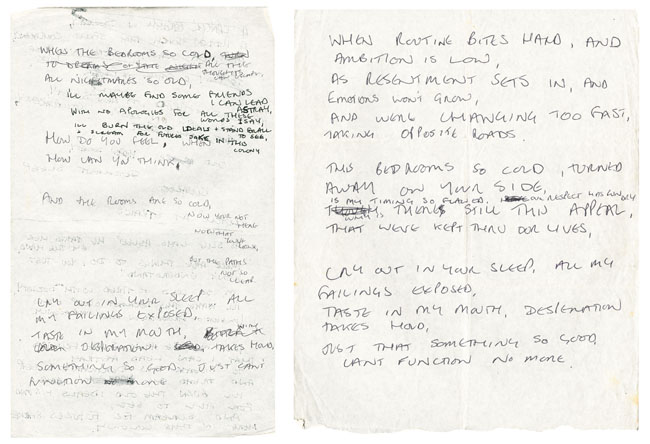 In his own write: early notes (left) and later lyrics (right) Love Will Tear Us Apart
Click for a larger image
It is great that the literary work of Ian Curtis has finally made it into print with the UK's premier publisher of poetry. So This Is Permanence is a fascinating and enlightening book for anyone interested in Joy Division, though it is a grave pity that it does not include all Ian's songs and I hope this will be remedied in future editions.
I also look forward to the appearance of the complete lyrics in a cheap paperback edition as Ian Curtis is not only a music legend, he is also a major 20th century poet.

Author
Ian Curtis
Editors
Deborah Curtis and Jon Savage
Title
So This Is Permanence
Publisher
Faber and Faber
Price
£27 (Hardback)
More info
Publication web site
We Are Pirates
Daniel Handler is a writer and musician who is the author of many novels under his own name and also the nom de plume Lemony Snicket.
We Are Pirates is the story of Gwen Needle, a disaffected teenage girl who gets caught shoplifting and is sent by her parents to work in an old people's home where she meets Errol, an ex-sailor whom she befriends.
Gwen is captivated by Errol's nautical tales and dreams of derring-do on the high seas with her new friend Amber, possibly the only teen more disaffected than herself. They recruit Manny, a Haitian care assistant from the old folk's home and hijack a showboat.
An improbable series of adventures ensue: mutiny; betrayal; being washed up ashore – all the usual ingredients of a nautical tale – as a mysterious reign of terror ensues in San Francisco Bay.
Daniel Handler has crafted a strange story indeed and his teenage heroines are a hoot. How's this for teengirl sulk: "But Naomi even wore sunglasses at her. Every hallway was miles long until school stopped ..."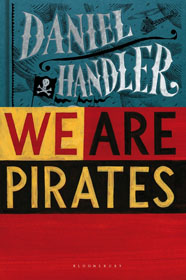 But there is also the parallel story of Gwen's dad: Phil Needle, middle-aged, balding, with a druggy past – dreaming about it and not getting it, trapped in a loveless marriage with the neurotic Marina.
The pirate crew are a disparate shower, but there are some finely stirring libertarian lines sampled from pirate epics such as Rafael Sabatini's Captain Blood and Richard Hughes' A High Wind Of Jamaica:
"We are pirates! he crowed. "We are men and women without a country. We are outlaws in our lives and outcasts in our families. We are desperate, and so we seek a desperate fortune. We band ourselves together now to practice the trade of piracy on the high seas"
There are some equally inspiring, more up to date exhortations: "There is no dress code, but there are restrictions on language. You may say God. You may say Christ. You may say Goddamn or Christ on a stick. Shit, fuck, bullshit, motherfucking c**t, asshole. But you may not take to task a member of anyone's family, as we are all family now, and the people who raised us are left on land to rot away."
Needless to say such noble sentiments rapidly descend into farce.
Daniel Handler is light reading but has more class than most of the literature I have read this year. His characters are twisted, flawed and delightfully human, his story far-fetched enough to captivate and his observations of people's interior workings insightful. Here is Phil Needle looking back on his dodgy outsider past:
"There was a look white people shared on the subway when other people were misbehaving and the more drugs he took the less often they shared it with him ..."
We Are Pirates is a curious tale, curiously told. It refuses to be either highbrow literature, genre fiction, teen fiction or adult fiction. It just goes its own sweet way and that is a fine thing. ®

Author
Daniel Handler
Title
We Are Pirates
Publisher
Bloomsbury Circus
Price
£12.99 (Hardback), £10.99 (eBook)
More info
Publication web site