Weekend reads: Douglas Adams' bio in The Frood, The Bone Clocks and Harry Partch, Hobo Composer
Don't forget your towel, readers
By Mark Diston, 27 Sep 2014
Page File El Reg bookworm Mark Diston reviews the latest rivetting reads. David Mitchell, no not that one, beguiles with yet another world of magic and mystery, while Jem Roberts tries not to panic as he explores the life and works of Douglas Adams. Ever wondered where the stranger ideas of American music came from? S. Andrew Granade says we owe a lot to just one man.
The Bone Clocks
"A book can't be half fantasy any more than a woman can be half pregnant" ... so speaks Crispin Hershey, a fictional author in David Mitchell's The Bone Clocks. It appears that this book may be the exception to that rule.
The Bone Clocks centres around the life of Holly Sykes, who is fifteen years old at its outset and whose "life is about to be turned upside down". In a matter of hours she leaves home and then discovers her boyfriend in bed with her best friend ("My heart's a clubbed baby seal")
Then shortly afterwards she meets a strange old lady who offers her green tea and in return asks for "asylum". Holly agrees, not knowing quite what she means. Subsequently a series of bizarre events begin to take place, some of which Holly can remember, others she cannot.
We are introduced to the supporting cast: an Oxbridge cad, Hugo Lamb AKA Marcus Anyder, who shares a one night stand with Holly in Switzerland before being seduced by the powers of darkness. Then there is Crispin Hershey, the aforementioned novelist who seems to represent the worst aspects of the UK literary scene. We meet Hershey as he bitches and feuds around the world's major literary festivals, eventually befriending Holly, who has written a successful memoir of her mystical experiences.
Holly's partner is a childhood friend who becomes a foreign correspondent in Iraq. One of the most effective sections of the book cuts together a family wedding in Brighton in 2004 with scenes from Fallujah and Baghdad. Holly's partner imagines Blair talking to himself in the mirror: "Oh fuck Tony, Iraq has gone well and truly titsup, why oh why did you ever listen to George?" The rest of the UK would surely love to hear the answer.
The action takes place on a worldwide scale. There are many diversions into the lives of supporting characters, but unlike, for instance, Will Self's Shark, which I reviewed recently, they are superbly written and always entertaining.
Our heroine is drawn into an epic struggle between the Horologists and the Anchorites, a traditional struggle of good versus evil. The final battle is probably one of the least impressive sections of a book, whose main strengths are its thorough grounding in reality. Indeed, by the time things start getting really weird and mystic, there is in place a solid framework which makes the "fantasy" episodes more effective and believable.
The final section of the book takes place in a post-apocalyptic west of Ireland underneath: "Clouds like sheep's wool caught in barbed wire". As Holly's tale draws to a close, events unfold offering hope for future generations.
This is an epic novel in every sense, the nearest writer I can compare David Mitchell to is probably Neal Stephenson, with whom he shares a similar wide screen sensibility, but Mitchell is a lot less sci-fi and a much better character writer.
An absolute gem of a book, The Bone Clocks is a joy to read and I couldn't recommend it more highly. While others might be familiar with Cloud Atlas and its cinematic interpretation, for me The Bone Clocks is the first work by David Mitchell that I have read and it just made me want to wade through the rest.

Author
David Mitchell
Title
The Bone Clocks
Publisher
Sceptre Books
Price
£20 (Hardback), £10 (ebook)
More info
Publication web site
Epileptics, be warned. Flashy GIF coming up on page two.
The Frood, The Authorised and Very Official History Of Douglas Adams and The Hitchhiker's Guide To The Galaxy
Jem Roberts is what you might call a historian of comedy, having previously written books about Blackadder and BBC Radio 4's antidote to panel games I'm Sorry I Haven't A Clue. To quote the author, The Frood is: "A celebration of comedy and not an exploitative real life tragedy."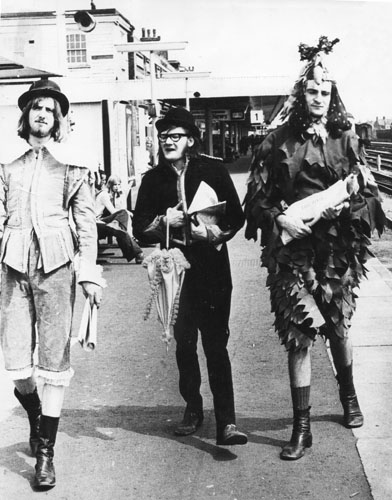 Will Adams, Martin Smith and Douglas Adams, Cambridge Station 1973
Publicity pic for Several Poor Players Strutting and Fretting – pic courtesy of Will Adams
For Hitchhiker's fans, this book is a veritable goldmine of outtakes, anecdotes and trivia. For those wishing to get under the skin of Douglas Adams, it offers only tantalising glimpses, which is a pity, as the man and his work are often inseparable, and the few glimpses we are allowed of Adams the man outweigh the detailed analysis of his whole fictional saga.
This is a broken-hearted Adams explaining the flight of an ex-girlfriend: "She went off with this bloke on, to me, the spurious grounds that he was her husband." Arthur Dent couldn't have put it better.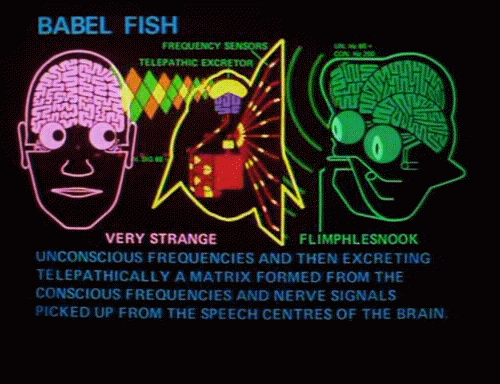 The weird and wonderful Babel Fish
The introduction to this book is underwhelming. It seems Roberts is out to prove his comedy credentials at any cost. At first he uses as a prologue, a justly unpublished "posthumous" interview with himself which Adams wrote as an introduction to a book of radio scripts. He then attempts to emulate Adams' elliptical style to begin the story, the result is overblown bombast and not at all funny.
Fortunately he gives up about page 15 and settles down to a straightforward narrative. Douglas Adams' formative years are described in detail: broken home, public school, Cambridge. From the very outset, Adams' life gives the impression of a hapless individual, tripping through random circumstance.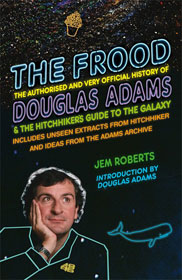 Unsurprisingly in retrospect, creative writing is Adams' speciality and he graduates from school plays and Cambridge footlights shows to contributing a few lines to the later Monty Python. His hitchhiking adventures around Europe in the mid-'70s are recalled, including the drunken moment in a field near Innsbruck, where he had the inspiration: "Wouldn't it be fun to hitchhike around the galaxy?"
Back home, his writing seems to be going nowhere. A failed collaboration with ex-Python Graham Chapman is described. Jem Roberts is less sensitive about exploiting the weaknesses of Chapman for this book and we learn almost as much about his human foibles in The Frood as we do about Adams.
After many struggles and false starts, the first radio series of The Hitchhiker's Guide to the Galaxy rapidly grows from a cult phenomenon to a global hit, followed by the novels and the TV series.
All this presents a whole new set of problems for Adams, as the pre-Bridget Jones writer Helen Fielding observed of a character based on Adams: "Never had a man been more debilitated by wealth."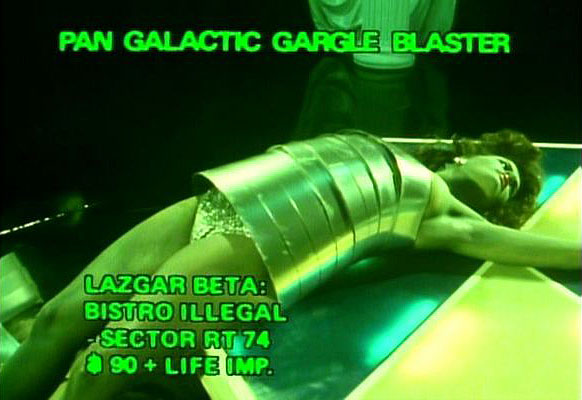 Another Pan Galactic Gargle Blaster takes its toll
From that point, it would seem that Douglas Adams drank, smoked and lunched himself slowly to death, but Roberts is too polite to go into detail.
Deadlines are never met and publishers have to lock him into hotel rooms to get copy, as he said to Clive Anderson: "I have this strange relationship with publishers, whereby they give me a whole lot of money to write a book and I don't." This rather tame interview that promotes another book is on YouTube.
And yet the HGTTG series maintains its quality and popularity despite Adams' love/hate relationship with it, his endless procrastinations and his less successful diversions into the detective genre with Dirk Gently.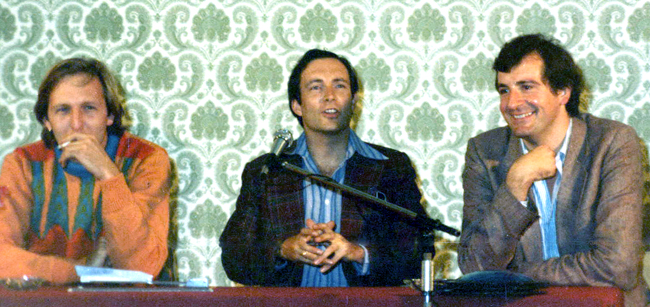 Slartibartday 81: Mark Wing-Davey (Zaphod Beeblebrox), Simon Jones (Arthur Dent) and Douglas Adams
Pic courtesy Kevon J. Davies
After Adams' untimely death, Jem Roberts analyses the posthumous versions of the HGTTG books. All the rewritten inserts are noticeably inferior to the original Douglas Adams sections. The only writer who comes out with any credit is Eoin Colfer who, to judge by the excerpts from the Hitchhiker's sequel: And Another Thing, seems to add to the legend rather than pander to it.
As a history of The Hitchhiker's Guide to the Galaxy in its various forms, The Frood is an excellent and well-researched work. As a biography of Douglas Adams, it is ultimately unsuccessful. Jem Roberts can't do tragedy, exploitative or otherwise. Yet Adams' ability to exploit his own tragicomedy is what makes The Hitchhiker's stories so poignant and popular.

Author
Jem Roberts
Title
The Frood: The Authorised and Very Official History of Douglas Adams and The Hitchhiker's Guide to the Galaxy
Publisher
Preface Publishing
Price
£20 (Hardback), £10 (ebook)
More info
Publication web site
Harry Partch, Hobo Composer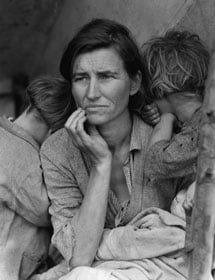 Dorothea Lange's migrant mother from 1936
Harry Partch may not be a household name, but he was one of the most innovative and original musicians of the 20th century, a precursor to the Beat Generation and an influence on the likes of Frank Zappa, Captain Beefheart and Tom Waits.
Always something of an itinerant, Partch spent most of the thirties and early forties living the life of a tramp (in UK parlance), collecting his experiences in a diary called Bitter Music which inspired his later work.
S. Andrew Granade has written an excellent biography of Partch's life and work, which places him amongst the great artists who documented the Depression era of the 1930s, such as John Steinbeck, Dorothea Lange and Woody Guthrie.
Like many artists from Charles Dickens to Irvine Welsh, Harry Partch discovered that for himself and his audience, "The nuance of inflection and thoughts of the lowest of our social order was a new experience."
He composed lyrics from the stories of hobos he met on the road and graffiti he found scrawled where they gathered, such as this from Barstow: "I'm freezing...I'm hungry and broke. I wish I was dead. But today I am a man."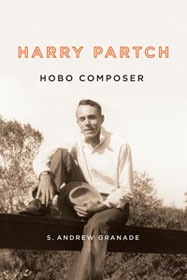 Granade correctly observes that "[w]hile Guthrie wanted to speak for the people, Partch wanted to let the people speak."
Harry Partch had abandoned traditional musical forms in the late 1920s. He invented a new microtonal music with 43 tones to an octave, influenced by Chinese and Ancient Greek forms. He began inventing and building an increasing number of his own instruments to play his music.
Always the outsider, he had a lifelong affinity with the homeless and dispossessed: "Into eternity the hobo mind seeks something different, something better, something beyond."
Granade places Partch in an American tradition which stretches back to Walt Whitman and Jack London and describes how American music was still searching for its own identity when Harry Partch began his musical life.
He digs beneath the myth of the hobo to find some uncomfortable truths, such as this original lyric from Harry McClintock's Big Rock Candy Mountain: "I'll be god-damned if I hike any more, to be buggered sore, like a hobo's whore."
Like Partch's music, this book transports the reader on top of boxcars and into dustbowl deprivation and explains the cultural background and the public attitude to migrants as it changed during the influx of jobless refugees and dust bowl Okies in the 1930s. It takes us on Partch's last ride east, which inspired one of his greatest works: US Highball (Youtube audio): "At almost forty years, he had little to show".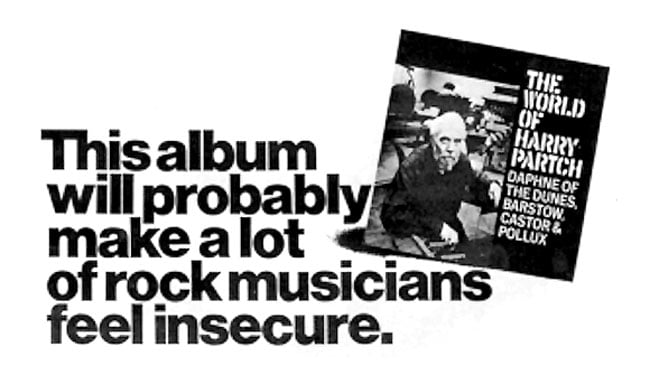 Columbia Records ad for The World of Harry Partch, 1969
Partch manages to gain a Guggenheim fellowship, which enables him to stage his works in New York. Thereafter he leads the life of the institutional hobo: "From university to university, from ramshackle house to borrowed ranch."
Granade's book concentrates on Partch's formative years, but goes on to described how he never really broke free of his past, describing himself in his later years as "a hobo with two tons of weird instruments".
And after Partch's death in 1974, Ben Johnston wrote: "By being a hobo...in large part he had won his freedom."
S Andrew Granade has written a fascinating account of one of music's great outsiders. It is also an absorbing memoir of a culture long since gone and a tribute to Partch's lifelong struggle and achievements. ®

Author
S. Andrew Granade
Title
Harry Partch, Hobo Composer
Publisher
University of Rochester Press
Price
£20 (Hardback), £13 (ebook)
More info
Publication web site