Weekend reads: Tales of Madchester in Chapter and Verse plus Shark and Ring of Steel
New Order guitarist's kiss 'n' tell and Will Self waxes lyrical
By Mark Diston, 20 Sep 2014
Page File El Reg bookworm Mark Diston reviews the latest literary treats. Lauded wordsmith Will Self's new novel takes some extraordinary twists and turns. Joy Division and New Order guitarist Bernard Sumner tells his life story and Alexander Watson delivers a unique take on WWI, history, not from the victors, but as told from the centre of events.
Shark
"Ooh, I like Will Self, he is so articulate, so clever ..." so I was informed by a couple of acquaintances, when I told them I was reviewing his new novel: Shark but when pressed, it turned out neither had read any of his books, their opinions were based solely on his TV and radio appearances.
Shark is what you might call a stream of consciousness novel. The action segues in and out, there are no chapters, it is one long narrative based mostly in 1970s' London, but random time and location shifts abound. Sometimes it takes a few sentences to realise that you have been taken back to the Pacific theatre during World War Two, or displaced forwards to the 1990s doing rehab. I'm not saying too much here, the author gives most of the plot away on the dust jacket.
The opening scenes of the novel take place in Concept House, a kind of care in the commune-ity run by Dr Zack Busner, a recurring character in Self's fiction. Anyone who had the misfortune to squat with pretentious hippies in the 1970s will be familiar with the scenario: chaos, decay and self-righteousness abound. Someone turns up with some LSD and while the characters debate whether or not to take it, we are whisked away to the deprived childhood of Jeannie (Genie after the Bowie song) and her Mumsie.
Will Self evokes the 1970s better than almost any writer I have read, the whole spectrum from the Anti-Psychiatry of Ronnie Laing's Divided Self to the juvenile delinquency of Richard Allen's Suedehead is captured beautifully and the detail is impressive. Who remembers Emva Cream Sherry these days? and get this for a description of posh hippy chicks:
"Bobble hatted Fionas make her milky tea in their bizzy lizzy gallies."
The central characters of Genie and Moira, her "Mumsie" are brilliant creations, their stories are fascinating and touching. Their outing to Greenham Common with:
"Fearsome lezzers in leather" is hilarious. The main problem is that they are surrounded by a supporting cast of too many insignificant others to keep track of or care about.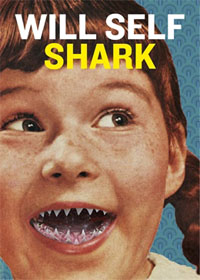 We are transported to the shark-infested waters of the South Pacific, where it seems one of the future residents of Concept House has been sunk by the Japs and is treading water and getting off his face on morphine styrettes.
It also turns out that the person who put up the funding for Concept House is the only Englishman onboard The Enola Gay as it annihilated Hiroshima on 6 August, 1945. Cue scenes of wartime London and Genie's Mum copping off with his brother.
The beginning of the book is reminiscent of James Joyce's Ulysses, beautiful prose, it is just a shame the characters have to get in the way. The disparate threads of the story seem to come together about 250 pages in, before the acid kicks in and renders everyone and everything poetically nonsensical again.
"Dynasties of insect people arise and fall on every step of the stairs."
Genie comes through bad drugs, crap blokes and worse sex:
"Always getting stuff inside me, but none of it ever so much as touches the sides."
Eventually the book OD's on Italics and ellipses and fades out to oblivion.
This is a novel for fans of the beats and surrealists, or the sci-fi of JG Ballard or Michael Moorcock at their most obscure. This is supposed to be a book for people like me, but I find it oversized, over verbose and overambitious. If it had concentrated on the stories of Genie and Moira instead of endless diversions into the lives of a bunch of dull geezers, there would have been a vast improvement.
It is a most annoying book to read as it has the core of a great novel. Like the later Jack Kerouac, when he couldn't be arsed to rewrite, it could just do with some serious editing. While Will Self's talent is without doubt and much of the prose is startling and original, this novel is too long and aimless by half at 50 per cent brilliance and 50 per cent bullshit. The Shark is a red herring.

Author
Will Self
Title
Shark
Publisher
Viking Adult
Price
£18.99 (Hardback)
More info
Publication web site
Chapter and Verse
Bernard Sumner is a founder member of the iconic Manchester groups: Joy Division and New Order. Already the subject of an unofficial biography: Confusion by David Nolan, Sumner has now published his own story.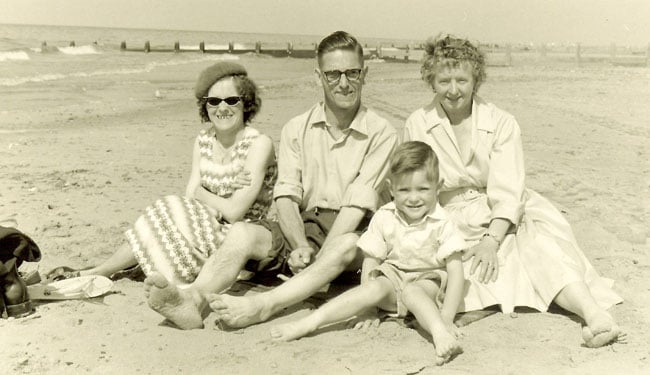 Formative years: Bernard Sumner as a child with family
Sumner describes his unorthodox upbringing in Salford warmly and without self-pity. He never knew who his father was, his mother was disabled and confined to a wheelchair, his grandmother blinded in a botched operation for glaucoma and his grandfather suffered a stroke.
He works hard to pass his 11-plus exams, more to escape the battering promised him at the secondary modern, than through any sense of ambition. At Salford Grammar he meets future band member, Peter Hook. He leaves school with minimum qualifications, gets a place at art college, which his parents are unable to afford, and winds up working as a gopher for the Cosgrove Hall animation company.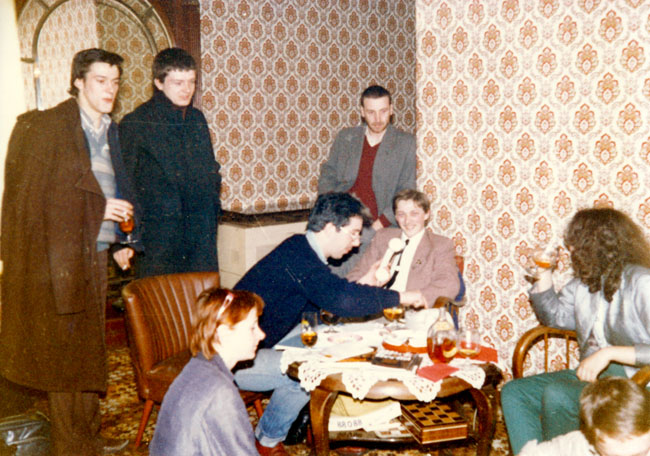 Joy Division in Berlin - Kant Kino 1980
The first Sex Pistols gig at the Lower Free Trade Hall, changes his life. He goes home, picks up the guitar, which has been gathering dust in a corner, and starts playing with Hook on bass. After a few false starts, a couple of adverts in music shop windows manage to recruit two Macclesfield lads: Ian Curtis and Steve Morris. Joy Division are born.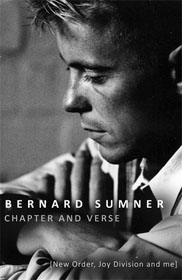 Bernard Sumner's childhood and the early struggles of Joy Division are well documented, but the later story of the band is told better elsewhere: in Deborah Curtis's heart-wrenching Touching From A Distance or Peter Hook's Unknown Pleasures.
Hook's and Sumner's reactions to Ian Curtis's suicide in 1980 are very similar, they didn't read the signs or see it coming.
He recalls Curtis, who suffered from epilepsy, during the Closer sessions: "He felt as if he was being pulled into a great big whirlpool". Like Hook, Sumner also recalls the other side of Curtis as one of the lads, up for a laugh. Amazingly, neither read his lyrics for Closer until after his death.
The early struggles of New Order to define a new sound are recounted. Technology and the US club scene are their saviours and they had a string of indie dance hits throughout the 1980s. There are a few moments of culture clash which are amusing: "Quincy came over from LA, and we took him to Knutsford!"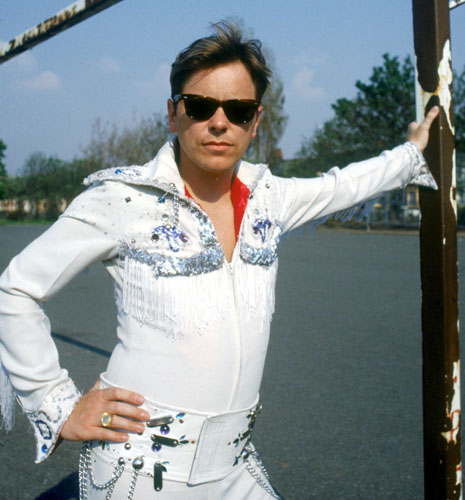 Sumner, New Order 5 May, 1990. Photo ©Kevin Cummins/Idols
His label Factory Records opened the legendary club The Hacienda in 1982, but it is years before it becomes popular and just seems to consume New Order's royalties. After riding the crest of the acid house boom of the late 1980s, it falls victim to gangsters and is closed temporarily then permanently in the 1990s. Sumner recalls many epic tales of hedonism, but it all eventually catches up with him.
The latter part of the book is less interesting, being taken up by typical rock star name drops and fall outs, particularly the one with Peter Hook, which led to the bassist leaving New Order - a still rancorous subject. A curious and somewhat spooky appendix contains a transcription of Sumner hypnotising Ian Curtis and him regressing through past lives.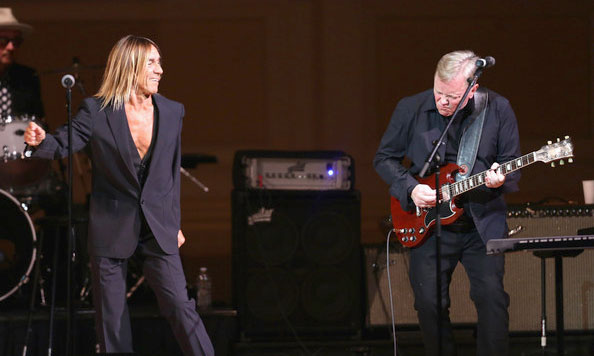 Sumner with Iggy Pop performing for the Tibet House Benefit Concert
As an autobiography, Chapter and Verse is a fascinating tale, though it becomes less so after 1989 when it turns into a bit of an exotic itinerary, a list of celebrity collaborators, and a roll call of the dead.
I would recommend it to New Order fans and Joy Division completists. The Madchester years are also better described by Peter Hook in The Hacienda: How Not To Run a Club. In both his books Hook has picked the most extreme episodes and gone into more detail, and he is generally a better raconteur than Sumner. That said, it is interesting to hear another side to the story and Bernard Sumner's book is one of the better music biographies that I have read this year.

Author
Bernard Sumner
Title
Chapter and Verse
Publisher
Bantam Press
Price
£20 (Hardback)
More info
Publication web site
Ring Of Steel
It is said that history is written by its victors. Nowhere else is that more apparent than the First World War. So tired of the nauseating nostalgiafest that are the centenary celebrations here in the UK, sick to the eye teeth of Lord Kitchener giving me the finger and those amateur poets foundering in Flanders fields, I have been forced to defect to the opposition.
Alexander Watson has written a magisterial account about the war experience of the central powers. His description of the build up to war in the summer of 1914 is among the best I have read … and the most worrying. You can picture the whole scenario being repeated today, if say Vladimir Putin was assassinated by a Ukrainian.
The author deftly outlines the allegiances and motives of the major players, which contrast with the continent's almost complete unpreparedness for war. He recounts the history of the disparate nationalities of the Austria-Hungarian empire and outlines the tensions and bad blood that soured the relations between them and led to the empire's destruction.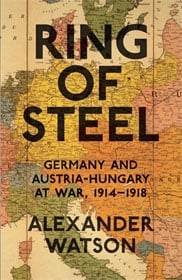 This is not a book for the military strategist. It does deal with some of the major battles such as Verdun and The Brusilov Offensive, but if you want to know how Hindenburg won at Tannenberg, look elsewhere. Ring Of Steel concentrates more on logistics and, for instance, debunks the myth of "The miracle of the Marne" as being due to German overstretch, rather than Paris taxi drivers.
The author is particularly scathing when it comes to "the cult of victimhood" perpetrated by British historians of the Somme and outlines the story from not only the British and German perspectives, but also from the French who consistently outperformed their allies during the campaign.
This is a story recounted more from the home front, from the politicians to the ordinary people. The book is packed full of nuggets of information that you never hear in the victor's tales.
There is a fascinating story of war paranoia from the early days, when it is rumoured that cars full of gold are passing through Germany from the French to the Russians to finance the forthcoming conflict. It sounds absurd, but 28 innocents were shot dead at impromptu roadblocks set up by the local populace.
Watson describes the co-opting of women and children into a "war of love" which is both cynical and touching – sending food and clothes' parcels and raising money for the cause is the early role of non-combatants in this total war, before they are expected to replace the men in the fields and munitions factories.
The demonising of the enemy and the increasingly vitriolic propaganda is recounted against a background of racial pogroms that presage the atrocities of the Second World War.
As the war continues and desperation and starvation mounts, there is a poignant recipe inscribed on a postcard: "Sunday Roast 1917. Take the meat ration card, coat it in the egg card and fry nicely until brown with the butter card. Steam the potato and vegetable card until pleasantly soft and thicken them with the flour card ... After the meal wash your hands with the soap card and dry them with the ration card."
And a visit to a field brothel is recounted, which confirms exactly the Jaques Brel song: Next (Au Suivant).
If I have one criticism of this book, it is that it does tend to get lost in the detail. Alexander Watson has researched archives intensively, but there is a lack of cultural overview which could be supplied by reading contemporary writers such as Erich Maria Remarque, Karl Kraus, Robert Musil or Jaroslav Hasek, who are conspicuous in their absence.
The book also seems to cut off rather abruptly in November 1918, brief reference is made to the Versailles treaties, but the terrible consequences to the losers, the marauding Freikorps and crippling inflation is barely alluded to. But as the First and Second World Wars are increasingly being viewed by historians as a single conflict, I guess the cessation of hostilities is as good a place to finish as any.
Even so, this is an excellent work. Too many war histories are written by petty nationalists and cheap voyeurs and Watson is neither. This is quite simply the most interesting and enlightening history of the First World War that I have read. ®

Author
Alexander Watson
Title
Ring of Steel
Publisher
Allen Lane
Price
£30 (Hardback)
More info
Publication web site