Weekend reads: A new Poirot, drug-fuelled Champagne Supernovas and The Establishment
Narcotics and the '90s revisited with Kate Moss
By Mark Diston and Lucy Orr, 14 Sep 2014
Page File El Reg bookworms Mark Diston and Lucy Orr pore over the latest book releases. Owen Jones, author of Chavs , has a pop at the establishment, Maureen Callahan gets right under the skin of the fashion world's excesses in the 1990s, and Sophie Hannah's new work is the supposed "literary event of the year" – a brand new Poirot mystery written with the blessing of Agatha Christie's estate.
The Establishment and how they get away with it
"Whether the British ruling class are wicked or merely stupid is one of the most difficult questions of our time." – George Orwell.
Surprisingly, the above is not a quote mentioned in this book but such insights wouldn't be out of place here. Indeed, Owen Jones is one of a dwindling species, someone from a working class background who has penetrated to the heart of the establishment. He studied history at Oxford and is a Guardian journalist. In 2011 he published Chavs: The Demonisation of The Working Class; an impassioned, if sometimes patronising account about the perception of the proletariat in modern Britain.
There is an army of well meaning individuals rushing to speak on behalf of the deprived in the UK, yet few are prepared to give them their own voice. It wasn't until page 50 of Chavs that a member of the working class was actually quoted.
The Establishment does not suffer from the same inability to state its own case. Jones outlines their decor, catalogues their refreshments and at times seems positively besotted with them:
"Andrew Mitchell oozes power and authority. As we talk in his grand House of Commons office, he fixes me with a disconcertingly direct stare …"
I cannot recall the subjects of his previous book being paid such rapt attention.
The first 100 pages are pretty much what I expected. Yes, we know politicians are lower than flatworms, the free press isn't fit to tear into strips and hang in your privy, and that it's all just one big racket – a nod and a wink and the old school tie.
Yet somewhere during the chapter on policing – when he makes the connection between Orgreave and Hillsborough – Owen Jones impressed me. He is a clear, passionate writer who builds a case by accumulating forceful arguments.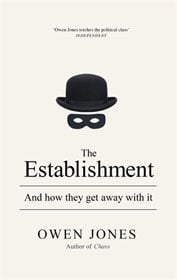 As a historian, he is no Hobsbawm, but then neither was Eric at Jones's age. As a political activist, he cannot match Orwell, as he has neither the prose nor the commitment. It seems highly unlikely that you will catch Jones slumming it with the homeless or dodging bullets for any republic, even his own.
Still, these are different times, when the choice between right and left seems as relevant as expressing a preference for white or wholemeal bread in your shit sandwich. Owen Jones is as good a left-wing apologist as we have. He seems to have the ability to persuade his interviewees to let down their guard, such as David Blunkett:
"You are always in danger of deluding yourself, into believing you're doing good things, when you're actually looking after number one." And Lord Bell: "The McCanns paid me £500,000 in fees to keep them on the front page of every single newspaper for a year, which we did" – a fact that I'd never heard before. No doubt the campaign would have been less effective if "Advertisement" had been engraved above the missing child's photograph.
The most damning chapter in this book is undoubtedly about the Blair and Bush wars. Andrew Gilligan is quoted as saying:
"The whole Iraq episode permanently undermined the credibility and authority of the British state," after describing the witch hunt to which he was subjected. He feels vindicated, unlike Tony Blair and Alistair Campbell, who have been served: "A life sentence in the court of public opinion".
The Establishment is a fascinating book, its observations are insightful, the interviews enlightening and overall it is a well told, if thoroughly depressing story. The conclusion is not exactly radical, which will inspire few and definitely not sway the establishment. I am left wondering if Jones will complete the trilogy with: The Bourgeosie: So Stupid They Let It Happen. We can but hope. MD

Author
Owen Jones
Title
The Establishment: And how they get away with it
Publisher
Allen Lane
Price
£16.99 (Hardback) £8.99 (Paperback) £8.50 (ebook)
More info
Publication web site
Champagne Supernovas
I took a lot of drugs in the 1990s, but from the account in Maureen Callahan's Champagne Supernovas not half as many as my contemporaries Kate Moss, Alexander McQueen and Marc Jacobs – just reading the account of McQueen's coke habit gives me chest pains.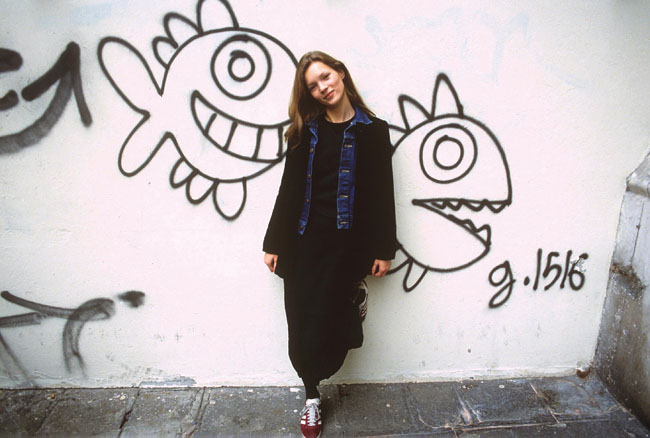 Kate Moss: a supermodel for the street (Paris 1993). Photo: © Geoff Wilkinson/Rex USA
Champagne Supernovas is a detailed if somewhat depressing examination of the rise and rise or fall, of three iconic fashion figures, who took their damaged souls and astonishing vision to make fashion the rock 'n' roll of the 1990s.
I was witness to this shocking sea change, as shoulder pads gave way to jeans and jumpers on the catwalk and Pulp's common people became trendsetters led by their suburban Joan of Arc, a skinny girl from Croydon.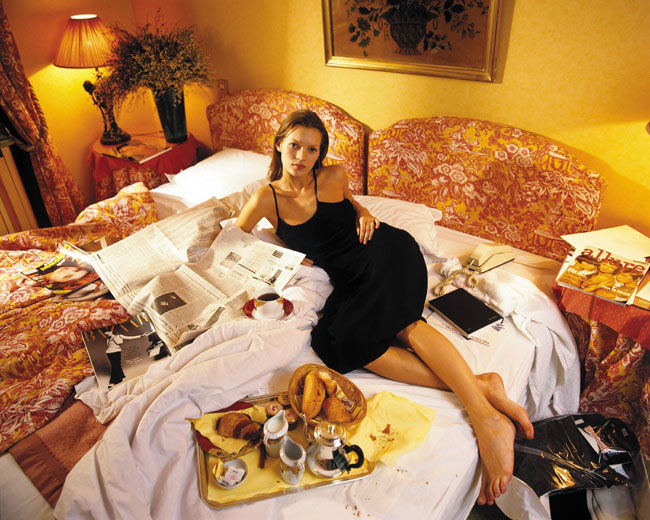 The fashion world's most privileged urchin lounges in a luxury hotel in Paris, 1993. © Geoff Wilkinson/RexUSA
It's the chapters on Kate Moss that are the most intriguing: her astonishing ability to resurrect Calvin Klein as a brand and finally become one of the most iconic brands of the century herself are the glitter glue that holds this book together.
Photographed by Corinne Day – who tried to emulate the style and substance of one of my favourite photographers Nan Goldin – the erstwhile foster mother and daughter changed the face of global fashion with overexposed junkie chic styling.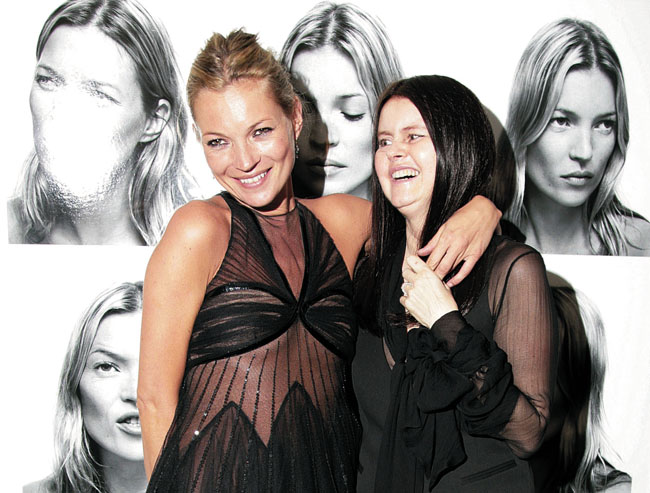 Kate Moss with photographer Corinne Day at Face of Fashion, National Portrait Gallery 2007
Day originally discovered and mentored the young model © Dafydd Jones
Callahan blames Kate's run-in with Hollywood – her doomed relationship with Johnny Depp and too many parties at The Viper Room – for forcing her into the arms of Pete Doherty, from whom she eventually fled after The Sun exposé and a stint at The Priory.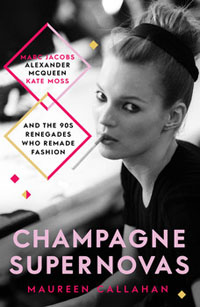 Callahan notes with great relish how the face of heroin chic became the face of Topshop.
I remember the outrage surrounding Marc Jacobs' "grunge collection" and the vitriol it generated among my punk peers. It's beyond me why this American has been held up as iconic in the same dialogue as McQueen and Moss.
That said, Callahan does credit Jacobs along with Tom Ford for mainlining art into the fashion elite.
Indeed, Jacobs' hiring of fine artist Takashi Murakami to redesign the Louis Vuitton handbag was true marketing genius.
On reflection, I'd say that Murakami's handbag artistry remain the only high fashion items that I have ever coveted.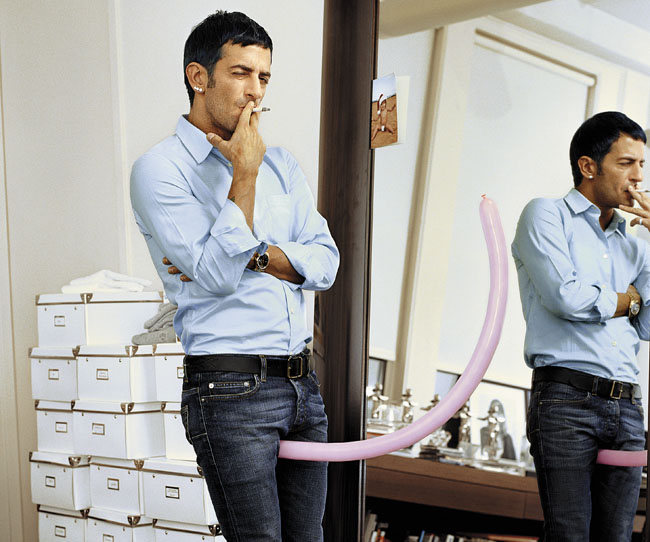 Marc Jacobs with a strategically placed balloon © Martin Scholler
Looking at McQueen's post-rehab/post-plastic surgery makeover, it's hard to believe this guy worked with Sonic Youth and played with acid house smiley faces and Keith Haring imagery on oversize jumpers.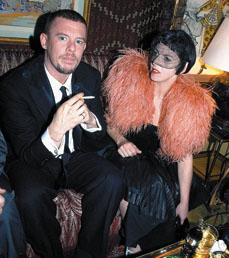 Both battling with depression, McQueen poses with
his mentor and muse Isabella Blow in 2004 © Retna
The chapters detailing the doomed asexual love affair between socialite and fashion dilettante Isabella Blow and l'enfant terrible McQueen makes for depressing fare.
Yet out of the three figures profiled, McQueen is undeniably the true auteur and it's his story that unfolds with fitting romantic savagery and ultimately suicide. Self-mythologising aside, McQueen was the Francis Bacon of the fashion world.
Joel Peter Witkin – assembler of corpses and amputees – inspired McQueen's obsession with impairments and disability.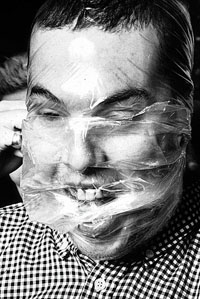 McQueen was often pictured in clingfilm
© Stephen Callaghan/Rex USA
Decadent, disease riddled, severely depressed and alone, Callahan proposes that McQueen became what he despised the most.
By documenting this period during her own work as an editor and writer, in magazines such as Sassy and Spin, Callahan builds this book out of personal reference materials.
Yet just like the frenzied conversation of a coke head, her book sometimes rambles and repeats itself, but her ability to uncover parallels between her subjects' extensive drug use, their creative vision and unbridled determination – ultimately securing their places in fashion and contemporary artistic history – is to be commended.
Recommended reading for first year Central St Martins fashion students and ex-club kids with drug-weakened bladders. LO

Author
Maureen Callahan
Title
Champagne Supernovas
Publisher
Simon & Schuster
Price
£14.99 (Hardback) £8.49 (Paperback) £7.49 (ebook)
More info
Publication web site
The Monogram Murders
One of the more distasteful trends in modern publishing is the exhumation of the corpses of bestselling authors® and their fictional characters™, then signing up any dreadful hack to ghostwrite a piece of dire frankenfiction in their name. Ian Fleming and Robert Ludlum are among the dubious beneficiaries of this accolade, and now Agatha Christie has joined the party.
Agatha Christie? I hear you guffaw. Yes I know, even your Grandma has graduated to Prime Suspect and Val McDermid these days.
"But look at the audience for Downton Abbey – retro sells", one can detect the publishing execs reasoning.
And so, one Sophie Hannah is engaged to reanimate Christie. The Monogram Murders opens in a London tearoom where Hercule Poirot encounters a flustered young lady who announces that she is about to be murdered, but that she doesn't want the crime investigated. What follows is a tale so badly told that any notion of plot is completely subverted.
Sophie Hannah, it is said, is the author of nine psychological thrillers. If The Monogram Murders is anything to go by, then Enid Blyton is the author of a hundred. She has been shortlisted for the T.S Eliot poetry prize, which I assume is awarded for the whimper, rather than the bang.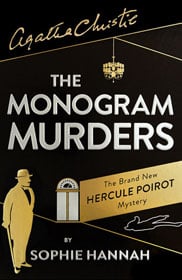 This is writing by numbers and the most dreadful tosh imaginable, I am left wondering if Sophie Hannah only has English as a second language. Fortunately, the publishers sent me two copies, and so quite unable to believe my own eyes, I was able to try it out on my 73-year-old mum, who consumes crime fiction like it is going out of fashion.
Her verdict: "It's like a slow moving game of chess." Me: "And you don't play chess, right?" Mum: "No, it's too boring! ... I don't have to finish this, do I?"
What can I say? Poirot's fastidiousness has been updated to OCD. The characters are so dull and unappealing, that you long for the Quentin Tarantino remix, where the whole cast gets machine-gunned in slow motion while an Italian diva orgasms meaninglessly over a Morricone soundtrack in the background.
It is wrong on just about every level, the dialogue isn't just wooden, it is positively carboniferous. I struggle to present a meaningful quotation from it, but here is an example:
"All right," said Richard, though he did not look happy. "It saddens me to admit it, but yes. Nancy Ducane should not have consorted with another woman's husband. She should not have announced her liaison with Patrick to the village in the way that she did. We do not know that Frances Ive would have taken her own life if that had not happened. Regrettably, Nancy Ducane must also die."
Given a choice between reading this book again and poking myself repeatedly in the eye, I'd go for the latter. It makes Sebastian Faulks read like Dostoevsky and Midsomer Murders seem like Proust.
The characters are zero dimensional, totally unappealing ciphers, who stumble through a contrived plot line that even the author doesn't seem to believe in or care about. The faux retro mannerisms and English class relationships, which this genre is famous for, are about as out of place as Noël Coward in Hollyoaks. The only positive thing I can say about this book is that the cover is OK. MD ®

Author
Sophie Hannah
Title
The Monogram Murders
Publisher
HarperCollins
Price
£18.99 (Hardback) £9.99 (ebook)
More info
Publication web site