Google WILL wriggle away from Euro probe... but THEN what?
Turning monopoly into new revenue stream
By Andrew Orlowski, 19 Nov 2013
Analysis Google seems on course to win an remarkable victory over competition regulators in Europe. The deal could potentially seal in Google's dominance over the search business for five years, forbidding further prohibitive action against it - and setting a high barrier for potential startup competitors across a range of sectors.
Most extraordinarily of all, the victims of Google's actions would essentially have to start paying it (see page 2: Google's remedy) for something that they once enjoyed at no cost.
It's an unusual story because European regulators pride themselves on keeping big business in check, contrasting their approach to what they see as the "Wild West Capitalism" of the United States. It's also a bit odd because across Europe, and particularly in the UK, politicians put great store by their "tech startup clusters", often craving Google's blessing for such initiatives. Yet these so-called "disruptive" startup companies are only allowed to be "disruptive" up to a point. The settlement outlines can't disrupt Google's business.
So what's it all about and what is the deal?
The European Commission's antitrust unit has been examining Google since 2008.
Fundamentally it's an issue of a company seeking to extend its dominance in one area to hamper businesses in another. There's no argument that Google is in a monopoly position: Google has an 87 per cent share of Europe's online advertising market, which it maintains using its 93 per cent market share in search. Whether one can switch easily to another search engine is a red herring - dominance is what matters here, and that dominance is not in dispute.
The current discussions entail Google trying to forestall a formal lawsuit by making changes to its behaviour, and agreeing to these changes. Almost all the proposals affect businesses that rely on their own, specialised search as a key part of their operation: such as mapping companies, travel or financial services and price-comparison businesses. A small part of the proposal deals with how Google indexes and displays newspapers and magazines.
In 2010, the Commission formally opened its investigation into Google's dominant position in search, months after UK-based price-comparison outfit Foundem filed its complaints to the EC and the US Federal Communications Commission.
At the time, the Commission canvassed opinion over a wide range of issues about whether Google had abused its position by favouring its own vertical (or specialised) search services and hampering vertical rivals. It also looked at whether Google's dominance had skewed the advertising market, using exclusivity arrangements and locking advertisers into its services. It also touched on copyright issues. The result was a "meaty" package of objections.
However, many of these were not followed through after Google shrewdly made certain concessions, such as providing "data portability" for advertisers.
Rivals... what rivals?
But Mountain View insisted on playing hardball on one area in particular: its ability to place its own products over those of specialist rivals. For example, Google's Finance, Shopping and Maps are vertical search products that the company heavily promotes. They are far from "best in class", but critics argue that they succeed because of Google's dominance, rather than their intrinsic quality.
Critics add that with rivals destroyed, Google can increase prices. In the words of Google executive Santiago de la Mora: "Search is critical. If you are not found, the rest cannot follow."
Google received a major filip in January of this year, when the FTC's investigation into the practice agreed that that stacking the deck in favour of Google's products caused harm to rivals, but overall benefited consumers.
The FTC concluded that shafting rivals could "be plausibly justified as innovations that improved Google's product and the experience of its users," as it secured only voluntary promises from Google and closed its investigation.
What's Good for Google is Good for You, the FTC concluded. That was half the battle won. Europe remained, however.
In April Google outlined its plan (PDF), and the most recent update only modifies this cosmetically. The latest proposals were leaked to The Register.
Google wants the EU to back off for five years, the duration of the agreement. To address the vertical search complaint, Google would create a box no larger than 10 per cent of a web page, where it would permit up to three ("or as many sites as qualify from this process, if fewer than three") "Rival Vertical Search Sites" to display prominently in the search results. Google, not an independent regulator, would determine the criteria for inclusion with a complex set of rules.
Major sites like Amazon and eBay couldn't use them, for Google doesn't want merchants to be included. Instead, Google only wants to permit popular sites, which are already in the Top 500 most popular websites, to be allowed in. (Google wanted to use Amazon subsidiary Alexa to determine eligibility, but the latest proposal has widened this to allow rankings from the rather more credible Nielsen and comScore ratings companies).
The Top 500 rule sets the barrier high for startups. It effectively insulates Google from bright new companies with good ideas. A startup would have to scale very rapidly too - by which time Google's own engineers could have developed their own startup-crushing competing service.
It's slightly surprising that this hasn't yet caused any controversy. Google wants politicians to think that it's a nurturing, positive host to new businesses; when Google opened its "Campus London" building in 2012, it explained that it was "filling this town with start-ups". But in practice Google favours legislating them into a structural disadvantage.
Google also makes the inclusion criteria for the "Rival Vertical Search Sites" restrictive in other ways, for example "Applicant sites must ensure Rival Links bring users directly to search results pages that are responsive to users' queries, without interstitials or prompts before the display of the search results."
What do these boxes look like? Here's what Google proposed in April.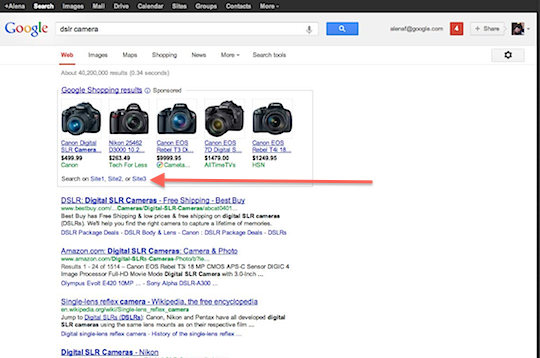 Spot the rival. Google's April proposal turned rivals into small print - literally
A lab study by Professor Lewandowski and Sebastian Sünkler (PDF) at Hamburg University into how users actually responded to these found that most users couldn't find the non-Google vertical search options even when directed to them. Perhaps not surprisingly, since the small text-only link looks like a disclaimer. The latest Google proposals add more branding detail to the verticals sites that have successfully participated in the auction.
Here are the modified proposals.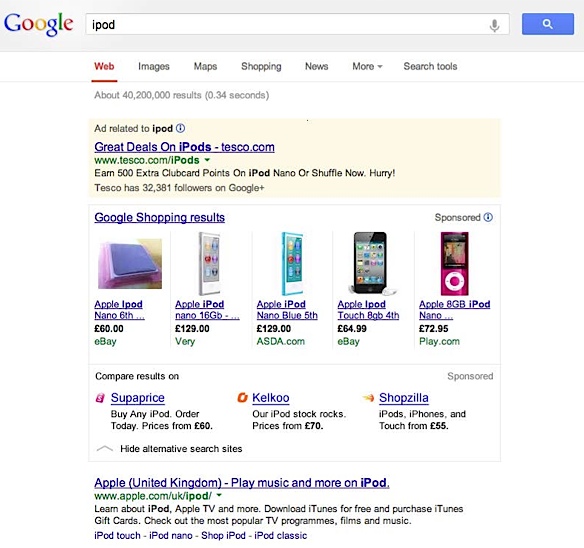 Cosmetics aside, the most disturbing aspect of the proposals for competition experts is the requirement that Rival Vertical Search Sites would need to pay to for prominence in the Vertical Sites Pool.
Vertical search companies – who already have to satisfy the Top 500 criteria mentioned above – would then be obliged to bid in an auction in which Google sets the minimum price. This contrasts with the European Commission's "Browser Ballot", devised to provide users with more choice in response to Microsoft bundling Internet Explorer with Windows. In the Browser Ballot, inclusion is free and the order in which the choices appear is randomised.
The auction is similar to that which takes place for AdWords auctions, with a minimum cost-per-click threshold of €0.03. Of course, as Google magnanimously points out, "if nobody clicks on a particular Rival Link, no payment will be due".
This fee is highly controversial. Before Google started to favour its own properties, it simply displayed organic search results in which the most "fresh and relevant" sites were rewarded with a high ranking. Now they must pay to play, or be excluded completely.
But as one critic points out, Google has pointed out "making the boxes bigger and decorating them with logos might increase the click-through to rival sites, but at the same time it will increase the profit Google [gathers] from everyone else on the web: competitors and ultimately consumers."
In Google's latest proposal, users would be able to hide the rivals with one click permanently. According to European publishers, the proposal is "helping Google advance its business strategy to transition free organic search into paid search".
In response to Google's latest proposals, the European Commission has sent out a questionnaire. However the scope of the questions does not include rejecting the fundamentals of the deal. "Please provide an analysis of the visibility of rival links," the EC asks vertical search companies, for example. "Does the shading of search results affect the click through rate on that result?" asks another question. These are cosmetics.
The relationship between Competition Commissioner Joaquín Almunia - a former economist for a large Spanish trade union - and Google chairman Eric Schmidt has already been the subject of concern. Almunia pre-empted a full antitrust investigation by attempting to allow Schmidt to make voluntary concessions. The two chat by text. Last week privacy advocate Simon Davies formally requested the communications to be disclosed to the public, along with meeting minutes and briefing notes.
If it transpires that in its eagerness to strike a deal with Google, the Commission lost sight of its mission to promote competition, things could get messy. ®