HOLY how-did-we-get-here?: Batman Arkham Origins
It's Dark-Knight-by-numbers as a new developer takes over the series
By Mike Plant, 30 Oct 2013
Review It might be that I'm just a Batman fan, it might be that I've yet to be jaded by the Arkham series – certainly not to the extent that I am with the Call of Duty and Assassin's Creed franchises – but I just can't help but like Origins.
Set on one particularly hectic Christmas Eve during the early days of Bruce Wayne's caped career, the multi-platform Origins finds time to not only depict a huge expanse of Gotham City, but also to provide the setting through which the Dark Knight meets many of his soon-to-be arch-nemeses.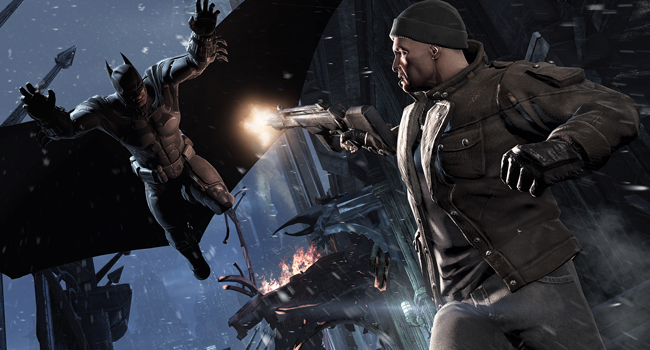 Bullet the blue sky
Warner Bros Games Montreal must have been nose-deep in dust in the DC archives when picking the roster of heinous villains on show. Firm favourites such as the diminutive Penguin and muscle-bound Bane are there as a matter of course. So too lesser-known bad guys, Killer Croc and Deadshot among them, that will have Batman fans nodding knowingly.
But then we come to those of whom, frankly, I have never heard – the Electrocutioner, anyone?
Still, familiar or not, each bad guy is skilfully woven into an engaging plot that takes Batman into all kinds of bother as he battles the sinister Blackmask and his bevy of hired assassins.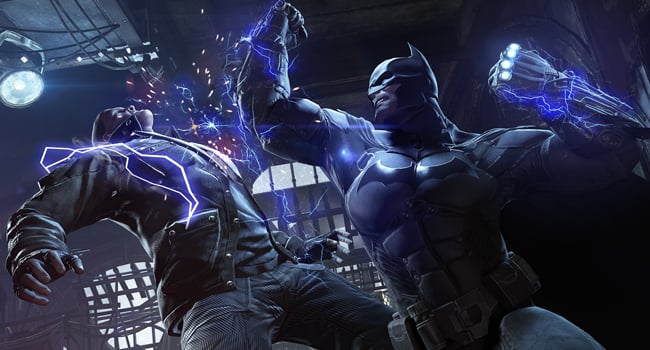 Thunderbolts and lightning
Arkham fans won't be surprised to hear that Batman will also come across a host of side-quests that further add to his stress. Without getting too spoiler heavy – for the plot is the most original bit of Arkham Origins, as I'll come to – the Dark Knight can expect to lock horns with Enigma, Anarky and more as riddles are solved and bombs diffused against the clock.
As always, both story-led and optional content is punctuated by brawl after brawl with the common thugs of Gotham. Though perhaps it's here where fans of the previous Rocksteady games might begin to feel a little let down.
For you see, while Arkham Origins does largely everything that Arkham City did, it doesn't necessarily do anything differently. That's a problem because it places Origins firmly in the "playing it too safe" camp alongside the likes of Assassin's Creed and Call of Duty.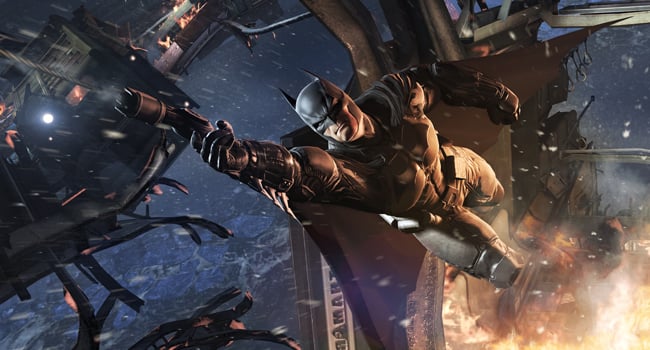 Lift 'em on up
Origins does hold one ace though: the unique combat of which I personally have yet to tire. Batman's free-form kicks, punches and counters still have a hypnotic quality to them. The difficulty of some of the engagements – largely due to the numbers and armaments of your opponents – is certainly tough enough to offer a sense of achievement.
Add to that a couple of extra enemy types – such as the ninja, which requires extra dexterity on the part of the player when it comes to countering – and you have a system that still feels good despite the admitted similarities to the rest of the series.
Nights, tights and boss fights
A quick word too on the eight assassins tracking Batman's every move. Where previous games in the series have been criticised for the way they handled boss fights – the Joker fight in Arkham Asylum being the chief culprit – the boss fights here are implemented well on the whole.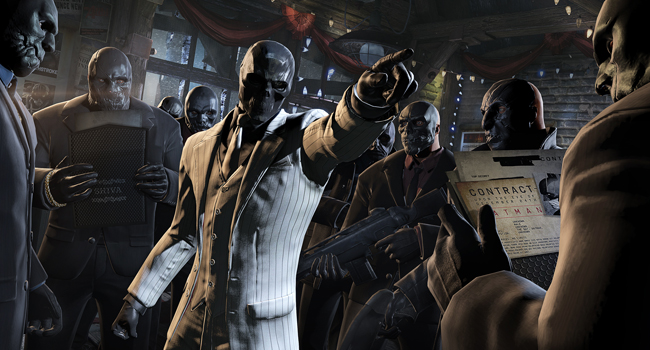 Shiny people
Again, don't expect scenarios that offer anything genuinely new. But each boss brings a different challenge that further mixes up the usual rhythm of Batman's fights. The only irksome encounters come when you go up against the more sizeable foes, whose tank-like qualities never really gel with the speed and flow of Arkham's combat.
Away from the fighting, the detective mode also returns and – shock, horror – with a few expansions. Batman is now able to reconstruct whole sequences of events to piece together clues CSI-style, eventually gaining enough information to create a virtual overlay of the murder as it happened.
A fine idea in its way, but not nearly as interactive as it should be and all accompanied by far too much hand-holding. Indeed, the mode becomes little more than a hunt for the red triangles that signify areas that you need to scan – hardly revelatory, or much of a challenge.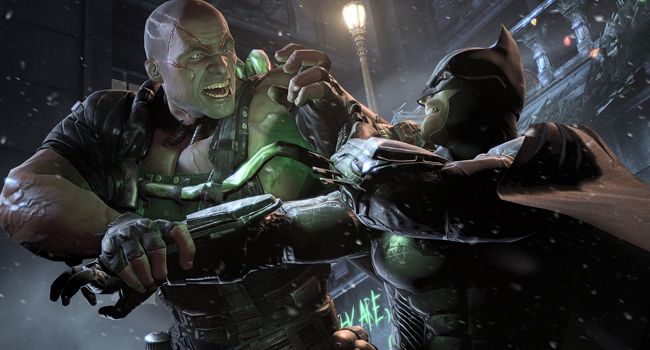 Cad Bane
The same could be said of the Dark Knight's increasingly unlikely roster of gadgets. Each has its particular function – most of which you'll have seen before – and, almost without fail, every time you approach a puzzle Batman will turn narrator to tell you exactly which gadget to use.
And yes, the wholly irritating rafts that must be steered across expanses of water also make an unwanted reappearance.
Making a more welcome, if rather unlikely, appearance is a first venture into online multiplayer for the series. Here players assume the identities of gun-toting gang members in bouts of three-on-three action. The unique Arkham angle being that while they battle it out, the dynamic duo of Batman and Robin are being controlled by two other players in a bid to stem the gang war.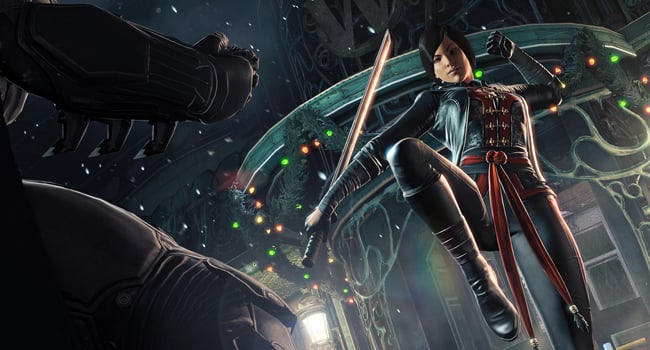 Knees up, Mother Brown
It works well enough but hasn't provided enough thrills to distract me from my The Last of Us habit as of yet. It's worth a look though, if only to experience the oddity of Gears of War-style shooting within Gotham City, and to have the opportunity to play as two of Gotham's more nefarious criminals.
The Reg Verdict
The first Arkham series title to not be developed by Rocksteady is Batman-by-numbers. But given the quality and relative infancy of the series, that seems just about acceptable. An injection of fresh ideas and the depiction of Gotham as a living city – and isn't solely populated by goons – would have been better, but playing Caped Crusader remains a worthwhile enterprise.
That said, the next Arkham game better have some more goodies on its utility belt. One identikit sequel I can forgive, but a new franchise of ever-similar titles would be too much to take. ®