It's NOT an iPad - but that's FINE: I learned to LOVE Microsoft's Surface 2
Delightful hardware, disappointing apps
By Tim Anderson, 23 Oct 2013
Review Microsoft's first take on Surface RT was a disaster, culminating in a $900m stock write-down in July.
Curious then that the company has now produced the Surface 2 with a similar design, and also running Windows RT, the locked-down ARM build on which you cannot install desktop applications – only new-style apps from the Windows Store.
What has changed to make this any less of a failure in the market?
The situation bears closer examination. Surface RT was not just a new device, it was Microsoft's first own-brand PC and in part a challenge to its computer-manufacturing partners. Surface RT, and its follow-up companion Surface Pro, are machines designed with more care and innovation than most PCs, and offer a clever solution to the Windows 8 problem: how to work well both as a tablet and with a keyboard and mouse pointer.
The original Surface RT was too expensive for its target market, the app ecosystem too lacking, performance too slow, and too many were manufactured. Fundamentally though, it is an elegant design, particularly in conjunction with its detachable keyboard covers, which fold back unobtrusively for tablet use. Can a revamped Surface RT succeed where its predecessor failed?
Just to remind you, Surface 2 is a 10.6-inch widescreen tablet 9.4mm thick and weighing 676g. It runs the just-released Windows 8.1 and comes with a special version of Microsoft Office 2013, including Outlook, Word, Excel, PowerPoint and OneNote.
Surface 2 has an Nvidia Tegra 4 chipset, still a quad-core design but with 72 GPU cores versus the 12 on the Tegra 3 in the Surface RT, and ARM Cortex-A15 processor running at 1.71GHz versus the earlier Cortex-A9 at 1.3GHz.
The real-world speed difference is substantial. On the Sunspider Javascript benchmark, Surface 2 achieves about 390ms versus 920ms for the older model (The Intel-powered Surface Pro 2 gets 115ms). Pinball FX2, which was too laggy to play on Surface RT, is fine to play on Surface 2 though there is still a hint of lag.
An Excel spreadsheet full of formulae is irritatingly slow when entering data on Surface RT, but the same worksheet is perfectly responsive on Surface 2.
The screen on Surface 2 is 1080p, 1920 by 1080, with five-point multi-touch. It is responsive and sharp and generally looks great. A HDMI output is provided for an external video display.
A single USB 3.0 port gives access to fast external storage or other devices, and there is a microSD slot tucked under the built-in kickstand. Bluetooth 4.0 is supported along with Wi-Fi, but there is no mobile network provision.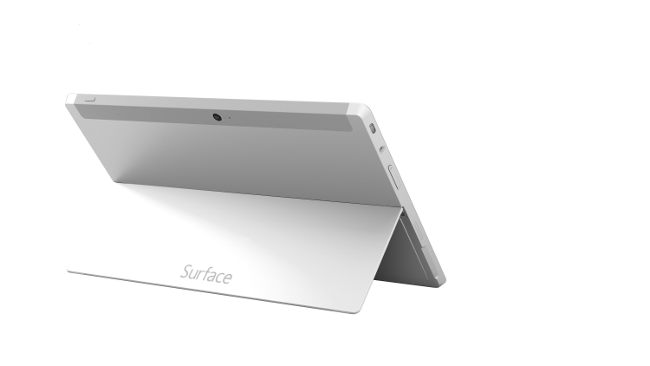 The Surface 2's back reveals an updated kickstand to assist typing and that hides a microSD slot
There is a rear-facing 5.0-megapixel camera and 3.5-megapixel front-facing cam – better than the 720p cameras on Surface RT – and the results look far less grainy.
What about Windows 8.1 on Surface 2? The most significant change is not the restored Start button nor the ability to resize app windows as you like, but that Outlook is now part of the bundled Office 2013 in the 8.1 build for Surface. Despite improvements in the Mail app, Outlook is critical for users of Exchange or Office 365, although note you can also now upgrade Surface RT and get the same benefit.
Cloud-backed storage system SkyDrive in Windows 8.1 downloads documents on demand, which means that provided you are online, plenty of virtual disk space is available. Microsoft bundles Surface 2 with 200GB of SkyDrive storage for two years to make the point.
The Surface 2 power supply still uses an awkward proprietary connector rather than the USB power that users would prefer. The magnetic jack is still fiddly though slightly improved and much stronger once in place. Battery life is quoted at 10 hours and the recharge time taking 2 to 4 hours, though I have not had the unit long enough to test this.
Microsoft's revised Touch 2 keyboard cover deserves mention. The first touch cover was in theory the best feature of the original Surface, since unlike the Type cover, which has real keys, the Touch cover is nearly flat and feels natural when folded behind for tablet use (this action also disables the keys). The new Touch cover has 14 times as many sensors, according to Microsoft, and is slightly thinner, 2.5mm as opposed to 3mm. It is also backlit.
Don't mention the app store
I tested the new cover versus the old with online typing tests and found around a 20 per cent improvement in speed, thanks to its greater responsiveness. More to the point, typing on the new cover is a better experience; it is usable where the old model was a struggle other than for the most determined. This review is typed on the Touch 2 cover. The Type cover is still preferable for best productivity, but not by much, which means the elegance and smaller bulk of the Touch 2 cover may now swing it into favour.
Is it any good for typing on your lap? The kickstand now has a second position designed for this scenario and it really is an improvement, though the Touch 2 cover still flexes slightly in use. I am fine with it, but tastes vary.
A bug I have encountered with my Touch 2 keyboard is that it sometimes stops responding. Opening device manager seems to fix it, which is odd. The keyboard sound also sometimes fails. Either I have a faulty unit, or Microsoft has some work to do with its drivers.
The Windows Store of apps remains disappointing, though the software selection is gradually improving. It is not a complete dead loss. Using Surface as a tablet, you have at your fingertips the Internet Explorer 11 browser, Mail, Twitter, Skype, maps, music, photos and videos, games, a decent official Facebook app, and more. That said, Surface is a little odd as a tablet since it is most comfortable in widescreen mode whereas tablets are normally held portrait.
A single USB port is not enough and it is a shame Microsoft has not found space for a second one.
Surface 2 starts at £359 for the base model ($449 in the US) with a 32GB flash drive, or £439 ($549) for 64GB. Office works better with a keyboard and trackpad, so most users will want at least the Touch 2 keyboard cover at £99.99 ($120). Yes, you can get a reasonable laptop, an iPad, or an armful of budget Android tablets for the same money, so why Surface?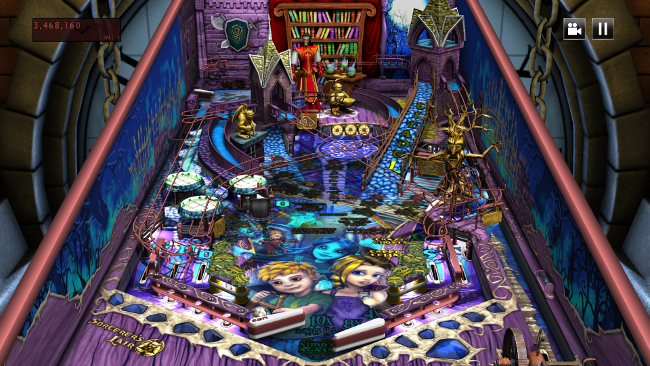 Games like Pinball FX, which struggled on Surface RT, now perform acceptably
The answer is that it is well made and carefully designed, and if you are in the market for a compact, light tablet with long battery life that runs Microsoft Office, it is compelling and perhaps more secure than an x86 tablet thanks to its locked-down OS.
Although Surface Pro 2 is faster and runs full x86 Windows, Surface 2 is better as a tablet, thanks to its thinner, lighter build, as well as being more affordable.
There is an inevitable comparison with Apple's iPad, though it is a very different device. The usability, elegance and rich app ecosystem of iOS is way ahead of Surface; but if you want the capability of Microsoft Office, multiple app views, USB connectivity, and the familiar Windows desktop with its accessories, then Surface makes its case. As a client for Microsoft's cloud platform, whether Office 365 or Outlook.com and SkyDrive, it is excellent.
Whether the market will take to Surface 2 is hard to judge. It is expensive enough that consumers will be put off, and users have to come to terms with the limited app availability. Remote Desktop is a solution for some business scenarios but not all.
The hardware is delightful, though, keyboard glitches aside: a refined and faster version of what was already a strong design. ®