Our magnificent Vulture 2 spaceplane: Intimate snaps
Inside the world's first 3D-printed, rocket-powered aircraft
By Lester Haines, 30 Sep 2013
The Low Orbit Helium Assisted Navigator (LOHAN) team is gearing up to get our magnificent Vulture 2 spaceplane airborne, and while we fiddle with servos and autopilots, we thought you might enjoy a few intimate snaps of the world's first 3D-printed, rocket-powered aircraft.
Before we get down to to it, it's hats off once again to designers David Cooper, Chris Dodd and Amrith Surendra, and 3T RPD Ltd, without whose sterling efforts you would not today be eyeballing this beautiful bird.
So, let's kick off with a rather uninspiring snap of the Vulture 2 straight out of the box (click on the images to get a bigger version):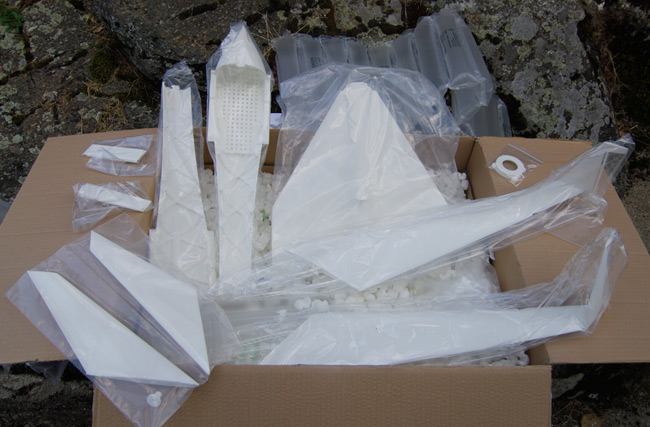 Things soon got more interesting, though, as we spread the bits out on the bench: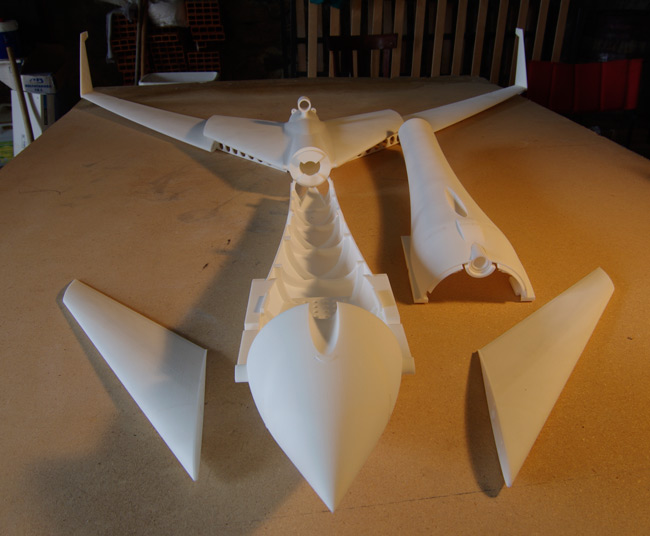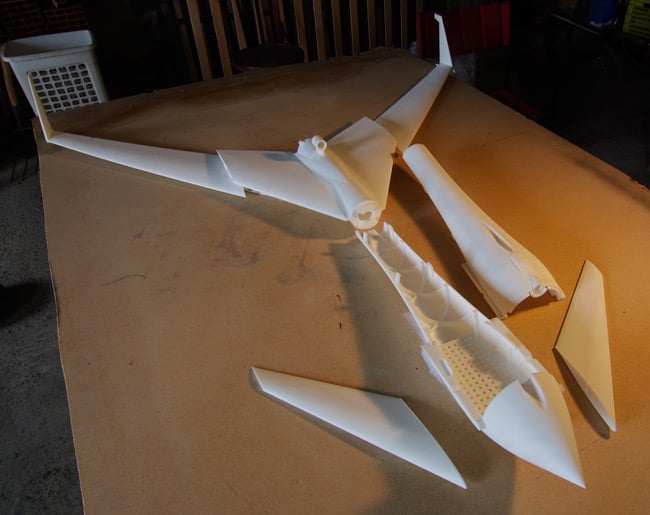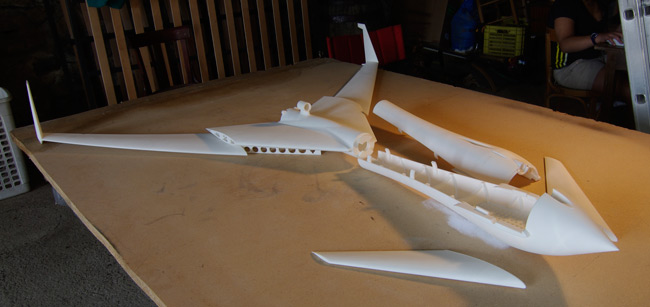 Keep your nose clean
The level of detail obtainable from 3D printing is evident in these images of the upper and lower nose sections...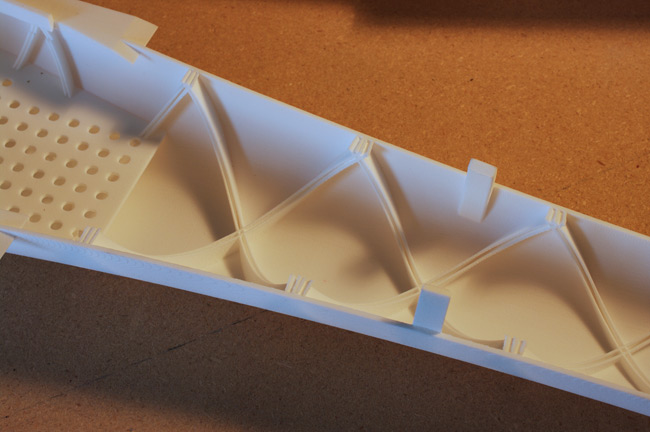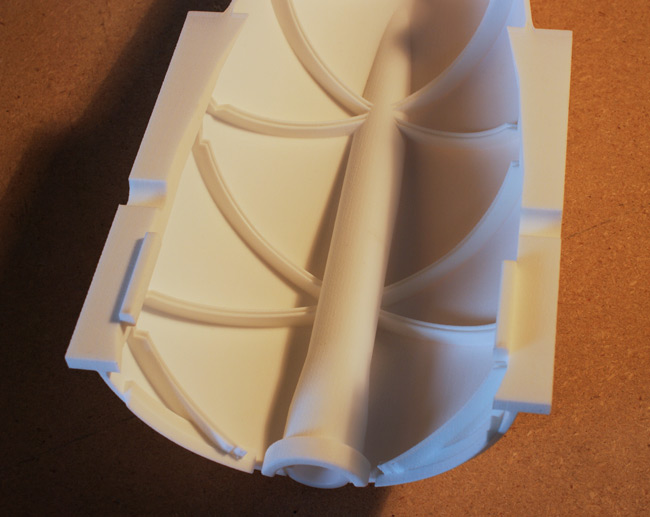 ...and try this nice view of the inside of the Vulture 2's pointy beak: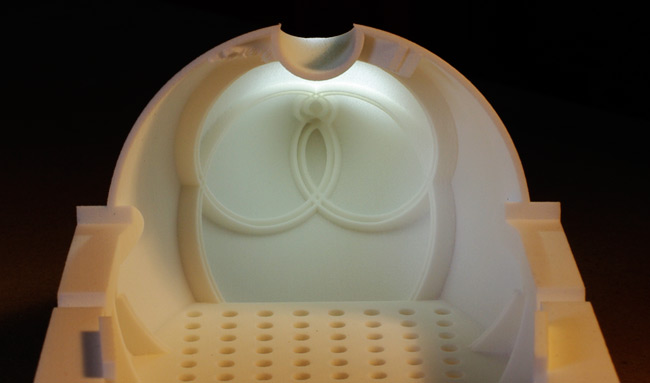 If you want drama, though, check out the internal structure of the beast's rear fuselage and inner wings: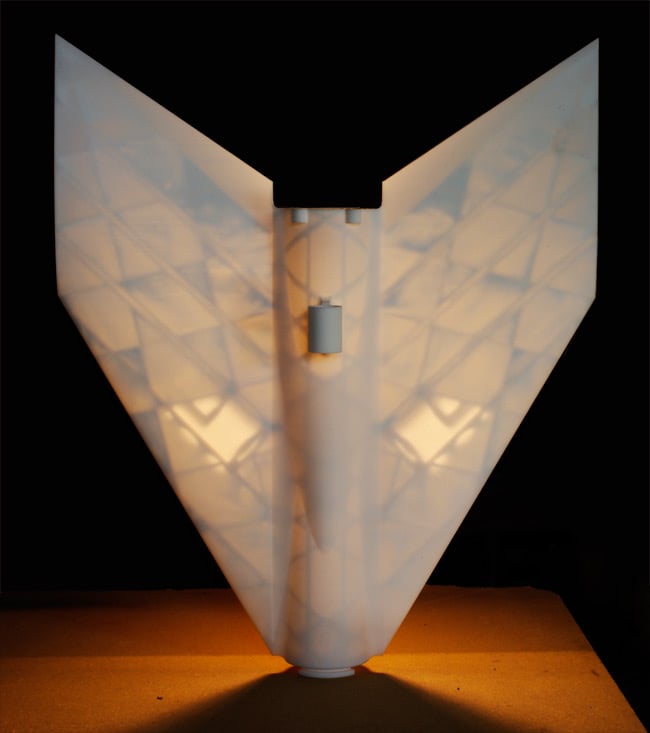 LOHAN team member Dave Akerman whipped out his camera and got this view of the inside of said rear fuselage...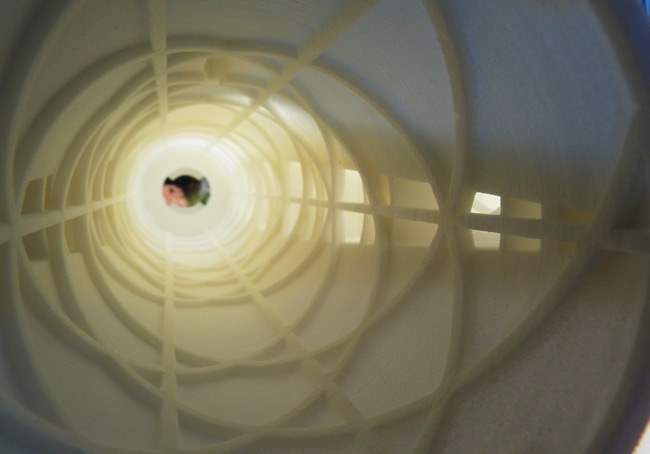 ...and managed to get inside the wing, although it was a bit of a tight squeeze: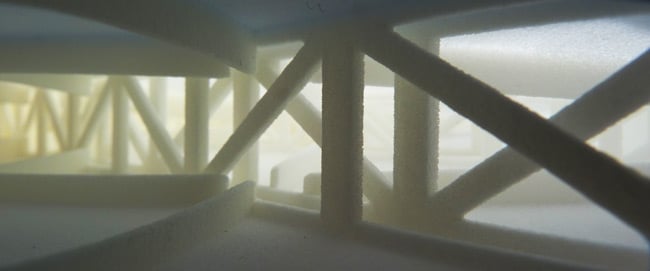 There are some CAD images here of the aircraft before it went off to the printers, which give a better idea of the impressively complex detail.
The rudders also scrubbed up nicely with a bit of backlighting: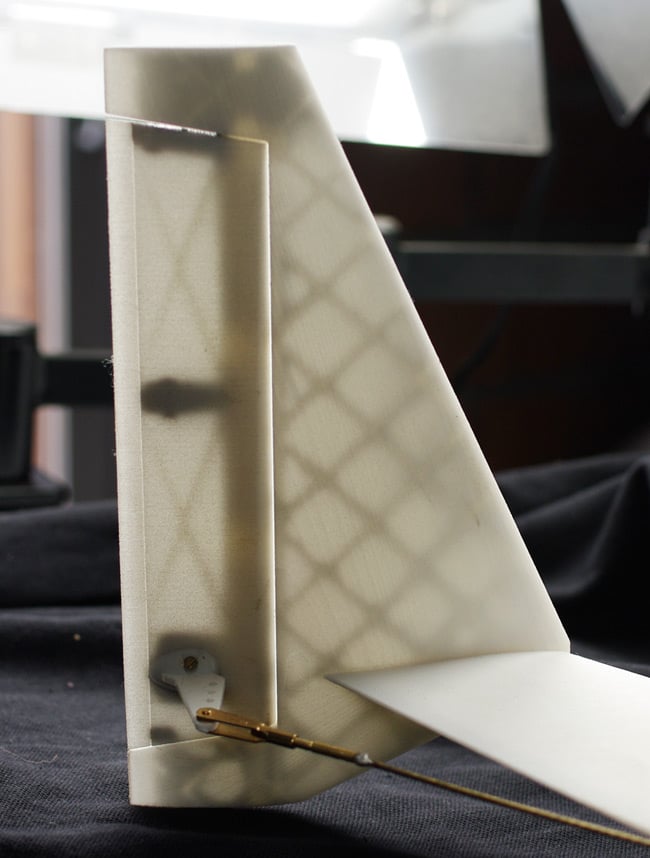 The rudders themselves are two parts, epoxied together around a mounting rod. Note the rudder horn and servo cable. As those of you who tuned into our live reveal know, we do have the basic control systems mounted. However, you'll have to wait for details on those.
Mounting flanges
In the meantime, enjoy some more images, including the nose section bayonet mount...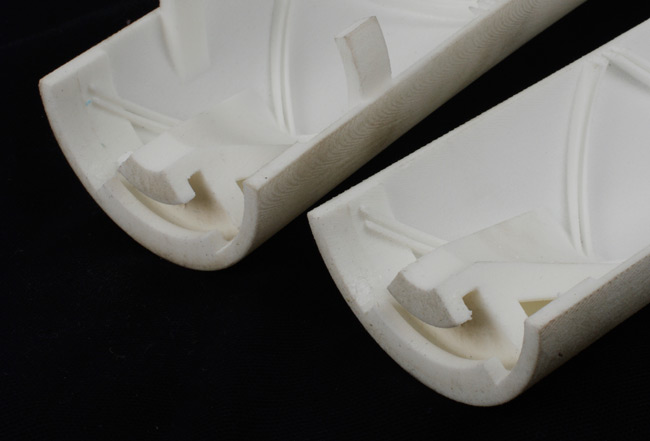 ...the nose top section mounting flange, with Teflon insert above...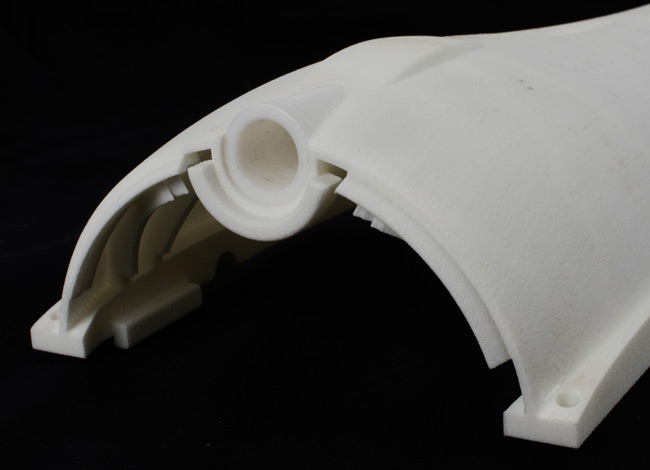 ...and the Vulture 2's extremely pointy beak: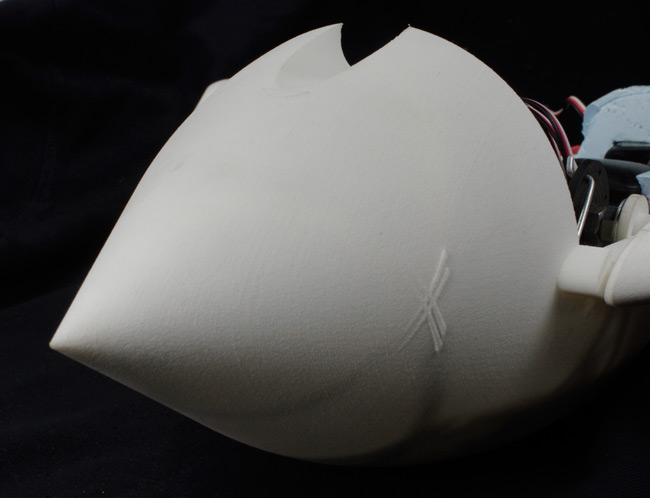 At the other end, we have the rocket motor retaining ring, designed for easy removal of the motor case from the rear fuselage: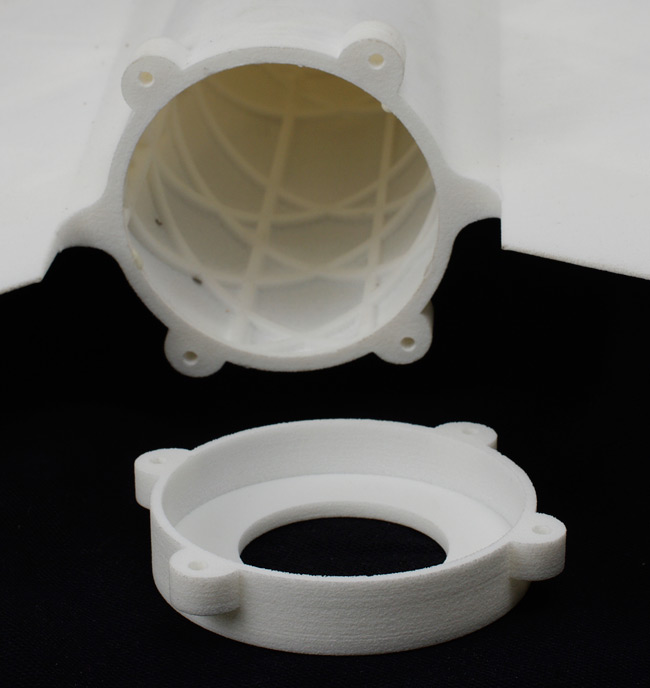 Finally, here's a sexy skin shot, demonstrating how the parts come out of the 3D printing machine and why the Vulture 2 currently feels like a cuttlefish bone: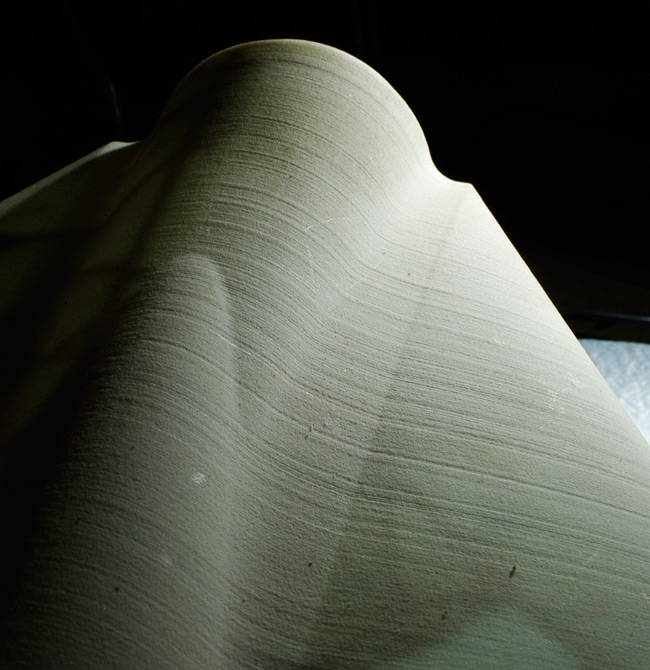 Evidently, a nice paint job is in order, but until we get the aircraft into the spray booth, you'll just have use this pic of the assembled vehicle mounted on its fantastical flying truss launch platform...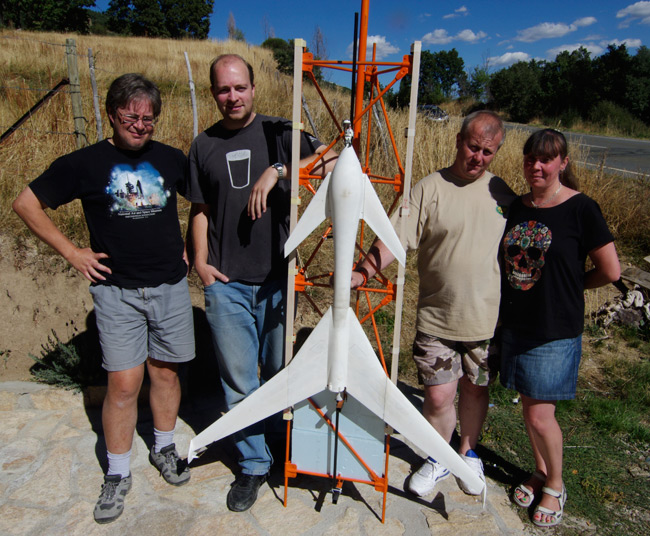 ...to imagine just how impressive it'll look in gloss [COLOUR REDACTED].
That's all for now. Look out for more hot spaceplane action in the near future...®
Bootnote
Here's the now-traditional animated gif of the above team (from L-R Dave Akerman, Rob Eastwood, Paul Shackleton and Claire Edwards) showing off a few sharp moves: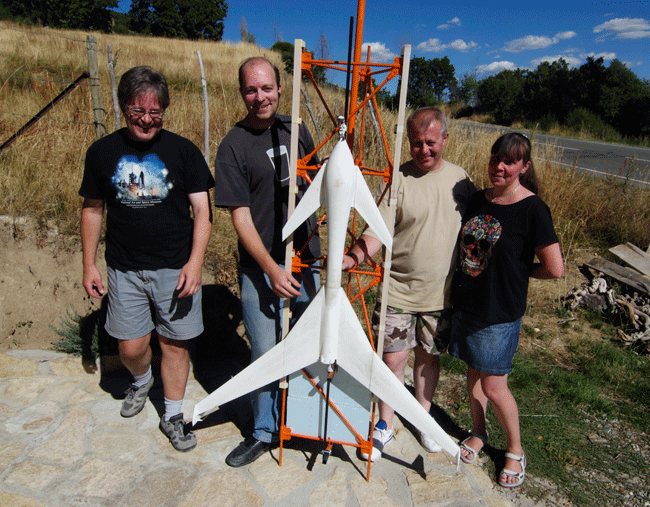 All together now...
---
Further LOHAN resources:
---