IBM CIO's Great Refresh: No, Sales Guy, you can't JUST use DropBox
Rip XP from 500k boxes, bung software in cloud, install Ffox. Coffee
By Gavin Clarke, 2 Aug 2013
CIO interview She might be CIO of IBM, but Jeanette Horan is just like you: replacing Windows XP with Windows 7, ripping out Internet Explorer 6 and floating a growing amount of software on the cloud.
She also has to contend with staffers begging her for the ability to share information using third-party sync 'n' share apps like DropBox. Sound familiar?
OK, she's with tech behemoth IBM, so the scale is much bigger: Horan has shifted nearly half a million PCs off Microsoft's legacy OS and reckons up to three-quarters of the apps built by and for IBM - as opposed to product software - will be developed and tested on the cloud by the middle of next year.
Horan has also done that browser migration differently: rather than swap out IE6 for a later version of Microsoft's browser – as most coming off Windows XP have done – she has forsaken Microsoft entirely, for Firefox.
But there's another important distinction to Horan's job.
No, it's not that Horan is a woman working in a male-dominated profession: as of January 2012, she has actually been working for another woman – Ginni Rommerty, the chief executive and president of IBM. Nor is it that she's a Brit near the top of a US company. Horan crossed over to the US 30 years ago, joining her first company in Florida after graduating in mathematics from the University of London, ostensibly on a two-year sojourn.
No, it's that Horan is running a company's technology in that toughest of places: a technology company.
Under pressure
Running tech for IBM means more than the usual amount of pressure: pressure from being under the watchful eye of other techies inside Big Blue who reckon they know just as much about your job as you do, and "how to do it right".
There's also pressure from customers and IBM's product people, both eager to see you use the latest IBM hardware and software. And then there's pressure from management, as IBM is the kind of business that sees technology as an integral part of strategy rather than some supporting character.
The latter means Horan's on the front line of the battle to get IBM to hit management's target of $20 earnings per share by 2015 under its latest five-year plan issued in 2010. In 2010, its EPS was $13.44.
As if more pressure were needed, the revenue-generation side of IBM that would normally help it hit that EPS number is sliding. There have also been job cuts - up to 3,000. In its second quarter, IBM recorded its second revenue drop of the year - down 3.3 per cent to $24.82bn. Net income was muddied by the job cuts - down 16.9 per cent to $3.23bn to include the layoff charge.
If you add it all up, it means the CIO needs to give extra attention to automation and efficiencies to help sales and fatten up the margins. As the person responsible for IBM's tech infrastructure, applications and web presence, that means more work for Horan.
In terms of IBM's recent business performance and that 2005 roadmap, it also means she must give IBMers the right tools to work more effectively with customers; integrate any companies IBM buys into the rest of the IBM structure over the next few years; and put in place IT systems and processes that deliver smoother workflows, faster decisions and enable quicker action – in other words, help improve sales and customer satisfaction.
"It definitely does provide focus," Horan told The Reg during an interview on a brief stop at IBM's South Bank HQ in London before the Q2 results.
But the CIO eats this kind of challenge for breakfast, and she is turning it to her advantage. This is Horan's second round of IBM transformation. As the former enterprise business transformation lead, she was tasked with kicking into shape the systems and workflows running IBM's huge SAP system to simplify finance, opportunity to cash, and booking and billing systems.
She was appointed CIO in 2011.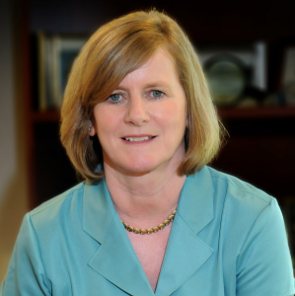 Horan: the techies' techie
Of the five-year plan, she says: "It's been a good way to align the company behind a set of strategic objectives. "One of the things that's true for any IT shop is the demand from the business is more than our capability to deliver – that's standard. So it has provided us a way to help in our prioritisation and focus on projects that are aligned to that roadmap."
Building apps for Big Blue
One of the biggest projects Horan is working on is a joint effort between the CIO team and IBM's marketing and communications bods: the IBM Expertise application. It is being put togther using IBM Connections Profiles and Expertise Assessment together with the Expertise Locator and Answer Network (ELAN), acquired when IBM bought Kenexa in December 2012. The idea is to help IBMers quickly find experts in a field using simple keyword searches. The app's considered important in a company with more than 400,000 staff.
It's typical of the kind of work Horan says she's doing more and more of these days: building front-office apps instead of back-office systems. The CIO said her devs are now working more with sales and marketing types than with sysadmins or other fellow techies in the server room.
The CIO said app development reached an important milestone in 2012: that's when 51 per cent of her IT spend on new projects went on front-office – and new back-office software officially became the minority. Horan expects the trend will grow as sales and customer-facing IBMers want what the tech head describes as "more social" in their apps and transactional processes.
"We are looking at how to build more social integration capabilities between us and our clients – not just the broad push of messages, but a more collaborative working environment with our clients, that's another thing I'm hearing about," Horan said.
"We have a number of integrated accounts – big accounts – that IBM has with very big relationships, and we have dedicated account teams that work day and day out with those clients. We have a lot of pull from those account teams who say: 'We want to be able to interact with our client in a different way and to share more information. Why can't we just use Dropbox?'
"I can give them the reasons they can't, but I need to give them an alternative, and bring them something that brings more value than just using a third-party service," she said.
Three-quarters of new apps to float on the cloud
Dropbox, along with Microsoft's Office 365 and Google Docs, is officially not allowed. This is because they'd break IBM's guidelines on the use of secure computing and social media, which staff are expected to know as part of IBM's annual business conduct certification process.
The rules prohibit storing client-confidential information on a service. IBM offers it's own alternative: IBM Connections, which has file-sharing and the ability to create private spaces within spaces.
Working with the sales, marketing and consultant types means the way IBM's own apps are being built is changing – they are becoming more agile, Horan says.
Software development in the back office is more process-oriented and aligned to processes such as six sigma (quality control strategies for process improvement) because the apps are more transitional and based around rules, such as accounting.
How IT crowd works with 'experimental' marketing bods
The front-office jockeys treat app development more as an "art" than as a set of codified instructions, Horan says. "How a salesperson engages with the client is more to do with the client's style and the salesperson's style, and they want more flexibility.
"If you put a marketing team and an IT team together, the marketing team's language is around 'concepts' and 'ideas' and 'strategies'. If you talk to an IT team, their language is around 'projects' and 'milestones', so how do you bridge those two?
"When we are working with marketing teams, an agile methodology is much better. A back-office team will say: 'Here's my requirements, here's what I need,' and you can go away and bring it back to them three or six months later and they will say 'Thank you' and off you go.
"But with the marketing teams, it's much more: 'Let's try this and experiment with that.' While the concept is there, the specifics might not be."
More of the the apps are now being developed and tested using the cloud rather than on servers and desktops, the CIO adds. IBM's Smart Cloud, to be precise. The goal is for 75 per cent of new software to be built on the Smart Cloud in the next year to year-and-a-half. Currently, about 50 per cent of it is built on the cloud. But Horan ruled out a complete move to the cloud, given some apps have unique or demanding requirements.
If you put a marketing team and an IT team together, the marketing team language is around 'concepts' and 'ideas' and 'strategies'. If you talk to an IT team, their language is around 'projects' and 'milestones', so how do you bridge those two? – IBM CIO Jeanette Horan
IBM is shovelling more application development on the cloud because it means faster delivery times, with less time spent waiting for a new server and then provisioning it.
"It's mostly around agility and turnaround time," says the tech boss. "If you think about what the demands are on me as a CIO - the business always wants more, [and] faster. So if we can shorten the development time for a project that's always a big win...
"If I get to save some money as well, because I've now got pooled hardware and high utilisation of the hardware, that's great to me because [then] I've got better control of cost," Horan says.
The CIO might have her eye on a mighty five-year plan, but this is IT and not everything is grand or strategic. Sometimes, you just have to do things that don't actually add any value to the business or advance the technology and which don't make you feel particularly fulfilled. Moving nearly 500,000 staff and contractors' PCs off Windows XP ahead of Microsoft's support cut-off next April surely qualifies as one such job.
The move actually started under Horan, who has only been CIO since 2011 – relatively late in the Windows XP lifecycle considering Microsoft's support runs out next April.
It seems, though, that the migration has gone quickly. When we spoke to the Brit tech boss earlier this year, Horan said migration had almost been completed. One reason for the rapid move was probably the accompanying removal of IE6 that had already begun under her predecessor Pat Toole - now general manager of maintenance and technical support services for IBM global technology services.
IBM, like many other enterprises, had its business-critical apps hardwired into IE6 and they had to be re-written. "We had a fair bit of application remediation on that but we'd addressed it before we got to Windows 7," Horan said.
Desktop migration: You can't take it with you
IBM is not going to Windows 8 and, at the time of speaking to The Reg, Horan hadn't even looked at Microsoft's touchy operating system. "I'm sure some folks on my team have been kicking around with it, but I haven't taken the time to go ask them about it yet," she said.
In this respect she's like many other CIOs who are doing a swerve around Windows 8 and going from Windows XP to Windows 7. Win 7 will eat less hardware than the new tile-based OS and there's also greater compatibility with existing Windows apps.
"Everybody is going through that same journey - the desktop migration," says Horan. "There's the physical desktop migration and the application migration, too. You like to think that these systems are all upwards-compatible so you can bring things forward with you but that's not always possible."
Unlike many other Windows XP migrants, though, IBM hasn't stuck with Microsoft on the browser: instead, IBM has replaced Internet Explorer with Mozilla's Firefox, which is now its "preferred" browser.
Firefox is a bold choice given that Mozilla is determined that it will only provide security updates to two versions of Firefox prior to the current release. Mozilla has said it won't be dictated to by enterprise support needs, claiming it's putting consumers first.
Microsoft's browser, at least, comes with the promise of a decade's worth of fixes and security patches.
High-risk Mozilla bet
"I'm not going to say it has not caused a problem," Horan says of the move to Firefox, "but it has caused us to think about how we deal with it. We now have a way whereby we can push updates to everybody's laptops using IBM End Point Manager, so we just regularly push the updates to people to keep the whole thing as current as we can."
From her experience on enterprise transformation, Horan reckons it's the desktop migration that has helped teach her something new. The problem with PCs is, everybody in the company uses them, so you really can't afford to take anybody offline to install a new operating system.
Horan says: "Running IT for an organisation as large as IBM is challenging because we have over 430,000 people in 170 counties and half never come into an IBM office, so how do you do something as simple as upgrading our desktop to Windows 7? You have got do half of it over the air.
"One of the things I learned as a CIO is: doing one thing, like upgrading your laptop, is easy. But if you have to do it 430,00 times – and half of those without seeing or touching the laptop, especially within a defined time – you have to do it in a very automated way, running in the background so people don't lose productivity."
The fact that IBM is a technology company means the progress the CIO makes on the Windows XP upgrade – like the rest of the actions, decisions and policies she takes or pushes through – comes under close scrutiny.
Who ate all our dog food?
Another thing which people in the company keep a close eye on: whether or not IBM is using its own products, especially the new versions. There is a built-in expectation for IBM to be using IBM, both among customers looking for reference sites and from IBM's product development people – who are understandably, shall we say, a bit biased.
How does that feel?
"Some days that's really great and some days that's really challenging," she laughs. "These days it's really great. I have access to some of the best technology people in the world with IBM research and the people working in the product groups."
And on the not-so-good days? "I have a lots of people who like to give me advice - but the one thing about IBM is they are all well-intentioned," Horan laughs.
As a card-carrying IBMer, Horan wants to run the latest IBM kit but at the same time she says she must be practical, and conservative.
"One of my core strategies is to be a premier reference for IBM. I want to be running the most current technologies," she said. "We have a huge portfolio of products... you can only change so many things at once. So we try to make sure we have a very planned approach.
"We want to maintain currency as much as we can but sometimes you end up being constrained by the application because it's not yet supported by the new version of the operating system."
I feel like there are times when the business is out in front of us and we are scrambling to catch up and there are times when we have a lot of capability and we can be out ahead of the business – IBM CIO Jeanette Horan says.
But IBM products don't get a shoe-in just because they come from IBM. Horan uses the CIO's position to provide product feedback, feature requests and help by acting as a beta test site to make sure what finally comes out of the product groups is fit for purpose.
That's where Horan's past positions inside and outside IBM have helped her: the CIO held leadership positions on Lotus and in information management before ascending to strategy inside IBM's overarching software group - also home to WebSphere, Rational, Tivoli and DB2. Before IBM, Horan was a vice president in DEC's AltaVista search business – Google, before Google.
"Would they [product groups] like us to move deploy faster? Sure, that's natural, but we try to strive between the right balance of keeping the business running and managing business risk."
What is Horan's criteria on 'fit for purpose'?
New software must work globally, without different apps for different regions, says the CIO. Middleware will be examined for scalability and reliability, and increasingly there are discussions about whether the software can run on IBM's Smart Cloud and – also - whether apps can be go mobile, which means looking at handsets and the back-end server capabilities.
Horan reckons mobile is proving a challenge to understand. She contends it's like the early days of the browser: a piece of technology that has great potential to change the business but needs to be properly understood first. "When we first introduced [the browser], you asked the business how it would like to use a browser and they'd say: 'Why would I ever need one of those?'," Horan recalls.
The tech boss says this typifies the dynamic that exists between the technology department running IBM and the business side of IBM.
"I feel like there are times when the business is out in front of us and we are scrambling to catch up and there are times when we have a lot of capability and we can be out ahead of the business," she says.
"We have to focus on how to get that alignment, so there will always bet this pendulum swing. To me the big thing is: 'do you have open lines of communication with your business stakeholders so you are really a trusted partner?... I really think [that] is the goal at the end of the day."
Sounds like every other company with an IT department. ®