Panasonic DMR-HW100 HDD DVR
3D-savvy telly timeshifter
By Steve May, 8 Oct 2011
Review Panasonic returns to the UK DVR market after an abortive early foray, with a 3D-enabled, media-streaming TV recorder. Rather more convincing than the brand's first generation model, the DMR-HW100 offers access to the online VieraCast portal, has jukebox functionality and is only slightly bonkers.

Panasonic's DMR-HW100 offers one way of getting your 3D photos up on the screen
Panasonic's Blu-ray recorders, while technically impressive, seem almost wilfully complicated in this era of Sky+ and TiVo. Thankfully, this Freeview HD DVR is significantly more approachable. It doesn't baffle with a multitude of recording modes, for one.
Indeed, timeshifting is a doddle. Simply select what you want from the EPG or catch it when it happens. The DMR-HW100 will prompt you to opt for HD should a programme you want to record be available in high definition. The deck has a 320GB hard drive, not exactly generous but enough to store nearly 80 hours of hi-def.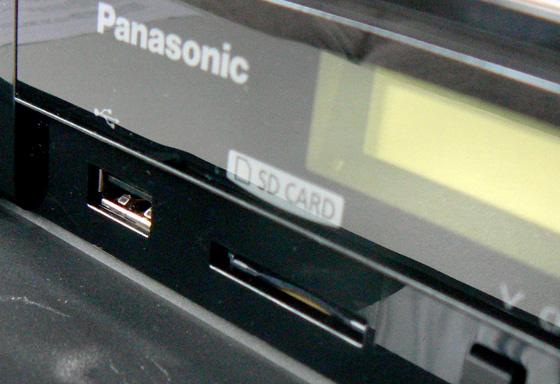 Convenient front-mounted USB and SD card slots
The unit has twin Freeview HD tuners, enabling you to record two channels simultaneously. You can also play back recordings before they've finished, view media on USB, and look at other DLNA devices on your network.
The programme guide is Panasonic's standard Gemstar/Rovi offering, so disliked on the brand's TV range. It has advertising slots - which Rovi, rather than Panasonic, benefits from - and doesn't offer much of a view when you want to scout for upcoming shows. On the plus side, all the usual Freeview+ HD functionality is here, including Series Linking and timer padding.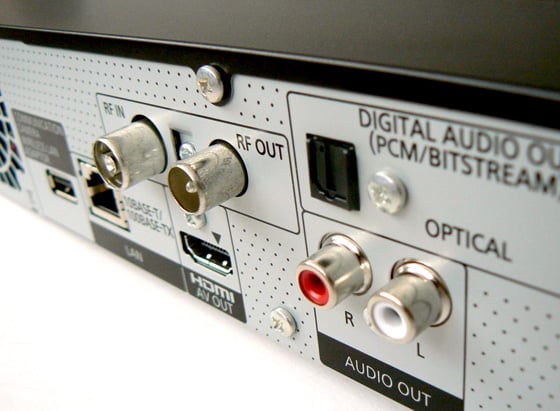 The HDMI output is 3D-compatible
Recorded image quality is true to the original transmission, with no extraneous artefacts. Naturally, hi-def recordings look immeasurably better than Freeview's blocky SD fare. There are also a number of advanced picture processing tweaks on hand, should you feel the need.
Content delivery
Time-shifted shows automatically generate their own Chapter Views, but you can manually create your own. This feature comes into its own with live music content, for example. You can change the thumbnail image if you don't like the one automatically provided. Recordings can also be divided or partially deleted, perhaps to trim away adverts?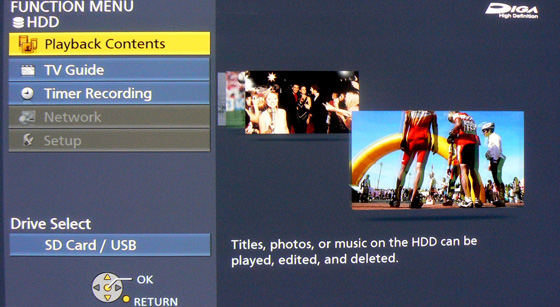 Animated thumbnails for video navigation
The DMR-HW100 is both hit and miss when it comes to jukebox functionality and multimedia playback. The former works well. Insert a USB stick into the front fascia and you're presented with options to play the contents or copy them - if compatible - to the hard drive. This is handy if you want to squirrel away holiday JPEGs, in order to ambush wayward neighbours.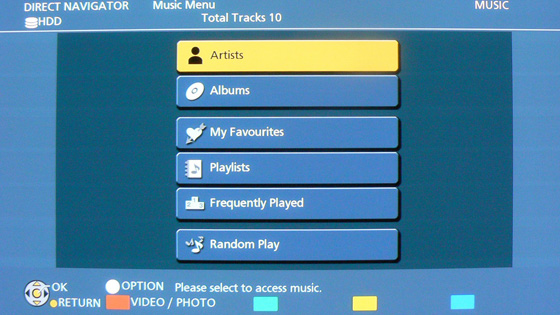 Music navigation
Once copied to the hard drive, the content can be stored in albums and associated with background music. Using the DVR to back up your MP3s is similarly straightforward. Unfortunately, presentation isn't much to crow about, especially as there's no album art support.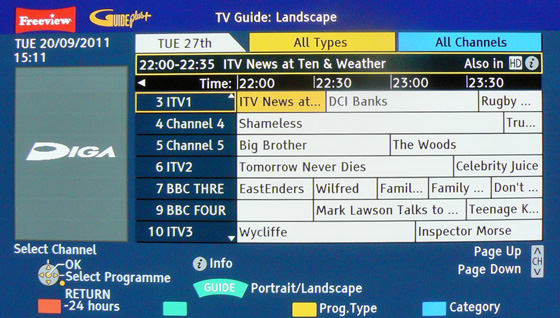 EPG schedule
File compatibility from USB can be classed as 'good enough'. The DMR-HW100 can read both AVI and MKV wrapped content. Unfortunately, the recorder is less happy streaming the same material over a network. While the DMR-HW100 could see my Nas devices, it couldn't play those same files. An SD card slot allows you to peruse camcorder footage in MPEG 2 or AVCHD, as well as JPEG and MPO 3D stills.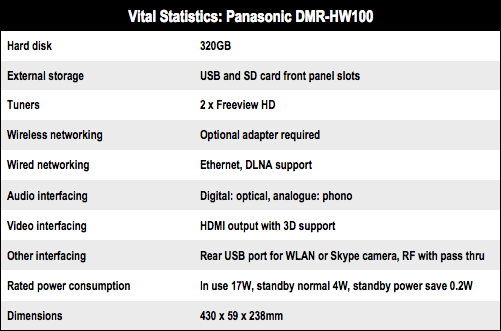 Added benefits?
The DMR-HW100's provision for 3D is curious. Native 3D recording will presumably come into its own when we see more 3D transmissions from the BBC, presumably during the 2012 Olympics – Panasonic and the IOC are supplying ten hours daily. While other DVRs will record side-by-side broadcasts, they may not flag them correctly to a 3D TV.
Shooting still 3D images in MPO format hasn't really taken off, but it's actually good fun. Donning glasses for snaps doesn't seem quite such a chore as wearing them for films.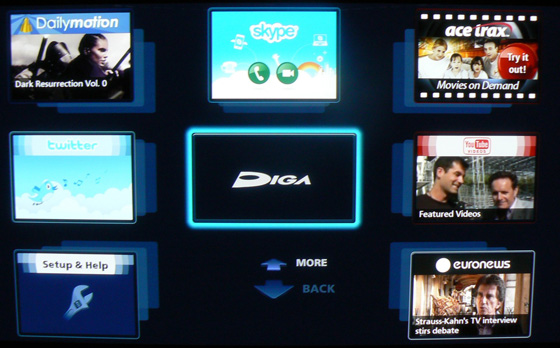 No BBC iPlayer on Viera Cast
However, this DVR's dimensional dalliance doesn't stop there. It can also convert 2D programmes into faux 3D and offers the same processing trickery found on the brand's current 3D Blu-ray players, including Frame Width – that nonsensical feathered border treatment which obscures a sizeable percentage of the recorded image.
Moreover, this 3D feature set is presumably responsible for the higher than average price of this DVR. Yet despite all this novel functionality, there are restrictions: you can't visit the brand's Viera Cast on-line portal or stream media when the deck is busy recording. You'll need to kick your heels until it finishes.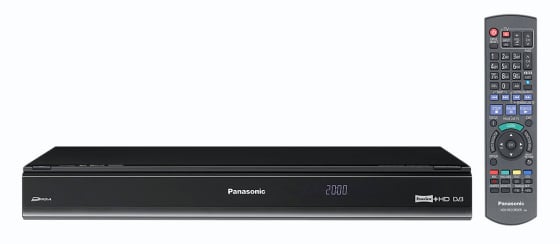 Capable, but costly
Panasonic's VieraCast online portal lacks the apps of Viera Connect, found on its connected TVs, but there's a fair amount to gawk at, including YouTube, DailyMotion, Twitter, Acetrax, Euronews, Picasa and Bloomberg. Disappointingly, there's no BBC iPlayer to be had; Tagesschau and Bild are offered as Teutonic compensation.
Verdict
While some 3D features offered by the DMR-HW100 have little practical use - Frame Width can only be construed as the height of madness - its support for MPO snaps and 2D-to-3D conversion make it an interesting proposition. However such 3D frippery is just a sideshow: better just to consider the DMR-HW100 an extremely adept Freeview HD DVR, albeit an expensive one.
Once again, Reg Hardware's stance is to reduce the overall rating here due to the continued presence of ads on the EPG. It's annoying and not what you expect to find at this price. ®
More AV Gear Reviews

LG
BD670
3D Blu-ray player
Sony
VPL-HW30ES
3D projector
Star Wars
The Complete Saga
Blu-ray disc set
Videotree
VideoSpa
Bathroom TV
Onkyo
TX-NR609
AV receiver

Panasonic DMR-HW100 HDD DVR
Twin tuner DVR with the VieraCast portal and 3D support on-board.