Peugeot 508 Active e-HDI micro-hybrid
No, it's not an e-car for very small people...
By Alun Taylor, 15 Jun 2011
Review Peugeot has been criticised for losing the plot with its small and medium cars over the last decade, but that shouldn't obscure the fact that it has made some fine D-segment motors in the same period, including the 406 and 407.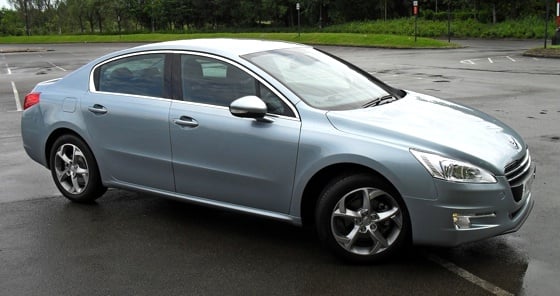 The 508 Active e-HDI: Peugeot's latest micro-hybrid stop-start system on board
The newest inheritor of this fine tradition is the 508, which replaces both the 407 and 607, and comes with Peugeot's latest micro-hybrid stop-start system and electronically controlled six-speed manual gearbox.
In simple terms, micro-hybrid means a start-stop that's been at the Shredded Wheat. In the 508, the system - called i-StARS (Starter-Alternator Reversible System) - consists of a 2.2kW starter-generator and a set of ultra-capacitors which provide a boost to the 12V battery.
i-StARS can apparently restart the engine in 400ms or twice as fast the standard starter motor, which only comes into play when you first turn the 508 on.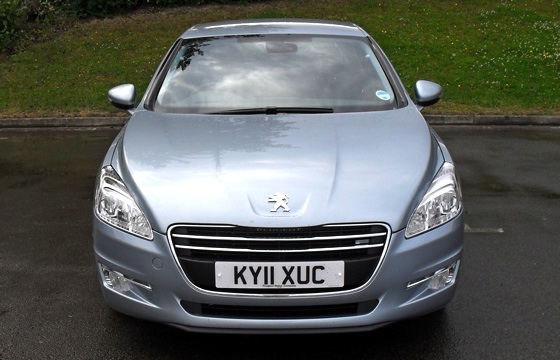 Ultra-capacitor tech included
As well as guaranteeing low-temperature performance down to -5°C, the capacitors ensure that constantly restarting the engine doesn't drain power from the other electrical systems. The system also incorporates a reversible tensioner to reduce vibration during restarts.
i-StARS in a reasonably priced car
This ability to restart the engine more or less instantly means the engine management system can be far more aggressive in turning the engine off. If you're moving in a 508 at below 5mph with your foot on the brake then odds on the engine is either very nearly off or very actually off.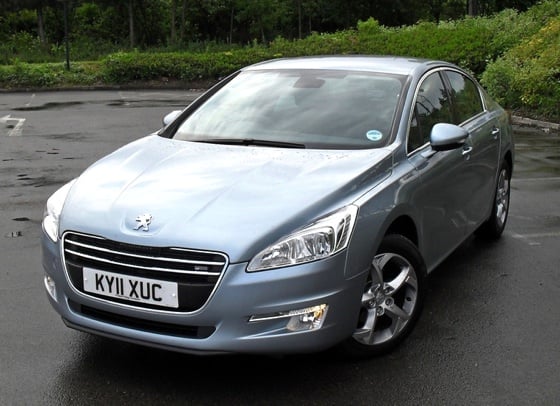 Big Peugeot mouth looking better
Engine cut-off and restart are both impressively unobtrusive, a testament both to the efficiency of i-StARS and to the refinement of Pegueot's 1.6 litre turbo-diesel engine. Restart is also near enough instant. The moment you take your foot off the brake, the 508 is ready to roll.
The result of all this stopping and starting is a five per cent increase in fuel economy on the open road and up to 15 per cent on the urban cycle. CO2 emissions drop by a similar percentage. For a car of its size, the 508s consumption and emission figures are impressive: 64.2mpg and 109g/km, respectively, over the EU combined test cycle.
Fill the 508 up and check the range-to-refill and you see one of its party pieces: the 850-mile maximum touring range.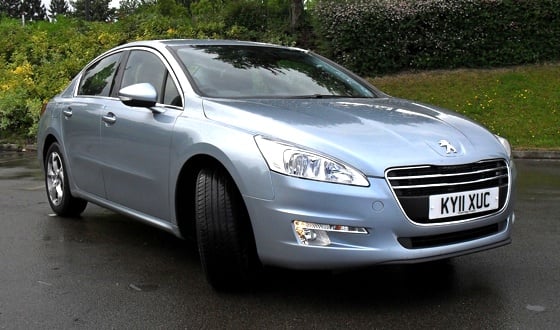 Strong lines front to back
With 112bhp available at 3600rpm and 180lb-ft of torque at 1500rpm, performance doesn't exactly make your hair stand on end but the 508 will still accelerate to 60mph in 11.5 seconds and push on to 122mph - not bad for a 1.5 tonne D-class saloon with the fuel consumption of a Ford Ka.
Up a gear
The impressive CO2 figures are only achieved with the help of the six-speed electronically controlled manual gearbox (ECG). Used as a full automatic around town, the gear changes were far too clumsy for my liking. Once on the open road, it improved dramatically.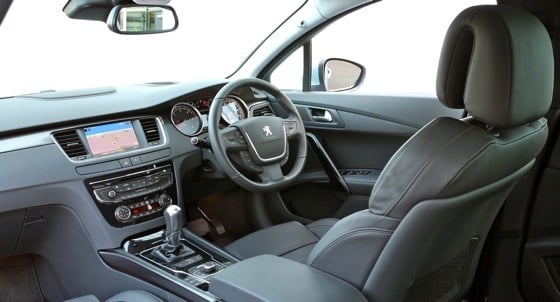 Extremely comfortable seating
Luckily, you can take control with the steering column-mounted flappy paddles or override things completely by moving the gearbox into a fully manual mode.
In semi-auto, you can smooth your progress by anticipating gear changes but the best bet is full manual which leaves all the cog-swapping decisions to the driver while still letting the software worry about changing down as you come to a standstill and thus the whole stop-start malarkey.
In a nutshell, while the ECG is clearly not as clever as the best dual-clutch systems about, if you can't work out how to progress smoothly in a 508 you just haven't tried very hard.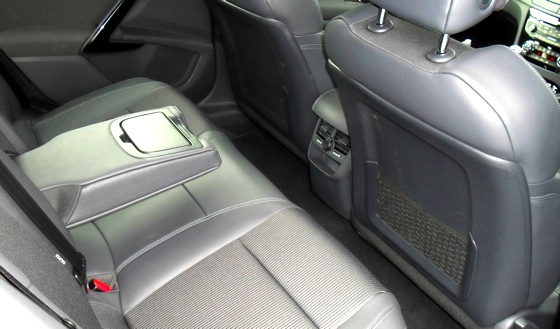 Plenty of space in't back
Under the skin, the 508 is much the the same as Citroën's C5 but with a different suspension set-up. Out go the hydropneumatics and in comes MacPherson struts at the front and a multi-link independent set-up at the rear.
Well-engineered chassis
It's a combination that strikes a fine balance between ride comfort and road holding, and underlines that fact that few mass-market car companies engineer their chassis better than Peugeot.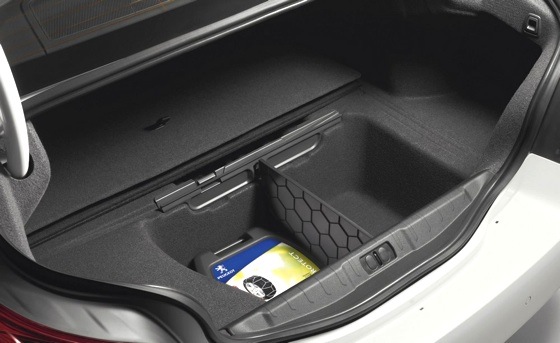 The boot is deep and has a cubby
Taking styling cues from last year's SR1 concept, the 508 is the most handsome Peugeot for many a year. Not only is the overall shape well balanced but the ubiquitous Peugeot mouth finally makes some stylistic sense. Peugeot's new design guru, Giles Vidal, deserves a pat on the noggin for getting things back on track.
One issue I do have with the styling, though, is the extraordinary thickness of the B-pillars. They are massive. I'm sure if you rolled it, or dropped an elephant on the roof, you'd be thankful, but trying to peer around them when pulling out of junctions is a constant niggle.
As you might expect of a car that has to replace the very large but very unloved 607, the 508's interior is well appointed and spacious. The seats are extremely comfortable and there is enough space in the back to hold an athletics meeting.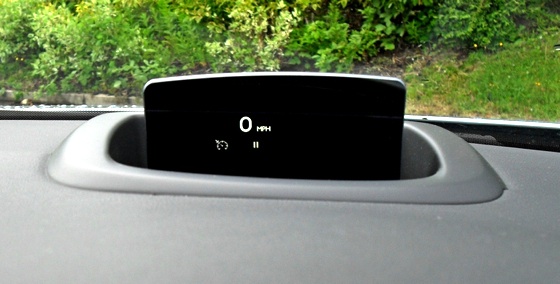 The pop-up HUD takes a minimalist approach
If you like your car technology a bit more in-your-face, the 508 has a standard head-up display which is projected onto a panel that pops up out of the dashboard.
A lot of car for your cash
Unlike some such systems, the 508 doesn't overload you with information so only the speed and, when engaged, basic cruise-control and navigation details are displayed. Usefully, there are easily accessible controls to adjust the HUDs eye-line. Or just switch it off.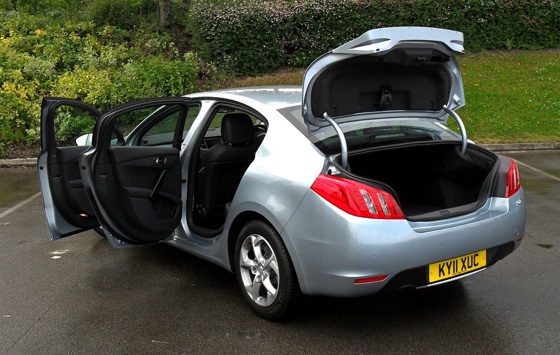 Open up
Value is a major part of Peugeot's pitch for the 508 and only in a very few places do the results of building down to price show: for instance, the iDrive-esque system controller on the centre console has a rather cheap-feeling action to it with no damping. That aside it's tough to find fault.
As tested with metallic paint, parking sensors, leather trim, 7in-screen satnav, Pegueot GPS SOS and Bluetooth communications/entertainment, the 508 will set you back £23,435. The basic e-HDI package, complete with ECG and USB-key media playback, costs £19,050. In both cases you are getting a lot of car for your cash.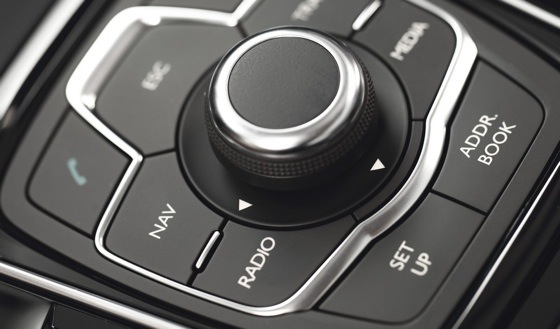 The system controller: looks OK but feels a bit cheap
Not that any of this matters, of course, because this is Britain, where badge snobbery reigns supreme and we happily pay through the nose for the 'privilege' of owning German. This means the 508 will probably always be something of a rarity on our roads and that's a shame because it's a rather fine motor car.
Verdict
The new big Peugeot is a stylish combination of space, comfort, high economy, minimal emissions and fine road manners. Outside the world of the lesser-spotted Sales Rep, it's unlikely to make much of an impact on the British sales charts, but that says more about us Brits than it does about the 508. ®
More Car Reviews

Smart
Fortwo
Electric
Fiat
500
TwinAir
Honda
Jazz
Hybrid
Ford
Focus
Toyota
Auris
Hybrid

Peugeot 508 Active e-HDI micro-hybrid
Super value saloon with a start-stop engine that's über-economical and range-tastic.
Price:
From £19,050 OTR RRP