Panasonic TX-P42GT30 42in plasma 3D TV
Class act
By Steve May, 7 May 2011
Review With its high contrast Infinite Black Pro panel, net connected features and 3D compatibility Panasonic's new GT30 plasma TV range clearly isn't looking to shortchange buyers. The screens even come with both Freeview HD and Freesat HD tuners, to ensure maximum reception flexibility. If there's a box, Panasonic appears to have ticked it.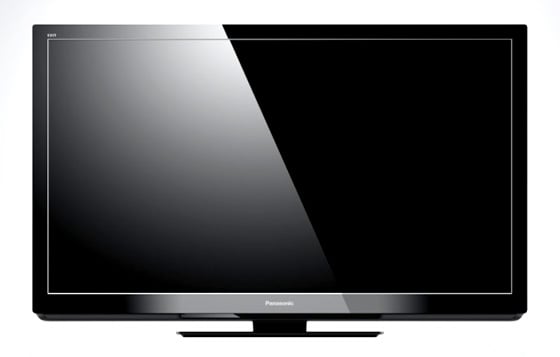 Plasma performer: Panasonic's Viera TX-P42GT30
There are three GT30 models to choose from: the £1,799 50inch TX-P50GT30, £1,499 46inch TX-P46GT30 and the £1,299 42inch TX-P42GT30 reviewed here. Connectivity is suitably accommodating. The TX-P42GT30 offers four HDMIs, Ethernet LAN, three USB ports, component AV and a legacy Scart.
Given that the panel is just 37mm deep, supplied adaptors are mostly required to deliver the requisite connectivity. With no integrated Wi-Fi you'll need to use Panasonic's DY-WL10 dongle (with USB adaptor) if you don't have a wired network access point in your viewing room.
Set up is quick and straightforward. I auditioned the set with a Freeview HD feed, giving me access to BBC One HD, BBC HD, ITV 1 HD and C4 HD, plus plenty of low bitrate SD slush. Menus are breezy and fast. Indeed the entire user interface has been given a revamp for 2011 and feels fresh – with the exception of the dreary TV guide, which still lacks a Live TV window. Moreover, Panasonic still insists on loading the EPG with ads despite the kicking it gets for it. The only way to avoid them is to use the Freesat option – its EPG is ad-free.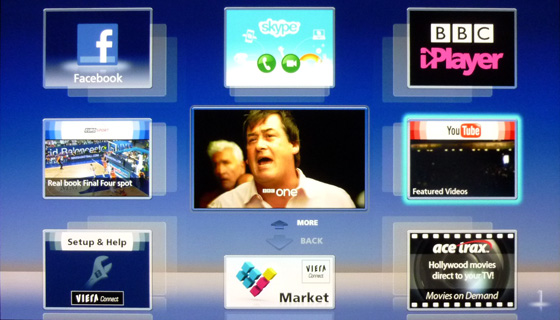 Viera Connect
Once on-line, the TX-P42GT30 offers one button access to the brand's Viera Connect IPTV and apps platform. Here you'll find diversions such as the BBC iPlayer, YouTube, Daily Motion, Ustream, Shoutcast, Skype and Picasa. You can also log onto your Facebook or Twitter account.
Stream on
Media streaming is second nature. Once networked, the TV quickly discovered all my connected devices and I was soon enjoying sound and vision from my Nas devices. File support is excellent and includes AVCHD, AVIs and MKV wrapped content.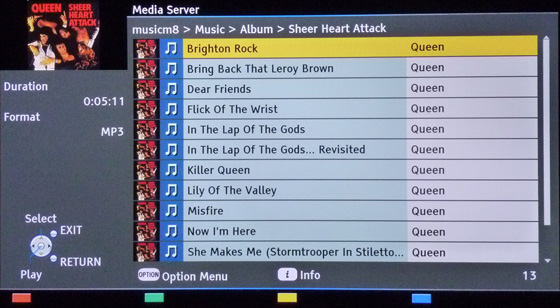 Network browsing
Among the audio file types accommodated are MP3, AAC and WMA. Onscreen presentation includes album art for music. This level of sophistication is in stark contrast with the brand's 2011 Blu-ray players which offer nowhere near as much finesse or flexibility.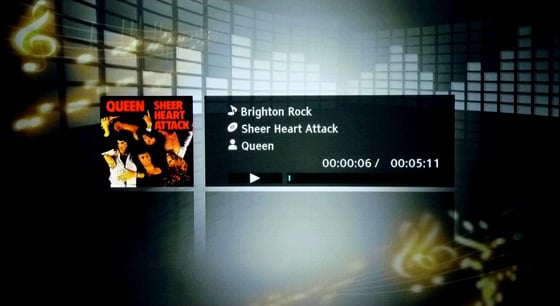 Music playback
The TX-P42GT30 earns top marks for its visual acuity. Black levels are excellent and colour fidelity is convincingly vibrant, offering real (rather than orangey) reds. The set also has an excellent greyscale and delivers outstanding shadow detail.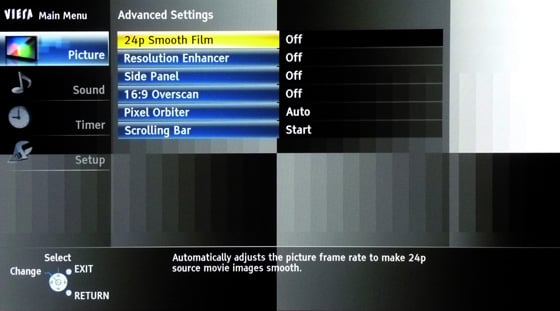 Advanced picture menu
Panasonic's 600Hz sub-field drive Intelligent Frame Creation Pro tech may be a useful weapon for high street barkers, but in reality, the screen looks better when it's turned off. The set's native motion resolution is 1080 lines, regardless of IFC.
Pattern pending
A test pattern to assess motion resolution developed by the Advanced PDP Development Centre, featuring an ever-decreasing graticule grid, confirms this excellent performance. Scrolling horizontally at 6.5ppf (pixels per frame), image definition is clear to 1080 lines. There's a small amount of picture fizz, but this is not identifiable in live footage.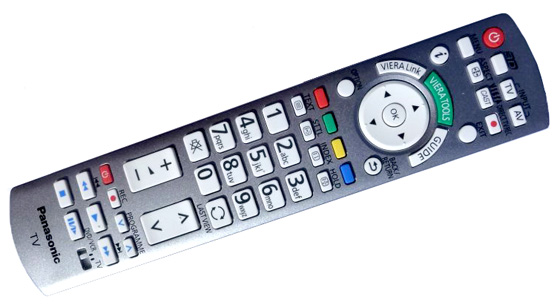 All the usual suspects on the remote
Increasingly the speed of the pattern to 12.5ppf results in no loss of detail. A secondary test pattern, comprising scrolling Japanese and English text, remains clean and crisp at 100, 50 and 30 per cent brightness. You want a TV for sports? This is it.
I was also pleased to see THX certification for both 2D and 3D content. Certification boils down to a particularly well-judged picture preset which optimizes the panel for 2D movie watching, and some effective auto compensation when you don 3D glasses.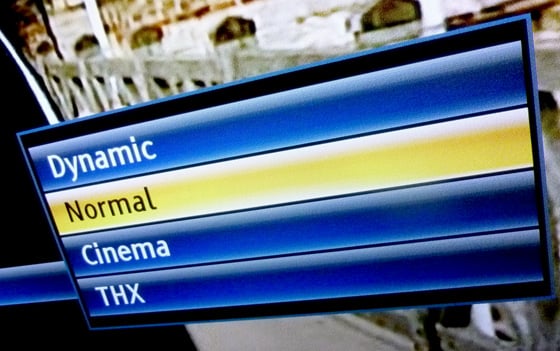 Preset options
Last year's Panasonic plasmas were the screens to beat when it came to 3D, and this year their performance is looking even better. The spectre of 3D crosstalk has been reduced to the point where even classic double imaging test sequences fail to present problems. One reason for the lack of double images may well be down to the introduction of some newly developed fast switching phosphors.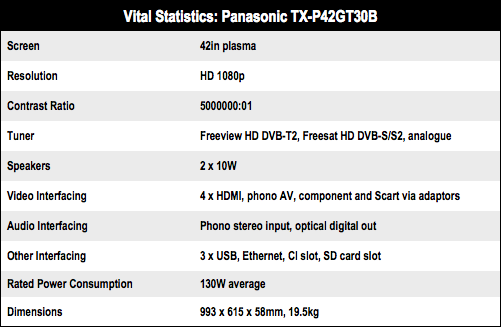 Spec savers..?
However, no 3D glasses are supplied with the set. Instead you're asked to stock up on the brand's Active Shutter eyeware as and when you need them. This will prove to be an expensive accessory drive. Is this Panasonic playing down the importance of 3D? Or is it simply trying to manage costs? Regardless, the TV maker is now only including glasses with its top-end VT30 models.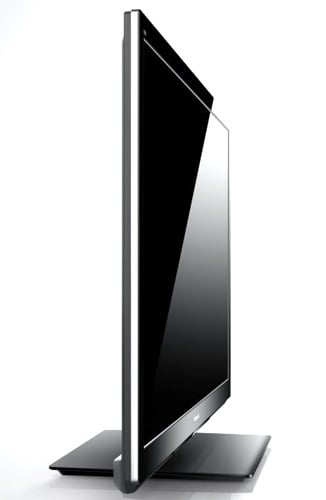 3D set with Freeview HD and Freesat HD tuners and Net TV on-board, what's not to like?
Audio quality is adequate for screen of this size. The two 10W, downward firing stereo speakers, are clear without sounding overly thin. For those that want to tinker there are User, Speech and Music DSP modes. The TV is sans subwoofer, but my advice would be to partner this with a separate sound system for movie watching anyhow.
Verdict


Overall, I would rate the TX-P42GT30 as an outstanding TV. And should you want to spring for those expensive Active Shutter glasses, the 3D image is clean and immersive, its network functionality is first rate and 2D image quality is deeply satisfying. A score of 90 per cent seemed fitting on performance, but loading ads onto the EPG is Panasonic's ongoing conceit that ignores the user experience and can't be endorsed. Tempting though it is to knock it down to 50 per cent, at least the Freesat tuner EPG is ad-free, so it escapes a punishment beating. ®
More TV Reviews

Panasonic
Viera
TX-L37DT30
Samsung
UE55D8000
Ten…
40-42in
net connected HD TVs
Philips 21:9
Cinema
Philips
Ambilight
46PFL9705H

Panasonic TX-P42GT30 42in plasma 3D TV
Plasma 3D TV with both Freesat and Freeview HD tuners and Internet telly too.