Nuclear merchant ships could open up Arctic routes for real
British shipping biz poised to make a killing?
By Lewis Page, 27 Sep 2010
British business interests are suggesting that it may be time to revive the idea of nuclear-powered commercial shipping. Media reports to the contrary, the Arctic is not yet open to normal merchant ships - but it might be opened up by nuclear ones, which would also offer zero emissions and freedom from high oil prices.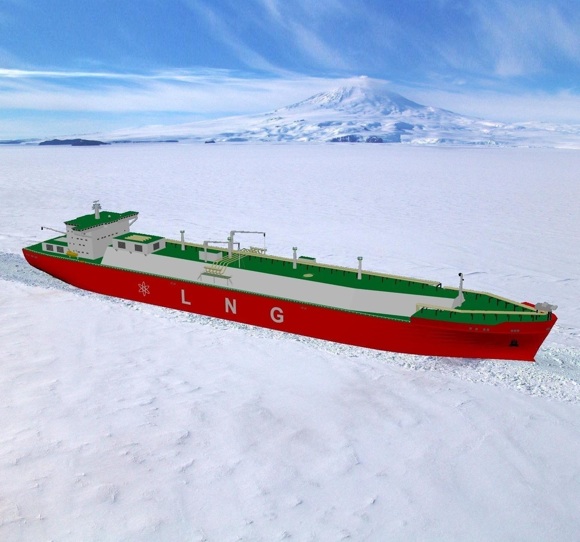 A merchant ship which actually can do the North East Passage without a Russian icebreaker in front.
Specifically, Babcock Marine - which services and refits the Royal Navy's nuclear submarine fleet - considers that it would now be possible for shipping lines to save money by switching to nuclear propulsion for specialist tankers carrying liquefied natural gas (LNG). With gas demand going nowhere but up, there are a lot of these ships building or set to be built at the moment.
Natural gas, mainly made up of methane, is liquefied for more convenient storage and transport by chilling it down far below zero. LNG ships store this liquid in their characteristic spherical, insulated tanks, effectively giant thermoses designed to keep the liquid gas cold. As insulation can't be perfect, in the normal course of events gas boils off and escapes from the tanks through relief valves. Several per cent of a cargo can be lost in this way on a longish voyage.
Oldschool LNG ships simply accept the losses, and minimise the cost of them by using the boiled-off gas as fuel for the ship's propulsion. But nowadays it's becoming common practice to chill the lost gas back down again and put it back in the tanks. Naturally the chiller machinery needs power, which must be generated somehow - the standard means being fossil-fuelled generators, adding to the running costs and emissions of the ship and taking up space which could otherwise be used for more cargo.
Babcock's engineers consider that a nuclear powerplant for a big, fast LNG ship using reliquefying gear would be "compact compared to normal power methods for this vessel type", letting designers get more payload aboard. Naturally the heavy emissions of CO2, NOx and SOx which normally come from marine diesels would be gone. The ship would also be very fast, which is good, as time is money in commercial shipping.
"Nuclear power for commercial vessels is becoming significantly more attractive on a number of counts, not least from an environmental perspective," says Babcock bigwig David Dobson.
Nuclear propulsion for ships came in following World War II, driven as marine tech tends to be by the world's advanced navies. Nuclear power is particularly attractive for submarines, as it requires no atmospheric oxygen. Conventionally-powered subs must use batteries (or other air-independent options which involve carrying oxidiser of some type as well as fuel), which effectively cripples them when submerged - they are almost not submarines at all compared to nuclear ones.
Nuclear - particularly good for icebreaking. And yes, you do still need to do that in the North East Passage, actually
Nuclear power is also excellent for aircraft carriers, which need high speed to generate wind across their decks and make flight operations easier. This can be achieved using conventional propulsion, but it involves a lot of fuel-guzzling running at full throttle and thus the need for frequent inconvenient refuelling. Furthermore the exhaust funnels and air intakes up and down from engine rooms to superstructure take up a lot of deck plan which could otherwise be holding more planes.
The US Navy, the only one in the world with a large fleet of nuclear carriers, used to have nuclear cruisers as well, but has since retired these in favour of gas-turbine ships. Russia, though it has no nuclear carriers, does still operate nuclear surface warships - most notably the monster Kirov-class missile battlecruisers.
Russia is also the only present-day operator of civilian nuclear-powered ships. The main advantage of nuclear propulsion from the Russians' viewpoint is that a nuclear ship can easily develop a lot more thrust than a conventional one. This doesn't offer a proportional increase in speed - normally a given ship's hull has a limit, related to the waterline length, after which you can add huge amounts more poke and achieve very little in terms of greater speed*. This is why nuclear tech's much greater power-to-weight ratio compared to conventional doesn't generally offer more than a knot or so more of top speed.
Vast extra thrust beyond what's needed to get top or nearly-top speed is very handy in one application, however: that of ramming the ship through floating ice. Russia operates a small fleet of nuclear icebreakers used for operations off its northern coasts, icebound for much of the time. Normally these are used to break a path for regular cargo vessels and so on, but the Russians also built a nuclear-powered cargo vessel intended to break her own way through ice, NS (Nuclear Ship**) Sevmorput.
Much of the world has come to the erroneous conclusion that ships can now sail off the northern coast of Russia without any need for icebreaking, but this isn't actually true. A German firm sent two of its ships on a journey from Korea to Rotterdam last summer, which a lot of the Western press took as evidence that the North East Passage/Northern Sea Route had finally opened up due to climate-driven retreat of the Arctic ice cap. In fact the trip was only made possible by the presence of Russian icebreaker NS 50 Let Pobedy for the northern parts of the route. What is true, however, is that the Northeast Passage route from the Far East to Europe is a lot shorter than the usual journey via the Suez Canal.
Apart from Russian icebreakers, a few other nuclear-powered merchant ships were built and run back in the 1960s and 1970s as demonstration projects, but they couldn't compete with conventional merchantmen on running cost in the era of cheap fuel oil, and nobody back then considered emissions to be much of an issue.
Nowadays, with oil prices high and emissions becoming a potential major entry on shipping firms' balance sheets, some analysts consider that nuclear container ships could be worth building. Modern container ships go fast, and sustained high speed is where nuclear looks best compared to conventional. The UK government's Maritime and Coastguard Agency (MCGA) has confirmed to the Reg that major Chinese container line COSCO is discussing the requirements that British authorities might impose on visiting nuclear container vessels. The British shipping industry is also interested (Blighty no longer has much of a merchant marine as such, but a large proportion of the world's shipping deals are still struck in the City of London).
This could bring some work back to countries with nuclear navies and nuclear yards
According to an MCGA spokesman:
A preliminary meeting was held at the request of a Class Society to discuss the general concept as a result of increased interest in the shipping industry and trade press in alternative propulsion including nuclear propulsion.
Classification societies are private businesses which survey and inspect ships, oil rigs etc and rate them on seaworthiness, safety and so forth for insurance purposes (eg "A1 at Lloyds", formerly meaning a sound and high-quality ship that an underwriter could happily insure at a low premium). With the advent of flags of convenience, the class societies now compete for shipowners' business much more than they once did, and their top ratings no longer carry the credibility they used to. The UK Class Society is Lloyds' Register.
Apart from fast container ships hauling manufactures from China to the West there is now the study on nuclear-powered LNG carriers from Babcock, which one might see as another indicator that civil nuclear shipping might be coming back - this time to stay. Babcock have also confirmed to the Reg that Arctic routes would be especially suitable for nuclear ships in their view, but they think that the vessels might not be restricted solely to chilly northern (or Antarctic) voyages. A statement emailed to us says:
Transit in ice is a requirement for certain routes, which would require a greater power installation [than a conventional ship]. As the polar regions are environmentally sensitive nuclear powered vessels are well suited to trade on these routes. The more recent nuclear powered vessels have been exclusively in ice breaking duties. However there were a number of vessels built in the 1960s which were utilised in worldwide trade.
Certainly a reappearance of nuclear merchant ships could be excellent news for the UK shipping business - in particular for Babcock Marine, the sole British operator of dockyards with nuclear expertise, one of only a few such companies in the world. Nations like China and Korea, with their far lower labour costs, have stolen away most of Blighty's business in regular shipbuilding and maintenance: but, mostly lacking nuclear navies, they lack nuclear yards and expertise. China has a handful of nuclear subs, but they are considered primitive by Russian or Western standards and aren't thought to be very reliable or seaworthy.
In a world of nuclear-powered commercial shipping, French, British and US dockyards accustomed to working on nuclear warships to high safety standards would have a major advantage. Lloyds and its US and French counterparts might find the associated knowhow a useful lever for winning business from cheaper (and perhaps even more unscrupulous) class societies elsewhere. In particular, a lot of flag-of-convenience states effectively delegate the running of their shipping safety bureaucracy to class societies, and international law requires a nuclear merchant ship's flag state to do a lot of paperwork. Extra nuclear training for crews would tend to offer more opportunities for Western sailors, too, even if the ships still tended to fly flags of convenience. Rolls-Royce, the UK's builder of nuclear reactors for ships, would also be one of very few competitors for lucrative new business.
But who's going to pay for icebreaker capability when you can probably hire an old Russian one for pennies?
Like the land-based civil nuclear power industry, nuclear shipping would tend to mean more money spent on jobs for well-paid skilled Brits and less spent on generally low-paid folk overseas. And it would also mean less carbon and other pollutants emitted by the ships themselves - though one might remember that we're speaking here of moving more LNG, quicker and at a lower cost, to people who are ultimately going to burn it and release it as atmospheric carbon. In a low or zero-carbon future, demand for gas would need to be so low that there wouldn't actually be a lot of need for big LNG carriers.
Regardless of environmental matters, nuclear shipping sounds like an attractive prospect for ordinary Brits and the national economy. But it will only happen if it can actually deliver lower costs than burning fuel oil. Can it?
Evidently no-one knows. The MCGA told the Reg retro-futuristic shipping desk:
Currently there have been no approaches from industry to the MCA to build and operate nuclear ships ... such vessels would present challenges not ordinarily encountered in the merchant sector. In particular, identifying a safe and secure disposal route for depleted fuel and eventual disposal of the reactor system would likely present challenges ...
Babcock thinks that carbon costs and high fuel prices might make nuclear ships competitive nonetheless - but they also seem to be admitting that the extra bonus of icebreaker capability might be necessary to get money men to sign cheques, at least to begin with. But there would probably be unfair competition here: the Russian government has been compelled to take the nuclear icebreaker fleet and its support base back from the private sector, and there can't be much doubt that the Kremlin would happily rent their ships out to break passage for normal vessels at prices such as to pretty much nullify the commercial advantage of a nuclear LNG carrier.
All in all, you can see why people at Lloyds and Babcock would love to see a return by nuclear commercial shipping, and there are good reasons for a lot of the rest of us to want it too. But there really doesn't seem enough reason for international capital to invest in it, or at any rate not yet. ®
Bootnotes
*There are many exceptions to this - planing, hydrofoils, competition kayaks etc etc. But for a normal displacement hull, it is true that more power beyond a certain point delivers very little more speed.
**As opposed to Steam Ship, Motor Vessel, Her Majesty's Ship etc.