Huawei E176 Micro SDHC-ready HSUPA 3G modem
A fast USB dongle with worldwide connectivity
By Tony Smith, 2 Jan 2009
Review Huawei is the big cheese in the world of USB HSPDA 3G modems, though you might not know it. It makes the modems the likes of Vodafone, BT, 3, T-Mobile and others stamp their own names on before selling them on.
Among Huawei's latest offerings is the E176. It builds on last year's E170, upping the radio specification and adding a memory card slot.

Huawei's E176: top spec HSDPA AND HSUPA
Like the E170, the E176 offers quad-band (850, 900, 1800 and 1900MHz) GSM/GPRS/Edge connectivity, but where the older unit could connect to HSDPA and HSUPA 3G networks on the 2100MHz band, the E176 adds support for the 850MHz and 1900MHz bands for better round-the-world coverage.
It's faster too, though most users probably won't notice it. Once again, the unit's HSDPA download speed maxes out at 7.2Mb/s - not that you'll experience that kind of speed in the real world, where atmospherics and base-stations with more than one connected user are commonplace - but this time the HSUPA upload speed runs to 5.76Mb/s.
Not that there are any commercial networks that support this speed - all the HSUPA networks currently available don't yet go beyond 2Mb/s and many are set lower than that. But at least the E176 has room for growth as the networks take HSUPA to the next level.
Like the older model, the E176 uses a small metal tray to hold your SIM card, with the slot located alongside and parallel to the USB connector. HSDPA modems we've looked at in the past, including the Novatel Wireless MC950D and the Sierra Wireless Compass 885, provide a simple slot into which you slide the SIM.
Now, there's no question that Huawei's tray appears a more 'quality' approach, but beyond that we can't see why it's necessary. It may secure the SIM better than a simple slot does, but we've never had any cause to worry about SIMs falling out of trayless modems. And the tray does make swapping SIMs a more fiddly process.
No doubt Huawei expects you to keep the SIM in there permanently, as you probably will with a carrier-tied version. The same goes for the memory card. The E176 has a flip-off panel on one side under which sits the Micro SDHC slot - and, incidentally, an antenna port.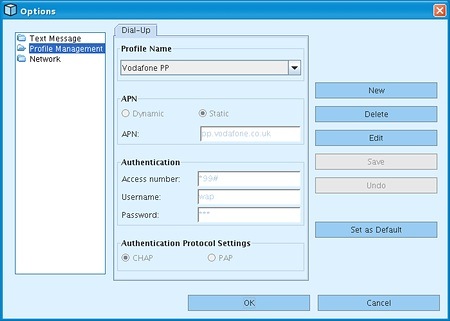 Dial-up settings in Huawei's Linux-based Mobile Partner app
The flap has a tiny raised tip that makes it easy to lift up. It also has a clip on the side to ensure it stays in place when closed - it doesn't rely on friction the way so many of these flaps do, and Huawei deserves praise for thinking this one through. Ditto for fixing the flap to the body of the modem so it doesn't get lost - yet has a long enough tether that you can get the flap out of the way of the slots.
The flaw is the slot itself. It's only a couple of millimetres below the edge of the area covered by the flap, but that's more than enough to make pushing in a card sufficiently far to trigger the locking mechanism rather hard to do. We needed a tool to do it. Likewise, pushing the card in again to eject it is hard too, and we guess that - again - Huawei expects you to slide in a card and keep it there.
That's fine, perhaps, if you see the modem's memory card slot as a way to take one USB stick with you rather than two - Flash drive and modem - but it's a pain if you want to use the E176 as a memory card reader rather than a Flash drive. It'll only take cards of up to 8GB in capacity.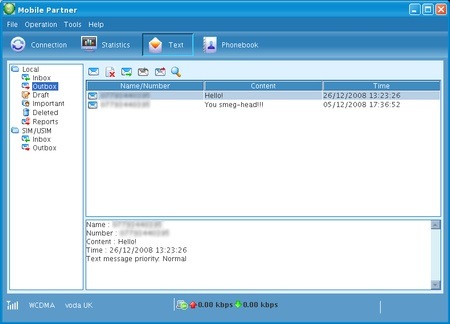 Full text-messaging support included
The E170 is an oblong, and Huawei's further attempted to make the E176 appear different by giving it rounded ends and sides. As a result, it's slightly larger than its predecessor. But then these things are small enough anyway that this is no inconvenience.
Huawei provides connectivity software for both Windows - in all its recent varieties - and Mac OS X. Both are included in a CD-Rom partition on the modem itself. We used the E176 with a MacBook Air running Mac OS X 10.5.6, and on an Acer Aspire One netbook using Huawei's Linux software.
Having a BT Mobile Broadband modem handy - it's a Huawei E170 - we used the SIM and configuration settings with both devices for a back-to-back comparison. We tried the E176 out for a couple of weeks, to help iron out the performance inconsistencies that arise from the number of people connecting at any given time and other network factors that are nothing to do with the modem.
Huawei touts the E176's "master and slave antennas that incorporate robust receiving diversity capabilities" claimed to "strengthen incoming signals significantly... even in poorly covered areas". Where we tried the E170 and E176 together, the newer model showed consistently better signal pick-up than its predecessor, usually one signal-strength bar, and occasionally two, more than the E170 showed.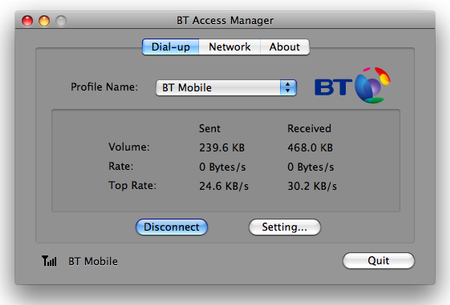 You only get basic connectivity with Huawei's (rebranded) Mobile Connect OS Xapp
Modem performance is difficult to measure absolutely - there are too many other factors at play. After eliminating as many as we could, we generally felt the E176 yielded speedier data transfers than the E170, though we'd be lying if we said it was significantly faster.
So, there's no question that the Huawei E176 is a nice HSDPA modem. The problem will be getting one. Huawei itself appears to be pushing the similarly specced E180 - the difference is a fold-out USB connector - more than the E176, so tracking one down may be tricky. We've not tested the E180 yet, but our gut feeling is that we prefer the fixed USB connector of the E176 as it's likely to better withstand being frequently yanked out of and stuffed into laptop ports.
The other aspect is whether carriers will pick up the E176 and offer branded versions. So it may become available only in a locked form, which may or may not be a problem for you.
Verdict
The E176 comes packed with the latest HSDPA and HSUPA technology, and can connect to as many networks around the world as it's possible to connect to. It'll even work as an 8GB USB Flash drive if you have a suitably size Micro SDHC card. It's compact and convenient. All that you can say about other vendors' modems, but we like the Huawei for its support for a broad array of operating systems. ®
More Modem Reviews...
| | | |
| --- | --- | --- |
| Sierra Wireless 885 | Novatel MC950D | Huawei E219 |

Huawei E176 Micro SDHC-ready HSUPA 3G modem
Worldwide HSDPA/HSUPA connectivity at the highest speeds the standard allows.