The RIAA's radio lawsuit - and your iPod
The next big battleground
By Andrew Orlowski, 18 May 2006
Analysis Ever since the invention of electricity, new technologies have been devised to create novel mechanisms for the storage and transmission of music. Finally, with digital, we're seeing the distinction between transmission and storage melt away altogether, with radio that you can record.
This isn't exactly new, as anyone who grew up with a radio cassette player, and peeling "Home Taping Is Killing Music" stickers off vinyl album sleeves knows. But the digital version of these battles has finally broken out this week, with the latest RIAA lawsuit targeting a US satellite radio company.
As we wrote several months ago, a loophole exists that means the rights holder receives no recording royalty on a stream that has instantly been transformed into a recording. Nor did they receive anything from the cassette mix tapes you made. But the tentative introduction of radios that record streams as discrete digital files this year in the United States has brought the rights holders out swinging.
A few months ago we reported how Universal's digital boss Larry Kenswil - when he wasn't getting Slashdot mixed up with Digg - singled out Samsung and Pioneer for particular attention. Samsung's Helix player and Pioneer's Inno player - the latter was launched in January and marketed by XM Radio as the XM2go under the slogan "It's not a Pod. It's the mothership" - are the catalyst for the $26bn lawsuit.
The Inno looks like a large iPod with an antenna, stores 50 hours of music, doubles as an FM radio, and allows you to create playlists. At $399, it's well priced, and points the way to what an iPod should be.
The RIAA is suing for the maximum penalty for infringement: $150,000 per song, which adds up: XM has 6.5 million listeners and broadcasts 160,000 songs a month. The lawsuit charges XM with copyright infringement, unauthorized digital delivery, reproduction infringement and unfair competition.
Not every XM radio subscriber has an Inno, however, and the RIAA's claim that XM listeners "will have little need ever again to buy legitimate copies of plaintiffs' sound recordings" is fanciful, given the sound quality of the broadcasts.
XM denounced the lawsuit as a bargaining tactic, which of course it is, and vowed to fight it. XM's only satellite radio rival Sirius settled with the rights holder earlier this spring. XM will surely follow. In addition to being backed by GM and Honda, founder investor ClearChannel rubs along just fine with the RIAA.
Over in Europe, terrestrial digital radio or DAB is now mainstream, although manufacturers have been tentative about building technology that allows it to fulfill its true potential.
Most digital radios allow you to rewind, but few allow you to record, or to juggle the recordings around. The Wayne Hemingway-designed Bug receiver allowed you to do both, and also move the recording to an SD card. A hard disk version of the Bug has yet to appear, and popular models only permit a buffer large enough to permit only a few minutes of the broadcast to be rewound. And as with US satellite radio, the sound quality is considerably less than promised.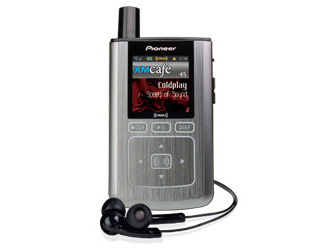 How will the other consumer electronics manufacturers react?
The pace setter is obviously Apple. Apple doesn't really care what fills its iPods, so long as there's plenty of content around to keep them filled. It's an open secret in the music business that the company has its eyes on integrating digital radio broadcasts into iTunes, folding them seamlessly into a Music Store that already time shifts terrestrial radio, in the shape of podcasts.
Apple has simply been waiting for the price of receivers to fall, and watching to see who takes the bullet first. Now we know that's XM.
But the Inno and the iPod have more similarities than might first be apparent - and more than either manufacturer would care to admit. Depending on how you look at it, it's either dumbed down or "optimized" to be a viewer and player. If you want to create a playlist, you need to attach it to a smart host, such as a PC.
And on closer examination this "Mothership" is also hindered in other ways. As the manual plainly states in a footnote:
*XM content cannot be exported from the inno digital audio player. If you wish to own a complete, high-fidelity version of digital content on demand, you should purchase content from XM+Napster. This may allow you to store the content on multiple devices depending upon the digital rights management of such content.
Hardly the threat to civilization the RIAA portrays, then. If the RIAA succeeds in limiting the capabilities of the Inno and devices like it, that suits Apple just fine. As executives have explained many times, the iTunes Music Store exists to fuel demand for the iPod, and demand for the iPod fuels demand for Apple computers. You don't hear so much about the latter now that half of Apple's revenues are earned from the music player, but the computer business is the more lucrative in terms of revenue and margins, and it should be the more enduring now the painful transitions to Mac OS X and Intel are almost complete.
The distinction between stream and file no longer makes sense, and a blanket licensing regime - of the kind that allowed radio to flourish in the first place - is the only sensible option. However, thanks to the selfish collusion of the RIAA and the market leader Apple, we're likely to see several years of crippled technology instead.
Don't touch that dial! ®